Hey there! It's time for Tuesday's Tips and Tricks! Today's little tid bit of information comes from my husband Chaz's grandmother Nana, a character you'll soon find repeating here on Tuesday's Tips and Tricks 🙂 Since retiring, Nana loves to spend most of her time in the kitchen! She is a wonderful cook, and has shown me so many tips over the years.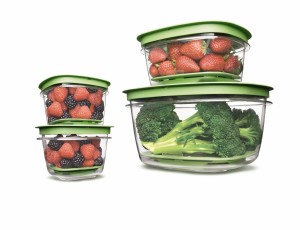 Recently, she gave us these Rubbermaid Produce Saver
storage containers… I was skeptical at first, but these little containers really work!! They work similarly to the berry containers you get at the grocery: they have a stay-fresh Crisp Tray that keeps the berries or produce above any moisture that drips down, keeping your produce fresh for up to 33% longer!!!  The containers even snap when you stack them together, a must have for my container cabinet that I'm starting to believe disorganizes itself when I'm not in the kitchen Toy Story style…
I've found it helps my family reach for the fruits and veggies more if I wash them right when I get home and then store them in these produce saver containers for easy snacking! That way the obstacle of washing the produce themselves is gone!
I hope this trick will save you some rotten berries! Click the affiliate link above to get some for yourself 🙂
Do you have any tips or tricks you'd like to share? Comment below!