I'm not the kind of business owner who buys all the courses and resources. In fact, I can't even think of a single course / resource I've ever purchased.
But let me tell you.
I saw Susie Moore's advertisements for her Five Minutes to Famous course over and over. Each time, I read through the entire ad. I would watch the entire video. She just SPOKE to me. But I kept hesitating.
The questions I kept asking myself were: 
Does Susie really know what she's talking about?
Has this really worked for her?
Then I would see another ad, and she'd be on the Today Show… Ok, so clearly this HAS worked for her.
But would it work for me?
Even with the full explanation of how she makes it happen for herself, would I be able to replicate it? Does she have some secret sauce that will only work for her?
And, is she actually baring all? Is she telling us ALL of her secrets, or keeping some just for herself?
With my recent launch of my meal planning and prep app Olive You Whole, I knew I had to get the word out somehow. Even beyond the platform I have already built here.
The crazy thing about having a platform is that with social media algorithms, typically you don't even reach all of those people. Instagram will never show your content to ALL of your followers, and typically (unless a post goes viral), you don't reach that many people beyond who already follows you.
So finding other ways to reach your ideal customers is so crucial to expand your reach.
In her advertisements, she paints a picture about how she has a very different strategy that works for her: guest posting.
I think that Susie Moore's Five Minutes to Famous course is the perfect solution for someone who wants more exposure, but doesn't have $5,000/ month to spend on a retainer Public Relations firm.
I knew I needed this course.
Probably about 4 separate times, I would try to Google Susie Moore to find it… then for whatever reason I wouldn't follow through. It just wasn't the right time yet.
Then FINALLY, I did it.
I actually (hilariously) went to Susie's Facebook business page, looked under the "transparency" tab to find all of her ads so I could click through to find the Five Minutes to Famous course! That's how badly I knew I needed this course.
That link above took me to a webinar. Even the webinar had a ton of great information, and finally convinced me that YES, I did need the course and it could really change the future trajectory of my business.
My Honest Five Minutes to Famous Review
After watching the Five Minutes to Famous course webinar, I immediately bought the course. In full.
I was for SURE convinced that this would be a game changer for my business.
I am a content creator myself, and while we don't currently accept guest posts on our website, I can imagine how nice it would be to have a fully complete blog post offered to me! Why wouldn't publications that are already accepting guest posts want to hear from me?!
First, let me just say this. Susie Moore is LOVELY. She seems lovely, and she lives up to my expectations.
I would 100% suggest getting the entire Five Minutes to Famous course, for SURE get the Power Contacts Pocket List (I'll explain more in a second), and then pay full price to get the group coaching calls! Now let me break all of this down for you.
What comes with JUST the Five Minutes to Famous course? The course lives on teachable, a great course platform. There is a welcome segment plus five different module. Each module has videos and slideshows that break down each concept to make it SO relatable and easy to understand. Since I'm such a visual learner, I really appreciated having the text and images because it will help it stick for me.
She also includes some bonuses about how to use Facebook and Instagram ads, PLUS expert interviews with 5 amazing people.
Since by trade I'm a branding graphic designer, I LOVE how she starts it all with figuring out exactly WHO you are, and who you want to reach. This is SO important for all entrepreneurs, especially when you're going to be writing a lot more articles than you previously were.
I think the MOST critical part of all of her instruction she calls "Rejection-Proof Pitching." If you're like me, there is just enough holding you back from sending those pitching emails. Susie Moore gives you the EXACT template she uses to make sure your pitches are accepted!
I've personally just started pitching this week, and I pitched 10 different articles to 10 different publications. I haven't heard back yet and I'm about to follow up. I will keep you posted! 🙂
Get the Power Contacts Pocket List!!!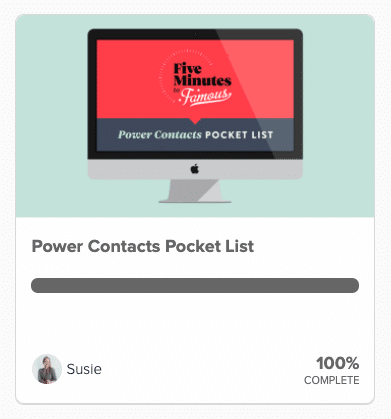 Seriously, the entire price of the course is worth it for the Power Contacts Pocket List. This document has over 1,400 constantly-updated publications, with HOW to submit/ who to contact. REALLY.
The best part is that the publications are categorized – so if you need food, fashion, architecture, money, etc – it's all there!
I feel like Susie and her team have put SO MANY HOURS into this document, and now I don't have to! It would definitely be a little frustrating to be empowered to pitch to publications after finishing the Five Minutes to Famous course, but then feel at a loss for which publications fit with your content, who to contact, and where to find their info. Susie gives tips in the course, BUT it's still work that YOU have to do! No thanks, I'd much rather pay for the entire compilation she's already created!
Is it worth it to pay in full? 
Great question! I think if you have the opportunity and resources to pay in full, it's worth it! You have access to 3 group coaching calls. Susie asks for questions in advance, so if you submit your question, she will answer it right there with you on the call.
Do you have any questions?
If you have any questions for me about Susie Moore's Five Minutes to Famous course, please feel free to ask them in the comments section below!