Snacks have become such a huge part of our daily lives, which is why this Whole30 Approved Bars is so important! Most everyone has something tucked away in their purse, briefcase, backpack, car seat, etc. We've become reliant on snacks on the go. Many snacks come in the form of a "bar" – granola bar, protein bar, fruit and nut bar, snack bar, etc. A lot of these more "typical" bars are packed with unhealthy fillers like sugar, grains, flavoring and additives. 
While the goal with Whole30 is to eat 3 meals and limit snacking, snacks ARE allowed on Whole30 as long as they are compliant. I primarily think of these Whole30 Bars we compiled as "emergency food." You always want to keep some emergency food on you just in case you get stuck in traffic or are at a party without compliant food. 
A goal of the Whole30 program is to help us identify what, when and how we eat and to guide us in making better choices. Cooking and eating at home is always the preferred method, but let's face it, there are going to be many times when that is just not an option and we need options for life on the go. 
Whole30's Official Stance on Whole30 Approved Bars
Whole30 does allow for healthy snacks and has partnered with a number of companies that produce bars. However, in 2019, Whole30 re-evaluated their partner program and made the decision to remove a number of fruit and nut bars from their Whole30 Approved program. Their reasoning: 
"But hear us clearly: this isn't about the ingredients, the bars themselves, or the companies behind them. It's about the way we have observed people (mis)using the bars during their Whole30 programs, and our desire to provide the best guidance possible for your program through our partnerships." (source)
It seems as though many Whole30 participants were misusing these fruit and nut bars as they are as close to a sweet treat as possible on the program. As we all know, the goal of Whole30 is to break our unhealthy eating habits and create new ones. Eliminating any and all temptations along the way will only help to guide us in the right direction.  
As of now, the only Whole30 approved snack bars are those that are made with meat as the base. We've compiled a comprehensive list below:  
WHOLE30 APPROVED PROTEIN BARS: 
We created this entire post because people ask us all the time "What bars are Whole30 Approved?" Like we mentioned above, the official Whole30 approved program has made a stance on only including high-protein bars in the category of Whole30 Approved Snack Bars. You can find the list of officially Whole30 Approved snack bars below. 
WHOLE30 APPROVED EPIC BARS
Epic Bars are one of the few Whole30 approved bars. Made from 100% grass fed animal protein, fruits, and nuts, they are the perfect companion for when you are traveling, exercising or need a snack on the go. 

WILD ZORA BARS
Wild Zora Bars offer a variety of flavors of meat based bars paired with fruit and veggies. All of their meats are responsibly sourced from American farmers and they use organic ingredients whenever possible.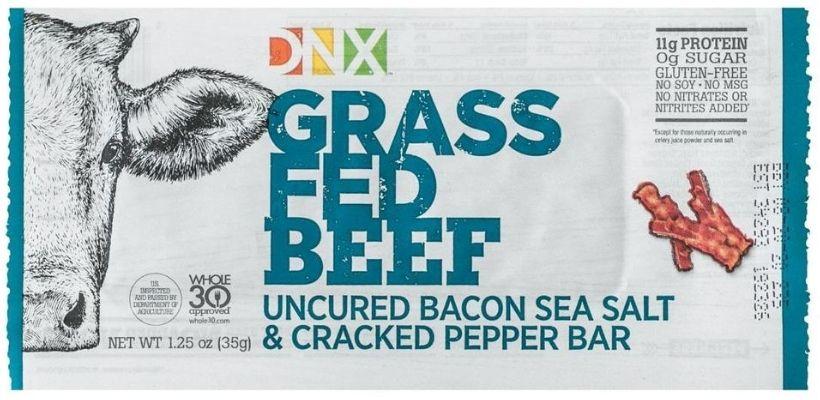 DNX BARS
DNX offers healthy and tasty grass fed beef, free range chicken and turkey protein bars and sticks. All of their bars and sticks are Whole30 approved. 

CHOMPS
We LOVE CHOMPS in our house. While technically, there are more like meat sticks than bars, we wanted to give them an honorable mention here. 🙂 You can get CHOMPS on their website here. 
If you're looking for more meat stick and beef jerky ideas, go ahead and check out our round up blog post here. 
WHOLE30 COMPLIANT GRANOLA BARS: 
Whole30 eliminates all grains on its program, that includes oats, wheat, bran, corn, and all types of rice. Whole30 also eliminates all natural and artificial sweeteners, which is the real kicker and where there are no Whole30 compliant granola bars on the market. Any bars containing grains or sweeteners are NOT allowed and thus should be avoided while you are participating in a Whole30 program. We will mention here that if you're done with your Whole30 and you're looking for a good Food Freedom bar that's grain and dairy free, the Paleo brands of granola bars that we love are Primal Kitchen Collagen Bars, Paleonola Bars, SYMMETREE BAR, and YES BAR. We find Autumn's Gold Paleo Granola Bars and Universal Bakery Paleo Bars at Costco and love these, too for a Food Freedom Paleo granola bar option. 
WHOLE30 COMPLIANT PROTEIN BARS: 
The Whole30 Approved protein bars we listed above are going to be your best option for the Whole30 program. If you can't find those or you're looking for additional options, we also get asked, "Ok, but which bars are Whole30 compliant?" You guessed it- we've got an entire list of the Whole30 Compliant bars below.
FRUIT AND NUT BASED BARS
As always, please read the labels when selecting snacks/bars while on a Whole30 program. Fruit and nut based bars can have egg whites, like RX bars, which are compliant, but some people may have egg allergies.  
Whole30 classifies Fruit and Nut based bars as "emergency food" only. That being said, there are still many out there that can incorporate fruit and nut bars into their Whole30 program and use them wisely and effectively. Bars are great to throw in your bag when you are on the go or you need some fuel when you are out for a hike, hitting the slopes or on the trail with your mountain bike. They should not be used to supplement a healthy meal or used as a "sweet" treat to satisfy your sugar cravings.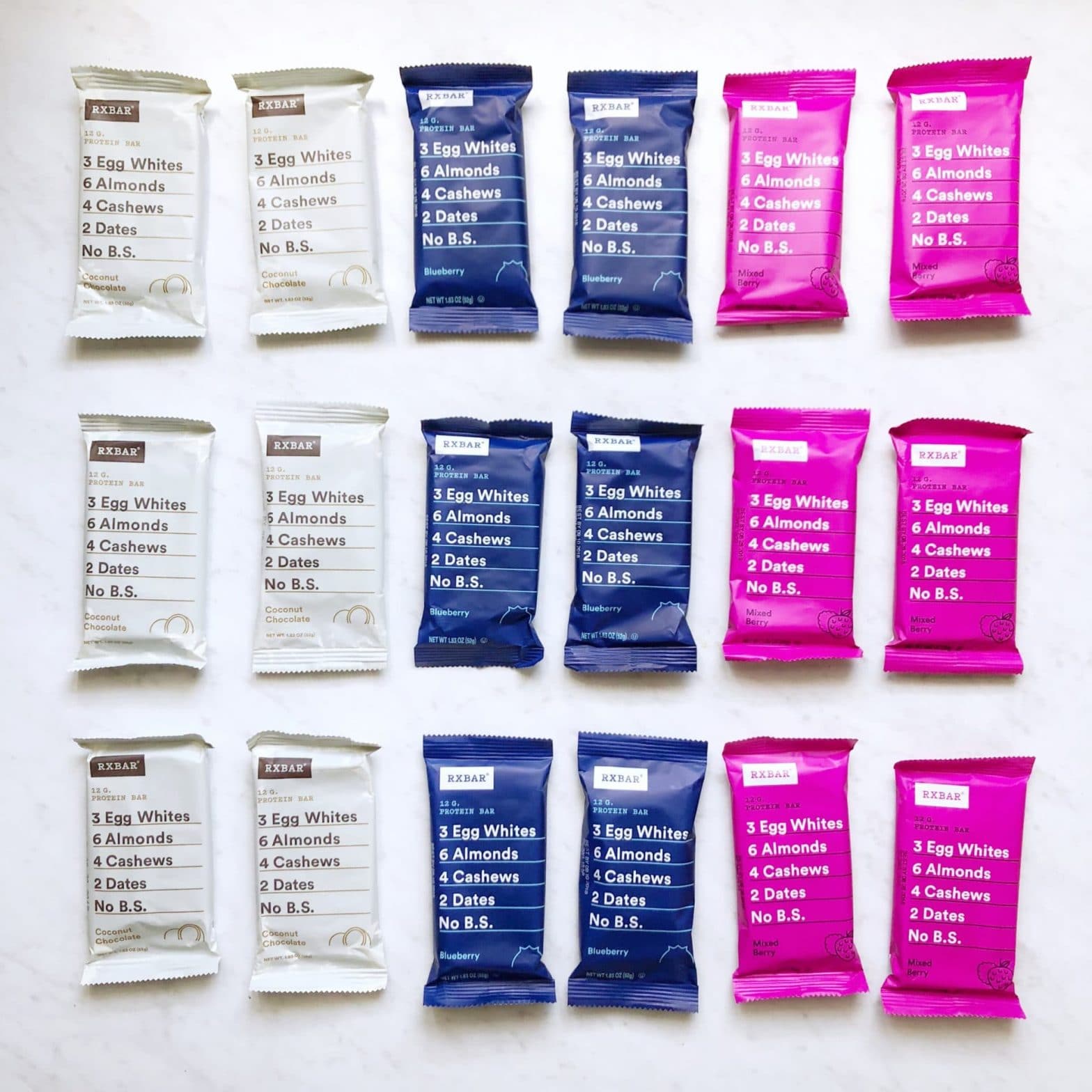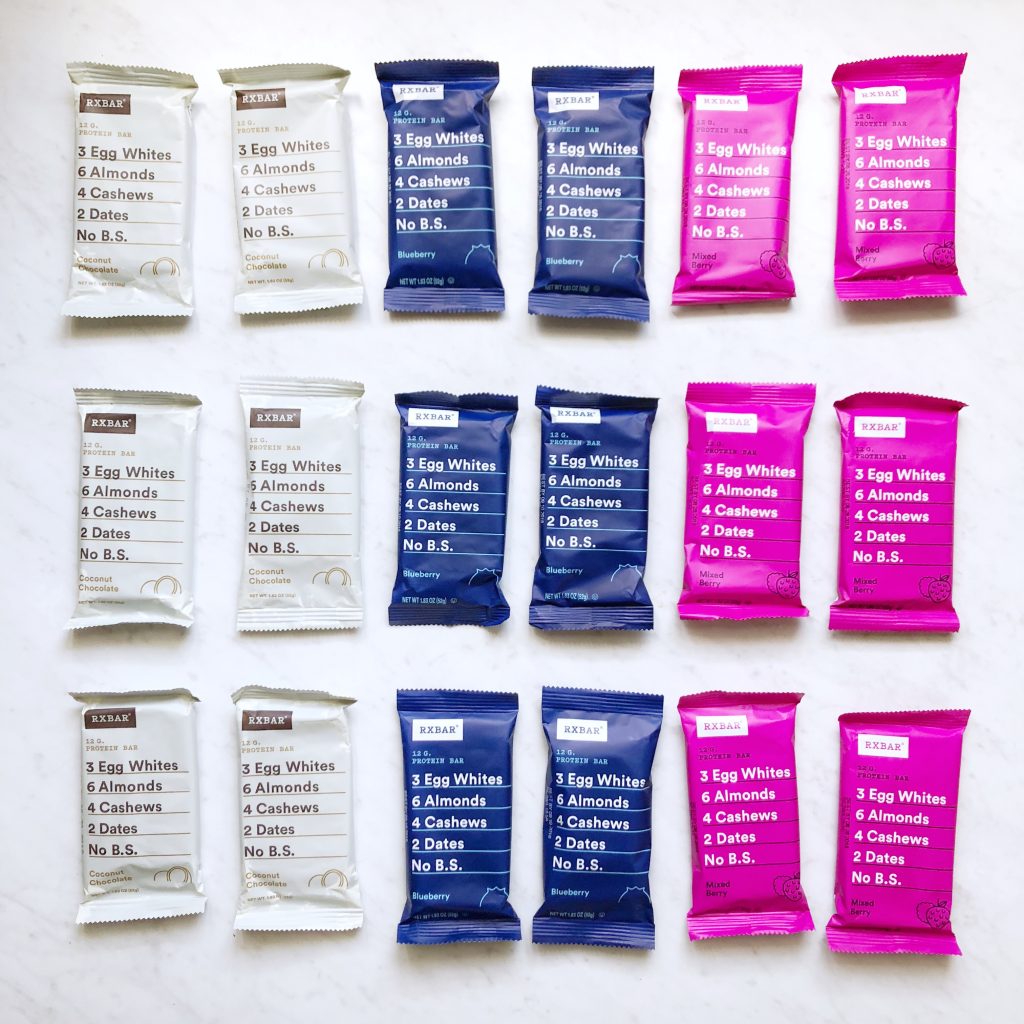 RX BARS
RX Bars were also a Whole30 Approved partner, but have been removed from the program NOT because of their ingredients (most flavors are compliant), but because of the way many Whole30 participants were eating the bars as a "sweet" snack to satisfy sugar cravings, etc. 
The flavors listed below all contain ingredients that are compliant with the Whole30 standards. Just be mindful of why and when you eat them and try to reserve them for a time when you are on the go or need to refuel after an activity. 
(non-compliant flavors are: Peanut Butter, Peanut Butter Chocolate, Peanut Butter & Berries and Maple Sea Salt) 
Also, click HERE to read our in depth post on RX Bars and Whole30. 

LARA BARS
Another good choice for when you need a bar on the go, LARA Bars are made with simple blends of fruits, nuts, and spices. Recently they've added new protein bars made with plant based pea protein and fruit and greens bars with added veggies. Not all of their bars are compliant with Whole30 so be sure to read the labels, take a look at the list below and check out our in depth blog post on LARA Bars and Whole30 HERE. Also, remember to be mindful of why and when you are eating fruit and nut bars. 
PATTERBAR
Are Kind Bars Whole30 Compliant?
Most kind bars (while delicious) are NOT Whole30 compliant… We did, however, find two kind bars that are Whole30 compliant that you'll see below. 
KIND WHOLE FRUIT BARS
Kind Bars now offers whole fruit bars that contain nothing but fruit and chia seeds. They offer 2 compliant flavors listed below. 
THUNDERBIRD BARS
Thunderbird Bars are based out of Austin, TX and all of their bars are Vegan, Paleo, and Grain-Free. Packed with real, simple, whole foods, Thunderbird Bars offer some of the most unique and tasty flavors out there. Hello Pecan Goji Pistachio!  
BEARDED BROTHERS BARS
Bearded Brothers is another Austin, TX based company started by two brothers looking for a truly clean, organic and delicious bar. Their bars are made from real food for everyday adventure. I love their packaging and fun flavors. 
The Maca Chocolate Flavor is not compliant as it contains coconut sugar. 
RISE PROTEIN BARS
Made from minimal ingredients and real food, Rise offers both plant based (pea protein) and dairy based (whey protein) bars. All of their whey protein bars contain honey as a sweetener so we recommend that you stick to the plant based options listed below. 
THAT'S IT BARS
That's It fruit bars are made 100% from real non-GMO fruit and contain no added sugars. They offer a variety of flavors and come in full and mini sizes. 
Snag a variety pack of That's It Bars on Amazon HERE. 
We hope this list of Whole30 Approved Bars has been so helpful for you! To snag other Whole30 resources, click here!
To save this Whole30 Approved Bars post for later, Pin it here!