If you're looking for a quick list of Whole30 Approved salad dressings, we've created a comprehensive list for you here at Olive You Whole.
Whether you've completed a Whole30, or are smack dab in the middle of one, this list of Whole30 Approved and compliant salad dressings will help you spruce up all your yummy greens and veggies.
The difference between Whole30 Approved and Whole30 Compliant:
Whole30 Approved is an official mark used by the Whole30 team. You have to first have Whole30 compliant ingredients, then apply for this certification. If approved, you can then use the Whole30 Approved logo on your products to make it clear to the community that your product is not only compliant for your Whole30, but also endorsed by the Whole30 team.
Whole30 Approved Salad Dressings:
Whole30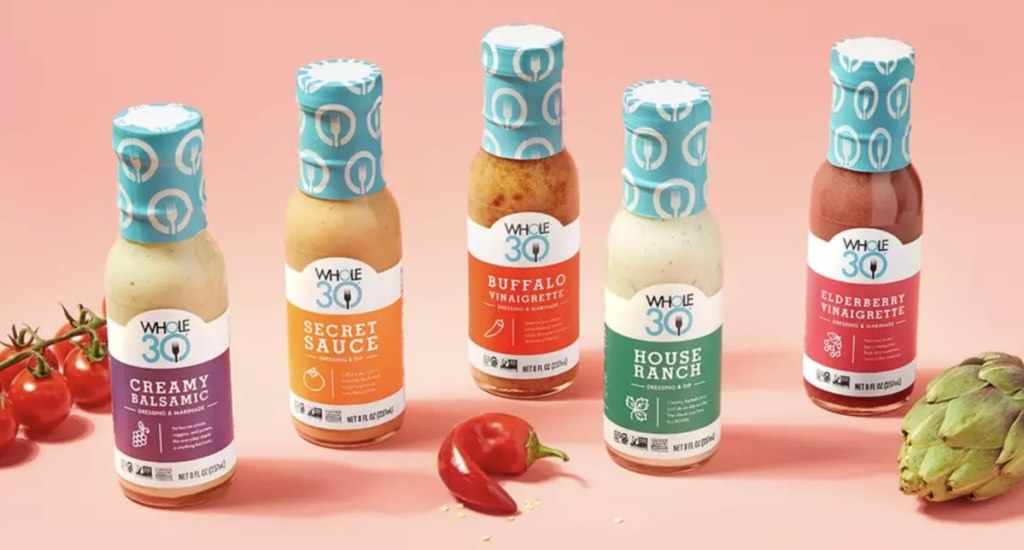 Whole30 created their own brand of salad dressings and offer 5 delicious flavors. They are exclusively available from Thrive Market. If you've never joined Thrive Market, you can do so by clicking the banner below, and you'll even get a free gift!


Whole30 Approved Salad Dressings to Buy exclusively from Thrive Market: 
Primal Kitchen
Primal Kitchen is one of the OG companies to create and sell real-food pantry staples. Their line now includes dressings/marinades, condiments, avocado oils, protein bars, collagen and whey protein powders and bars.
Primal Kitchen Salad Dressing flavors include:
Ranch Dressing
Caesar Dressing
Green Goddess Dressing
Greek Vinaigrette and Marinade
Balsamic Vinaigrette and Marinade
Italian Vinaigrette and Marinade
Vegan Ranch Dressing
Dreamy Italian Dressing
Lemon Turmeric Vinaigrette and Marinade
Thousand Island Dressing
Avocado Oil and Vinegar Vinaigrette and Marinade
Head to Primal Kitchen's website here and use the code OLIVEYOUWHOLE to get 10% off your entire order!
Tessemae's

Tessemae's offers a wide range of dressings, sauces and condiments. You are sure to find a flavor to love with all their options! You can shop Tessemae's on Amazon. Click here to purchase their Whole30 6 pack.
Tessemae's Salad Dressing flavors include:
Everything Bagel Ranch 

Avocado Ranch
Habanero Ranch
Creamy Ranch Dressing
Buffalo Ranch Dressing and Dip
Cilantro Lime Ranch Dressing and Dip
Lemon Garlic Dressing and Marinade
Balsamic Vinaigrette Dressing and Marinade
Creamy Caesar
Creamy Green Goddess
Green Goddess Dressing and Marinade
Noble Made by The New Primal
Click here to get a Noble Made dressing variety pack on Amazon!
Noble Made by The New Primal Salad Dressing flavors include:
Classic Ranch Dressing and Marinade 

Buffalo Ranch Dressing and Marinade
Wasabi Ranch Dressing and Marinade
Carrot Ginger Dressing and Marinade
Almond Butter Turmeric Dressing and Marinade
Citrus Zest Dressing and Marinade
Sriracha Tahini Dressing and Marinade
Organicville

In 2019, Organicville reformulated many of their products to become Whole30 Approved, adding even more delicious options for the Whole30 community.
Organicville Salad Dressing flavors include:
Whole30 Compliant Salad Dressings:
Thrive Market

These Thrive Market private label dressings are not Whole30 Approved, however, their ingredients are compliant with the Whole30 standards.
Thrive Market Salad Dressing flavors include:
Sir Kensington's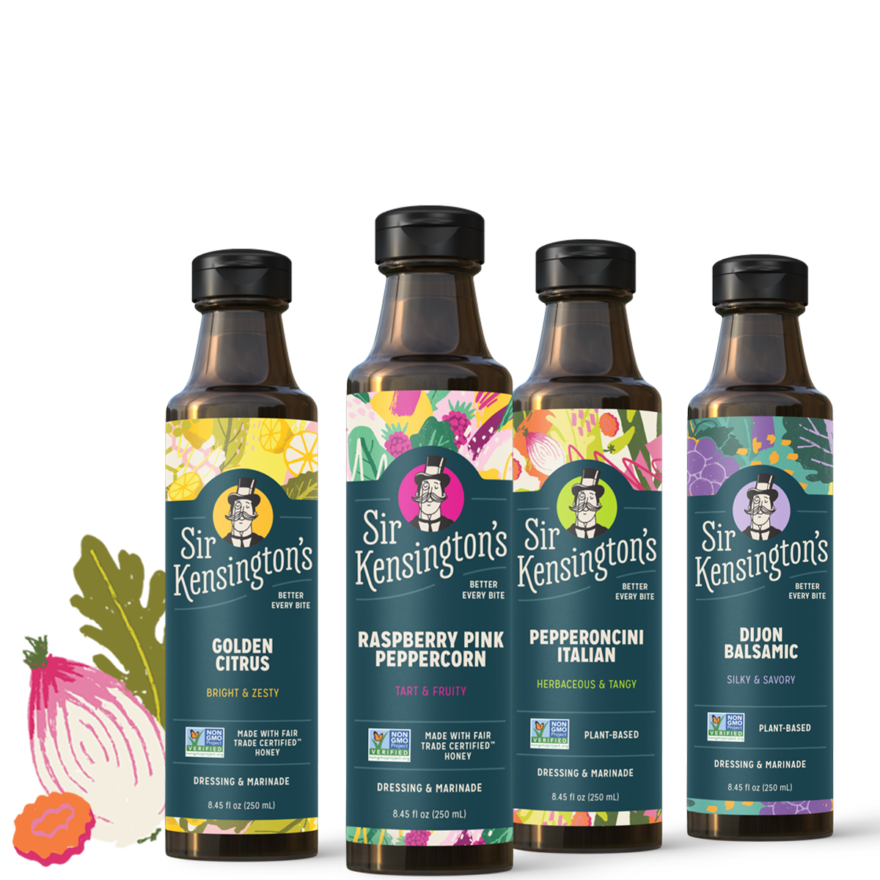 Sir Kensington's label their dressings as "Whole30 friendly" which I interpret to mean that their ingredients are compliant with the Whole30 standards.
Sir Kensington's Salad Dressing flavors include:
For additional Whole30 resources, click here!
Want to save this list of Whole30 Salad Dressings for later? Pin it here!