I share about my entire clean skincare routine morning and night on Instagram all the time, but there has never been a permanent place for it to live! I'm so excited to share all of my very favorite products with you!
This post is part of the #betterforyoucrew series! I've teamed up with my girls Kate Kordsmeier from Root + Revel, Lisa Fennessy from This Organic Girl, Suzi from Gurl Gone Green, Sarah from Whoorl, and Kristina from Love & Zest to highlight green, yet effective food, beauty and lifestyle products that are rocking our natural mama worlds. This series will publish the last week of every month so check back for the latest. You can also search #betterforyoucrew on our blogs and Instagram to access the entire series. Wanna join in? Tag #betterforyoucrewon social with your picks. We want to see your faves, too!
My entire life's work through my blog Olive You Whole is to help people realize the importance of what they put IN their bodies. In the past few years, it has also included the education that what we put ON our bodies is just as important!
Unfortunately, our cosmetics industry in the US is super under-regulated. Shockingly, the US has not passed a major federal law to regulate the safety of ingredients used in personal care products since 1938. The European Union bans more than 1,400 chemicals in the product formulas of personal care products. The US only bans THIRTY (30!).
That means there are *known* carcinogens (cancer-causing ingredients), endocrine (hormone) disruptors that can lead to infertility, and more in products in the US. These ingredients can get into our bloodstreams and wreak havoc in our bodies.
///// More than 200 synthetic chemicals—many of them known to be toxic—were found in the bodies of nearly all Americans, including newborn infants, who are exposed to these chemicals in utero. (source) /////
Once I found out this information, I knew I had to do better. WE have to do better. This is when I switched out all of my products for safe alternatives!
I joined Beautycounter in 2016 to help spread this message. We need SAFE products. Beautycounter is a safer skincare and beauty company that formulates products for the entire family that combine SAFETY and PERFORMANCE.
Yes, we have amazing cosmetic products for the whole family! But more importantly, and why I continue to live this mission, is CHANGING OUR LAWS so that *everyone* has access to safe products.
Let me know if you want me to do the research for you! I use the Environmental Working Group's app Skin Deep to check products' safety data. I'm happy to do this for you! Send me pictures of what you use to beauty @ towering-sleep.flywheelsites.com (no spaces) with the subject line EWG Review and I'll let you know if they're safe!
Creating a Skincare Regimen
If you want a personal skincare recommendation from me, email me at beauty @ towering-sleep.flywheelsites.com (no spaces) with the subject line Skincare Evaluation. Answer these 3 questions, and I'd be happy to make my personal recommendation for you!
1: How would you describe your skin? (Oily, Combination, Normal, or Dry)
2: What is your primary concern? (Pores? Dull Skin? Fine Lines? etc.)
3: What is your secondary concern? (Blemishes? Redness? Shine? etc.)
With any skincare routine, you want to be sure you're using at least 4 steps, which I will call a "regimen" from here on out.
An entire regimen is key to ensuring optimal performance and results out of your skin care products. Each product is developed with a specific purpose and is designed to work best when used in combination with the other steps in regimen. If you are consistent with a regimen, it is easier to keep skin clear!
Typically, a 4-Step Regimen consists of:
Other items you may want to consider in addition:
Exfoliate! I absolutely LOVE to exfoliate my skin- I typically do this step 2-3 times a week. It helps remove dead skin cells, which allows the younger, fresher skin to shine through!
Masks: masks are a fun extra step! Depending on the mask you use, it can be exfoliating, hydrating, enriching, your choice!
Acne Spot Treatment as needed
My Clean Nighttime Skincare Routine!
I LOVE my Clean Nighttime Skincare Routine! As discussed above, I personally like to mainly stick to ONE line for my 4-step Regimen. These products are designed to work together to give you the best benefits.
I absolutely LOVE Beautycounter's Countermatch Line. It uses Bio-Mimic Technology, meaning it helps your skin stay at its ideal moisture level. I love this because it can simultaneously keep your dry areas hydrated without making your T-zone or oily spot over oily! Let's dive in!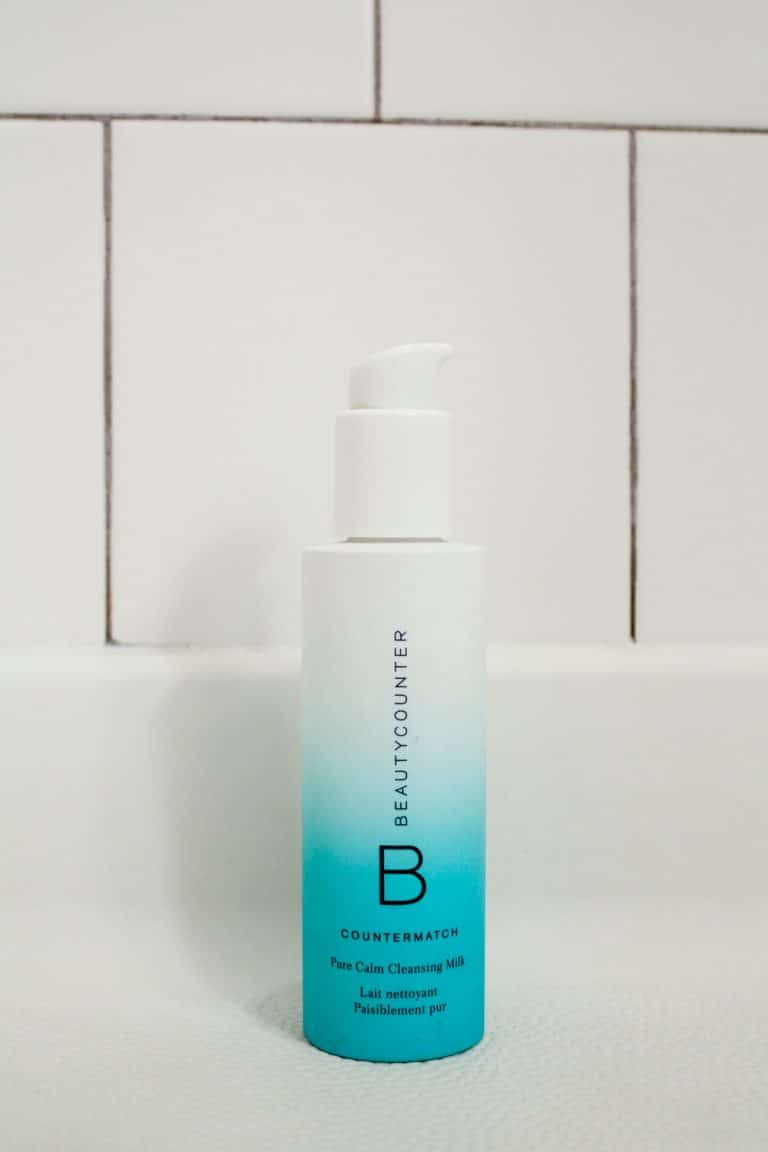 I love a cleanser that will wash off my makeup and the impurities of the day, without stripping my face of its natural oils. This cleanser does just that!
Countermatch Cleansing Milk is packed with plum oil that provides your skin with omegas 6 & 9 plus Vitamin E! It uses jojoba oil, which is my very favorite oil for my face!
How I use it: I apply it to my dry face, massage my face (just for fun), and then I use hot water to remove if I don't have makeup on, or a hot washcloth to remove if I do!
Get Beautycounter's Countermatch Cleansing Milk here!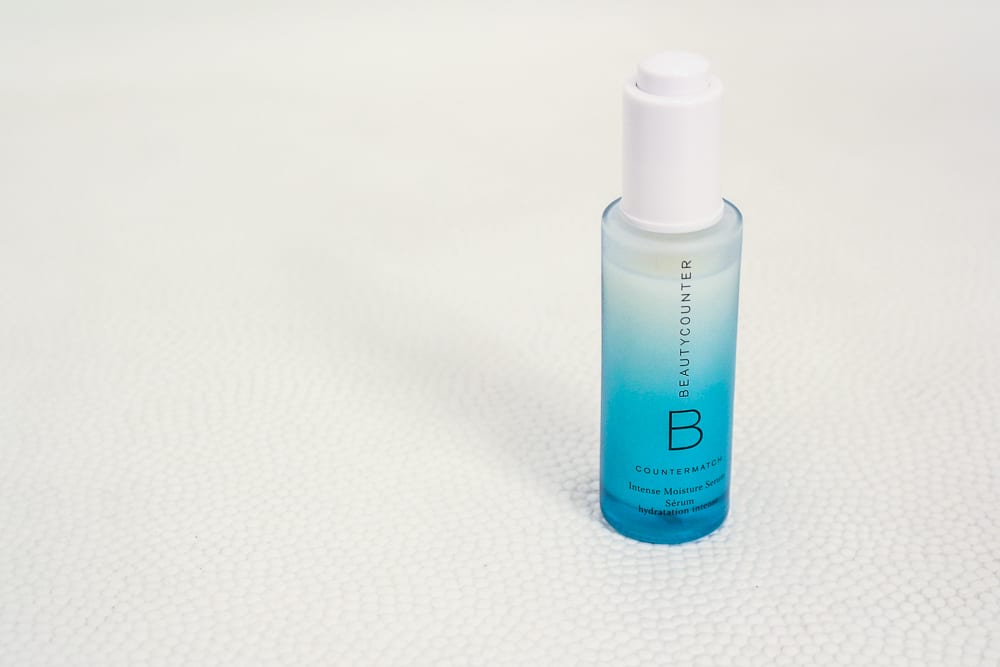 The active hydrating ingredient in Beautycounter's Countermatch Intense Moisture Serum is hyaluronic acid. It is a humectant (it retains or preserves moisture) that has the ability to bind up to 1,000 times its weight in water! It delivers moisture without clogging your pores! It's an ingredient that's naturally occurring in our own skin!
How I use it: After cleansing, I add a pump to my palm, rub my hands together, and pat all over my face and neck.
Get Beautycounter Countermatch Intense Moisture Serum here!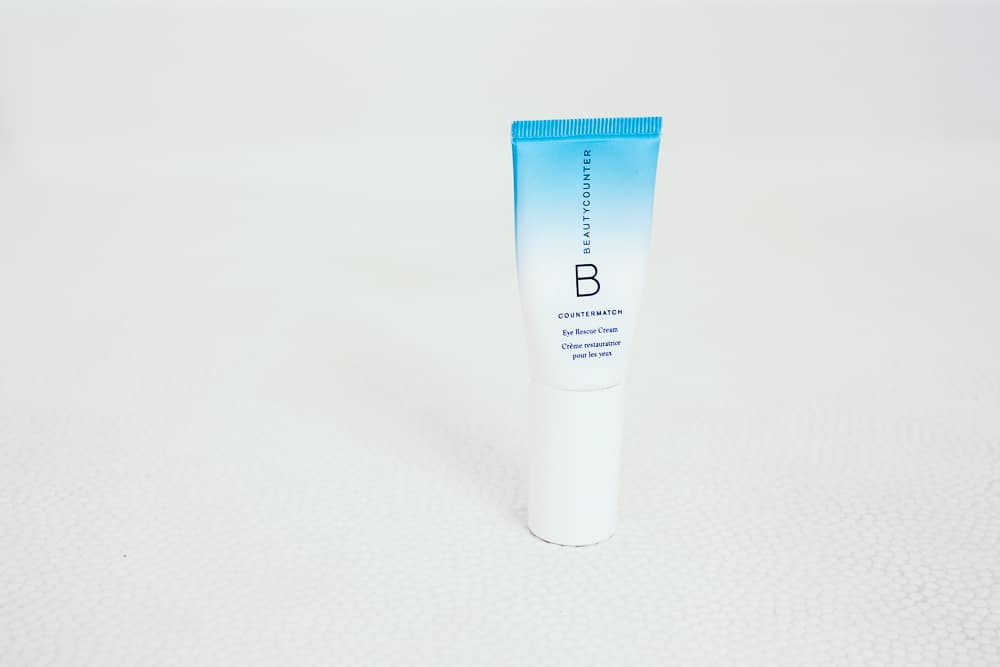 Eye Rescue Cream to the rescue!! Squalane is derived from olives and it hydrates skin, while betaine (from sugar beets) and phytic acid boost oxygenation to help reduce the appearance of fine lines and shadows for brighter-looking eyes.
This Eye Rescue Cream is my suggestion for those with dark circles under their eyes!
How I use: I apply a half pea size to my ring finger, then apply under both eyes.
Get Beautycounter Countermatch Eye Rescue Cream here!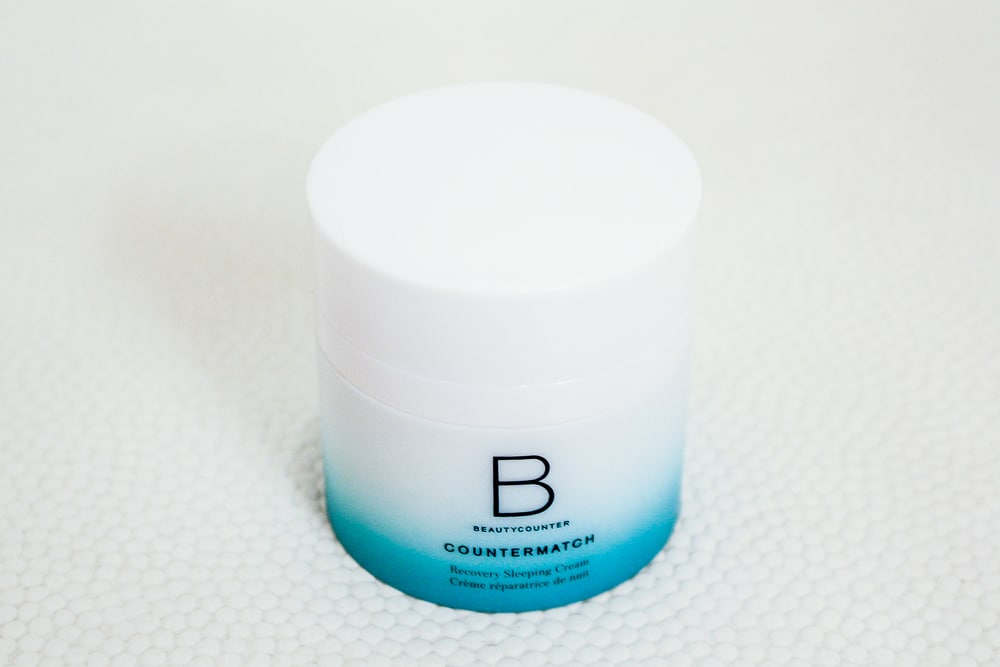 Guys I'm ALL ABOUT my night cream! I personally LOVE a thicker, luxurious cream, and this is it! It has not just one but TWO forms of that glorious hyaluronic acid. I even love the packaging- it uses an airless pump to preserve the formula- so you know it's gotta be good! 🙂
How I use it: I pump out about a quarter size of the sleeping cream, and apply it to my face and neck. Your skin will feel so rejuvenated in the morning!
Get Beautycounter Countermatch Recovery Sleeping Cream here!
Additional skincare products I use and LOVE: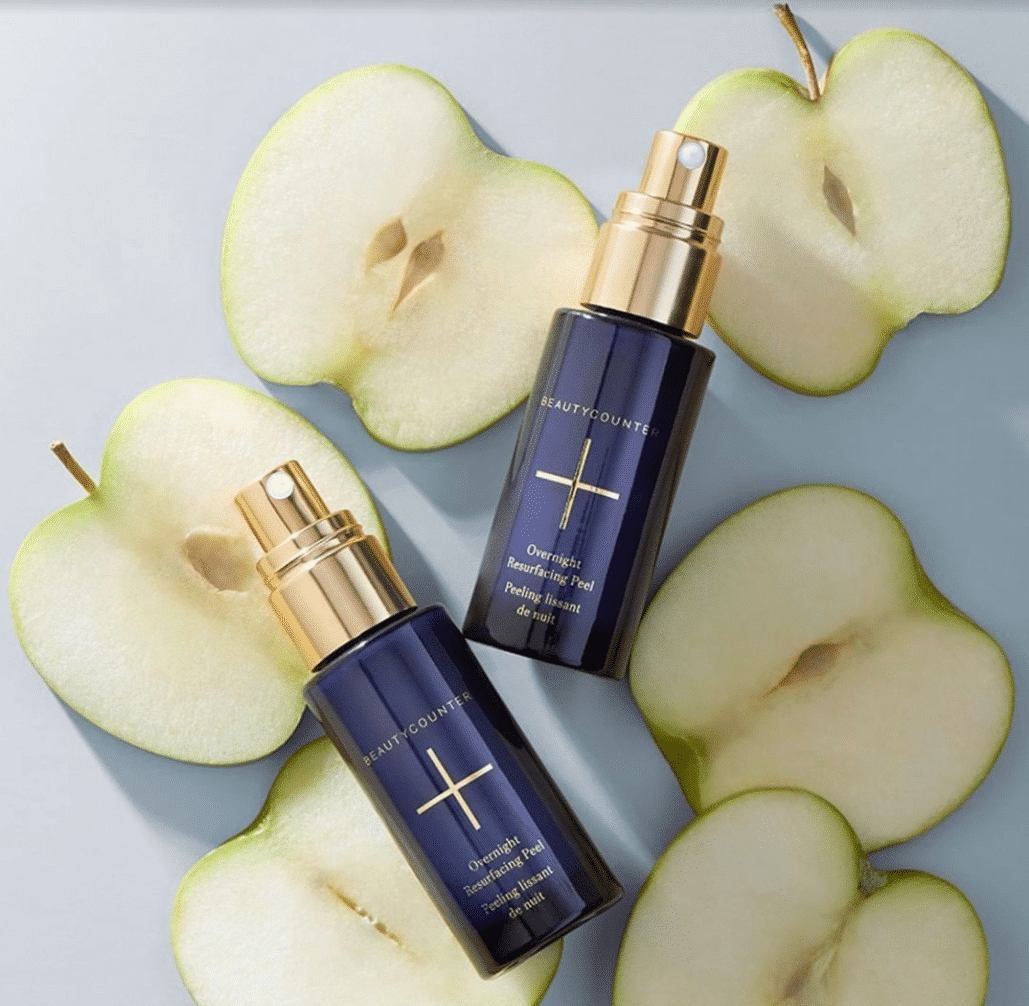 I use this amazing peel twice a week. It has 15 botanically-derived acids that improve skin texture and improves the signs of aging without irritation or over-drying.
How I use it: I wash my face, then apply about 3 pumps of the peel to my face and neck, and let it dry for about five minutes. You may experience some tingling- I love that part! After it's dry, I apply my night cream. The plant-derived acids in this peel are so gentle, it's meant to be slept in!
In the morning, you can wash it off! If I want to SEE the dead skin cells the peel removed (gross yet totally gratifying!), I will use a makeup remover wipe! If not, I just use my Beautycounter Countermatch Cleansing Milk and follow with my normal Clean Morning Skincare Routine!
Get Beautycounter Overnight Resurfacing Peel here!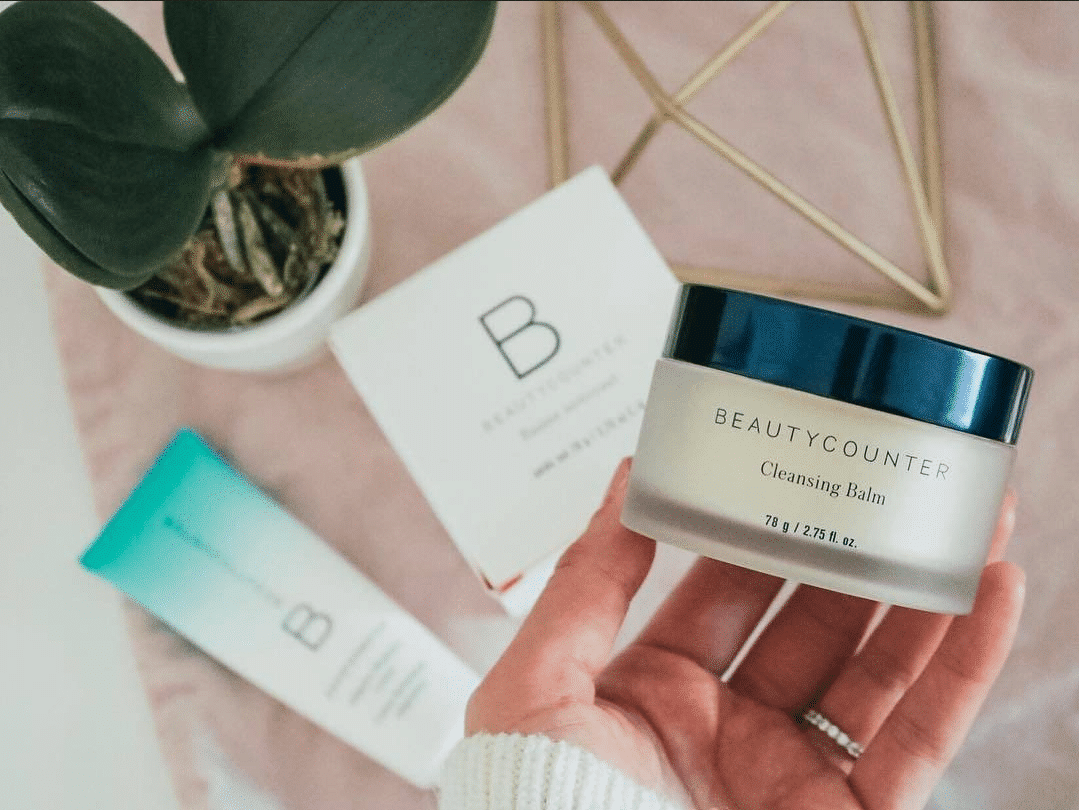 There are SO many ways you can use this cleansing balm! Use it as a makeup remover, cleanser, OR an overnight extra-moisturizing mask! I use it as all 3!
When I'm not doing the overnight peel like I mentioned above, I'm usually doing an overnight cleansing balm mask!
How I use it: After my entire nighttime routine, I will get a pea size of cleansing balm, and apply it all over my face and neck. I leave it on overnight and rinse with warm water in the morning. Your skin will feel SO soft!
Get Beautycounter Cleansing Balm here!
Guys, this is BY FAR one of my very favorite products ever! It has done wonders for my skin! I typically will use it both morning and night, right after the Intense Moisture Serum step! It's not a necessary step, which is why I included it here. But it's a LOVELY step.
The active ingredient is Vitamin C, which works wonders for brightening your skin!
How I use it: I apply 4-5 drops into my palm, rub my hands together, and pat all over my face and neck.
Get Beautycounter No. 1 Brightening Facial Oil here!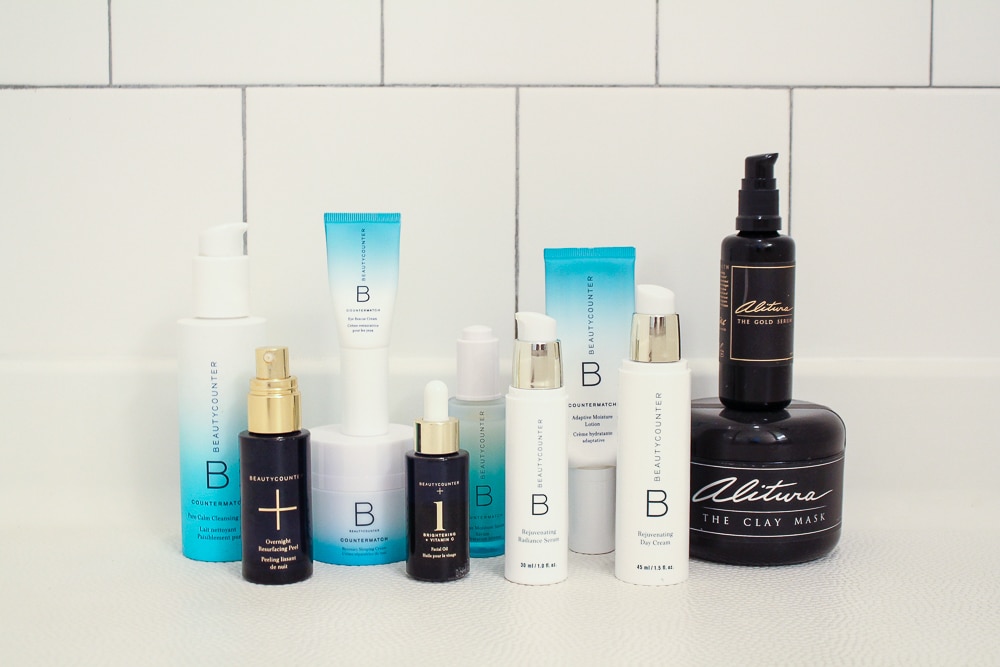 To be totally honest, the only non-Beautycounter products I've kept in my skincare rotation. I love their Clay Mask and Gold Serum.
The bentonite and kaolin Clay Mask exfoliates, detoxifies, and helps bring blood flow to your skin! It feels AMAZING after a hot bath!
The Gold Serum is made from, among other things, jojoba oil (my fave!) and frankincense essential oil- my very favorite essential oil for skin health! The Copper Tripeptide-1 and Organic Carrot Seed Oil gives your skin a beautiful golden glow!
Be sure to check out my other friends' posts about their skincare routines, too!
What are YOUR favorite safe hair care products? Share below!
Want to save this Clean Nighttime Skincare Routine post for later? Pin it here!