I absolutely LOVE being able to provide you with resources like this! This Natural and Organic Toothpastes that are Safe Guide (with EWG ratings!) will help you find which natural and organic toothpaste is right for you and your family!
With all of these natural and organic toothpastes, I will be providing the Environmental Working Group's (EWG) safety rating. The EWG rates products based on their toxicity / safety. Products can either be EWG verified, which means the products have been submitted to the EWG and have been tested and ensured to be absolutely safe, 1-3 means safe to use, 4-6 means the product poses moderate toxicity risk, and 7-10 means the product poses a significant toxicity risk.
Be sure to check out our Natural Toothpaste giveaways here!
Why does the safety of my toothpaste matter?
Even more so than your skin, anything you get in your mouth has the potential to get into your bloodstream. That's because "the membrane lining of the mouth (oral mucosa) has an absorption efficiency of more than 90%" (source). It's important to note that this is true even if the toothpaste is NOT swallowed. 
Additionally, toothpaste is considered a "cosmetic," and is therefore under the jurisdiction of the Food and Drug Administration. The FDA is very limited in its regulatory capabilities. 
Toxic ingredients in toothpaste: (click each ingredient to see its safety rating on EWG)
Abrasives like dehydrated silica gels and phosphate salts
Humectants like glycerol and propylene glycol
Flavors and sweeteners like saccharin
Thickeners like carrageenan: "Extensive peer-reviewed and published research indicates that food-grade carrageenan causes intestinal inflammation with the potential to lead to cancer, even in small doses." (source)
Detergents to cause foaming action like sodium lauryl sulfate (SLS) and sodium lauroyl sarcosinate
Triclosan (was banned from hand sanitizer in 2015, but not banned in toothpaste)
Dyes (manufactured from petroleum)
Diethanolamine (DEA) is used to make cosmetics creamy or sudsy. "DEA and its compounds cause mild to moderate skin and eye irritation. Laboratory experiments have shown that exposure to these chemicals causes liver cancers and precancerous changes in skin and thyroid in mice." (source)
Formaldehyde-releasing preservatives (FRPs)
Parabens
PEGs (polyethylene glycols) and Propylene Glycol
Best Organic Toothpastes
Why aren't there more organic toothpastes?
There are very few organic toothpastes because the organic standards regulate food and food ingredients, not cosmetics. Toothpaste is considered a cosmetic. 
According to the USDA: "The FDA does not define or regulate the term 'organic,' as it applies to cosmetics, body care, or personal care products. USDA regulates the term "organic" as it applies to agricultural products through its National Organic Program (NOP) regulation, 7 CFR Part 205." (source)
However, we did find a couple! Here is our (short) list of Organic Toothpastes:
Lebon Organic Toothpaste (not ranked on EWG)
RADIUS Organic Toothpaste (EWG 2 – except Clove Cardamom is a 3)
Lebon toothpaste was created by a dedicated group of friends. Some with a background in healthcare, providing strict specifications in terms of quality, especially when looking for just the right ingredients to be incorporated in the formulation of the Lebon toothpaste. Others, with a more artistic background, had a mission to fashion the soul of this "Pleasure Product." Months passed, during which everyone went beyond their duty to attain the goals they had set.
The heart of the Lebon toothpaste is to awaken the senses. This luxury toothpaste is made in France. Lebon toothpaste is a high-quality toothpaste for those who want to awaken the senses of pleasure and banish the banality of brushing your teeth.
100% natural fragrance, no parabens, no triclosan, no fluorine, no colorings and no saccharin. Not tested on animals. Tubes are made of laminated, recyclable materials.
Ingredients:
DICALCIUM PHOSPHATE DIHYDRATE, GLYCERIN, WATER (AQUA), LAURYL GLUCOSIDE, HYDRATED SILICA, AROMA, CELLULOSE GUM, CITRIC ACID, POTASSIUM SORBATE, SODIUM BENZOATE, STEVIA REBAUDIANA EXTRACT, CAMELLIA SINENSIS (GREEN TEA) LEAF WATER, ALOE BARBADENSIS LEAF EXTRACT.
Get Lebon Organic Toothpaste on Amazon here!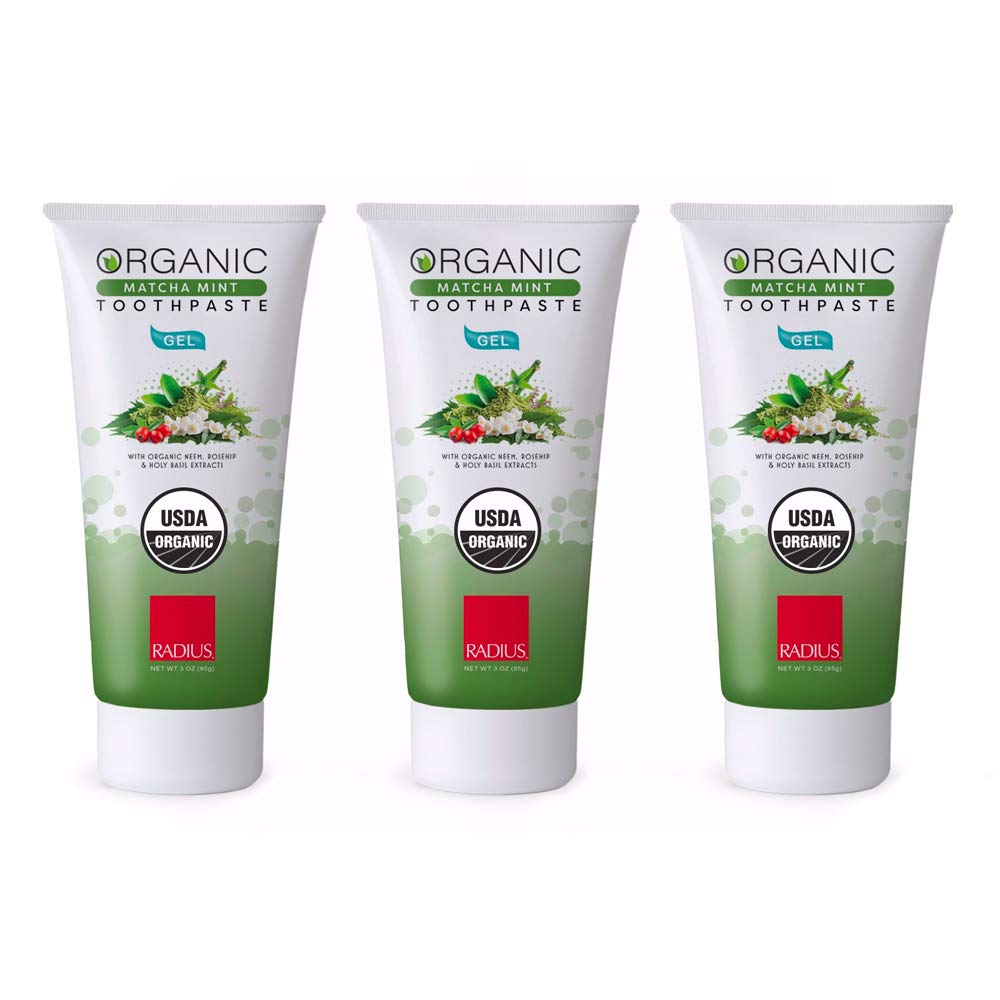 You won't see any trace of chemicals, pesticides, GMOs, glutens, fluoride, saccharin, SLS, SLES, carrageenan, parabens, detergents, or synthetics of any kind. Just clean, natural, and safe ingredients.
Every container is handily travel sized and TSA compliant, so you can enjoy the RADIUS toothpaste taste, feel and peace of mind wherever you go.
Ingredients:
Water, Glycerin*, Erythritol*, Organic Flavors*, Chamomilla Recutita (Chamomile) Flower Extract*, Cyamopsis Tetragonoloba (Guar) Gum*, Aloe Barbadensis (Aloe Vera) Leaf Juice*, Mentha Piperita (Peppermint) Oil*, Quillaja Saponaria Wood Extract*, Citric Acid, Coconut Water Concentrate*, Tapioca Maltodextrin*, Oryza Sativa (Rice) Powder*, Melia Azadirachta (Neem) Leaf Extract*, Rosa Centifolia (Rose) Flower Extract*, Hibiscus Sabdariffa (Hibiscus) Flower Extract*, Ocimum Sanctum (Holy Basil) Leaf Extract*, Camellia Sinensis (Green Tea) Leaf Powder*, Jasminum Grandiflorum (Jasmine) Extract*, Xanthan Gum. *Certified Organic
Get RADIUS Organic Toothpaste on Amazon here!
---
Best Natural Toothpastes that are EWG Verified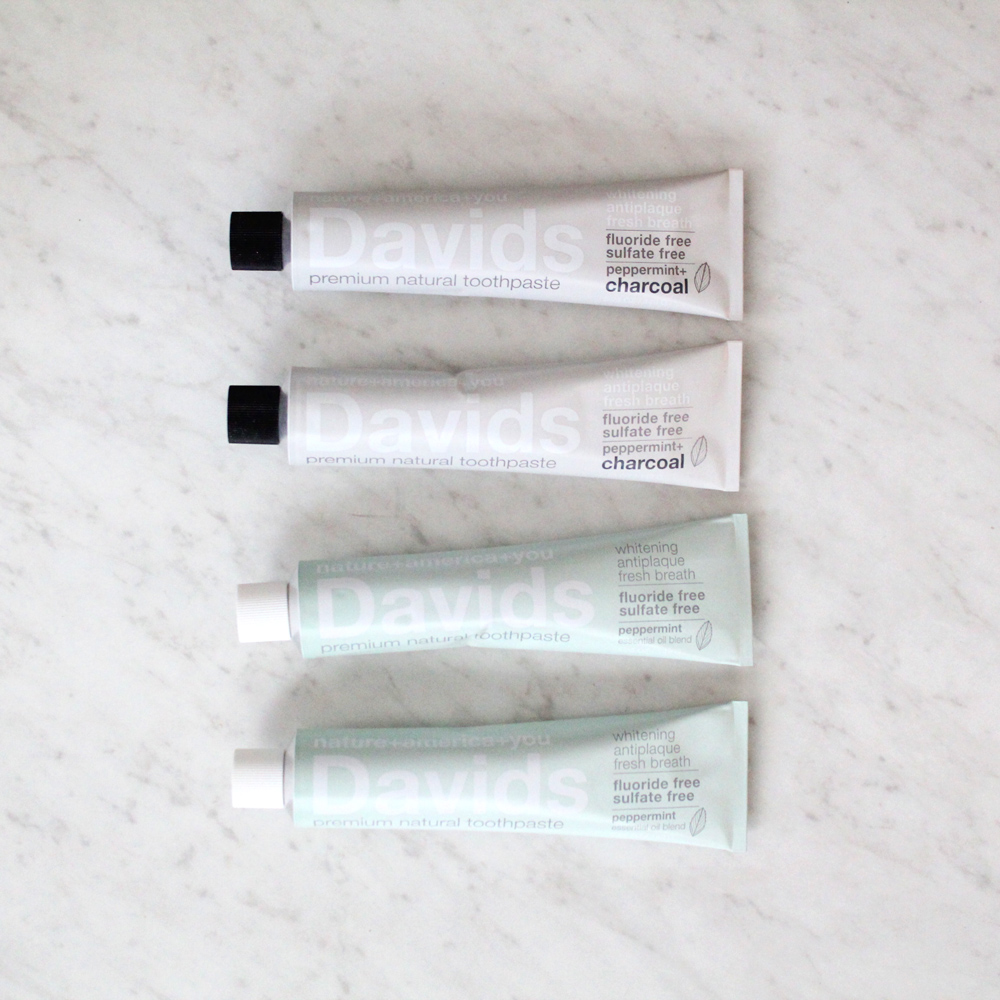 Natural Toothpaste To Safely & Effectively Whiten Teeth, Fight Plaque, And Freshen Breath. Smooth & Creamy, Non-Gritty. Blend Of Premium Domestic Mint Oils For Exceptional Flavor.

EWG VERIFIED, 98% USA ORIGIN Ingredients For Superior Quality And To Support USA Jobs.

Fluoride Free, SLS Free, Sulfate Free, Vegan, Includes Xylitol to Promote Healthy Oral Care, Kid-Friendly – Kids Love It Too.

Recyclable Metal Tube & FSC Certified Packaging. Free Metal Tube Key Roller/Squeezer Included.
Ingredients:
Calcium carbonate (limestone abrasive), vegetable glycerin, purified water, sodium bicarbonate (baking soda), xylitol (birch derived), hydrated silica, sodium cocoyl glutamate, carrageenan (seaweed derived), mentha piperita (peppermint oil), mentha viridis (spearmint) leaf oil, pimpinella anisum (anise) seed extract, gaultheria procumbens (wintergreen) leaf oil, stevia (leaf extract).
Get Davids Natural toothpaste on Amazon here for Peppermint and here for Charcoal!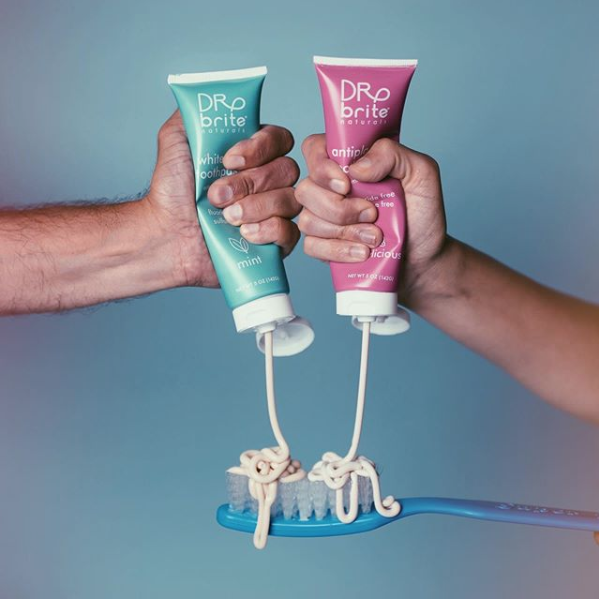 NATURAL INGREDIENTS: Our vegan blend of non-acidic Vitamin C and antioxidants work together to give you a bright, clean smile every morning. We use no artificial sweetener, color, or flavor.

SAFE TO SWALLOW: Dr. Brite's toothpaste is EWG VERIFIED as a safe kid's toothpaste, an essential product for kids just starting their oral care! Our 100% edible ingredients make our toothpaste okay to swallow, so it's worry free! Not just for kids though – great for anyone in the family!

WHITENING WITH VITAMIN C: Our toothpaste contains natural ingredients, non-acidic Vitamin C and antioxidants. These ingredients help heal and promote healthy gums.

CLEANSES AND POLISHES: Dr. Brite's toothpaste will cleanse away any harmful bacteria in your mouth that may cause a cavity, or even bad breath. It will also polish every tooth, wiping away any plaque so you can show off your brilliant, bright smile every day of the week.
Ingredients:
Organic Aloe Barbadensis (Aloe Vera) Leaf Juice*, Soy-Free Vegetable Glycerin**, Calcium Carbonate (Mineral), Hydrated Silica (Mineral), Organic Cocos Nucifera (Coconut Oil)*, Xanthum Gum (Natural Thickener), Potassium Cocoate (Organic Coconut Oil Derived)*,
Get Dr. Brite toothpastes on Amazon here for Mint Activated Charcoal and here for Berrylicious Vitamin C!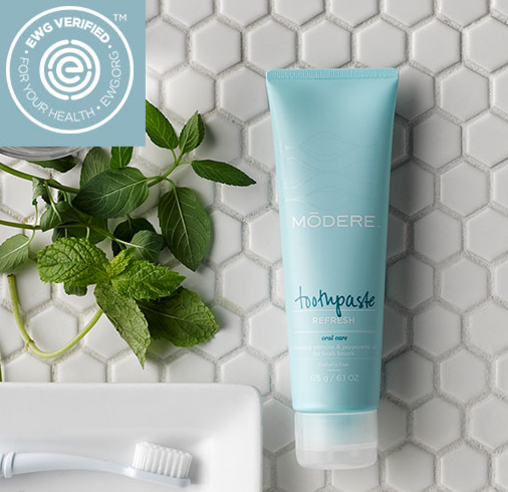 Modere REFRESH Toothpaste (EWG Verified)
First ever EWG VERIFIED™ toothpaste in the world & part of the fully-verified Modere Oral Care line
Sugar free, Fluoride free, Water-soluble abrasives clean without damaging tooth enamel
Supports healthy teeth & gums
Our non-toxic formula means it is safe for the whole family
Ingredients: 
Sorbitol, water, hydrated silica, xylitol, sodium coco-sulate, mentha piperita (peppermint) oil, calcium glycerophosphate, cellulose gum, arginine, rebaudioside A, sodium chlorite, chlorophyllin-copper complex.
Get Modere REFRESH Toothpaste on their website here!
WITH MY toothpaste is made with YOU in mind. NO parabens, NO SLS, NO triclosan, NO microbead, NO color additives, NO fluoride…basically, NO Yucky stuff!
What it DOES have are a whole lot of natural ingredients (making it perfect for adults, children, and pregnant mothers alike!) such as: kaolinite (kaolin clay), xylitol (don't use it on dogs!), stevioside, coconut derived foaming agent, green tea extract, menthol, baking soda, organic rosemary extract, organic calendula extract, and more!
WITH MY toothpaste is made with OTHERS in mind. Each time you brush WITH MY toothpaste, not only are you doing good for yourself, but you are doing good for others! With each purchase, 10% of the proceeds are donated towards life's essentials (water, education) of those in need! | WITH MY toothpaste is made with ALL LIVES in mind. WITH MY believes all lives matter. Not just humans, but also animals, and our environment. And so our products use NO animal ingredients, and we OPPOSE ANIMAL TESTING. In other words, our products are Cruelty-Free and Vegan. We even took out glycerin to avoid use of Palm Oil (for ethical and environmental reasons!). We are PETA and Vegan Society certified too!
WITH MY also believes in using sustainable material. And so we use either FSC certified or Recycled paper for our packaging, and are always doing our best for more environmental and sustainable packaging options. |
Ingredients:
Spearmint Oil, Tea Tree Oil, Hydrated Silica, Tocopheryl Acetate, Organic Rosemary Extract, Pomegranate Extract, Mugwort Extract, Mastic Oil, Quince Extract, Green Tea Extract, Licorice Extract, Peony Roote Extract, Hinoki Oil, Eucalyptus Oil, Xylitol, Sorbitol, Aqua, Chamomile Extract, Sesame Leaf Extract, sodium Methyl Cocoyl Taurate, Menthol, Baking Soda, Stevioside, Cellulose Gum, Organic Calendula Extract.
Get WITH MY toothpaste on Amazon here for Spearmint and here for Lemonade!
---
Best Natural Toothpastes that are Safe! 
Click the links below to shop!
---
Best Natural Toothpaste without Glycerin
WITH MY : Spearmint and Lemonade Toothpaste (EWG Verified) 
Georganics Natural Toothpaste with English Peppermint (non-foaming)
So there you have it! Want to save this This Natural and Organic Toothpastes that are Safe Guide (with EWG ratings!) post for later? Pin it here!