What's your very favorite Thanksgiving recipe? By FAR, my favorite recipe is stuffing. If I had to choose ONE food to eat on Thanksgiving, it would be stuffing! No question. But stuffing is basically… BREAD! I've always wanted to make a Paleo Stuffing Recipe, and guess what? HERE IT IS! Are you excited?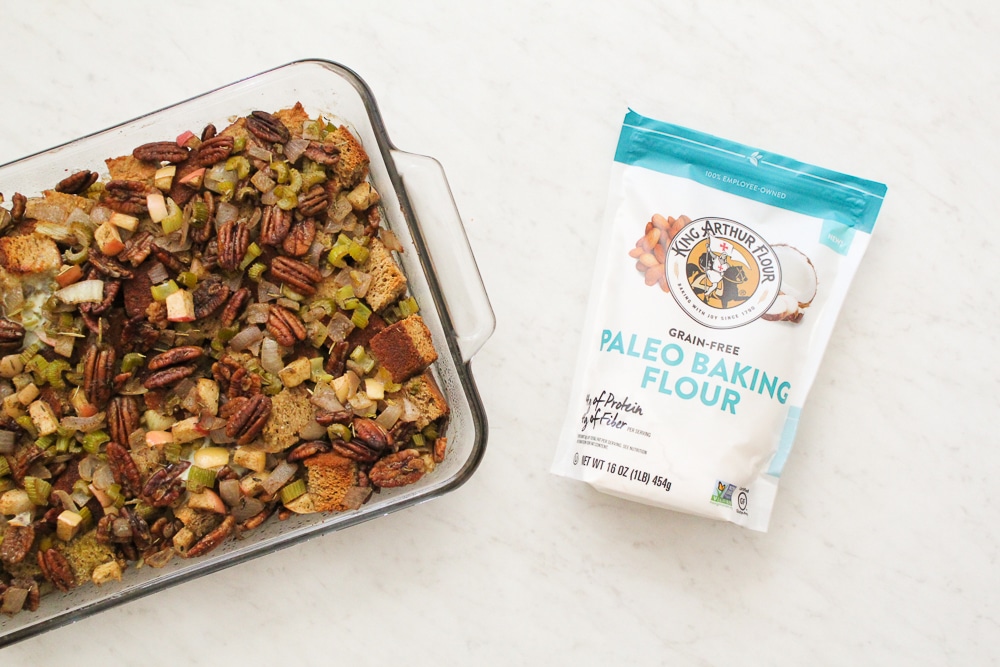 This post and recipe are sponsored by King Arthur Flour. Thank you for allowing me to work with companies I believe in, like King Arthur Flour, so I can continue to bring you free recipes and content!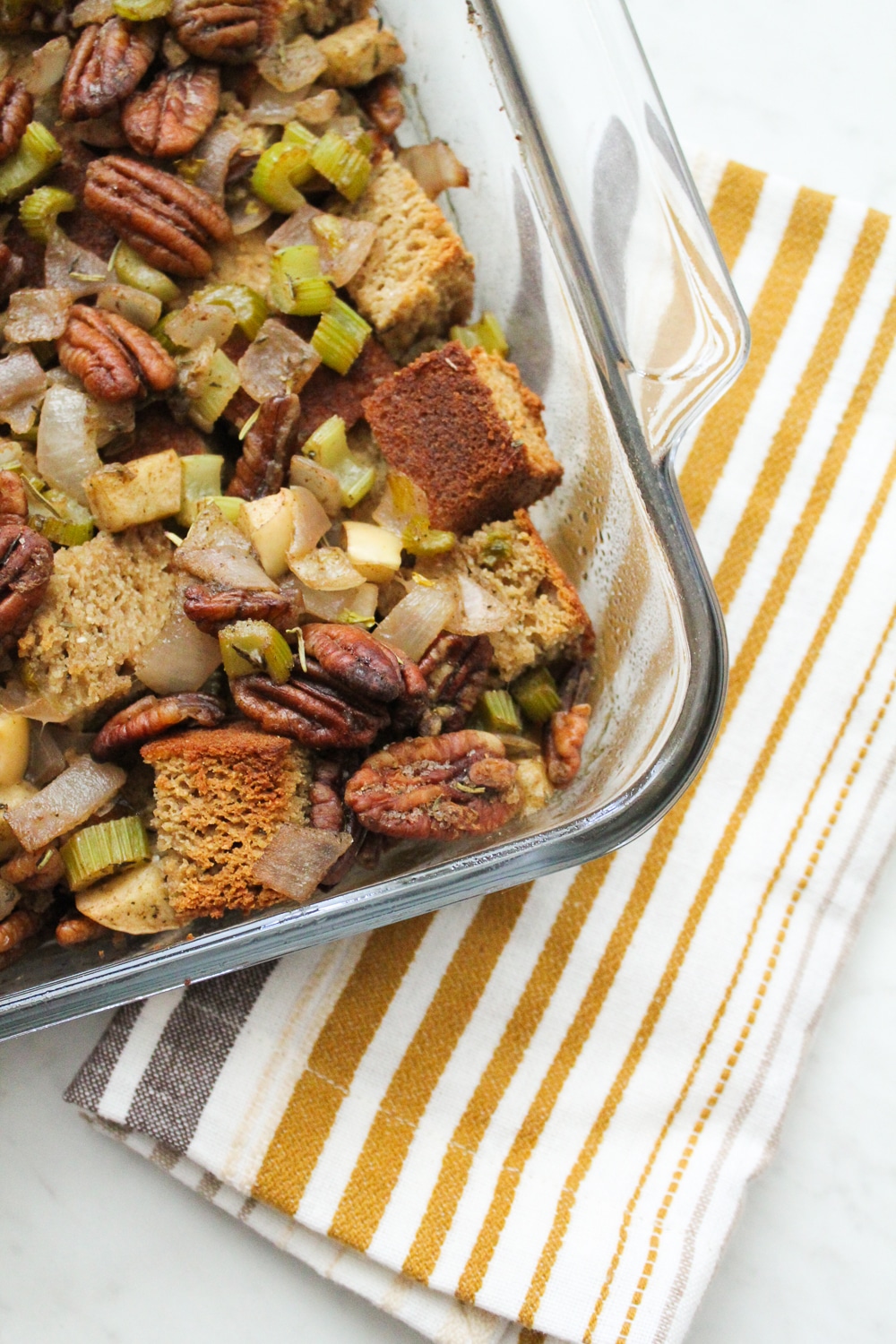 I know some of you are going to ask me- aren't you from the SOUTH? Why don't you call it DRESSING? I get the frustration. For whatever reason, I grew up calling it stuffing! Even though I was born in Nashville, Tennessee and grew up there until I left for college.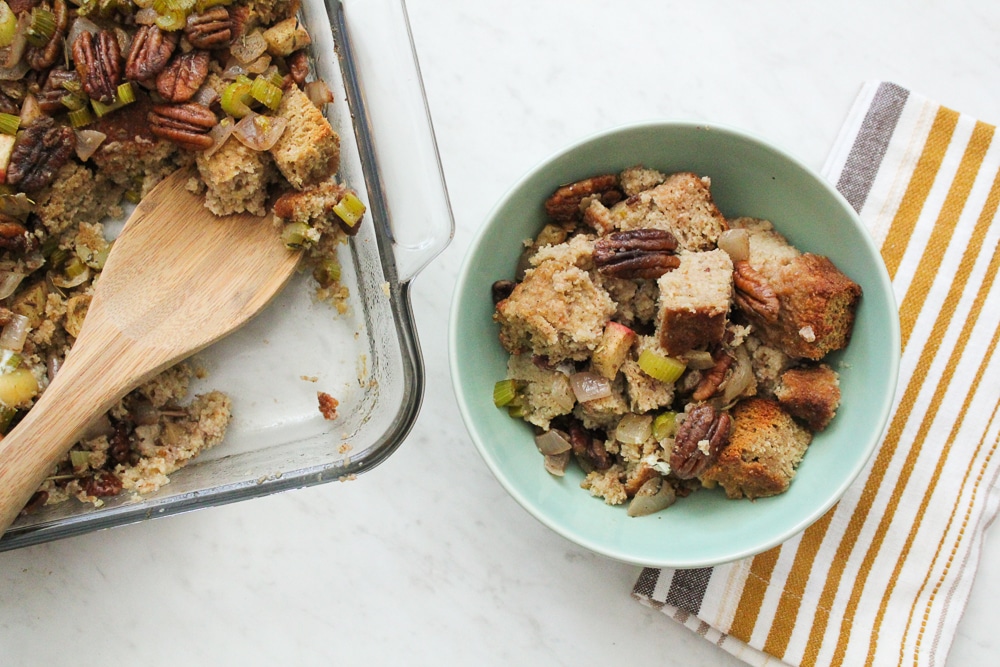 I've been told the distinction between "stuffing" and "dressing" depends on which side of the Mason-Dixon line you live on! (As so many things do!) Southerners tend to call this side dish "dressing," while Northerners tend to call it "stuffing."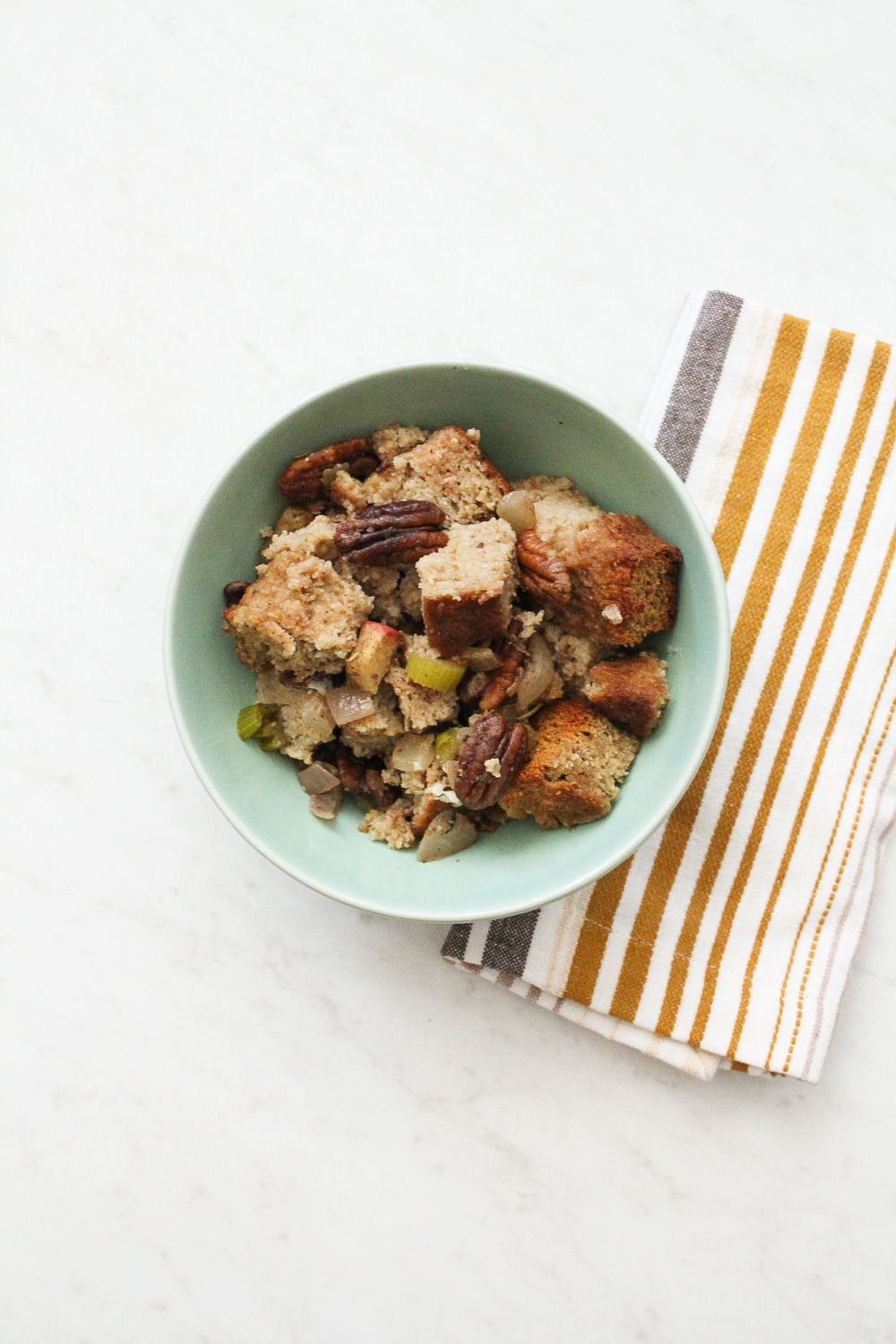 Whatever you call it, you are going to LOVE this Paleo Stuffing recipe that is a gluten, grain, and dairy free option and tastes exactly like the real thing!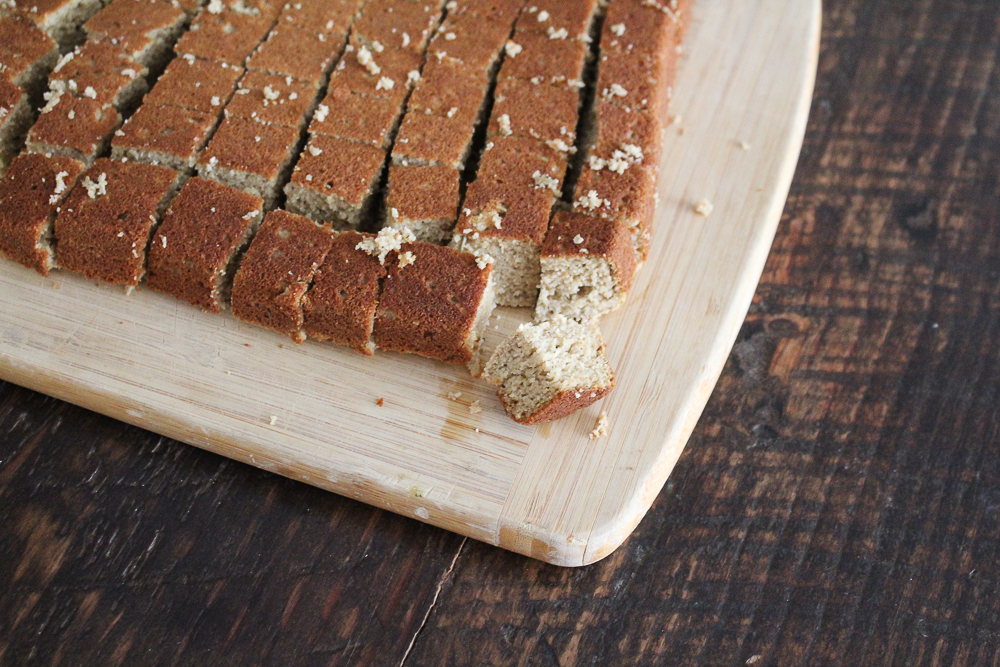 Breads can be tough when you're using completely grain free ingredients! The star of this recipe is King Arthur Flour's new Paleo Baking Flour. I absolutely adore this flour, because it's essentially what I create in my own recipes: a blend of cassava, almond, and coconut flours for that perfect Paleo flour that mimics standard wheat flour. Their flour is certified Gluten-Free and Kosher! I love this Paleo Baking Flour because it is so nutrient-dense, too! It has 4g of protein and 4g of fiber per serving! It makes the PERFECT bread for this stuffing! It was so good, I'm going to have to start making a loaf of it every week for my family! Check out King Arthur's Paleo Baking Flour here!
I can't wait for you to add this dish to your Thanksgiving meal!
Print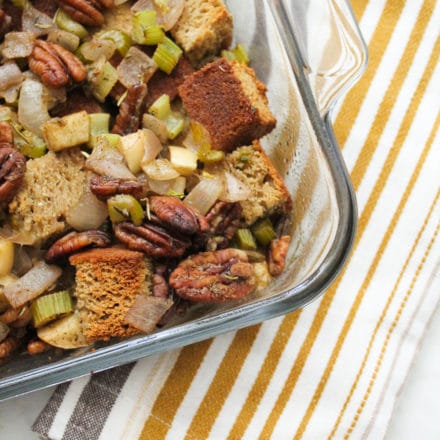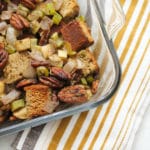 Paleo Stuffing Recipe
---
For the bread: 
2 ½ c (260 g) King Arthur Paleo Baking Flour
1 t baking soda
½ t dried, ground sage
½ t dried thyme
½ t dried rosemary
1 t salt
4 eggs
1 t apple cider vinegar (or lemon juice)
¼ c melted butter (or ghee for dairy free)
2 T honey
¾ c almond milk
For the rest of the stuffing:
¼ c butter (or ½ c ghee), melted
1 c celery, chopped
1 onion, chopped (about 1 ½ c)
1 c Gala apples, chopped
1 c pecan halves
1 ½ t dried, ground sage
½ t dried thyme
½ t dried rosemary
Salt to taste
¼ c butter (or ghee), melted
1 egg
2 c turkey broth
---
Instructions
To make the bread:
Preheat your oven to 350. 
In a medium sized mixing bowl, mix together the King Arthur Flour Paleo Baking Flour, baking soda, herbs, and salt. 
In a blender or mixer, add eggs, apple cider vinegar, melted butter, honey, and almond milk and mix until combined. 
Slowly add the dry ingredients to the wet ingredients until just combined. 
Transfer your batter into a greased 8 x 8 in square pan. Cook for 20-25 minutes, or until a knife inserted into the center comes out clean.
Once cool, remove the bread from the pan and cut into 1 inch cubes. (If you want these to be smaller, you can certainly cut them smaller!)
For the stuffing: 
In a deep soup pot, melt butter on medium high, and add celery and onion. Cook for 7 minutes, then add the apples, pecans, herbs, and salt and cook for another 5 minutes. 
In a medium bowl, thoroughly mix together the melted butter, egg, and turkey broth. Set aside. 
Now it's time to assemble the stuffing! Spray a 9 x 13 casserole dish. Evenly disperse the bread cubes around the pan. Pour the fruit and vegetable stuffing mixture on top. Lastly, pour the broth mixture evenly on top. 
Place the casserole dish in the oven and cook for 30-35 minutes. Enjoy!
Want to save this Paleo Stuffing Recipe for later? Pin it here!