Oh July 4th, what a super fun holiday! It's the perfect time for barbecue, the lake, and sunshine no matter how you can get it! But what should you make for dessert for your July 4th party or get together? May I suggest to you: this Paleo Flag Cake Recipe!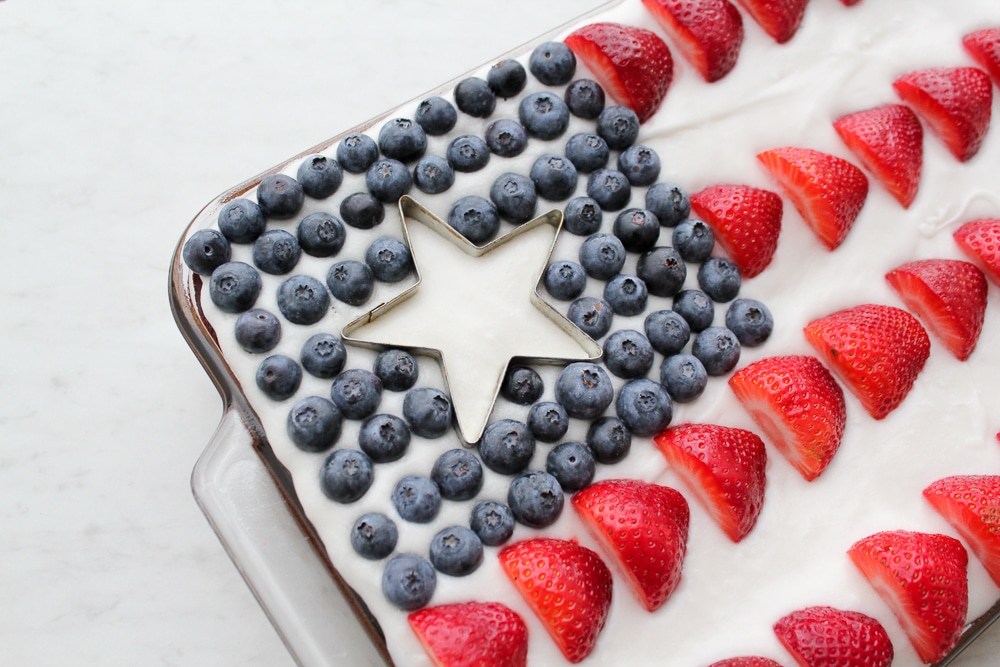 I wanted to create this Paleo flag cake recipe because of its history in our family! Every 4th of July, my mom, sister, and I made a cake that looked like an American flag! It was always SO much fun, and such a great and creative way for my sister and I to help my mom in the kitchen!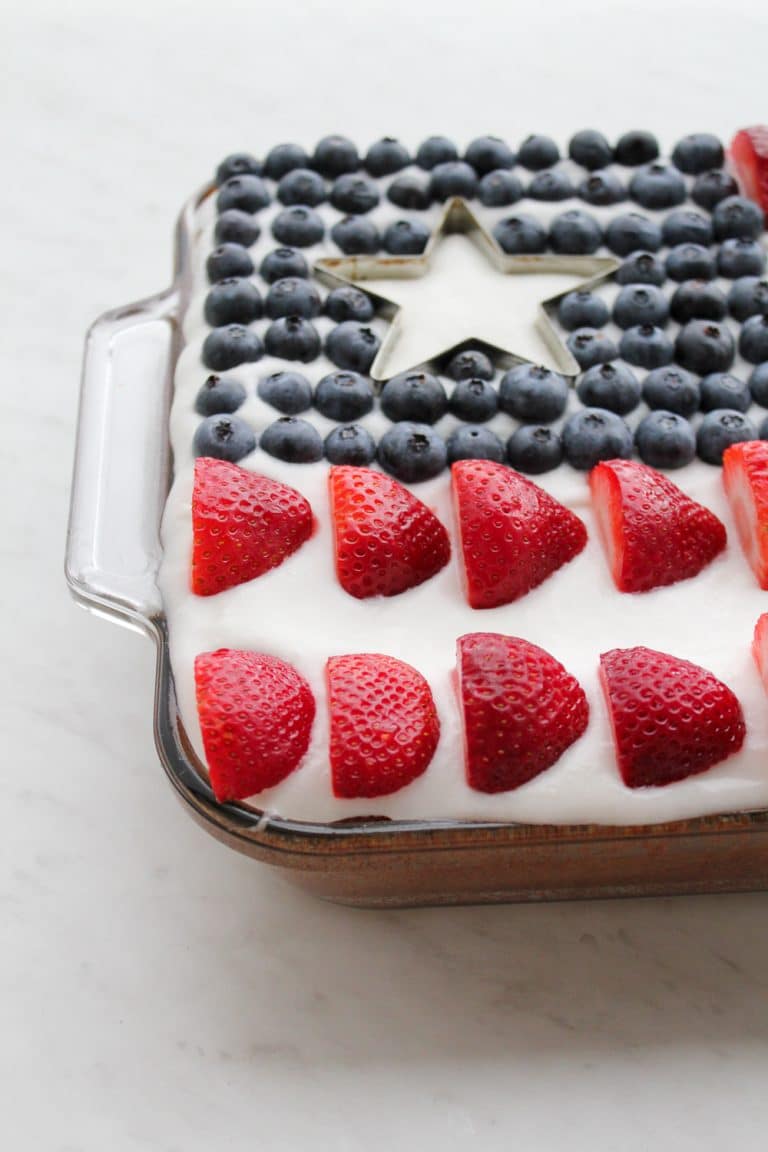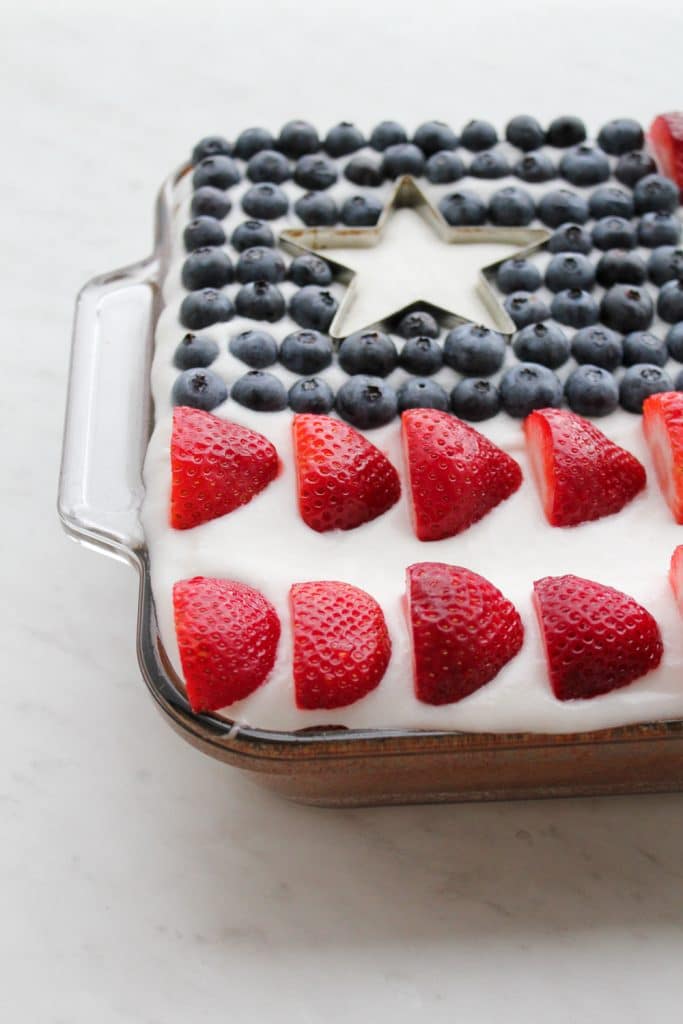 I honestly don't remember a ton about the ingredients that went into said cake… To be honest, it was probably a vanilla cake mix topped with Cool Whip and strawberries and blueberries. Guys, REMEMBER Cool Whip?! The 90's sure were tasty, and though I regret things like Cool Whip and Easy Cheese even exist, man weren't they good in the moment??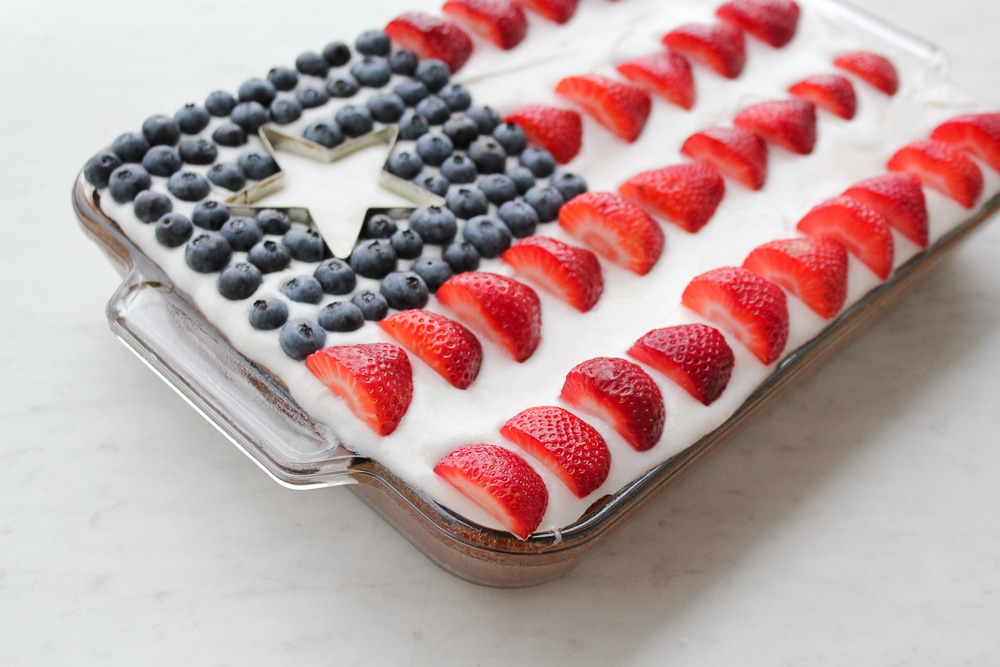 Room Temp Ingredients
If you're curious about the call for room temperature ingredients, just wanted to share a little bit more! When your wet ingredients are at room temperature, they combine SO much better! Just pull them out an hour or a few hours before you bake, and you'll be so happy you did!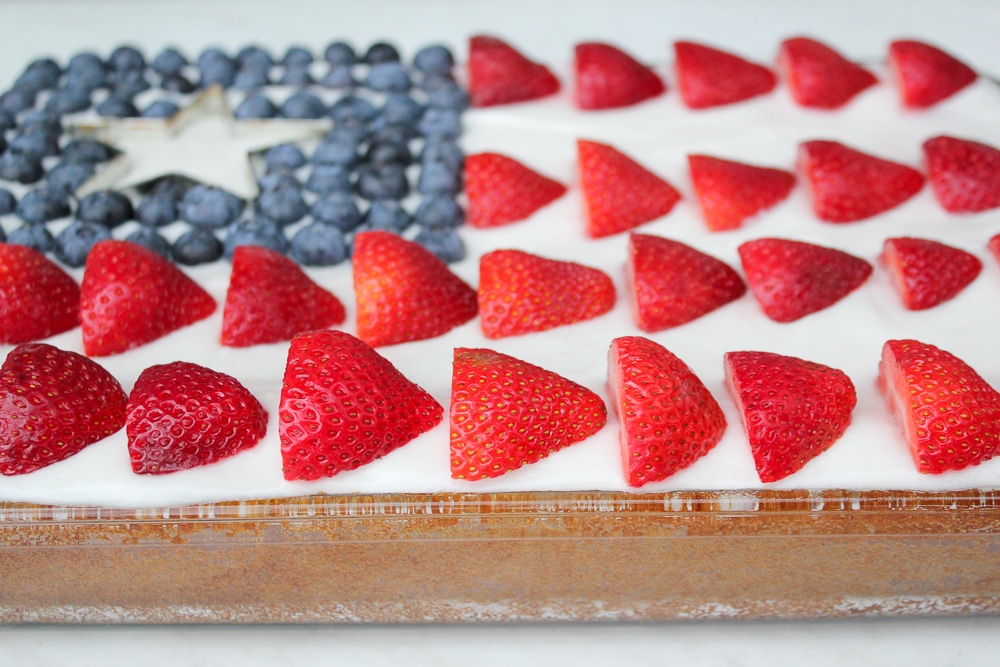 Assembling this Paleo Flag Cake Recipe
First, you'll make the cake itself using the instructions below. You want to be SURE to let it cool completely before frosting. If you think about how fast coconut oil melts, that's the kind of sticky situation you'll get yourself into if you try to frost a warm cake!
Next, you'll make a batch of my Paleo Coconut Cream Frosting recipe! Ice your refrigerated cake using this frosting.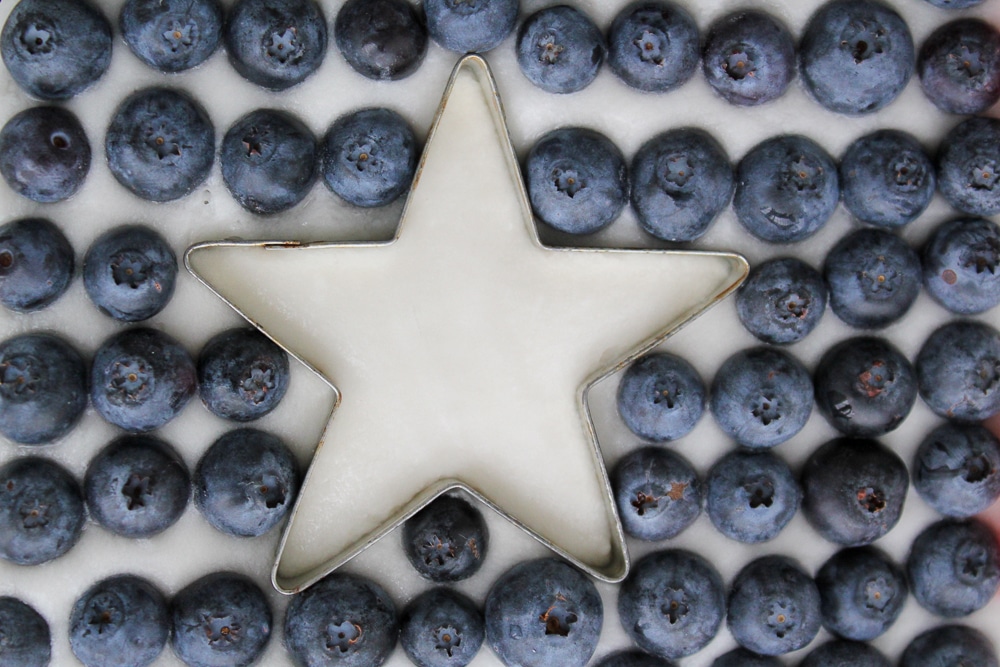 Finally, you'll assemble the cake decorations using this star cookie cutter, blueberries, and halved strawberries! Your friends will be SO impressed with your creation!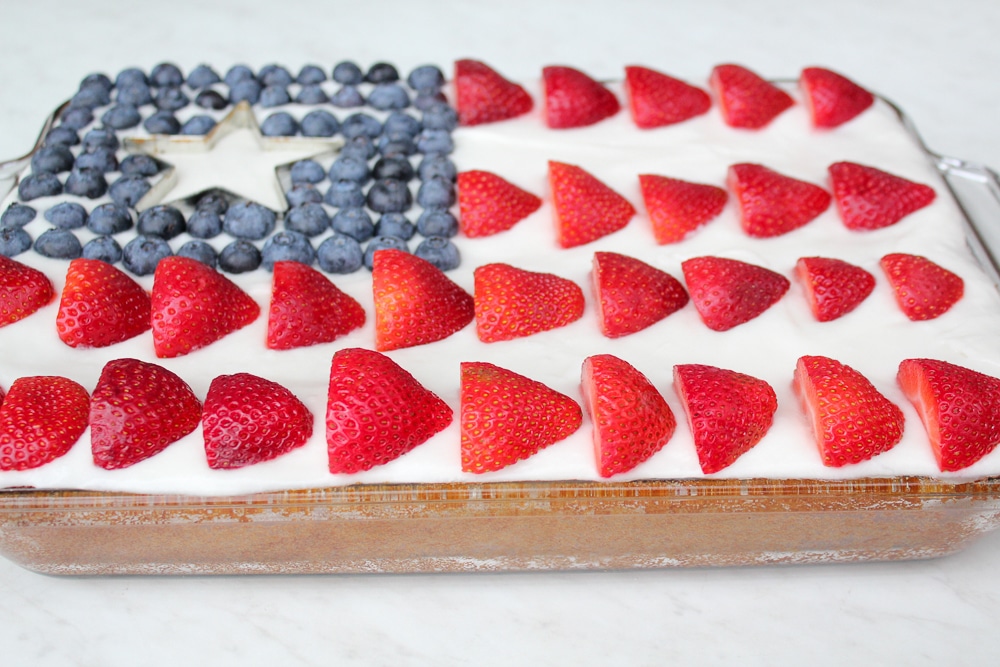 Transporting your Flag Cake
I feel like most July 4th celebrations you may be transporting your food! That can make things like cake decorating tricky tricky. I recently bought this Anchor Hocking glass casserole dish with lid, and we've used it a MILLION times since we got it! It's actually one of those items I'm left thinking- what in the WORLD did I do without this before?!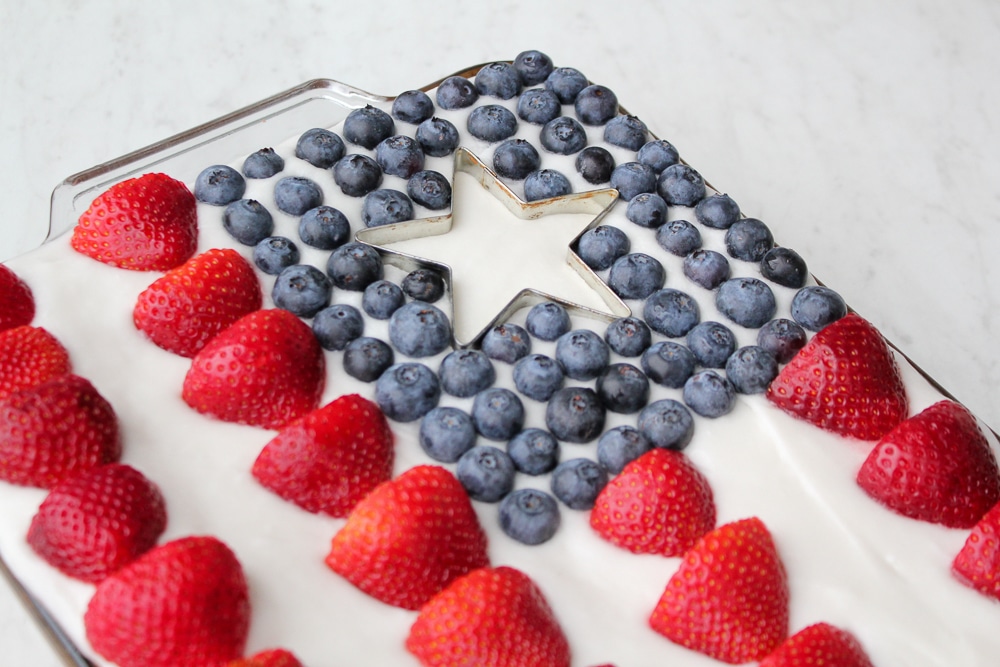 If you go with this casserole dish, or any dish with a lid, just be sure the cake hasn't risen so much that you can't also frost it and decorate it. You can always add less batter to your pan and remember to plan for a good bit of rising, too. I won't judge you when you lick the bowl clean! 🙂
Print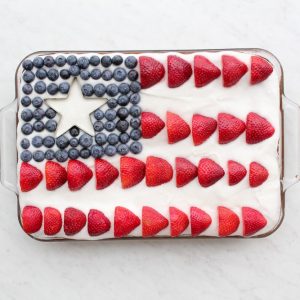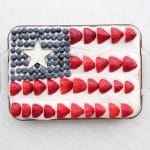 Paleo Flag Cake Recipe + Pictures (Gluten Free + Dairy Free)
---
2 c cassava flour
1.5 c almond flour
1/4 c coconut flour
1 cup coconut sugar
1 t baking soda
2 t cream of tartar (or 2 t lemon juice)
1 t salt
1 1/2 c unsalted butter room temp
1 cup honey
3 eggs room temp
2 egg whites room temp
1 T vanilla
1 cup almond milk room temp
1 batch of my Paleo Coconut Cream Frosting
1 lb container of strawberries
1 pint container of blueberries
---
Instructions
Preheat your oven to 325.
Using the whisk attachment of your mixer, mix the flours, coconut sugar, baking soda, cream of tartar, and salt together in a large bowl, then set aside.

 

Using the paddle attachment of your mixer, beat the butter and honey together on high speed for 3 minutes, scraping down the sides with a spatula as needed.
On medium-high speed, add each egg one at a time, beating well after each. Next beat in egg whites and vanilla extract.

 

Decrease the mixer speed to low, then alternate adding the dry ingredients and the almond milk. I used my 1 cup measuring cup to add the dry ingredients. You do NOT want to overmix- just mix each addition until combined. The batter will be airy and thick.
Bake for about 40 minutes or until the cakes are baked through. To test if your cake is done, insert a toothpick or butter knife into the center of the cake. If it comes out clean, it is done.
If you are completing this flag cake, first let it cool in the pan, then move it to the refrigerator until it is completely cool. You cannot frost this cake until it is cool, or the frosting will melt and be a mess!
Make a batch of this use paleo coconut cream frosting. Frost the cool cake, then add blueberries and strawberries sliced in half like the picture shows. I used a metal star cookie cutter like this one to make the star shape and filled in blueberries around it! My initial plan was to remove the cookie cutter, but I loved how it looked with it in. Just remove it before you cut the cake, obviously! Enjoy!
Want to save this Paleo Flag Cake Recipe for later? Pin it here!