Unfortunately, I'm not a huge fan of eggs. My mom hates them, too, so we didn't eat them growing up. Eggs are such a great, healthy way to start the day! Especially if you are living a Paleo lifestyle or doing a Whole30. Since I don't like eggs, I have to be creative with my egg free breakfasts! Which is how this prosciutto wrapped asparagus recipe came about…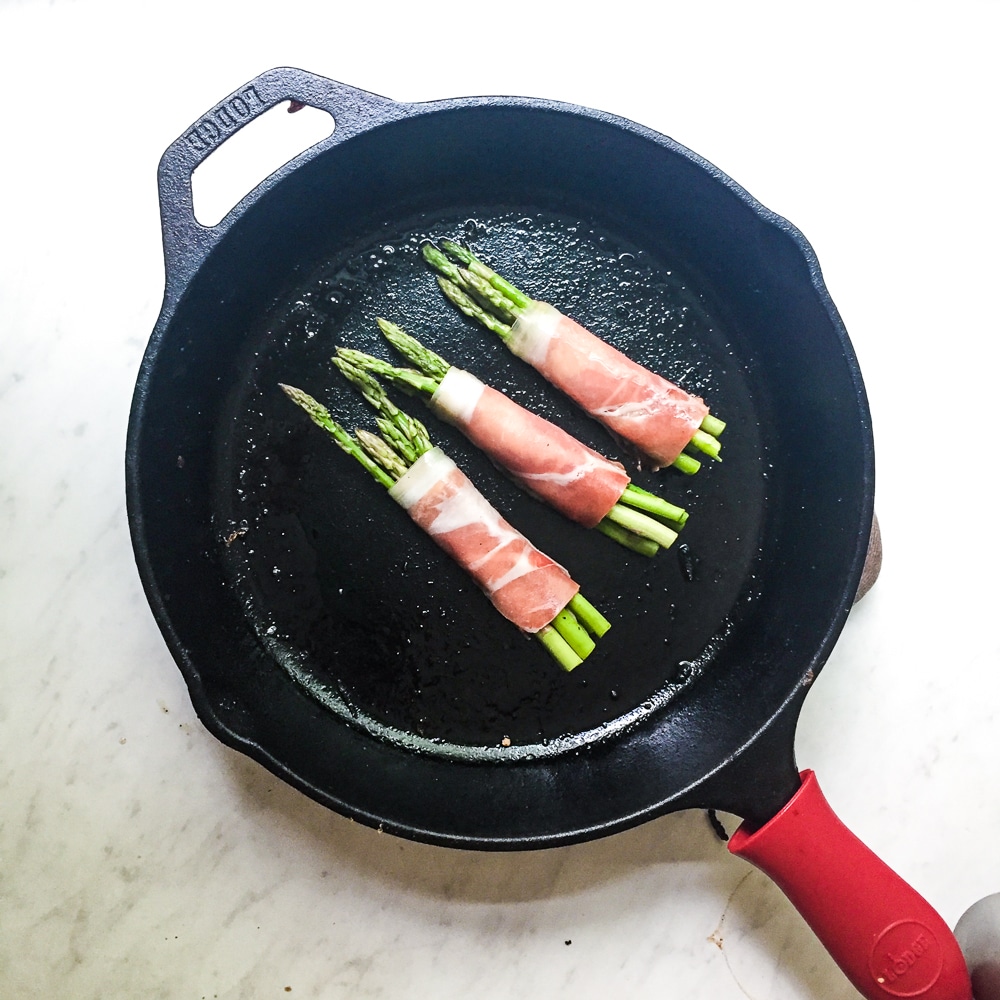 I absolutely love this prosciutto wrapped asparagus recipe! It's SO easy and simple! Since prosciutto is so thin, it cooks really quickly and the asparagus stays nice and crisp! That's important in my book. 
Of course I use my beloved Lodge Cast Iron Skillet for this recipe. I love how it gets the prosciutto super duper crispy! If you've been wanting a cast iron skillet and haven't made the plunge yet, I can't recommend it enough! We keep it on our stove at all times, and I use it every single day of my life. And look- you can even get this exact one on Amazon. Snag it here!
What is prosciutto?
Oh, you NEED to know about prosciutto if you don't already! Prosciutto is an Italian dry-cured ham that is super thinly sliced.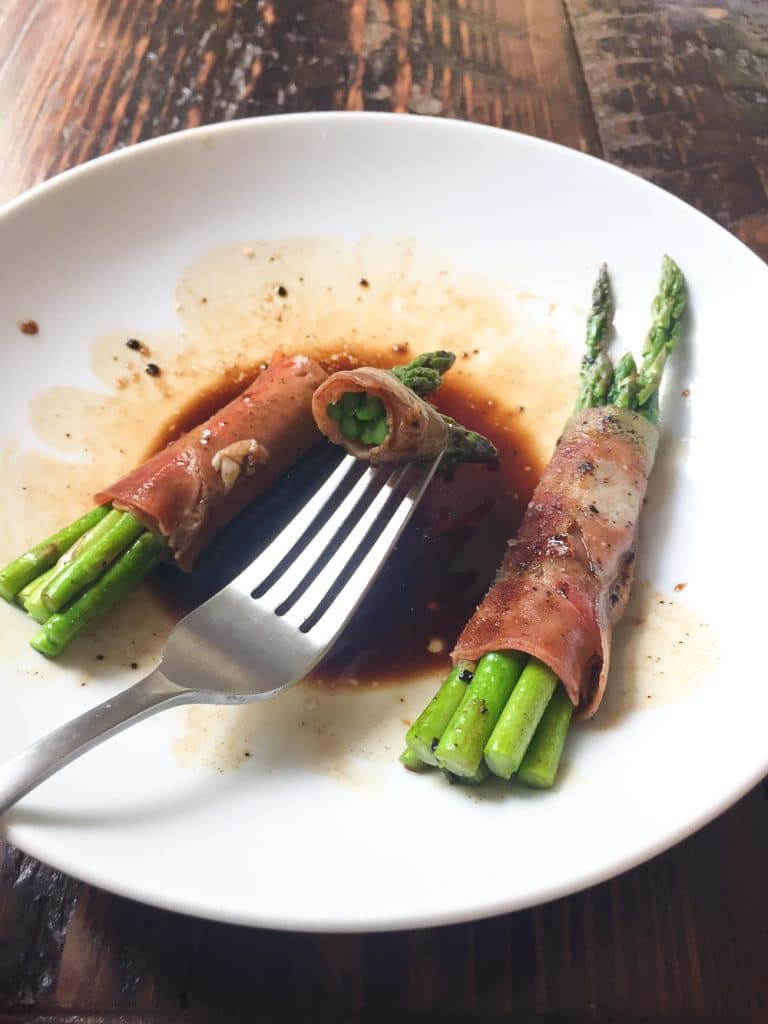 Whole30 Approved Prosciutto
If you're looking for Whole30 Approved Prosciutto, my favorite brand is Applegate.
One of my favorite ways to grocery shop is using Amazon Fresh! There are SO many great grocery products from brands I LOVE that you can get delivered straight to your door! You can even get this Applegate Prosciutto on Amazon Fresh- if you're not already a member, you can join here! Use this link for $25 off your first order!
With this recipe, you want to be sure you're only using 3-4 asparagus sprigs at a time. This ensures that the prosciutto can wrap around enough times to keep it all together. You can also cut the asparagus in half to make these more like appetizers. If you are going that route, you just want to be sure the asparagus is at least as wide as the prosciutto slices.
Print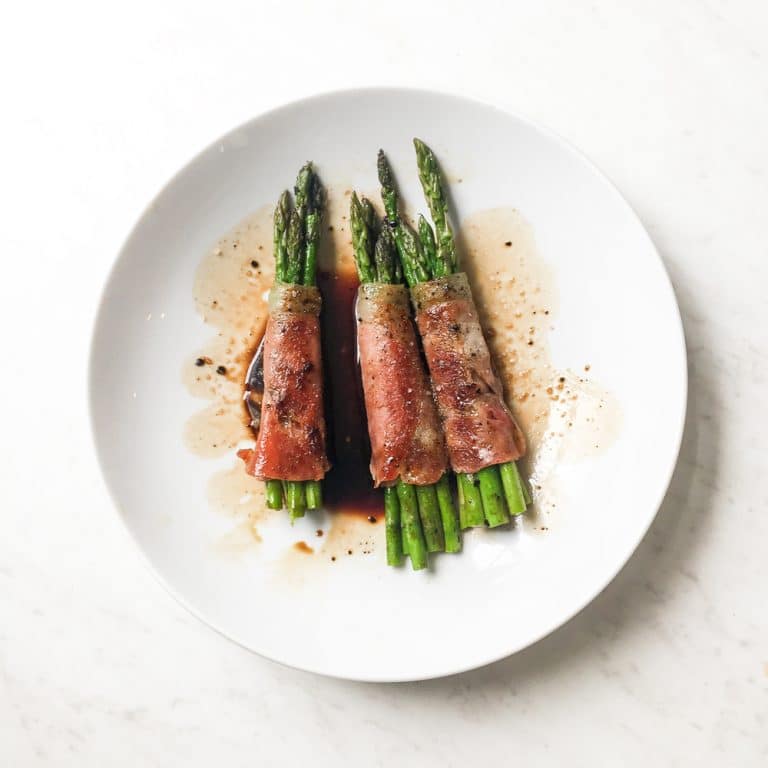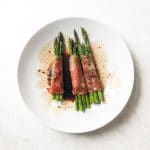 Prosciutto Wrapped Asparagus Recipe (Whole30 + Paleo)
---
1 bunch of asparagus, about 1 pound 
1 4 oz package of prosciutto slices
balsamic vinegar and pepper for topping, optional
---
Instructions
Snap the end of 1 asparagus to remove the rough ends, then chop all asparagus to that length.
Carefully wrap 3-4 sprigs of asparagus in 1 slice of prosciutto. Cook as many batches as will fit in a cast iron skillet or pan until crispy, about 3-4 minutes per side. Flip to cook both sides evenly. 
Serve with a splash of balsamic vinegar and freshly cracked pepper. 
If you want more egg-free breakfast recipes, check them out here!
Do you want to save this Prosciutto Wrapped Asparagus Recipe for later? Pin it here!