For those are you who already love my Whole30 Potato Salad Recipe, you are going to LOVE this Paleo + Whole30 Roasted Potato Salad Recipe even more!
Growing up in the Southeast, potato salad is a side dish that is pretty much at every single Southern function, party, barbecue, and church luncheon.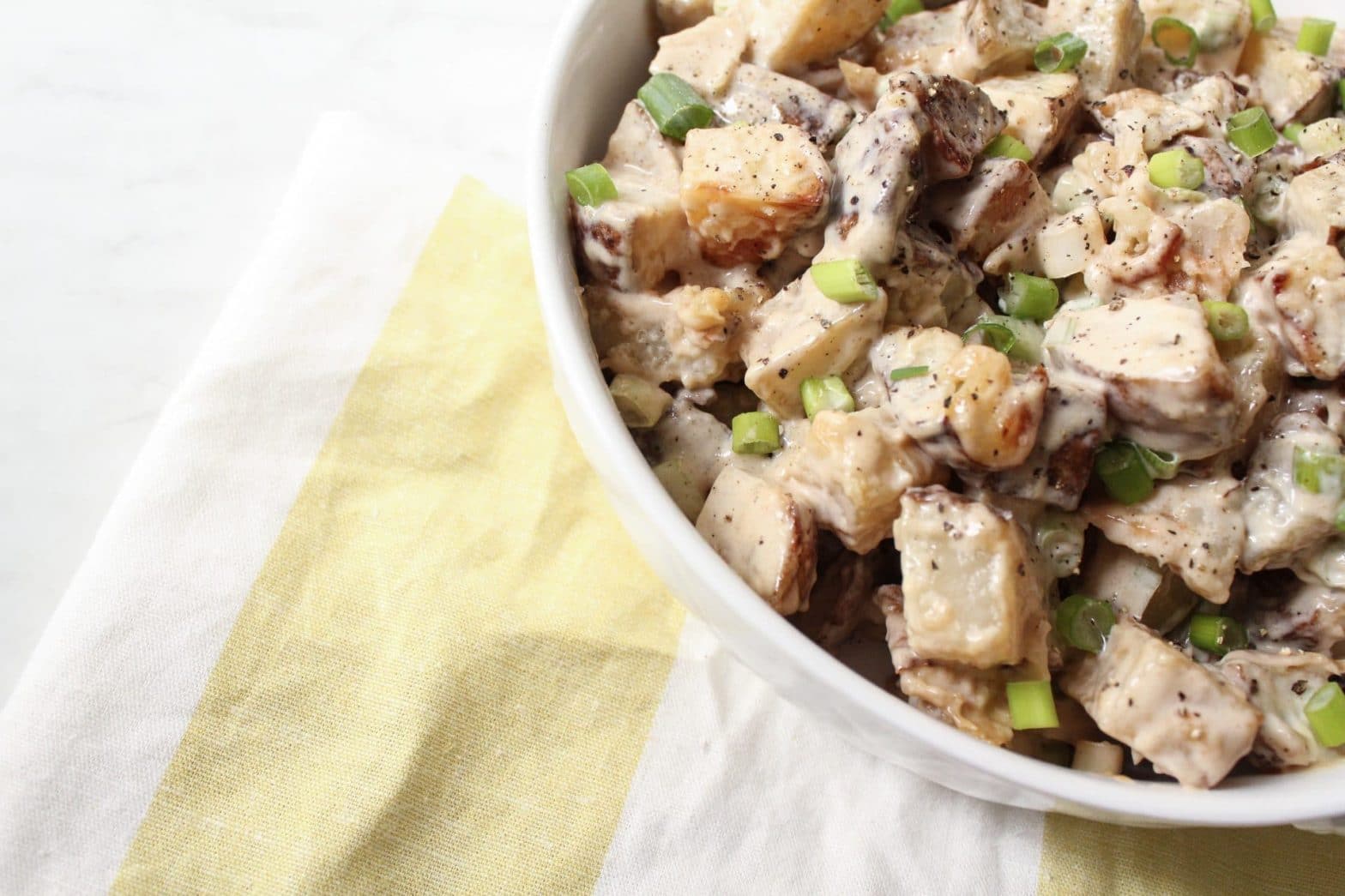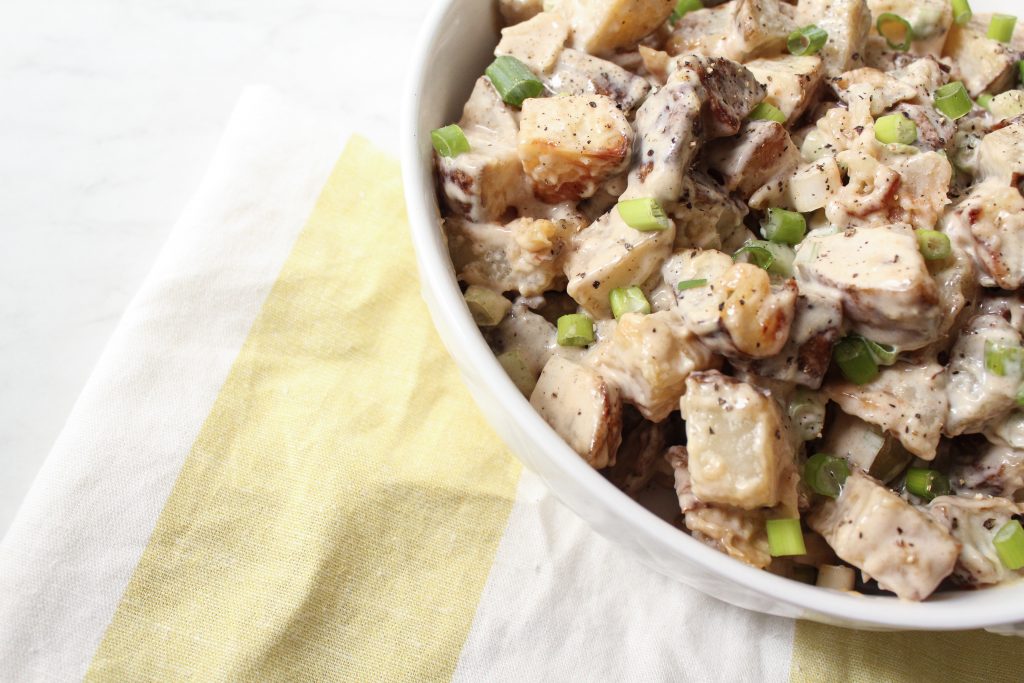 It's funny because potato salad is such a staple in the South, I consider it a Southern concept! After doing some digging, I found out that in the 16th century, Spanish explorers found potatoes in South America, then brought it back to be cultivated in Europe. The European version of potato salad is more vinegar based (like my original recipe), whereas when potato salad made it to America in the 19th century, it evolved to include mayonnaise!
The other day, when I was making my original potato salad recipe, an idea popped into my head: what if we used ROASTED POTATOES!!! Even though I had just made an entire batch of potato salad, I HAD to test this new idea out!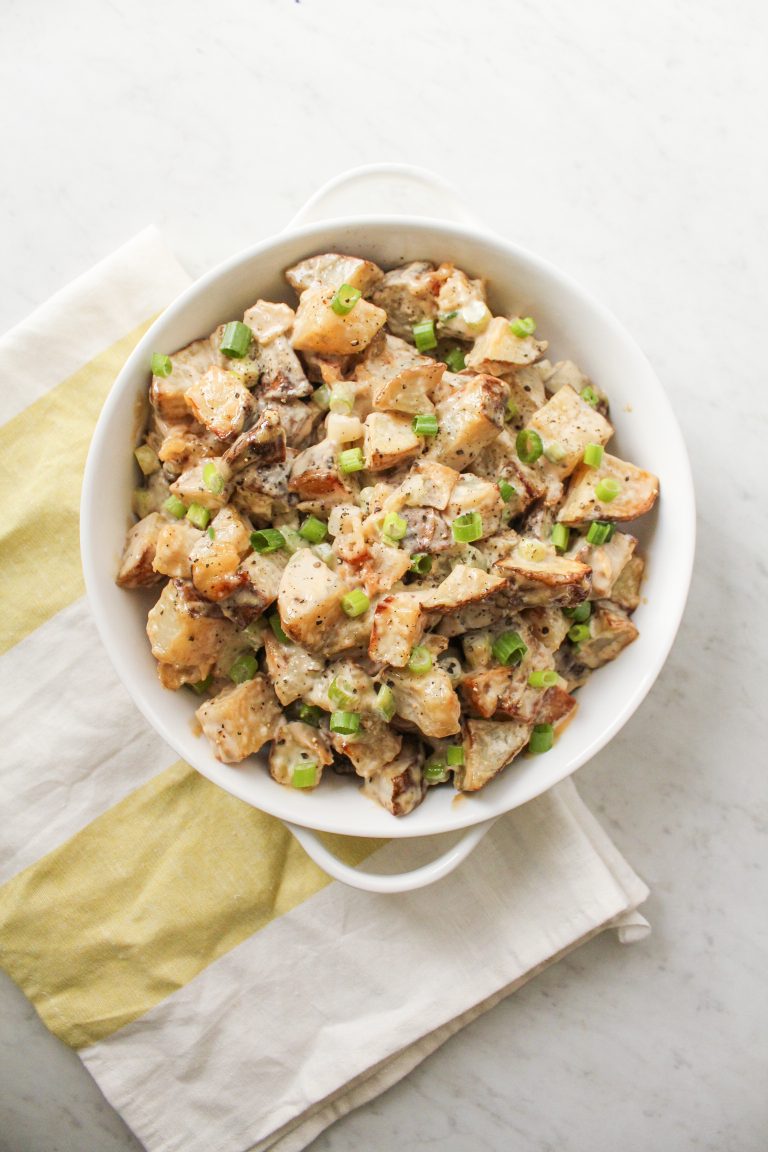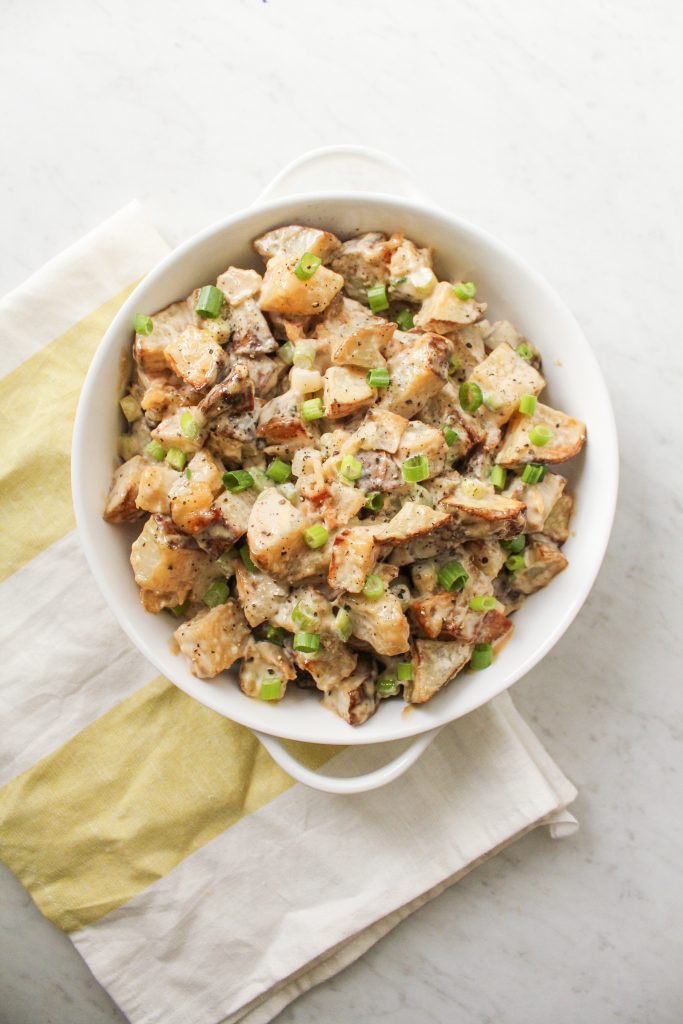 I made this Paleo + Whole30 Roasted Potato Salad Recipe up on the spot, and took it to some friends' cookout that night. A few days later, my friend Jenny texted me "Hey do you have that recipe for the potato salad yet? John is begging me to make it!" 🙂
That's when I knew it was a keeper!
This recipe is SO EASY!!! Seriously it has FIVE ingredients, and is some of the best potato salad I've ever tried (and I've tried a lot of varieties!)
This recipe calls for Whole30 compliant mayonnaise, like I stated earlier. Check out this entire list of Whole30 compliant mayonnaise brands here! (I love this Primal Kitchen Mayo!)
Looking for more recipes? If you like this one, you'll love these Southern Recipes and other side dishes.
I hope you enjoy!
Print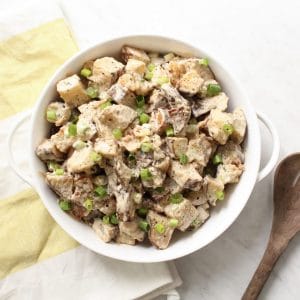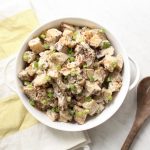 Roasted Potato Salad Recipe Whole30 + Paleo
---
4 russet potatoes
1/4 c olive oil
3/4 c compliant mayo
2 T coconut aminos 
1 bunch green onions, chopped
---
Instructions
Preheat the oven to 400 degrees. Wash and cut the potatoes into 1 inch circles, then quarter. Coat in olive oil, then cook for 1 hour, stirring twice.
Once the potatoes are fully roasted, allow them to cool before tossing in the sauce.
While the potatoes are cooling, mix together the mayo, coconut aminos, and green onions. Pour the mayo sauce over the potatoes, and stir to combine. Top with freshly cracked salt and pepper. Enjoy warm or refrigerate.
Want to save this Paleo + Whole30 Roasted Potato Salad Recipe for later? Pin it here!