This Paleo Dutch Baby Recipe is sponsored by Danone North America/ SO Delicious®, but all thoughts, opinions, and the recipe are my own! Thank you for allowing me to work with brands I believe in to continue to bring you free recipes and content!
Y'all. This Paleo Dutch baby recipe is SO YUM. I love tackling the challenge of a recipe that has exclusively non-Paleo ingredients 🙂 What a challenge! A traditional dutch baby recipe calls for eggs, flour, milk, sugar, and butter. Four out of five of those ingredients aren't Paleo!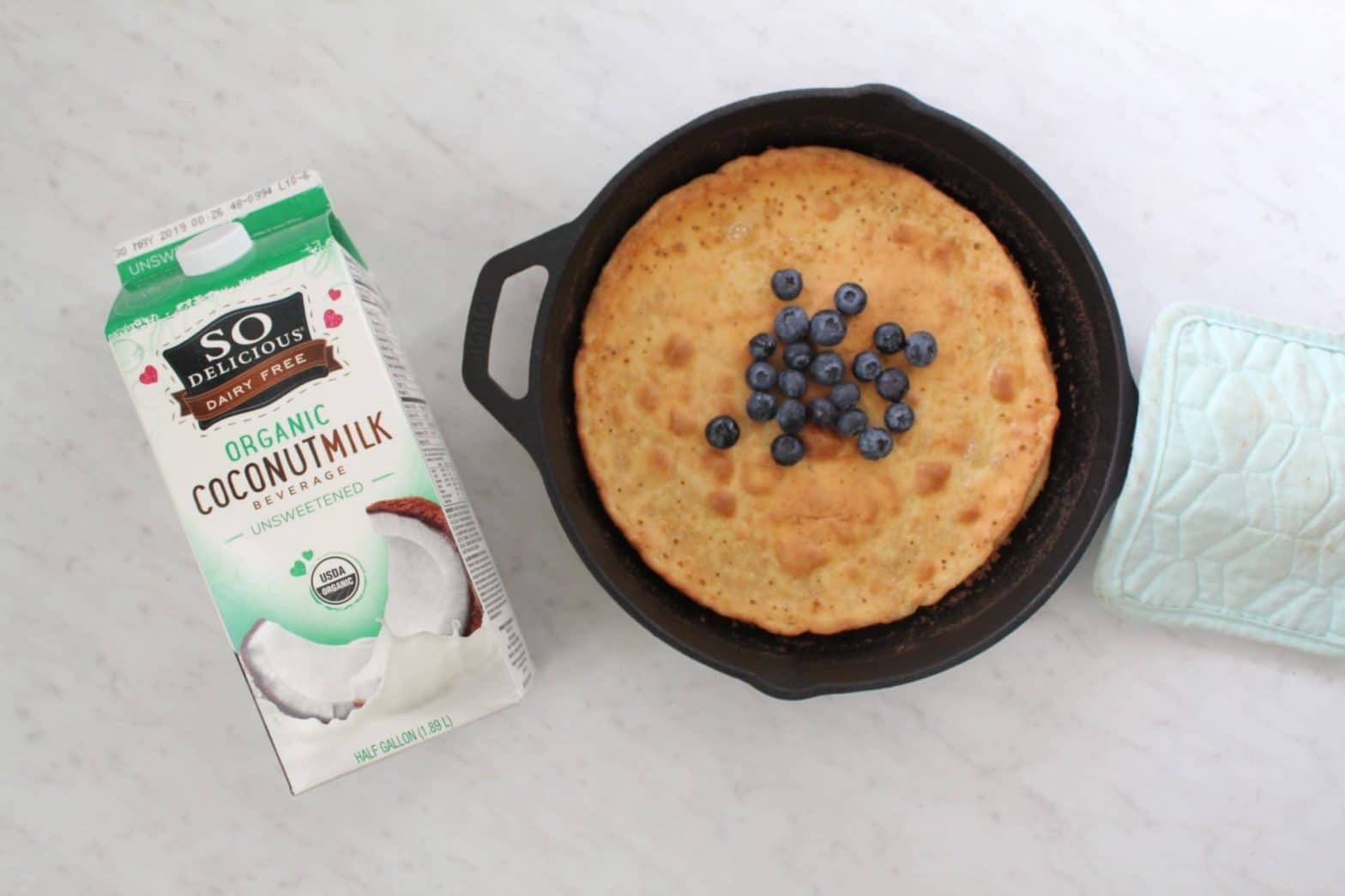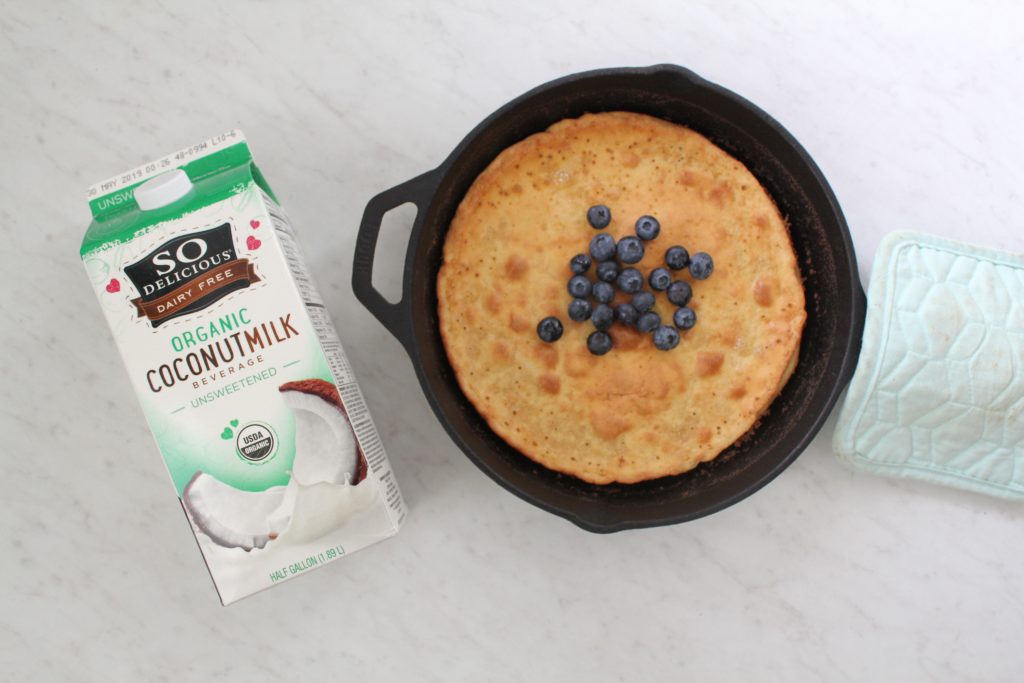 In this Paleo Dutch baby recipe, we use a mixture of my favorite Paleo baking flours: cassava, coconut, and almond. We also use SO Delicious® Unsweetened coconutmilk as the "milk," because I LOVE the flavor it adds. We also use coconut sugar! You're going to love it!
So, let's go back for a second…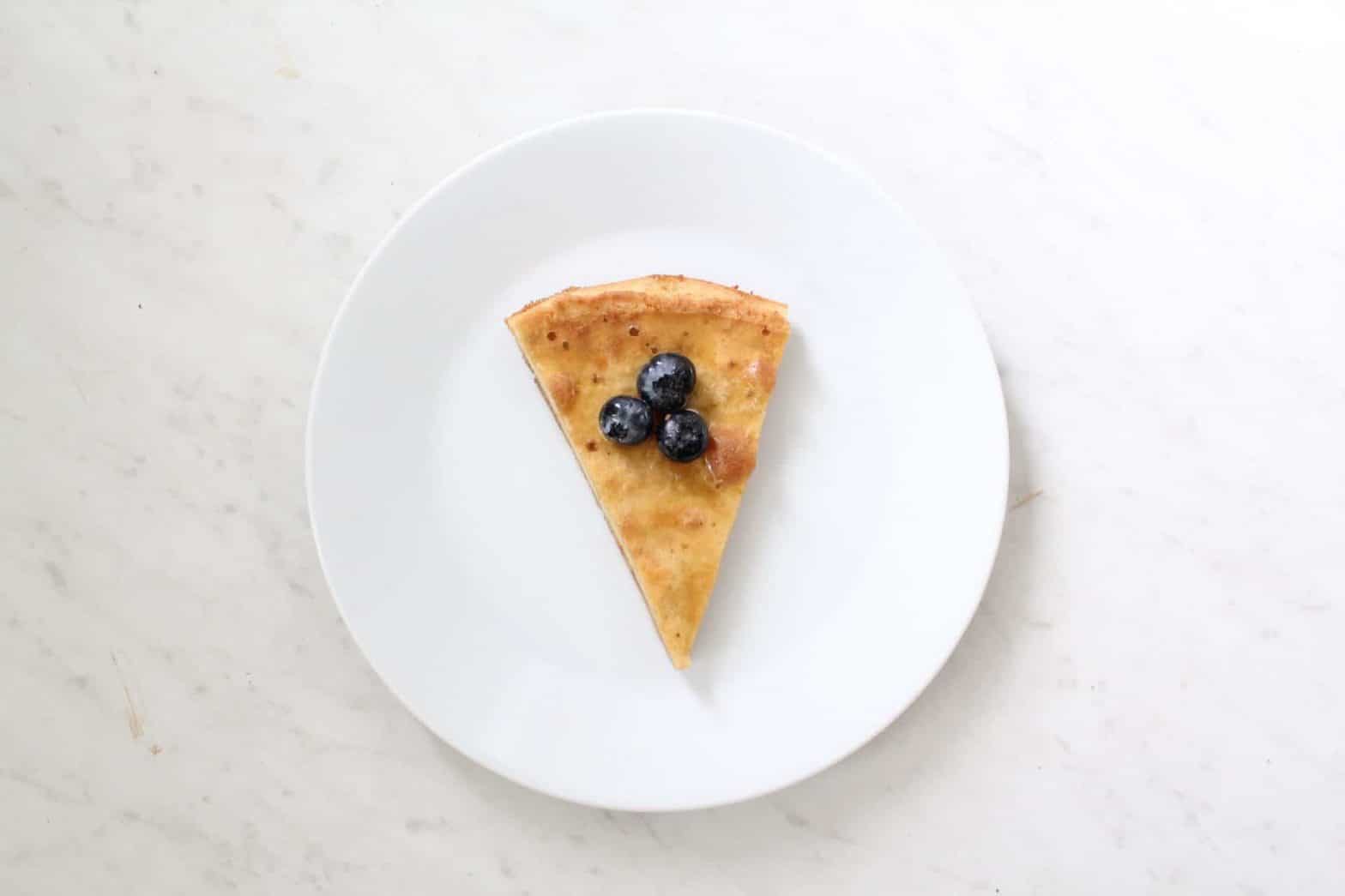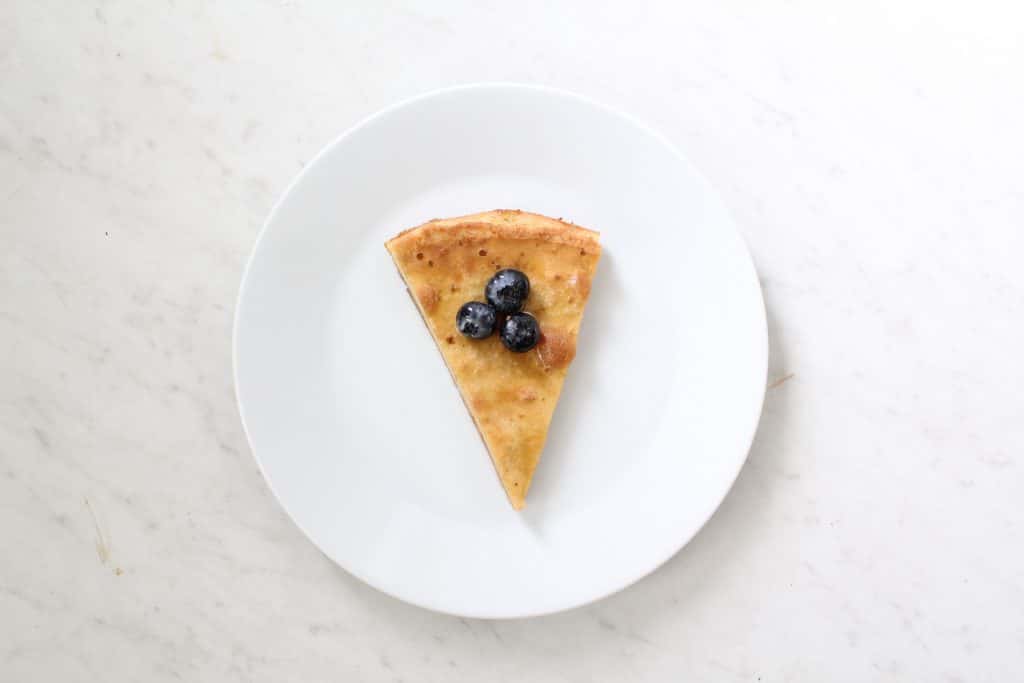 What IS a Dutch baby pancake?
You would think, given the name, that this is a Dutch recipe… But it's actually an American popover. It can also be called a German pancake, a Bismarck, or a Dutch puff. It's thought it may have derived from the German pancake called a "Pfannkuchen." They first surfaced in America in the early 1900's.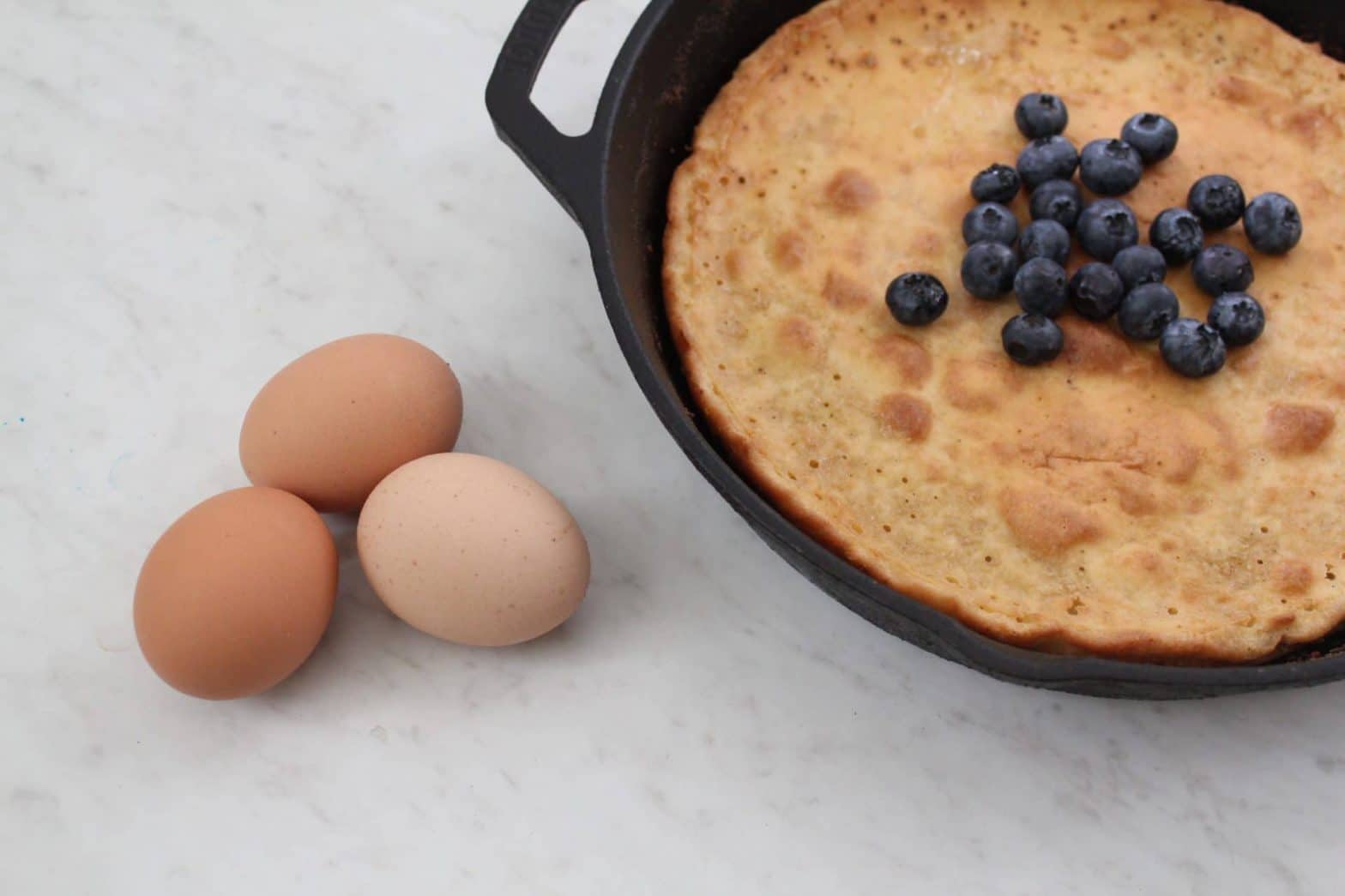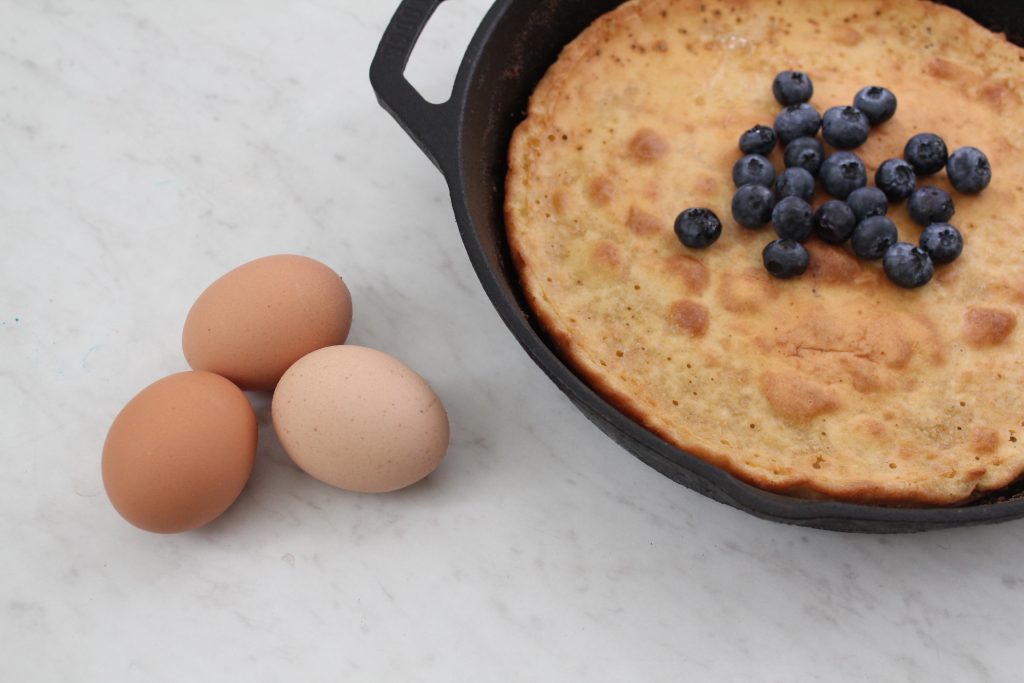 Some of the characteristics of a Dutch baby are that it's baked in the oven in a cast iron skillet, very different from traditional individual pancakes that are flipped halfway through cooking. Surprisingly, it doesn't have any leavening agents like baking powder or baking soda like traditional pancakes do. Even without it, it rises SO much because of the eggs, typically forming a huge poof in the middle. It then deflates after coming out of the oven.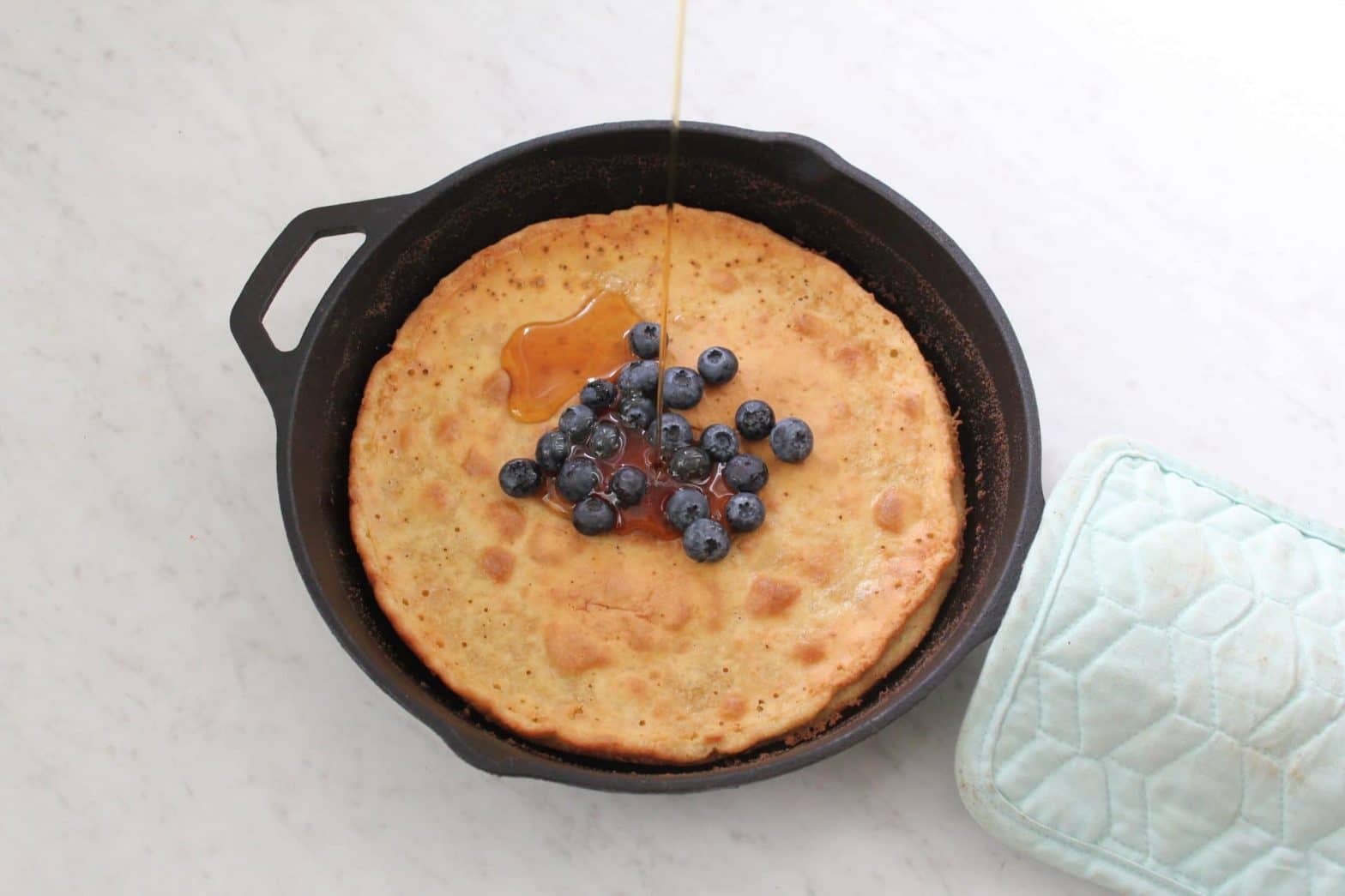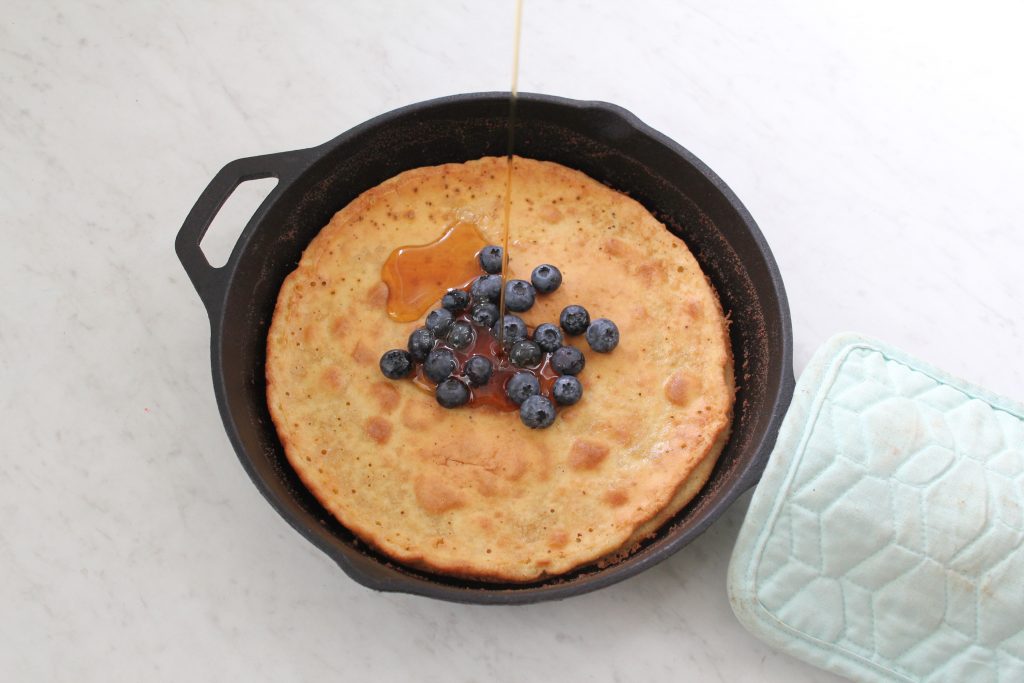 Some recipes call for fruit inside the pancake, and it's usually served with fresh squeezed lemon juice on top. If you would like to add fruit to this recipe, every fruit I have tried works great dispersing it around the hot pan and adding the batter right on top! This Paleo Dutch baby recipe is also delicious with fresh fruit on top. Enjoy!
Looking for similar recipes? Check out our breakfast and baking categories!
Print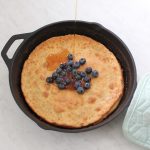 Paleo Dutch Baby Recipe
---
3 eggs
1/2 c almond flour
2 T cassava flour
2 T coconut flour
3/4 c SO Delicious® Unsweetened coconutmilk
1 T coconut sugar
1/2 t vanilla extract
1/2 t almond extract
2 T Miyoko's vegan butter OR coconut oil (if you use coconut oil, add 1/4 t kosher salt to the batter)
---
Instructions
Preheat oven to 425. Place the pan in the oven while it is preheating.
Mix together eggs, flours, coconutmilk, coconut sugar, vanilla and almond extracts in a blender until just combined.
Remove the pan from the oven when it is heated to 425. Add the butter or coconut oil. When it is fully melted, pour in the batter in the center of the pan. It will spread all the way to the sides.
Cook for 20 minutes or until it is fluffy and golden brown on top. Remove from the oven and serve warm. Optional- add fresh fruit, lemon juice, and/ or maple syrup on top!
Want to save this Paleo Dutch Baby Recipe for later? Pin it here!