I am completely obsessed with all things chicken salad! This curry chicken salad with raisins recipe is NEXT LEVEL. I make my Honey Pecan Chicken Salad weekly in the summer! This delicious Curry Chicken Salad recipe packs in SO many delicious flavors all in one recipe- you're going to LOVE it!
I seriously make this Curry Chicken Salad with Raisins recipe in bulk, because it FLIES out of the bowl! I feel like I can't make enough!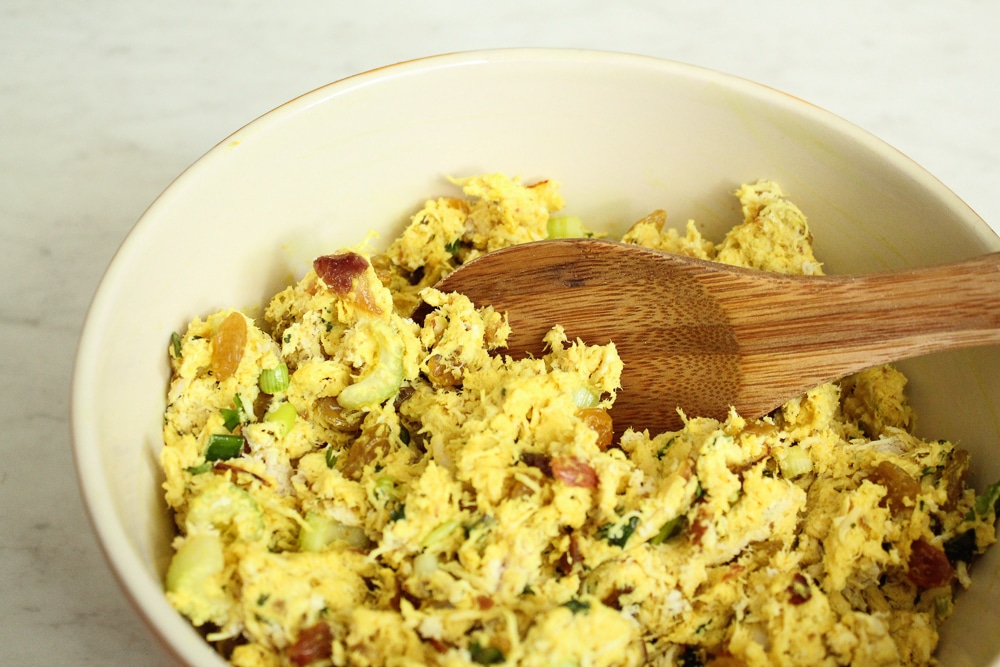 It's the perfect combination of sweet, savory, and flavorful! It really is the best combination of flavors- I love the curry and cilantro together. The dates and mayo make it just the perfect amount of sweet and so creamy! The scallions and sliced almonds give it a nice crunch- NOM I want to make it again right now just thinking about it!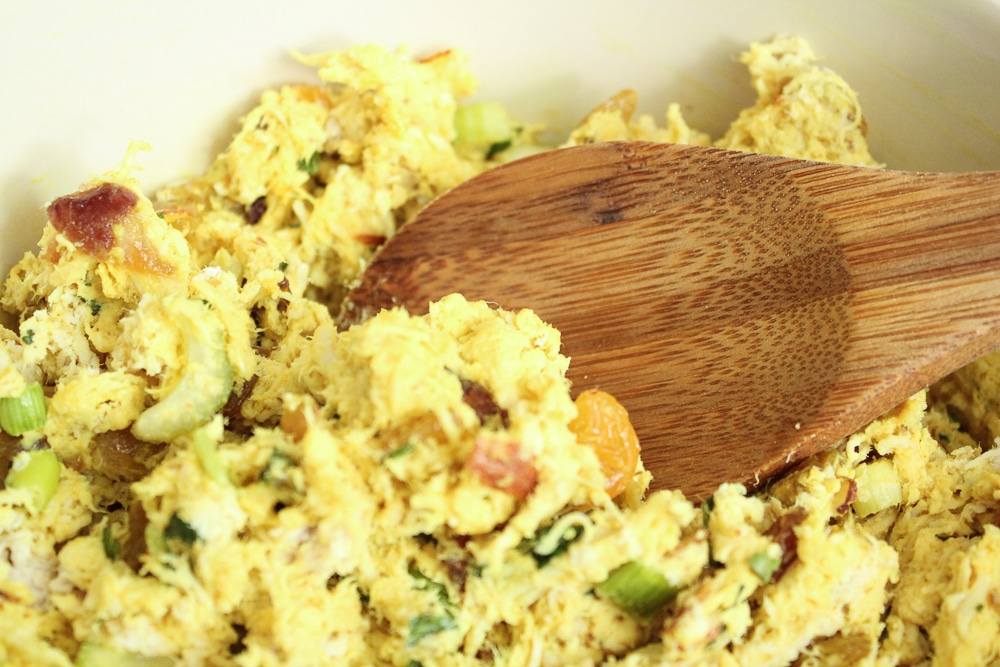 The kiddos LOVE it and specifically ask for it! Finding healthy, kid-friendly recipes can be so tough! That's why I always try my recipes on my own kiddos to make sure they will eat it well! This is definitely one of their very favorites. They also like that when I get the golden raisins for this recipe, there are always some leftover 🙂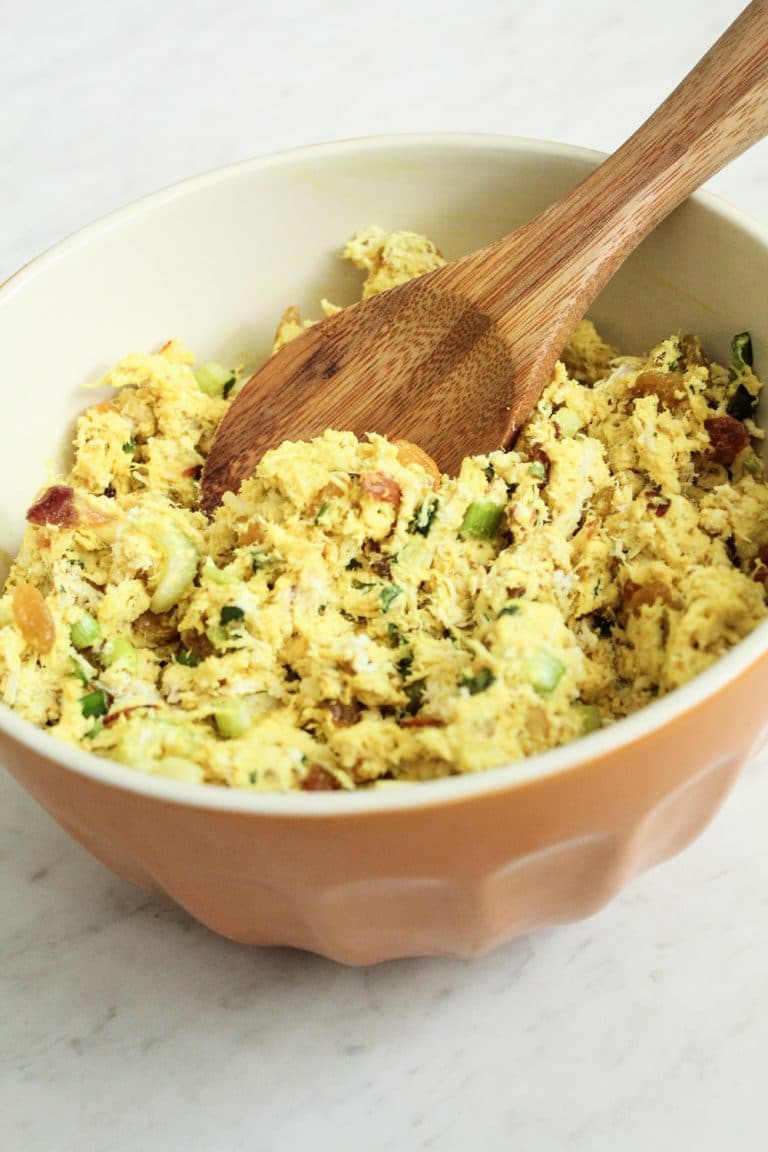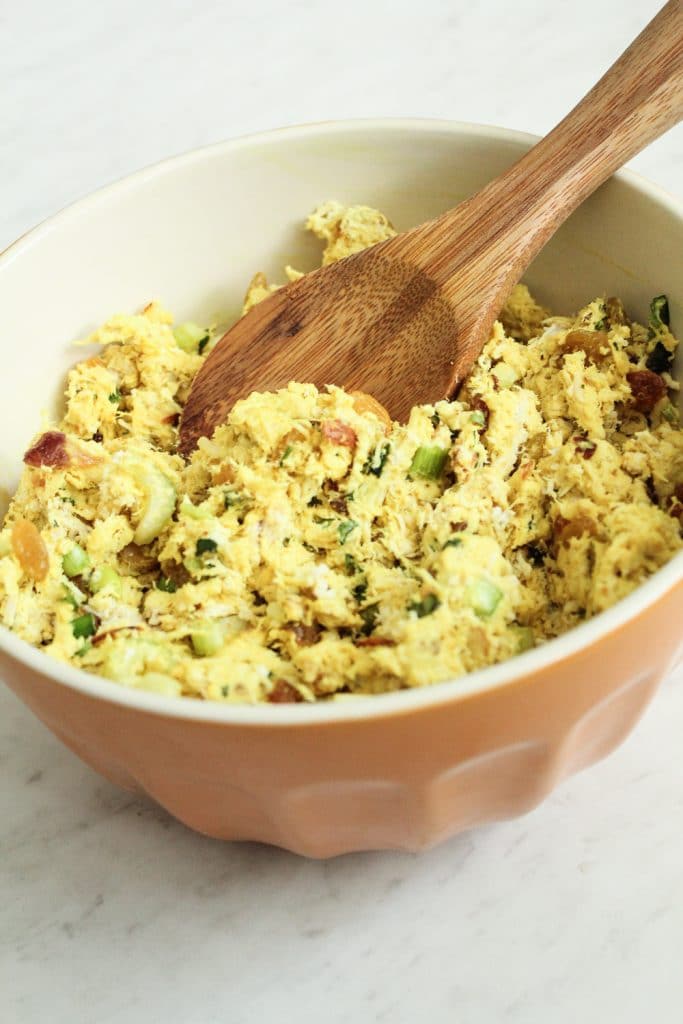 Since nearly all mayonnaises are made with soybean oil (and usually sugar, too!), you want to be sure you're using a Paleo mayonnaise. Paleo mayonnaise is usually pretty costly, so to save a bit you can make it at home using this Paleo Olive Oil Mayonnaise Recipe.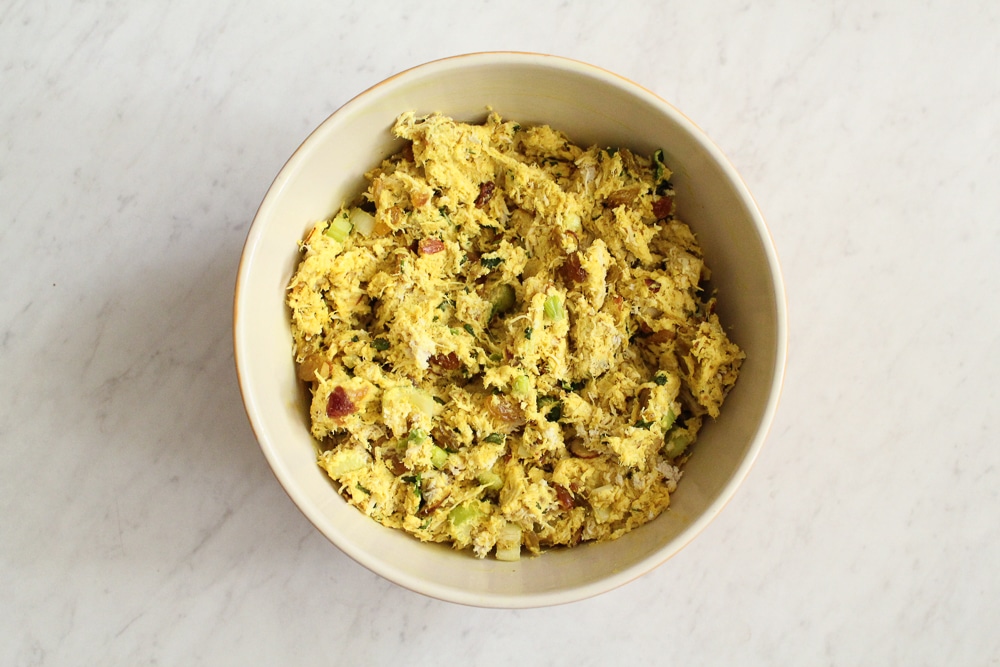 I love this recipe either on top of a TON of salad if I'm doing Whole30, in avocado halves, or on a sandwich! It's so good no matter how you eat it 😉
For an entire roundup of Chicken Salad Recipes, click here!
Print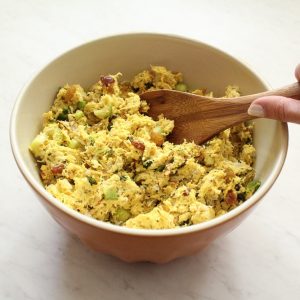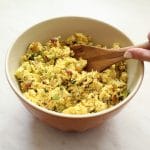 Curry Chicken Salad with Raisins Recipe (Paleo + Whole30)
---
4 chicken breasts, cooked and either shredded or cut into 1/2 in cubes
1 c Paleo mayonnaise (or make your own!)
1 T lime juice
2 T curry powder
10 dates, pitted
1/2 c cilantro, finely chopped
1/2 c sliced almonds
1/2 c golden raisins
1/2 c celery, chopped
1/2 c scallions, chopped
---
Instructions
Blend mayonnaise, lime juice, curry powder, and dates in a food processor or blender until smooth. (I use my Vitamix!)
Add the mayonnaise mixture to a mixing bowl along with all other ingredients, and stir to combine. I personally love this served on a bed of lettuce or even in an avocado half. Enjoy!
Want to save this Curry Chicken Salad with Raisins Recipe for later? Pin it here!