WATERMELON, right? It's just such a great fruit. I think because it's such a seasonal fruit and you can't ALWAYS get it, it makes me love it EVEN MORE! If you're as much of a watermelon fan as I am, you're going to LOVE This Mint Lime Watermelon Salad Recipe! It's Whole30, Paleo, Vegetarian, #allthethings and it's SO delicious!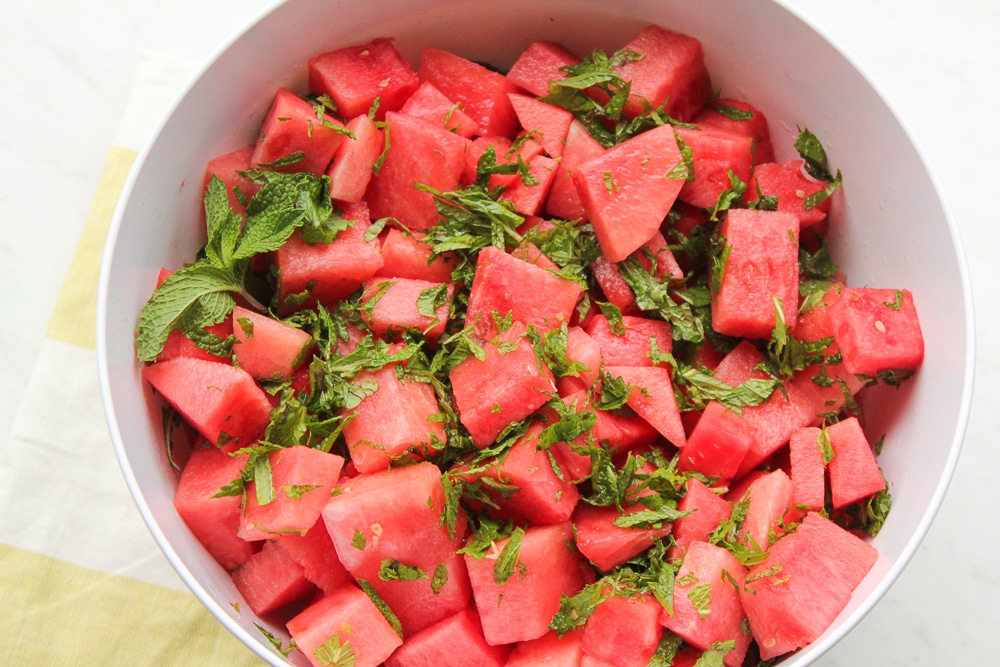 I absolutely love learning about the history of food! Some facts from the Watermelon Board: Watermelons are thought to be at least 5,000 years old! There are records of watermelon hieroglyphics (don't you want to see that?!) AND watermelons were put in kings' tombs as food for the afterlife!
As most foods do, watermelons' expansion corresponded with travel on merchant ships on the Mediterranean. They went to Europe and China. In John Egerton's book "Southern Food," he states he believes watermelon made its way to the United States via the slave trade.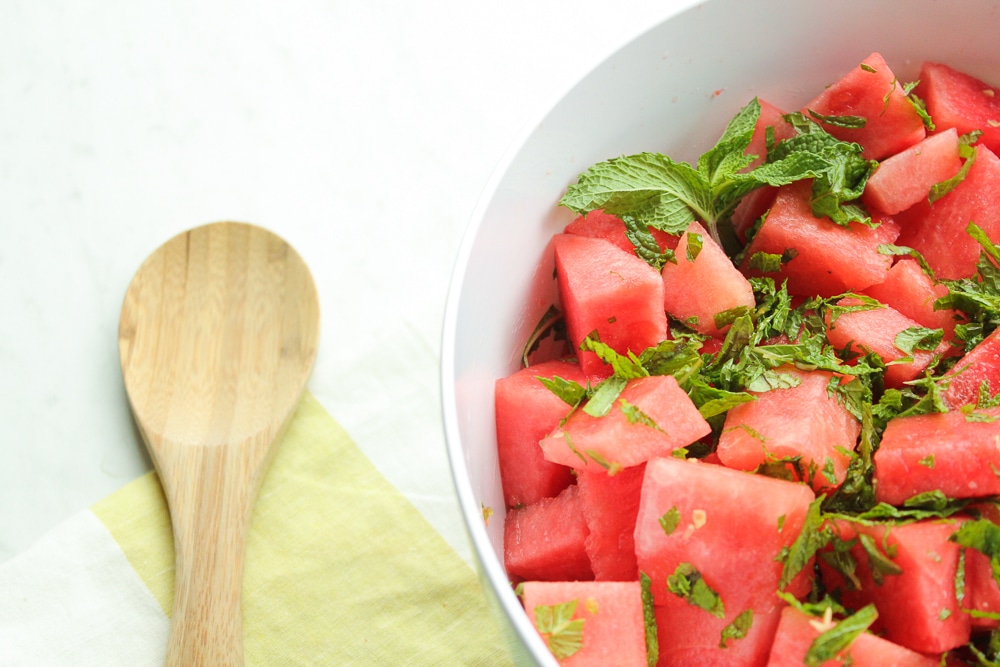 I find it super fascinating (and smart!) that early explorers used watermelons as canteens! They won't get exposed to harmful bacteria while still in its rind, and watermelons are 92% water!
Tell me- do you like salted watermelon?
Do you like salt on your watermelon? I first heard about this because my mother in law loves it! Now that I've tried it, I just can't get enough!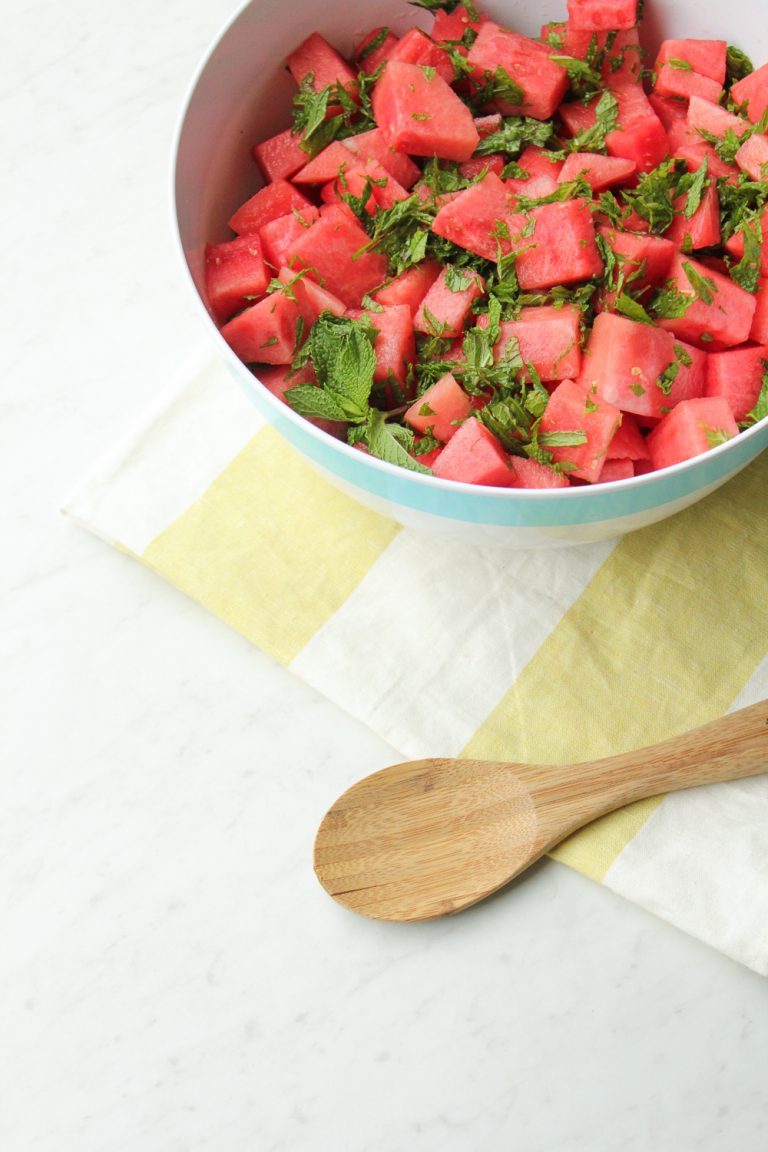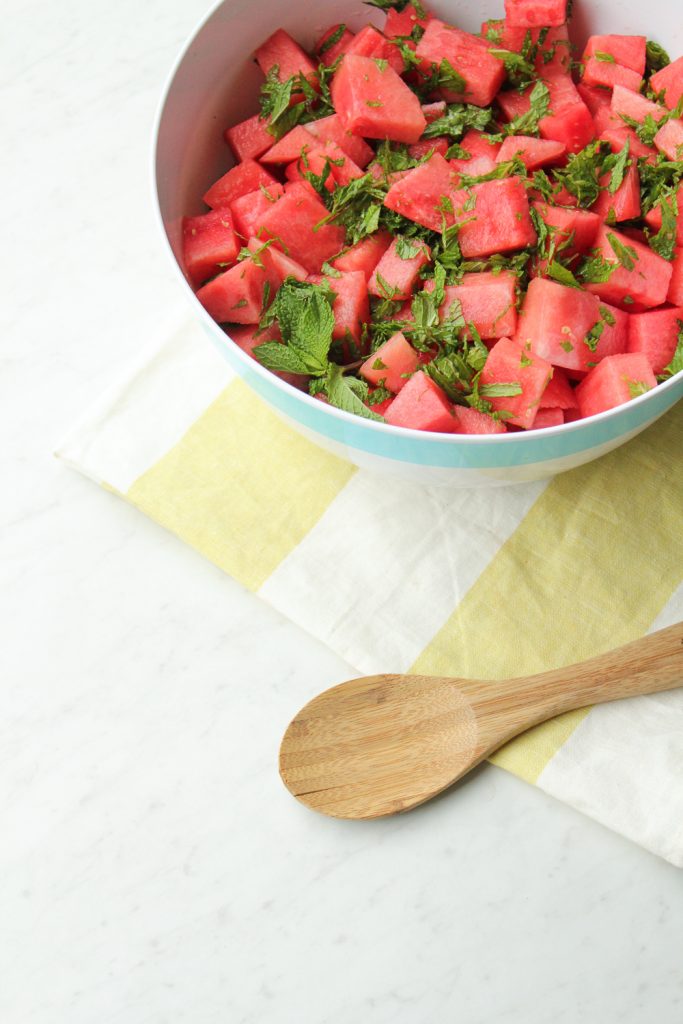 This Mint Lime Watermelon Salad Recipe calls for salt! I've found that people who love salt on their margarita glass will also like salted watermelon 🙂 If you're a sugar-on-the-glass kind of person, I would leave it off.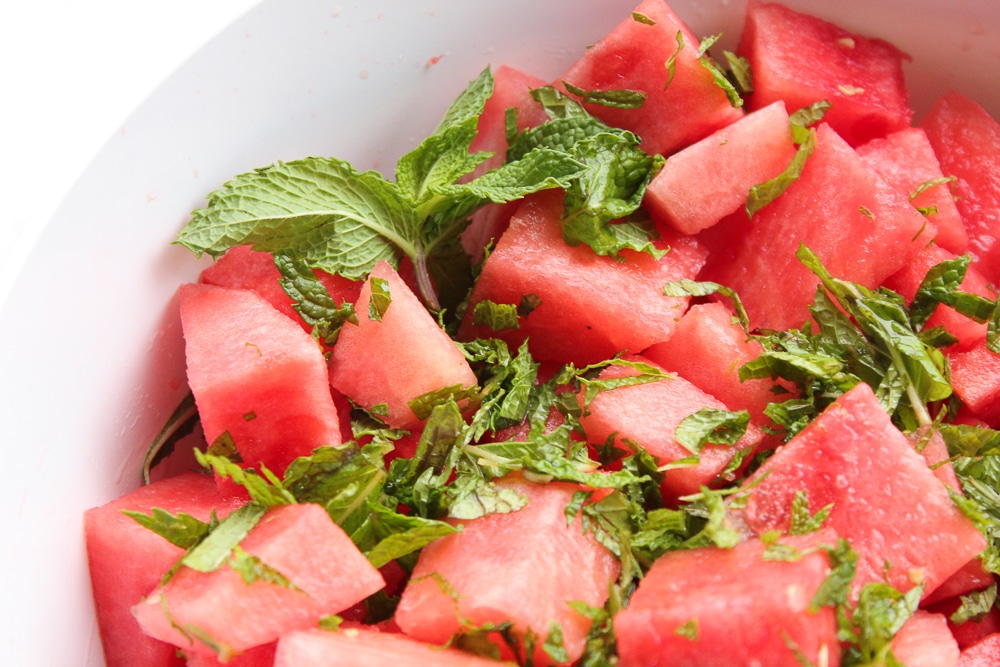 Regardless of how you have it, you will LOVE this Mint Lime Watermelon Salad Recipe! It's the perfect Whole30 "dessert" (obviously not actually a dessert) to bring to a BBQ!
Looking for other Whole30 Compliant BBQ Menu Items?
Print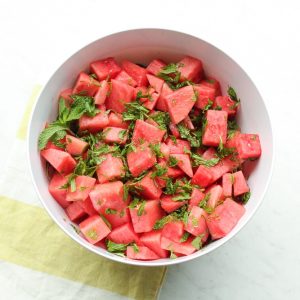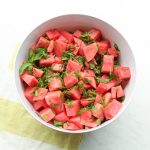 Mint Lime Watermelon Salad Recipe (Whole30 + Paleo)
---
1 whole watermelon, cut into chunks (about 8 c)
1/4 c lime juice
1 bunch mint leaves, chopped (about 1/4 c)
Salt, optional
---
Instructions
Mix everything together and enjoy!
Want to save this Mint Lime Watermelon Salad Recipe (Whole30 + Paleo) for later? Pin it here!