Chaz and I have been making this Vegan + Vegetarian Indian Red Lentil Dal Recipe for almost ten years now!
If you didn't already know, in 2010, Chaz and I became vegetarians. Both for different reasons. We were actually thousands and thousands of miles away from each other when we both came to the conclusion. I was studying abroad in Italy for the summer, and he was at a Young Life camp in Georgia cooking for hundreds of people twice a day. 
When we got back to school, one of the things we loved doing together was cooking! It was pretty easy to find vegetarian recipes! We especially loved getting recipes from other cultures. We would explore different restaurants in Athens, Georgia and their vegetarian options, then try to recreate those dishes ourselves!
We LOVE Indian food, and would go to the lunch buffet at Taste of India in Athens ALL the time. We started to love dal recipes, which are dishes using lentils! Lentils are so tasty and filling! This lentil dal recipe came about, and we've probably made it hundreds of times over the last 10 years, tweaking it as we go… 
Fast forward to when we started Ella on solid foods, and it really made me consider what we're feeding our sweet little one! We had heard rumblings of the Paleo diet, and after looking into the nutrition science behind it, we were convinced! In June of 2014 we started adopting a Paleo lifestyle, and have never looked back!
Immediately after becoming Paleo, I started this blog! I've never thought to share this recipe with you because it's not Paleo! But let's be real, not many of us are 100% all of the time!! This recipe is definitely worth it! It's still a great, healthy choice! 
The immense flavors in this dish will BLOW you away!! It's bright yellow, and even my kiddos eat it up! They will even request "those yellow lentils." The red lentils in this recipe deconstruct when cooked long enough, so it actually forms more of a mash. It's SO yummy over rice, and especially with naan bread. 
Click here for more Indian-inspired recipes! I hope you enjoy!! 
Print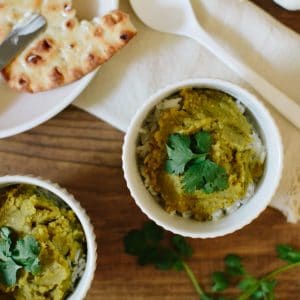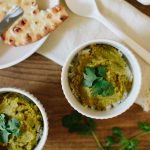 Indian Red Lentil Dal Recipe (Masoor Dal Recipe- Vegan + Vegetarian)
---
2 T olive oil
1 small onion finely chopped (about 1.5 cups)
1 T mustard seeds
2 t ground turmeric
1 T ground cumin
1 t red pepper flakes
1 c red lentils
1 cup full fat coconut milk
2 c water
2 c cilantro, chopped
1 T lemon juice
1 T kosher salt, or to taste
Basmati Rice, for serving (or cauliflower rice)
---
Instructions
Add olive oil to a medium saucepan on medium high heat.
Add the onion and cook until translucent, about 7 minutes. Add mustard seeds, ground turmeric, ground cumin, and red pepper flakes, and cook until fragrant, 1-2 minutes. 
Add the red lentils and stir until they're fully coated in the spiced oil mixture. Add water and coconut milk, and bring to a boil. Simmer for 25-30 minutes, until the lentils have broken apart and have formed a mash. 
Remove from heat. Add chopped cilantro, lemon juice, and salt. Serve over rice or cauliflower rice. Enjoy!
Want to save this Indian Red Lentil Dal Recipe for later? Pin it here!