This season, I've been told multiple times this Paleo Gingerbread Cookies Recipe is even better than the standard, gluten-filled goodies! Hooray! That's always the goal 🙂
If you love gingerbread cookies, you will LOVE this gluten free, grain free, dairy free variety!
Where did this recipe come from? Let's take a look!
The History of Gingerbread
Run, run, fast as you can,
You can't catch me, I'm the gingerbread man!

– The Gingerbread Man, a fairy tale
There's thought that Gingerbread is claimed to have been brought to Europe in 992 CE by the Armenian monk Gregory of Nicopolis. He traveled from what is now Greece to France, staying there for seven years and taught gingerbread baking to French Christians.
A contrasting theory, according to "The Gingerbread Book," gingerbread may have been brought to Europe by crusaders returning from the eastern Mediterranean in the 11th-century. While the exact origin of the recipe are not fully known, we definitely know the origin of ginger itself: Asia.
The term "gingerbread" didn't always mean the delicious treats we enjoy today! Gingerbread was very popular during Medieval England, when the term "gingerbread" finally meant the treat we know today. Before then, the term "gingerbread" meant "preserved ginger."
In Germany, there is a gingerbread-type cookie called Lebkuchen that was created by monks in Franconia in the 13th century. It's made with honey, spices, and nuts. It also seems that the concept of Gingerbread houses were also created in Germany. The Lebkuchen was preceded by a honey cake popular in Egyptian, Roman, and Greek cultures.
Gingerbread was even mentioned in Shakespeare's play "Love Labour's Lost" in 1598: "An I had but one penny in the world, thou shouldst have it to buy ginger-bread."
In America, the presence of gingerbread goes back at least to George Washington's mother Mary Washington. You can find her original Gingerbread Recipe here.
These days, gingerbread can either refer to the cookies OR a delicious cake!
My Paleo Gingerbread Cookies Recipe

Most, if not all, traditional gingerbread cookie recipes contain the non-paleo ingredients of flour and refined sugars. This Paleo Gingerbread Cookies recipe is completely gluten, grain, dairy, and refined sugar free!
It utilizes Otto's Cassava Flour– my all-time favorite gluten and grain free flour! Cassava is made from the tuber vegetable Yuca, and makes delicious paleo breads and baked goods!
But don't worry, they are SO delicious!
Print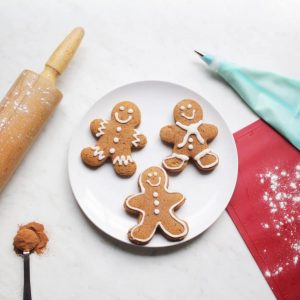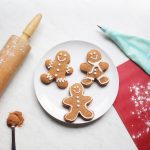 Paleo Gingerbread Cookies Recipe
---
---
Instructions
Preheat oven to 350.
Beat together butter, coconut sugar, molasses, salt, and spices.
Beat in egg and vanilla.
In a medium bowl, combine baking soda, cassava flour, almond flour, and coconut flour.
Slowly mix dry ingredients into wet.
If you're making standard cookies, you can immediately form into 2 inch balls and place 2 inches apart on a cookie sheet with parchment paper.
If you're cutting into shapes, wrap the dough in plastic wrap and refrigerate for 2 hours.
Roll the dough until it is 1/4 inch thick. Cut shapes and place on a parchment lined cookie sheet.
Cook the cookies for 7-11 minutes. The shorter you cook them, the softer they will be. If you like crunchy cookies, cook for longer.
Remove from the oven and let sit on the cookie sheet for 5 minutes, then place on a cooling rack.