Are you as big a fan of Butternut Squash Soup as I am?! I've got a new recipe up my sleeve! You may be surprised, though… this is not your average butternut squash soup! The orange ginger flavor is incredible and you have to try it now that Fall has truly set in and winter is right around the corner 🙂
With the yummy flavor combo of ginger and orange it's no wonder this kind of soup has the reputation of being called, "smooth as butter, sweet as nut." When you add in those extra flavors it truly adds that extra splash of yum I look for in the soups I make. This is one that my family definitely approves of and I'm pretty confident yours will too!
And if you're looking for soup recipes, we've been posting a TON! Click here to see more.
The best part is butternut squash is a great source of fiber, vitamin C, magnesium, potassium and vitamin A because it's actually a fruit! Did you know this?! I had no idea. Also, talk about being jam packed full of goodness that keeps the body feeling top notch! There are so many options for what you can do with butternut squash and I highly recommend you give this soup a go because even if you don't like squash normally, I bet this could change your mind!
As an added bonus, this can be made in your Vitamix so darn easy!  If you decide to make this, come back and let me know how it turned out for you in the comments!
What's your all time favorite #Whole30Compliant soup recipe?
Print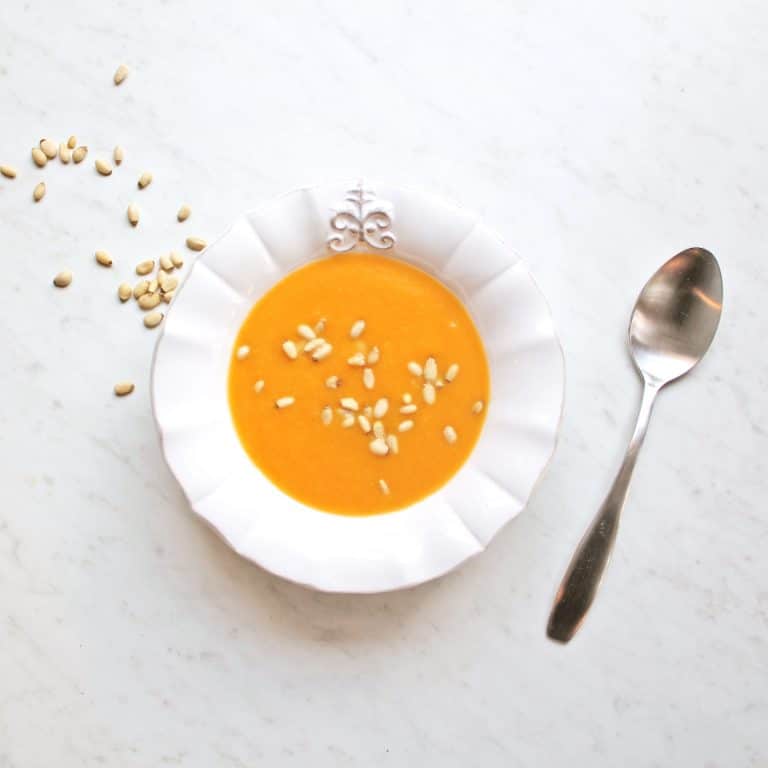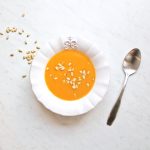 Orange Ginger Butternut Squash Soup
---
2 T olive oil

1 large butternut squash (about 3 pounds)

1

T ginger, about

1

inch ginger, peeled and minced

1

T garlic, minced, about

3

cloves

1

c orange juice

1/2

c chicken or veggie broth, or more depending on your desired consistency

t ground cumin

Salt to taste

1/2 c pepitas (pumpkin seeds) or pine nuts, optional
---
Instructions
Preheat oven to 400 degrees.

Cut butternut squash in half. Drizzle olive oil and salt on the baking sheet and place squash cut side down.

Roast in the preheated oven until squash is tender and lightly browned, 30-45 min.

Allow the squash to cool, then spoon out the seeds and discard. Spoon the remaining butternut squash into a blender.

Add orange juice, ginger, garlic, and cumin to the blender, and blend until smooth. You may add more chicken broth depending on your desired consistency.

To roast the pepitas, put them in a dry skillet on high heat for 3-4 minutes, until they puff, start to turn slightly brown, and they may even pop.

Pour soup into individual bowls and top with roasted pepitas or pine nuts. Enjoy!