Oh. My. Goodness. This Skinny Grapefruit Margarita Recipe is going to KNOCK your socks off! You just may never want to have a "normal" margarita again! Y'all know I've jumped into the world of all things Keto! Because of that, I've been transitioning my cocktails to low-carb, low-calorie, Keto cocktails. Do you know what I've found? They're really JUST as great, if not better than their "original" counterparts. So when 21Seeds Tequila reached out to me to partner together, it was an easy yes! This blog post is sponsored by 21Seeds Tequila, but all thoughts, opinions, and this recipe is my own! Thank you for continuing to support my work with companies I believe in so I can continue to provide you with free recipes and resources.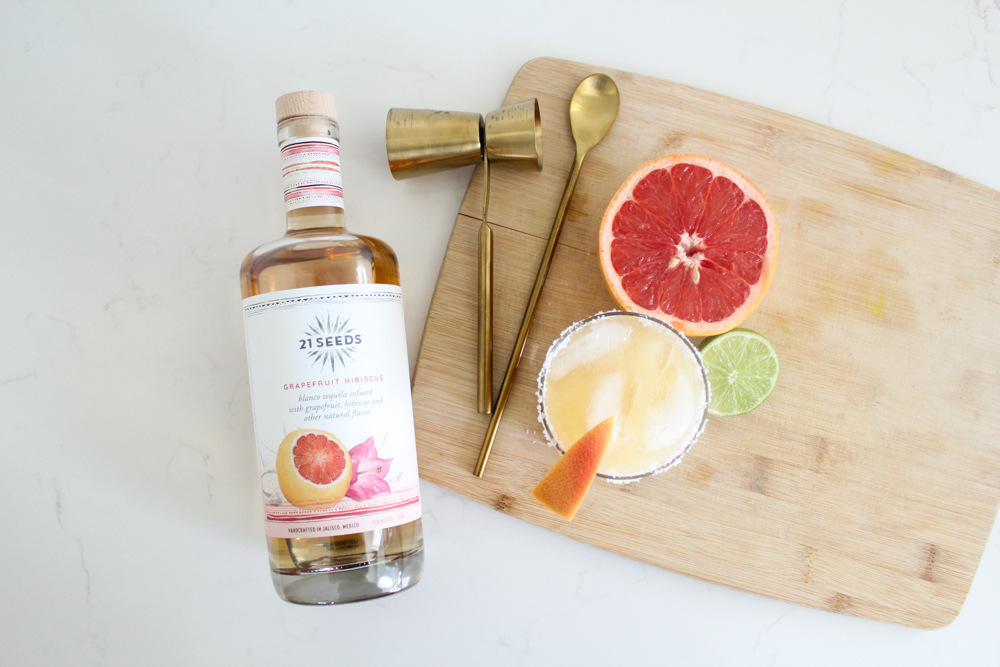 First, Let Me Tell You About 21Seeds Tequila
So number 1, 21Seeds Tequila is WBENC certified (meaning they are female-owned and female-run!) 21Seeds Tequila was founded by Kat Hantas when her doctor recommended she make the switch from wine and beer to spirits (How can I find a doctor like this?!)  She then partnered with her sister and best friend to bring 21Seeds to life!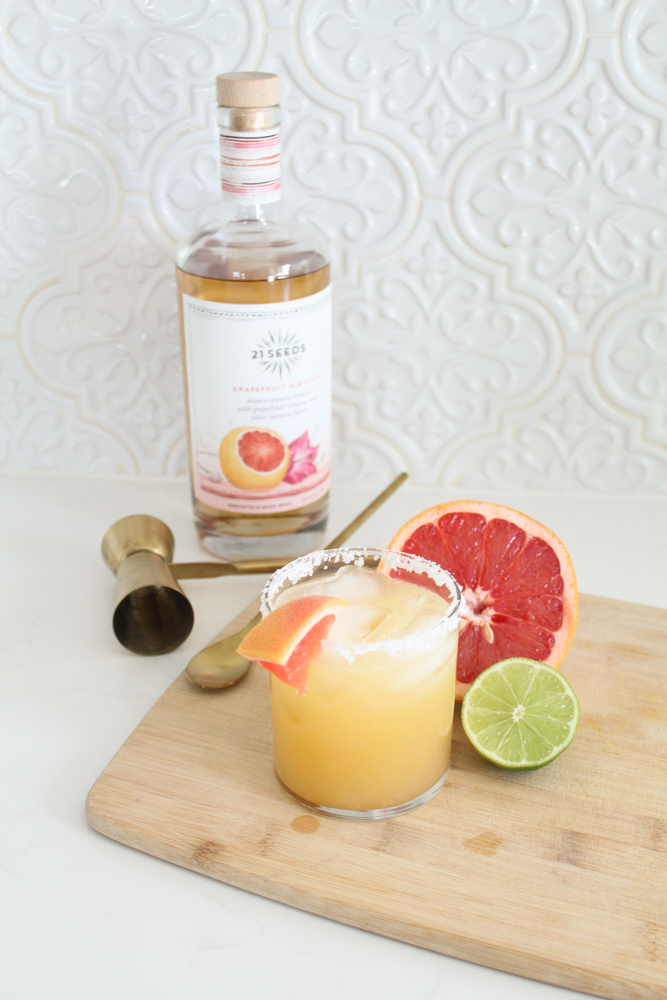 Using 21Seeds Tequila is a an easy way for me to make my favorite cocktails, but in better-for-you concoctions. 21Seeds Tequila is all-natural, gluten-free, non-GMO, and Keto-friendly. HELLO, welcome to my life. 👋🏼  It is flavored tequila, and its actually infused with real fruit! No artificial flavors here! 
Popsugar said "I'll never drink hard seltzer again after trying 21Seeds." I fully agree!
Where can you find 21Seeds Tequila?
Use the store locator on their website here! 
 
Now Onto this Skinny Grapefruit Margarita Recipe!
I wanted to create this Grapefruit Skinny Margarita Recipe just in time for your Valentine's or Galentine's celebration! 💕 I think it's a perfect addition to your night-in Valentine's day menu, especially because the grapefruit makes it pink! 
What makes it skinny? 
1 oz of grapefruit juice is 3.1g of carbs
1 oz of orange juice is 3.2g of carbs
If you're using my Keto Simple Syrup recipe, that adds no net carbs!
Overall, this is MUCH less sugar and carbs than a traditional margarita. The 21Seeds Grapefruit Hibiscus tequila really takes the flavor up a notch!
Want to make an even skinnier cocktail? Simply mix 21Seeds Tequila with your favorite soda! It's a combination they call the "Seed & Soda." You can't go wrong with that combo! To find even more delicious recipes, check them out on the 21Seeds site here!
Print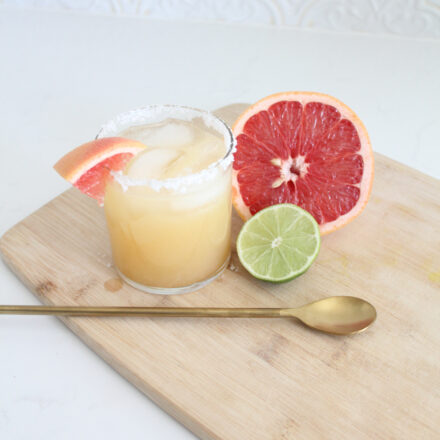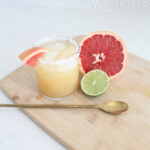 Skinny Grapefruit Margarita Recipe (Keto + Sugar Free)
---
---
Instructions
Add all ingredients into a cocktail shaker with 1 cup of ice. Shake, shake, shake!
To make a salty rim, pour about 1 tsp lime juice per drink you're making into a small plate. In another plate, cover it in Kosher or flakey salt. First, twist your glass in the lime juice, next twist it in the salt. Voila!
Add ice to your cup, then pour in your Skinny Grapefruit Margarita! Serve with a wedge of grapefruit on the rim. Enjoy!
Want to save this Skinny Grapefruit Margarita Recipe! Pin it here!