Now that we moved to Colorado, I am SO ready for fall! It's already cold in the evenings and mornings, and it makes me so happy to start making soups so much sooner than normal! This Paleo + Whole30 Creamy Potato Soup Recipe is one of my very favorite soup recipes! It's SO yummy and homey- it's the perfect "doesn't even taste Whole30" recipes to make on your Whole30! I definitely remember my mom making us potato soup growing up, and this one tastes so close to her recipe! I love making nostalgic recipes Paleo and Whole30 compliant- like this Poppyseed Chicken Casserole recipe!
This Paleo + Whole30 Creamy Potato Soup Recipe is one that will surprise your friends or family- they wouldn't even know it's Whole30 compliant!! ??? It is SO creamy, and you definitely can't taste the coconut flavor from the coconut milk.
Most (ok, almost all) potato soup recipes call for lots and lots of dairy. Usually milk, cheese, AND sour cream. So recreating it as a dairy free, Whole30 compliant potato soup can be challenging!
The full fat coconut milk in this recipe makes this soup SO creamy!! And I know you're worried about the flavor of the coconut… don't be! We intentionally used lots of garlic to mask the coconut flavor.
Topping this recipe with scallions and crispy bacon is a MUST ? Click here for a list of #Whole30Approved bacon brands AND where to find them! You could even serve these with my delicious BLT Sliders recipe- find the recipe here!
Print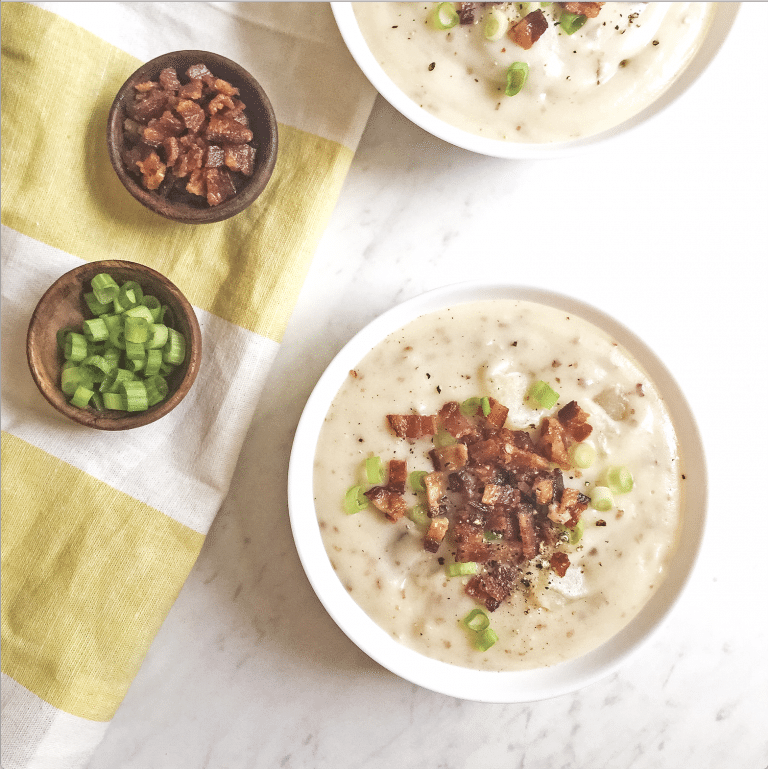 Creamy Potato Soup Recipe
---
6 strips bacon

1 onion, chopped

4 cloves garlic, minced

5 lb russet potatoes, chopped into 1 in cubes

1 can full fat coconut milk (1.75 cups)

4.5 c chicken broth (I prefer

@barebonesbroth

)

Scallions, chopped, to garnish

Olive oil, to taste

Salt and pepper, to taste
---
Instructions
Bake 6 strips of bacon in the oven on 400 for 20 minutes until the bacon is extremely crispy.

 Remove the rack from the oven and pour the bacon fat into a large soup pot. (you could use another oil of choice if you don't want to use bacon grease)

Add chopped onion and garlic, stir to coat, and cook for 3 minutes.

Add chopped potatoes, coconut milk, and chicken stock, and stir to combine. 

Increase heat to bring the soup to a boil. Cover, reduce heat and simmer for 45 minutes until the potatoes are soft.

 Use a slotted spoon to remove 1/3 of the potatoes and onions and reserve in a bowl on the side.

Add salt and pepper to taste to soup pot.

 Blend the remaining soup either using an immersion blender or transferring batches to a blender.

Stir in the reserved potato and onions until combined.

 Top individual bowls of soup with chopped scallions, full fat coconut milk or olive oil, bacon bits, and salt and pepper. .
#oliveyouwhole #Whole30#Whole30Approved #Paleo#Whole30Recipes
https://www.oliveyouwhole.com/whole30/whole30-bacon/