Nothing screams "comfort food" more than a steaming hot bowl of chicken soup. NOM. This one pot Creamy Chicken and Rice Soup Recipe is easy to make and super satisfying during these chilly winter months. Ready in no time, it is the perfect base for chicken or turkey. Adding 1 can of coconut milk adds a silky, creamy texture and using cauliflower rice makes it paleo and Whole30 compliant as well as extra level nutritious!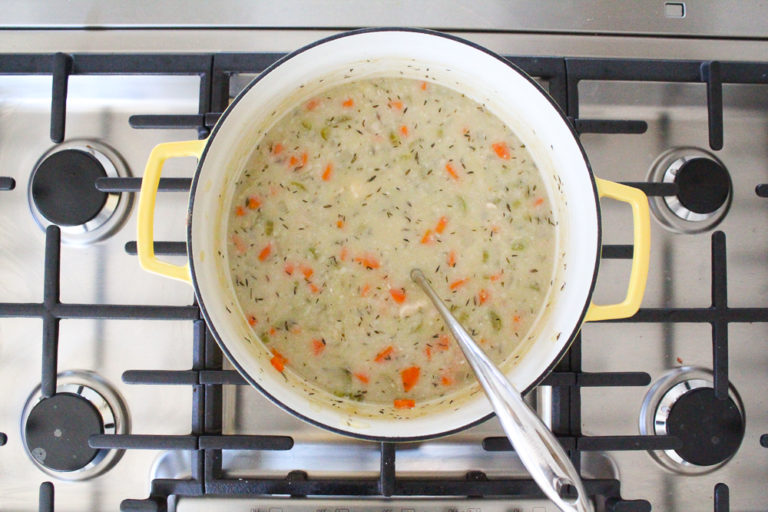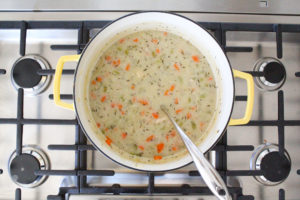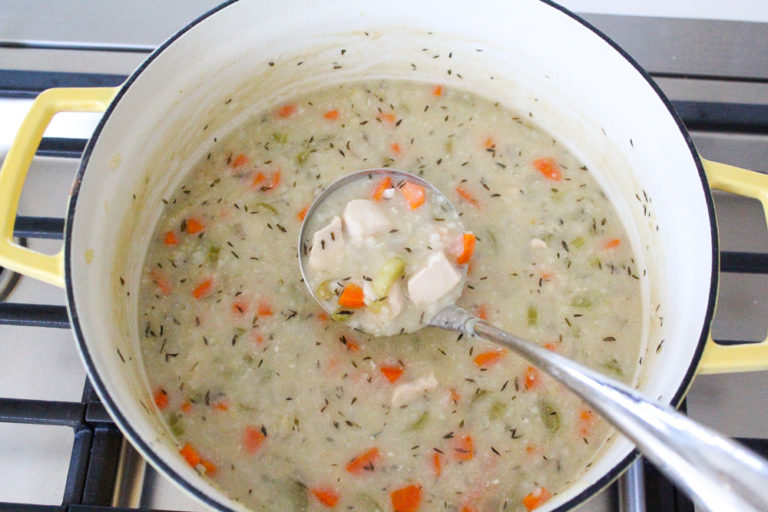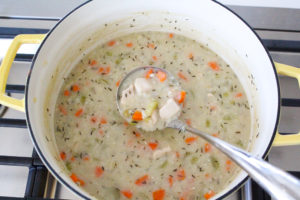 I start with a traditional blend of aromatics, otherwise known as mire poix (onion, carrots and celery) and saute in ghee until soft and translucent.  Cooking vegetables, herbs and spices in oil helps to release their flavors and aromas. Add garlic and any herbs spices and stir for a brief minute, before adding chicken. Adding a bit of cassava flour will help the mixture to thicken and give the soup body.  I then add the coconut milk (I always recommend full fat coconut milk – remember, this is the healthy type of fat) and your broth. Finally, add the cauliflower rice and stir to combine.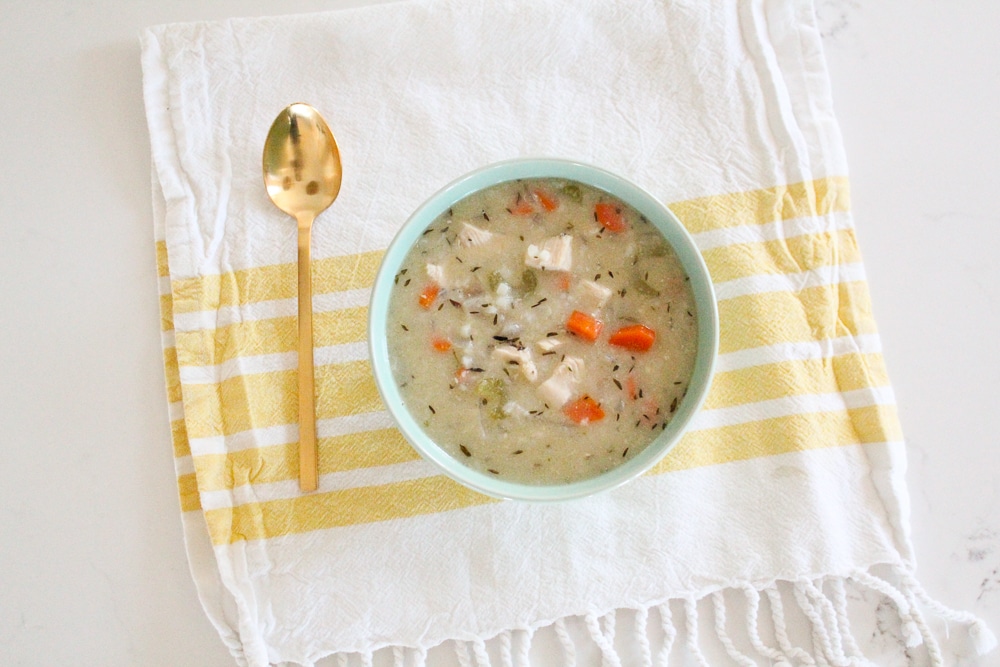 This is a Creamy Chicken and "Rice" Soup because it's actually cauliflower rice! I love that using cauliflower rice adds yet another vegetable to this dish! The first time I made it, my kiddos didn't even know if was cauliflower rice- winning! Since grains, including rice, aren't allowed on the Whole30, making this simple swap with cauliflower rice is the perfect solution!
You're going to LOVE this Creamy Chicken and Rice Soup Recipe, and I promise you'll want to make it over and over! For more soup recipes, click here!
Print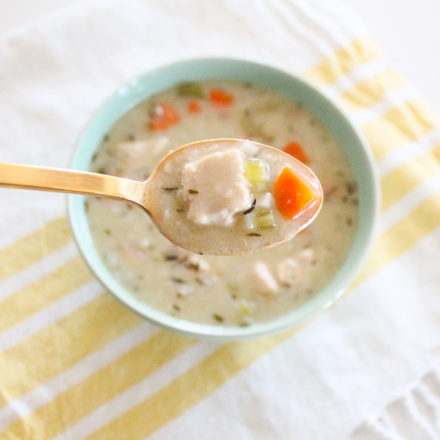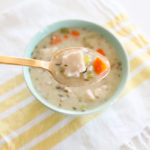 Creamy Chicken and Rice Soup Recipe (Paleo + Whole30)
---
1 onion, chopped
4 T butter (or ghee)
3 carrots, chopped in 1/4 in rounds
3 celery ribs, diced
2 chicken breasts (1.25 pounds), chunked
3 cloves garlic, minced
4 T cassava flour to thicken
1 T fresh Thyme
1 can coconut milk
1 box (4.5 cups) chicken bone broth
2.5 cups cauliflower rice
Salt and pepper to taste
---
Instructions
Heat butter (or ghee) on medium heat until melted. Add chopped onion, carrots, and celery and cook until onions are translucent, about 7 min. Add garlic and cook 1 more minute, stirring frequently.
Add chicken breasts and cook almost through- about 8 minutes.
Sprinkle the cassava flour and thyme over the chicken mixture and stir until evenly coated. Add the coconut milk and bone broth and bring to a boil.
Add the cauliflower rice and continue to simmer for 5 more minutes, or until the cauliflower rice is soft. Add salt and pepper to taste.
Want to save this Creamy Chicken and Rice Soup Recipe for later? Pin it here!