In an effort to incorporate more plant based recipes into my weekly meal planning, I've really tried to cook at least one plant based meal per week. We often have "Meatless Mondays", and this Gluten Free Falafel Recipe is one that my family and I love and look forward to. Whip up a batch of my creamy cauliflower hummus to serve with the falafel and your Mondays (or anytime you make this recipe) will be a good day!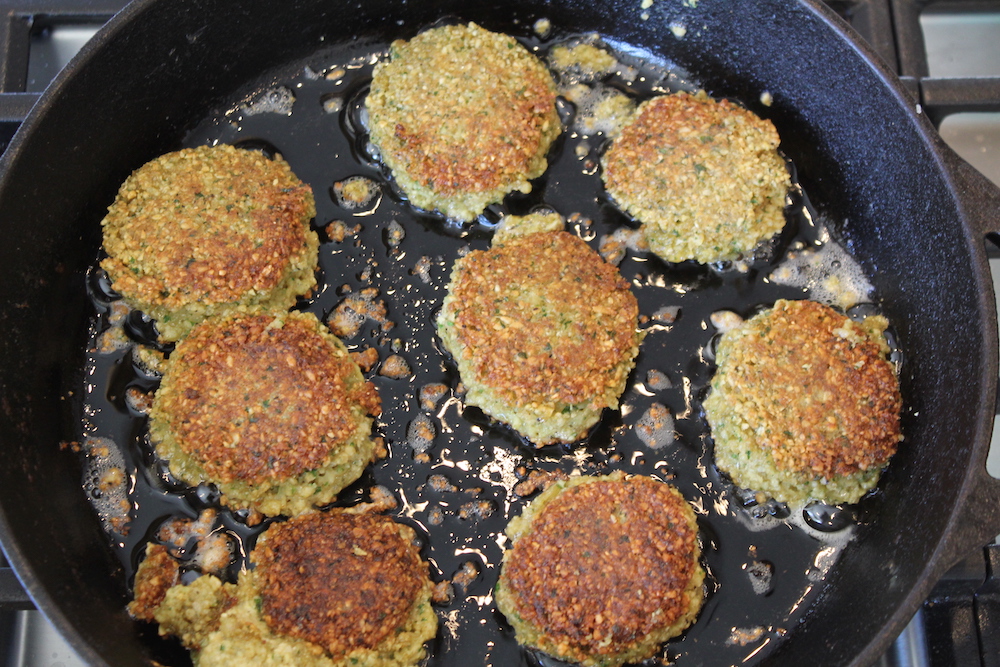 What is falafel?
Falafel is a traditional Middle Eastern food made with chickpeas and/or fava beans, spices and herbs. The ingredients are ground together and shaped into small patties or balls. Normally they are fried in oil, but can also be pan fried or baked. Falafel taste great on their own, but also go great with traditional Middle Eastern sides. I love to serve them with my cauliflower hummus and tzatziki sauce!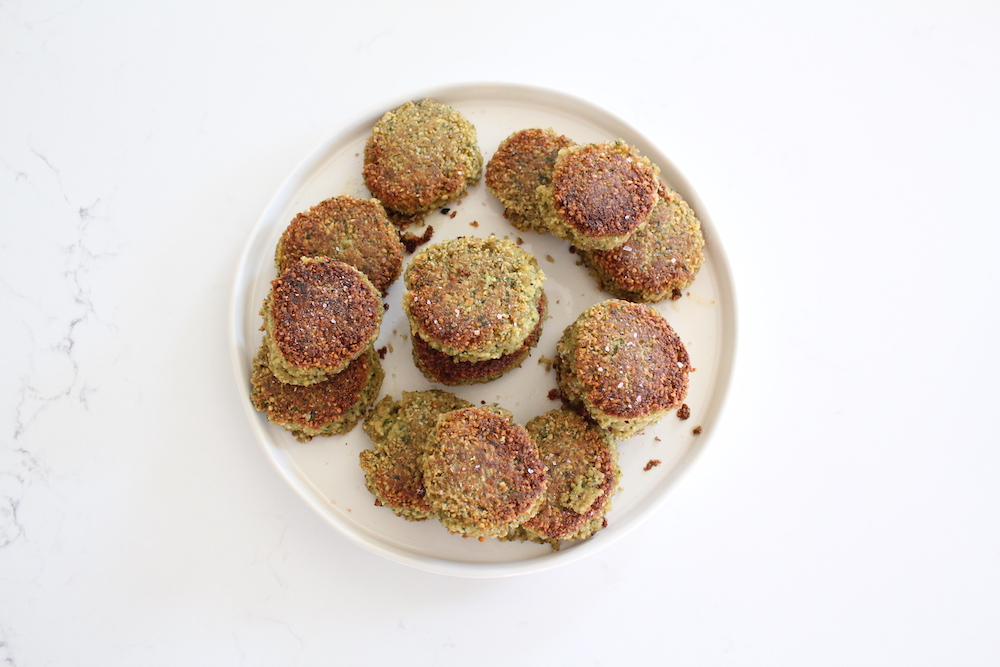 Is falafel gluten free?
The classic recipe for falafel is naturally gluten free, vegetarian and vegan, since it is mostly made with chickpeas and/or fava beans. Some recipes add a bit of flour as a binder so if you add flour to your recipe, just be sure that it is a gluten free flour.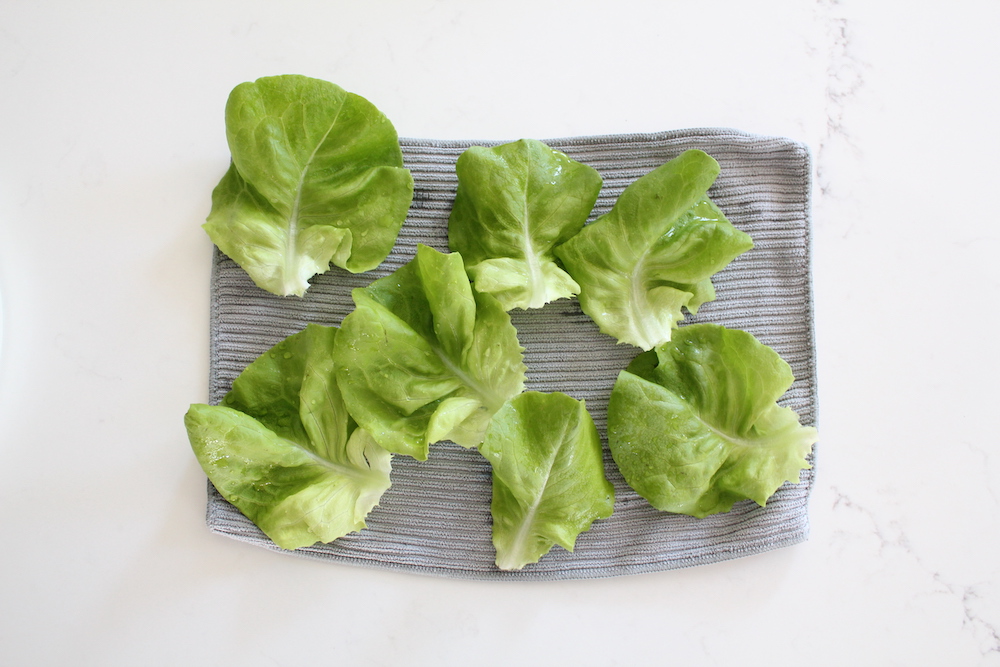 How to serve gluten free falafel:
Since falafel is traditionally served in pita bread as a sandwich, our favorite alternate is Bibb lettuce leaves! They're truly delicious. The other option is to serve the falafel over lettuce and add all of the toppings of a Greek Salad.

How to Make Falafel
Not only do falafel taste great, but they are easy to make. Combine the ingredients in a food processor and pulse until you reach the desired consistency (I aim for a course meal similar to sesame seeds). Scoop around 3 Tbsp of the mixture and roll the mixture into the size of a round ball or patty. Frying the falafel in oil is the traditional way of cooking falafel, but I prefer a shallow "fry" in a skillet or baking mine. Shallow fry instructions are below.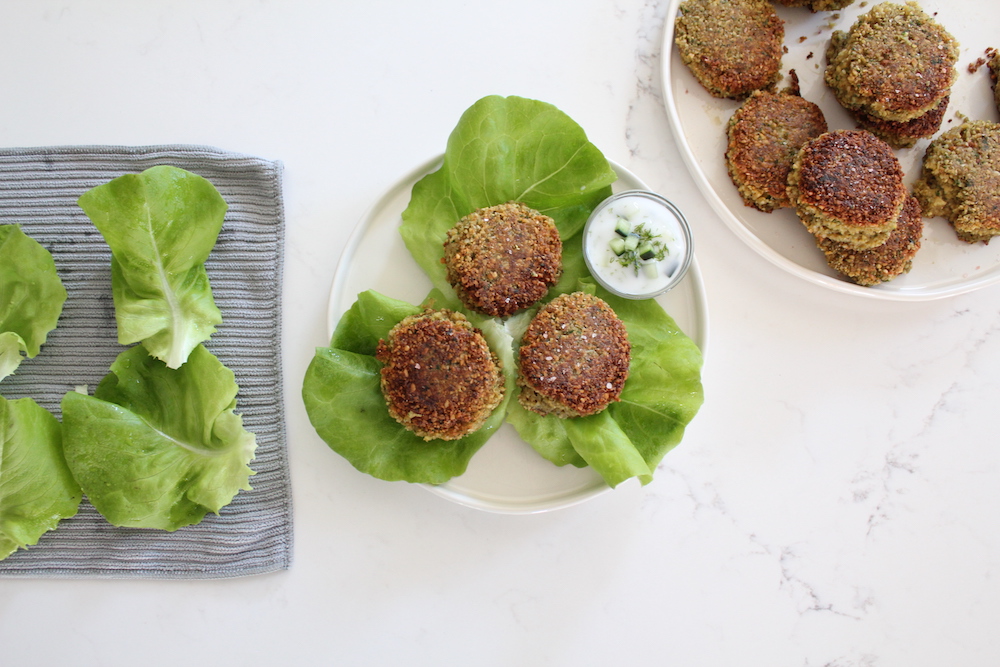 Gluten Free Falafel Recipe Baked
If you prefer to bake your falafel patties, heat the oven to 350° and spread the patties across a parchment paper lined baking sheet. Brush both sides of the falafel with olive oil and bake in the oven for 15 to 20 minutes, turning over halfway through the cooking time.
Print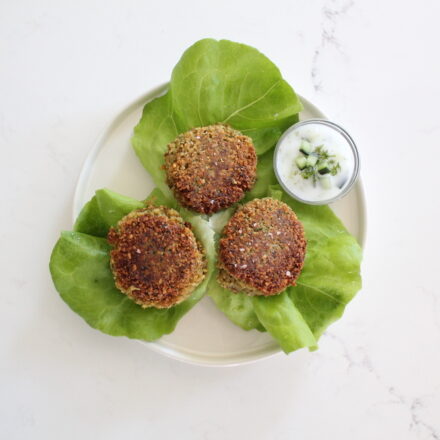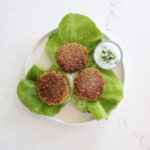 Falafel Lettuce Cups with Cauliflower Hummus
---
1 ¾ cups

dried chickpeas (or

2

cans)

3

garlic cloves, lightly crushed

½

yellow onion, chopped

1 tsp

ground coriander

1 Tbsp

ground cumin

¾ cup

chopped fresh parsley

1 tsp

salt

½

 tsp freshly ground black pepper, or to taste

1/2 tsp

baking soda

1 Tbsp

freshly squeezed lemon juice

1

egg, gently whisked

3 Tbsp

Avocado oil, for deep-frying
Click here for my cauliflower hummus recipe

1

container Bibb lettuce

1

cucumber, sliced

1 pint

cherry tomatoes, halved
---
Instructions
Soak the dried chickpeas the night before (skip if using canned).

Drain soaked chickpeas (drain and rinse canned chickpeas).
Make the Falafel: In a food processor, combine the soaked and drained chickpeas, garlic, onion, parsley, salt, pepper, baking soda, lemon juice and egg and pulse until mixture resembles a coarse meal similar to the size of sesame seeds
Scoop approx 3 Tbsp of the falafel mixture into your hand and roll it into the shape of a patty. Place onto a parchment paper lined sheet pan.
Cook the Falafel: Heat the avocado oil in a large dutch oven on the stove top over medium heat. Once the oil is hot, add the falafel patties to the oil and "fry" on both sides until crispy golden brown. Approx 3 to 4 minutes per side.
Remove from the pot and sprinkle with salt.
Serve the Falafel on lettuce cups, top with hummus, tomatoes and cucumber slices
To serve, I wrap my falafel up in lettuce cups, top with a dollop of hummus and also some sliced cucumbers and diced cherry or grape tomatoes. The combination of flavors (nutty chickpeas and garlicky cauliflower) and textures (crunchy falafel and creamy hummus) really are perfect!
Falafel tastes great fresh, but will also keep in the refrigerator for up to four days. They also freeze well and when thawed, a quick turn in a hot skillet is all that's needed to reheat and serve.
Chickpeas are high in protein and rich in fiber and packed with nutrients! They are a wonderful plant based substitute for animal protein and much easier on the pocketbook.
Want to save this Gluten Free Falafel Recipe for later? Pin it Here!