Hey girl, hey! If you came to this "The New Daysy | A Daysy 2.0 Review" post for the discount code, no worries, love! Just click here and you'll get $15 off! Woohoo!
This is my second Daysy Review! It's because 1) I love it so much and 2) I just got the NEW Daysy Fertility Tracker! It's called the Daysy 2.0.
If you want to know our personal history of our birth control methods over the last 7.5 years of marriage, by all means! Click here to read my first review! I also answer some of the basic questions I got about the Daysy in that blog post, so I highly recommend you read it, too!
I loved the Daysy 1.0, and I love the new Daysy 2.0 even more!
First, let's get some common questions out of the way that I have gotten since my first blog post: 
Is Daysy FDA approved?
Daysy is currently registered with the FDA in the LHD category (fertility diagnostic/ proceptive).
Can Daysy detect pregnancy?
Yes! It can suspect pregnancy as early as 15 days after ovulation, which is very close to the time of your missed period. If Daysy thinks you may be pregnant, it will show you blinking red, green, and yellow lights. A higher likelihood of pregnancy can show as early as 19 days after ovulation and is displayed as solid red, yellow, and green lights. Daysy is not a pregnancy test.
Does insurance cover Daysy?
Sometimes yes! Check with your insurance company to see if they cover fertility monitors. Fertility monitors are covered by HSAs and FSAs. Be sure to check out my first blog post for all of the nitty gritty details!
How long does Daysy last?
The device itself should last up to five years, but is expected to last longer with care. For the Daysy 2.0, a single battery charge will last up to 2 months, depending on how often you use it.
My Daysy 2.0 Review 
As you know from my first blog post, I'm a huge fan! I've always wanted to be more in tune with my cycles, and that is exactly what it has brought me!
I have used the Daysy for an entire year now, so I can tell you, I STILL love it!
Like any new habit, it takes a while for it to truly become a habit.
Now that I've been consistent for over a year, it's become a habit! RIGHT when I wake up, I take my temperature using my Daysy. You simply press the button once to wake it up, then again when you put it in your mouth. It reads your temperature for a minute or less, then beeps when it has the results!
As you know, I got my IUD out in November of 2018 and immediately started using my Daysy 1.0. Soon after, we decided that since we felt our family was complete, Chaz should get a vasectomy. Chaz got his vasectomy in January of this year.
Even with a permanent form of birth control like a vasectomy, I STILL use my Daysy every single day. Why? Because it is SO nice knowing what is happening in my body. I know exactly when to expect my cycle each month. Not only that, but it actually predicts your cycle for the two following months as well! (see the graphic below)
What the app looks like: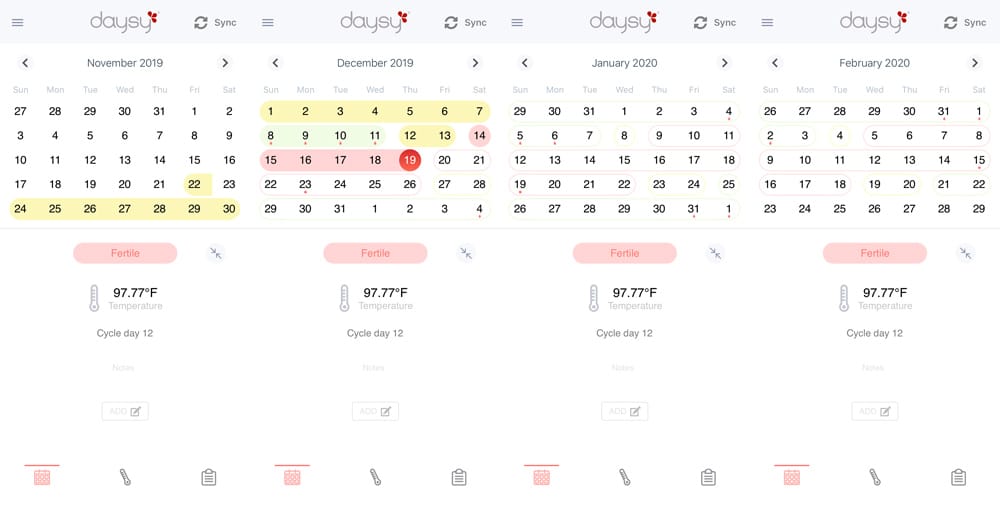 Overall, I am a HUGE fan of the Daysy, and really wish I had it way sooner! It's exactly what I wanted right when we got married, and even in between and after children.
Things I love about the New Daysy 2.0: 
The biggest difference is it has bluetooth! No more plugging in to your smart phone to sync. You sync via Bluetooth!
The middle activation button is much easier to push
It's rechargeable, and a charge lasts up to two months! (Instead of a battery)
Ways it can be used: 
I love that no matter what stage you are in life, you can use this fertility tracker!
To get to know your body and your cycles
To try to get pregnant: have sex on your most fertile (red) days
To know the days that are outside of your fertile window (your non-fertile or green days)
To track the progression of menopause: As you approach menopause, your cycles will get further and further apart. This is something you can directly monitor with the DaysyView app. Please note that Daysy is recommended for cycles ranging between 19-40 days.

From the Mayo Clinic: "If you have a persistent change of seven days or more in the length of your menstrual cycle, you may be in early perimenopause. If you have a space of 60 days or more between periods, you're likely in late perimenopause. Hot flashes and sleep problems. Hot flashes are common during perimenopause."
If you're interested in getting the Daysy Fertility Tracker, click this link to get $15 off!
Do you have any questions? Ask them here and I'll add them to the questions already in this post!
Want to save this post for later? Pin it here!