You are going to adore these DIY Bath Bombs with Natural Ingredients! This post is sponsored by my friends at Sprouts, but all thoughts and opinions are my own. Thank you for allowing me to partner with brands I believe in so I can continue to bring you free content. 
I absolutely love Bath Bombs. They're fun to buy, but could have some questionable ingredients… The best way to make sure you're getting a natural bath bomb is to make your own! Especially now, during the Coronavirus outbreak where we're stuck at home, having fun DIY projects for you to do with your kids is a fun break from the mundane.
My kiddos LOVED making these DIY bath bombs. Not only are they fun to make, but it's also so exciting to see them fizz when you pop them into the bath tub! These DIY Bath Bombs fizz because of the reaction between the baking soda and citric acid. It's also a great time to teach your kiddos about different reactions that make bubbles (Carbon Dioxide). These DIY Bath Bombs are great for anyone who enjoys a bath! Adults and kiddos alike. 
Before we dive in- let me answer some of your questions!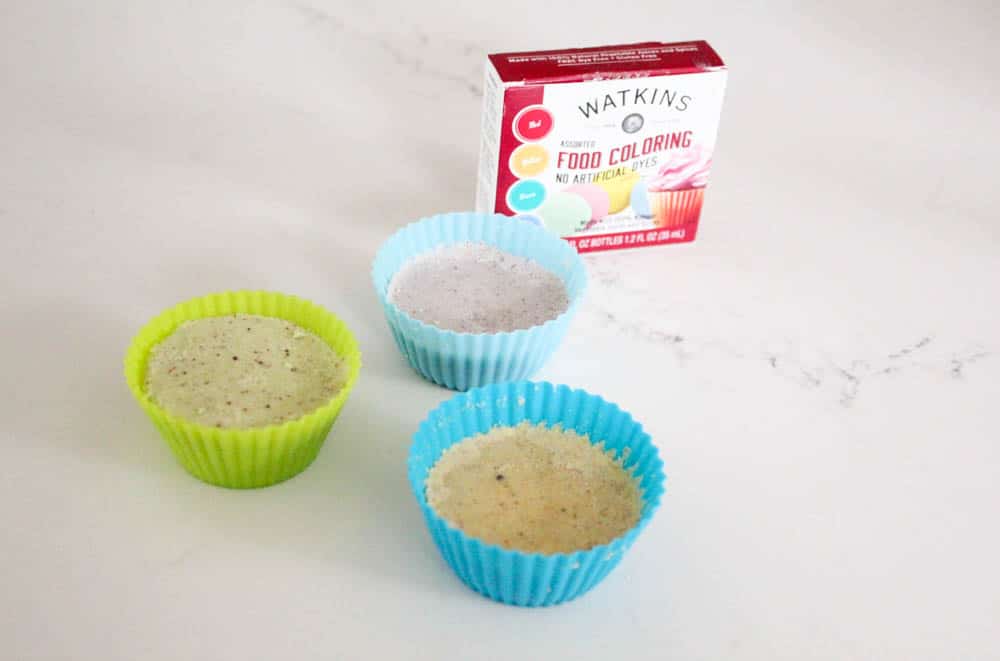 What do you need to make your own bath bombs?
Making your own bath bombs is actually SO simple, and you can use ingredients you likely already have at home or can get from your local grocery store: baking soda, arrowroot starch, citric acid, oil of your choice, food coloring, and essential oils. 
We found all of our ingredients at our local Sprouts Farmers Market!
We loved using the vegetable-based food dyes from Walton that Sprouts carries. I feel way better about putting those in my bath bombs that are going to touch my skin! 
Sprouts also carries a lot of essential oils… We matched our bath bomb colors with the color of the essential oils, which was a fun twist! 🙂
We found the citric acid in Sprouts' bulk section. If you plan on making lots of bath bombs, I would get two full bags. Sprouts carries Now Sweet Almond Oil that is perfect for this recipe. 
What essential oils are good for bath bombs?
You can choose essential oils for your bath bombs in two ways: by scent or by the essential oils' properties. You may choose lavender because you love its floral scent, or because you want to gain the benefits of its calming effects. A list of my favorite essential oils are below, along with which color I would suggest you make your bath bombs!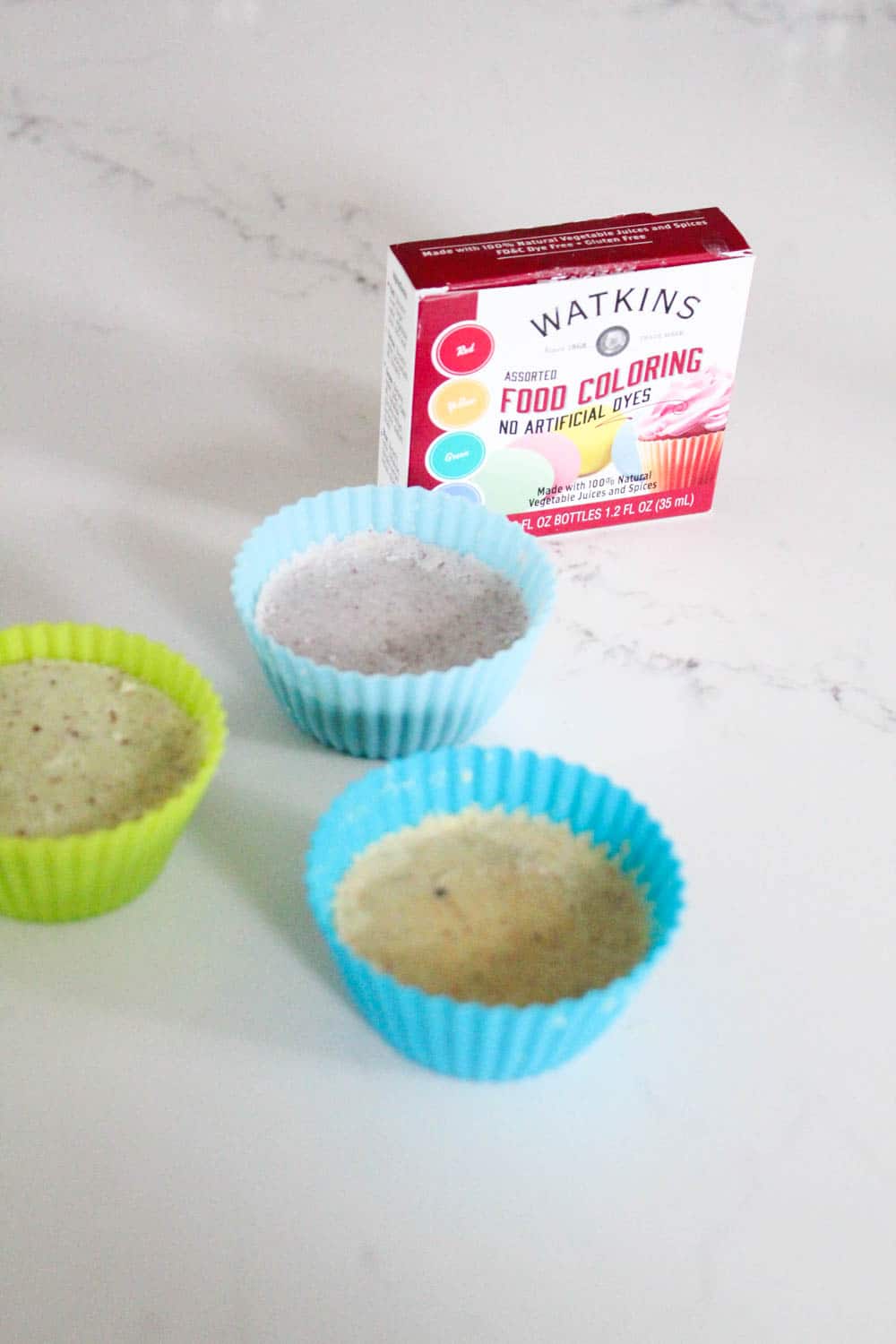 Our DIY Bath Bombs and Scents:
Purple : Lavender

Green : Lemongrass

Orange : Citrus (Orange and Lemon)
Some other ideas for Bath Bomb Colors and Scents Combinations:
Green:

Peppermint, Eucalyptus, Camphor, Lime, Tea Tree, Spearmint, Bergamot, Pine, Sage, Cypress, Oregano, Wintergreen, Thyme, Holy Basil, Rosemary, Cardamom 

Yellow:

Frankincense, Ylang Ylang, Sandalwood, Jasmine, Turmeric

Orange:

Tangerine, Clove Bud, Cinnamon, Vetiver, Myrrh, Carrot Seed

Pink:

Grapefruit, Rose, Geranium, Patchouli, 

Purple:

Clary Sage

Blue:

Blue Tansy
All of the above essential oils you can find at Sprouts! They carry TONS of oils from Now, Aura Cacia, and Garden of Life. 

How do you make fizzy bath bombs?
Making fizzy bath bombs is SO easy- you just combine all of the ingredients below, then put it into your molds. We just used a muffin tin! The combination of baking soda and citric acid is what makes it fizzy when you add it to your bath. 
How do you make natural bath bombs?
You guys know my theory- clean inside and out! I made these bath bombs using ingredients you can actually eat! Not that they would taste good 🙂 Our ingredients (baking soda, arrowroot starch, citric acid, oil of your choice, food coloring, and essential oils) are all natural and food-grade. 
Can you use a bath bomb and Epsom Salts together?
Yes, you absolutely can! Since you add a lot of epsom salts to a bath to be effective, we personally add our bath bomb into the bath first, then follow up with the recommended amount of Epsom Salts. They're a perfect match!
Print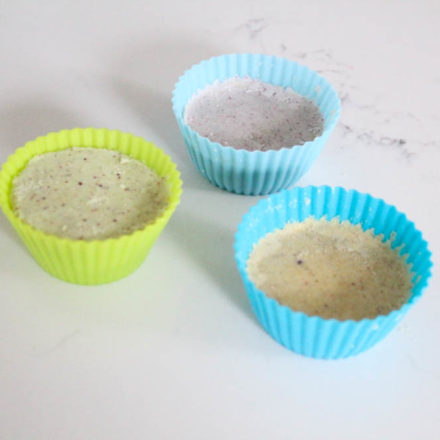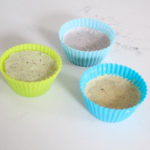 DIY Bath Bombs with Natural Ingredients
---
¼ c baking soda
⅛ c (2 T) citric acid 
⅛ c (2 T) arrowroot starch (you can also use cornstarch)
1.5 T sweet almond oil (or any oil you prefer- coconut, olive, etc)
4–8 drops of food coloring
6–8 drops of essential oils of your choice
---
Instructions
Using a mixer with the whisk attachment, add all ingredients and increase speed to high. Mix until the food coloring is fully incorporated, about 2-3 minutes. The final mixture should feel like wet sand. 

If you have bath bomb molds, you can tightly pack the mixture into your molds. If you

don't

have molds- don't worry! We used a standard muffin tin with silicone muffin liners. You can also use traditional paper liners. This just ensures that the bath bombs come out easily when they're dry! 

Allow the bath bombs to fully dry (about 24 hours). Store in an airtight container until you're ready to use. 
Notes
Yield: This recipe makes 3 bath bombs! That way you can make multiple batches with different colors and scents. 
Want to save this DIY Bath Bombs with Natural Ingredients post for later? Pin it here!