There is something special about the process of making sugar cookie dough, the patience it takes to let them cool in the refrigerator, and cutting them into cute shapes. I distinctly remember making sugar cookies with my mom when I was little, and now Ella and Owen make them with me! I know a lot of you either can't have a lot of the ingredients in traditional sugar cookies, or you want a healthier version… I am SO thrilled to bring to you this Paleo Sugar Cookies Recipe!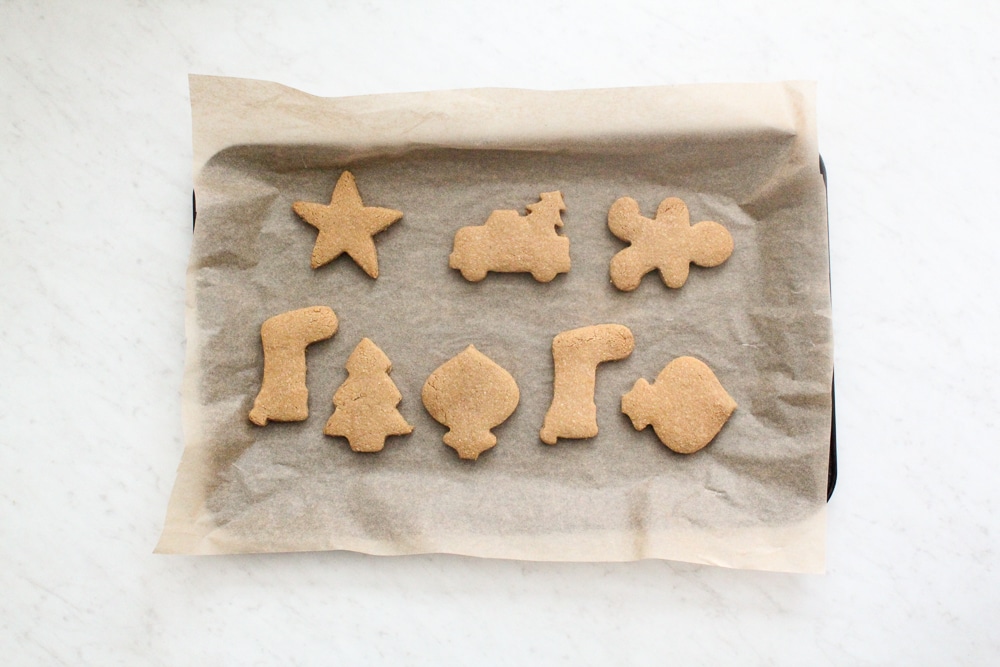 This Paleo Sugar Cookies Recipe is sponsored by King Arthur Flour. Thank you for allowing me to work with partners I truly believe in so I can continue to bring you free recipes and content!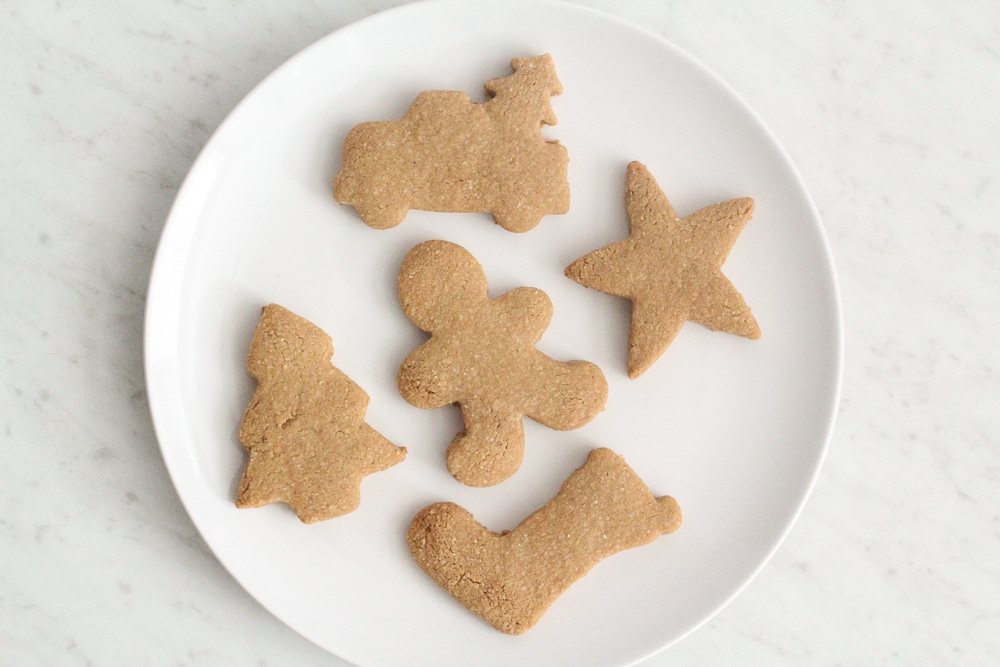 It's the most funny recreating recipes whose only ingredients aren't Paleo… Flour? Nope. Sugar? Nope. Butter? Ok, we can handle butter… haha! But really. These were tricky! They were SO much easier with King Arthur's new Paleo Flour!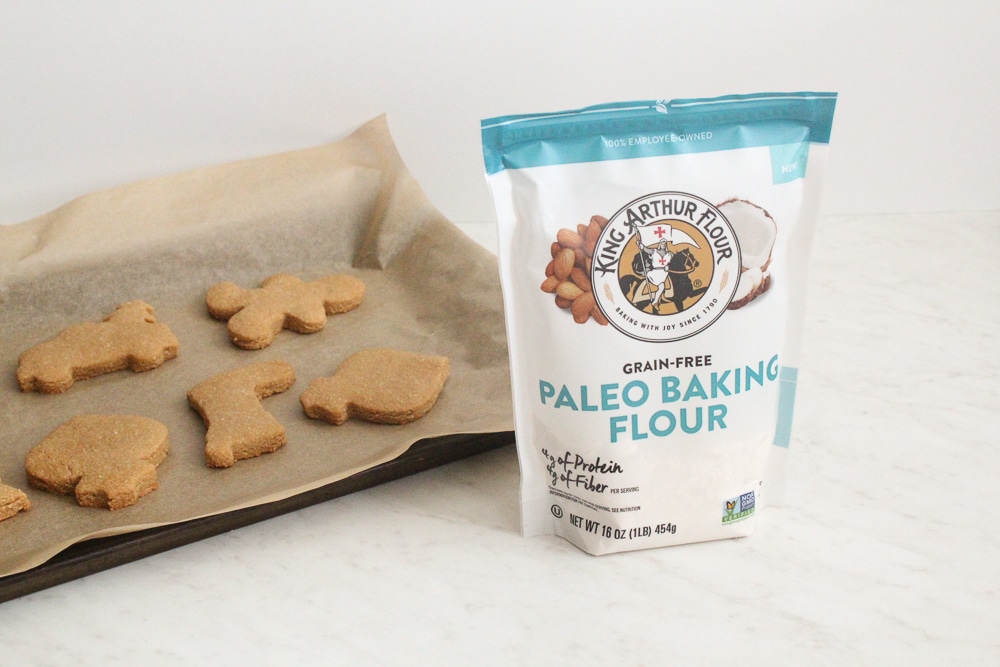 Their Paleo Flour is a combination of cassava, almond, and coconut flours. What's amazing is pretty much all of my baking recipes have a combination of these 3 flours. In my five years of Paleo baking, I have found that these 3 in tandem give me the closest result to a gluten-filled treat that I can find! Seriously, it's like they took the combo I use and packaged it! What's great for me is it's one less step, and I know it will work!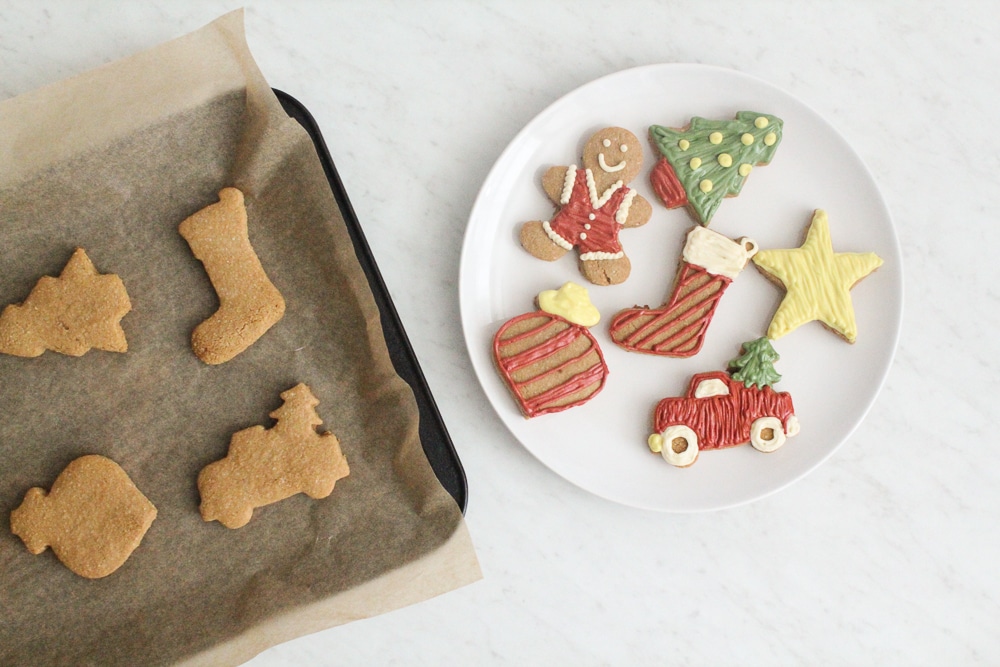 A Note on the Color of these Paleo Sugar Cookies
The sweetener in this Paleo Sugar Cookies Recipe is coconut sugar. One of the problems I run into with coconut sugar is it can be quite grainy, and doesn't fully integrate like traditional can sugar does. I started thinking back to the times I've made Paleo chocolate with coconut sugar or my own coconut sugar caramels… when coconut sugar is heated with a fat, it smoothes out!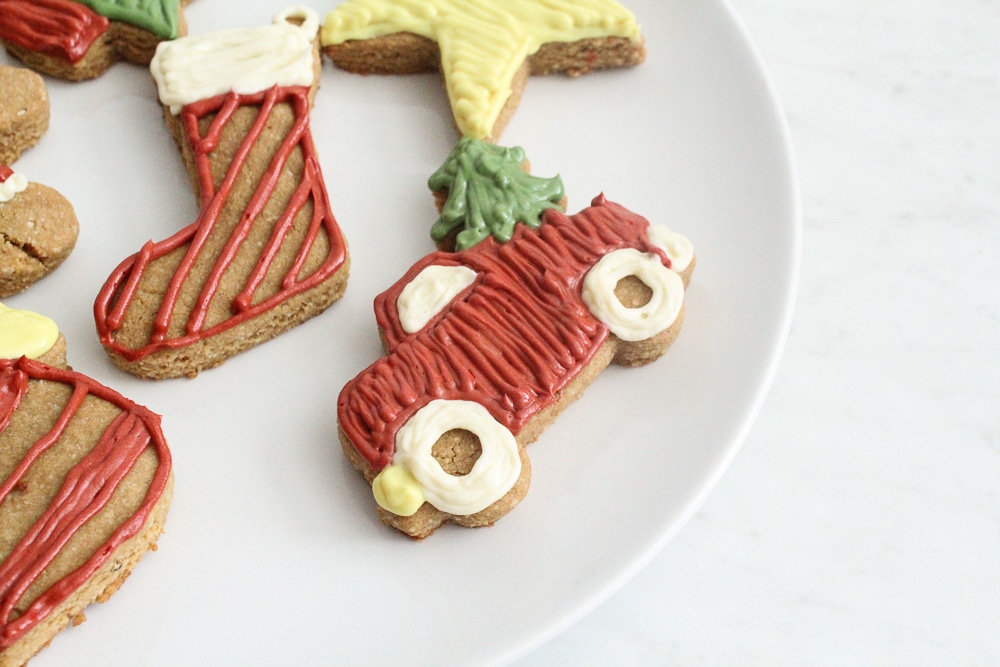 While I'll admit that melting the butter and coconut sugar together is an extra step, it's well worth it! Your Paleo Sugar Cookies will be much smoother and tastier! The dough right when it's done feels much thinner than a traditional sugar cookie dough, but it firms up nicely during the cooling stage in the refrigerator. 
The color: Because we're using coconut sugar, the cookies will be darker than a traditional sugar cookie is. Don't worry- you're not doing anything wrong! They're still ridiculously tasty! It's just a factor of using coconut sugar that is a brown color. The end product will be just slightly lighter than a gingerbread cookie.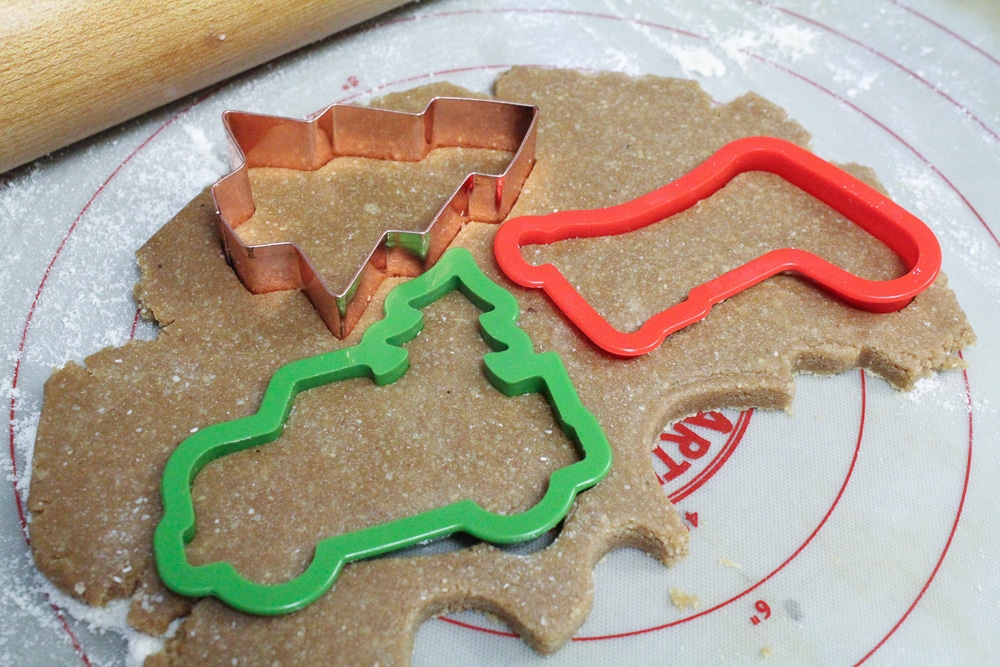 Tips for Cutting out these Sugar Cookies:
Arrange all of your cookie cutters on the dough (I use a variation of 2-3″ cookie cutters), then press firmly down. (Don't jiggle those cookie cutters!). Use a metal spatula to scoop up each cookie (and cookie cutter) and place it on your cookie sheet, then remove the cookie cutters. This ensures that you're maximizing the space of the cookie dough the FIRST time through. It also keeps your cookies the right shapes and eases the transfer process. 
This Paleo Sugar Cookies Recipe is perfect for rolling out the dough, and can be used with so many different types of cookie cutters for any occasion!
What icing should you use?
I made this Paleo Buttercream Icing Recipe specifically for these cookies! Snag the recipe here.
For more baking recipes, click here!
Print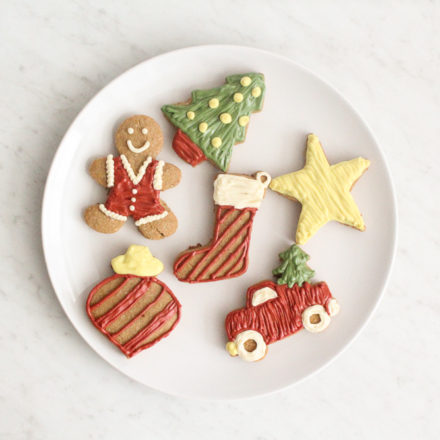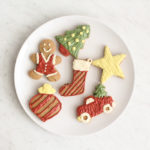 Paleo Sugar Cookies Recipe
---
1 c butter (or ghee)
1 c coconut sugar
1 t vanilla
1 egg
3 c (312 g) King Arthur Paleo Flour
1/4 t baking soda
1/4 t salt
---
Instructions
Melt butter in a small pot on medium. Add coconut sugar and whisk continuously until small bubbles form and the mixture is completely combined. 

Let cool for about 20 minutes, until the mixture measures 110 degrees. In a medium sized mixing bowl, combine the King Arthur Paleo Flour, baking soda, and salt. 

Add the coconut sugar mixture to your mixer. Add the egg and vanilla, and mix until combined. 

With your mixer on its lowest setting, slowly add the flour mixture and mix until combined. It will be much wetter than traditional cookie dough, and will harden in the fridge. 

Using a spatula, spoon the mixture onto a sheet of plastic wrap and completely wrap the ball of dough. Refrigerate for at least 2.5 hours, or overnight. If you choose to refrigerate it overnight, remove the dough from the fridge 30 minutes before rolling. 

When you take your dough out of the fridge, preheat your oven to 350°F and line your cookie sheet(s) with a piece of parchment paper on top. 

Roll out your dough to 1/4″ thick on a clean surface (I recommend King Arthur's silicone rolling mats or a sheet of parchment paper).

Using 2-3″ cookie cutters, cut out your cookies and place them on your prepared cookie sheet. 

Place your cookies in your preheated oven and bake for 8-10 minutes, or until the cookies are set. 

Remove from the oven and let the cookies cool. Be sure they are cooled completely before decorating.
Want to save This Paleo Sugar Cookies Recipe for later? Pin it here!