This Marinated Flank Steak with Grilled Onions and Peppers recipe is mouth-watering good. The melt in your mouth marinated flank steak with grilled onions and peppers and crispy potatoes (use our perfect crispy roasted potato recipe) is what my taste buds have been craving.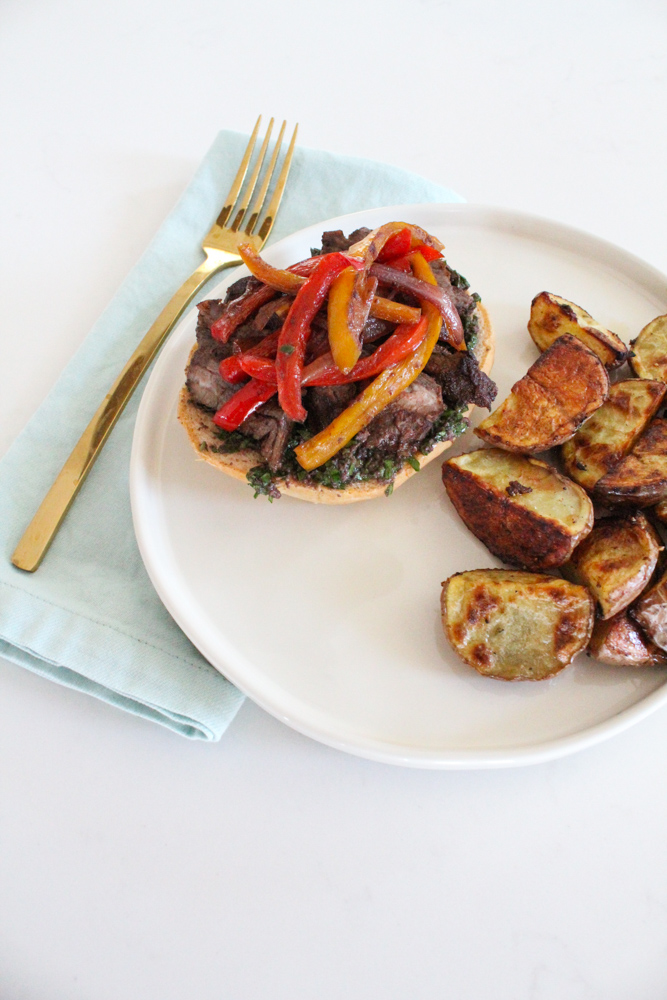 The weather in Denver this time of year can be a bit wishy washy – 30's one day and 50's the next. Most of the time though, the sun is shining which can make all the difference! All you die hard grillers are outside grilling no matter what time of year it is. We can smell our neighbors grilling year round in our neighborhood. If you are craving a delicious, grilled piece of meat, look no further than flank steak. Because of its thin cut and best cooked medium rare, you can be enjoying a delicious grilled steak in no time. And for those of you who don't like to grill when its cold outside, or don't have a grill, flank steak will taste just as delicious cooked in a cast iron pan indoors on your stovetop.
Flank steak is a flavorful, but fairly tough cut of meat, so marinating it will help to tenderize the meat a bit and bring out the flavors. This 5 ingredient marinade is simple, but flavorful, and the paprika and garlic blend well with the roasted potatoes and pepper. 
If you are eating Keto, simply replace the potatoes with another roasted vegetable such as roasted broccoli, cauliflower or Brussels sprouts.
Whether you are firing up the grill or heating up your cast iron, this Marinated Flank Steak with Grilled Onions and Peppers comes together for a delicious weeknight meal!
Print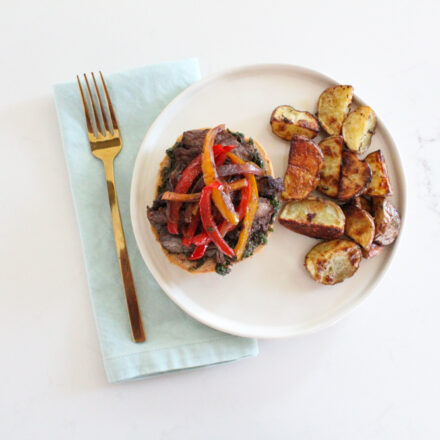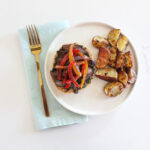 Grilled Flank Steak with Roasted Potatoes and Grilled Peppers (Whole30 + Paleo)
---
1

(2-lb) flank steak

½ cup

olive oil

2 tsp

smoked paprika

4

garlic cloves, minced – divided

1 tsp

salt

½ tsp

freshly ground black pepper

⅓ cup

flat-leaf parsley, finely chopped 

1

large red onion, thinly sliced

2

bell peppers (red, orange or yellow), thinly sliced
---
Instructions
In a small bowl, combine ⅓ cup olive oil, 2 tsp smoked paprika, 2 cloves minced garlic, 1 tsp salt and ½ tsp pepper. Whisk to combine. 

Place the steak in a plastic resealable bag and pour in the garlic paprika oil. Massage oil into steak, press out the air in the bag and seal.

Place the steak in the refrigerator and marinate for a minimum of 1 hour up to overnight. Remove the steak from the refrigerator and bring to room temperature before cooking. 

 

Thinly slice the bell peppers and the red onion. Set aside 

Heat a cast iron skillet or prepare the grill for medium-high heat. Remove steak from the bag and shake off any excess marinade. Add 1 T olive oil to the skillet or oil grill. 

Cook steak over medium heat, turning once until the internal temperature of the thickest part of the steak reaches 135°. 

Remove from the skillet or grill and place on a cutting board. Let rest for 5 minutes. 

If cooking the steak in a cast iron skillet, add sliced peppers and onions to the hot skillet and saute until charred and tender. Season to taste with salt and pepper. If using a grill, add peppers and onions to a grill pan and grill until charred and tender. 

Slice the steak on the diagonal and serve with roasted potatoes and grilled peppers and onions. Garnish with chopped parsley. 
If you want to save this Marinated Flank Steak with Grilled Onions and Peppers recipe for later? Pin it Here!