I can't wait to share with you this paleo butternut squash soup recipe! Even more exciting are the secret ingredients that makes this paleo butternut squash soup even easier!
One thing I hear about a lot is how frozen vegetables are the healthiest way to get vegetables. They go from field to freezer SO fast that they retain the most nutrients. Have you ever thought about the best way to get your garlic, ginger, herbs and spices? Wouldn't it make sense that harvesting them and immediately freezing them would be healthiest?
Why yes, yes it would…
Introducing: Dorot
Dorot fresh frozen portion controlled garlic and herbs are amazing for a few reasons…
Herbs and spices are SO healthy for you. They take that to the next level by flash freezing their herbs within 90 minutes of harvest
Their garlic, ginger, onions and herbs are in pre-portioned trays. This means no peeling, chopping, or mincing! (or crying!)
The convenient little cubes means you know exactly how much is going into your recipe! No more measuring.
Finally, I hate it when I get more garlic, ginger, or herbs than I need and they go bad!! With Dorot, they have a TWO YEAR shelf life!
You know how much I love Whole Foods, so any time I can get one of my favorite products there, I love it!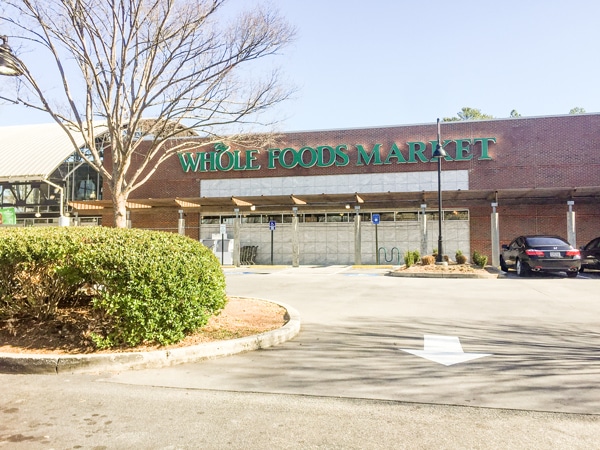 I easily found Dorot products in the frozen vegetables aisle!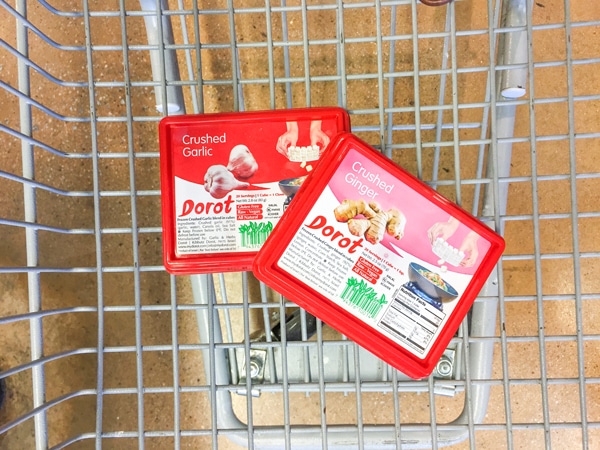 Owen LOVED holding the frozen Dorot cubes!
You can get your own Dorot garlic and onions (or herbs!) for the recipe below using this $1 off coupon! Be sure to comment below and let me know what you make! 🙂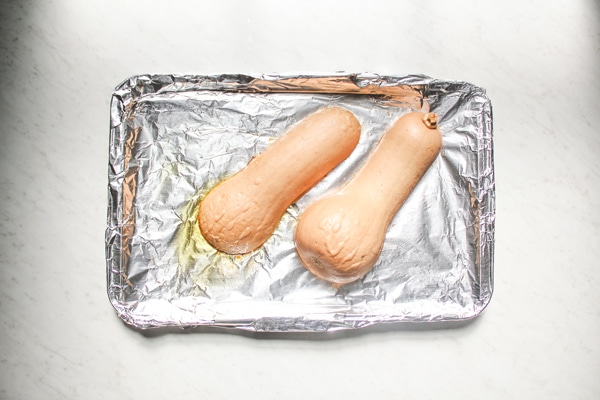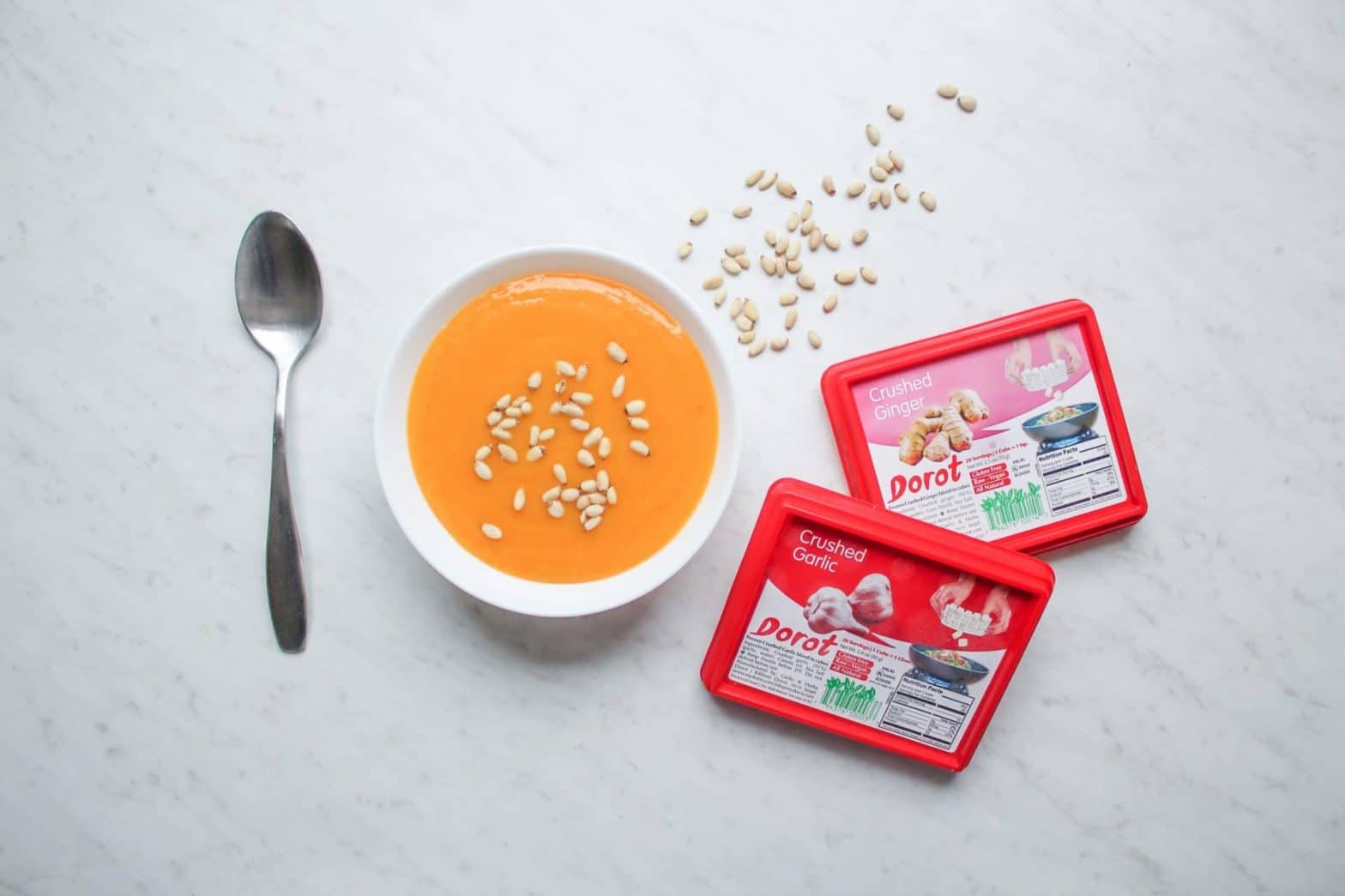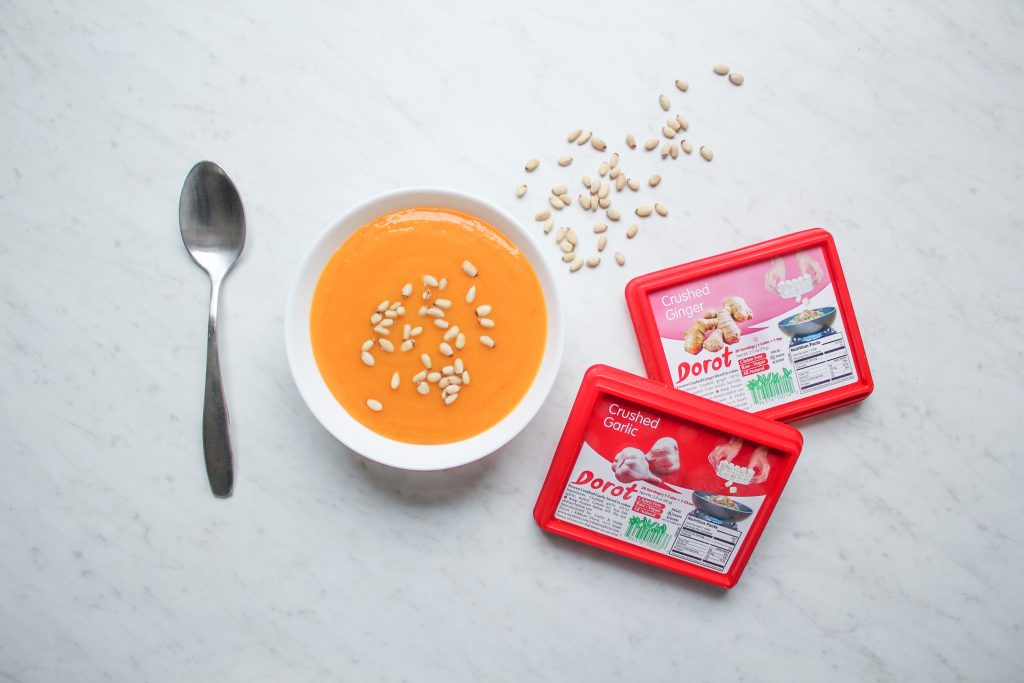 Print
Whole30 + Paleo Butternut Squash Soup Recipe
---
2

T olive oil

1

large butternut squash (about

3

pounds)

3

Dorot ginger cubes (or

1

T, about

1

inch ginger, peeled and minced)

3

Dorot garlic cubes (or

1

T garlic, minced, about

3

cloves)

1 cup

orange juice

½

c chicken broth, or more depending on your desired consistency

1

t ground cumin
Salt to taste

1/2

c pepitas (pumpkin seeds) or pine nuts, optional
---
Instructions
Preheat oven to 400 degrees.
Cut butternut squash in half. Drizzle olive oil and salt on the baking sheet and place squash cut side down.
Roast in the preheated oven until squash is tender and lightly browned, 30-45 min.
Allow the squash to cool, then spoon out the seeds and discard. Spoon the remaining butternut squash into a blender.
Add orange juice, ginger cubes, garlic cubes, and cumin to the blender, and blend until smooth. You may add more chicken broth depending on your desired consistency.
To roast the pepitas, put them in a dry skillet on high heat for 3-4 minutes, until they puff, start to turn slightly brown, and they may even pop.
Pour soup into individual bowls and top with roasted pepitas or pine nuts. Enjoy!