I am SO excited to share this recipe for Grilled Avocado Boats with Curry Chicken Salad! I almost always make enough food for dinner to last for two nights… It minimizes cooking and cleaning. And if something is delicious enough to have it once, why not twice?
When I made this curry chicken salad recipe, it FLEW out of the bowl! Every single member of our family, including our four-year-old and near-two-year-old LOVED it.
You guys know that I love chicken salad! My recipe for this Honey Pecan Chicken Salad is one that I make weekly in the summer! This Curry Chicken Salad packs in SO much flavor with the curry seasoning.
And maybe most importantly, this recipe is both Paleo and Whole30 friendly!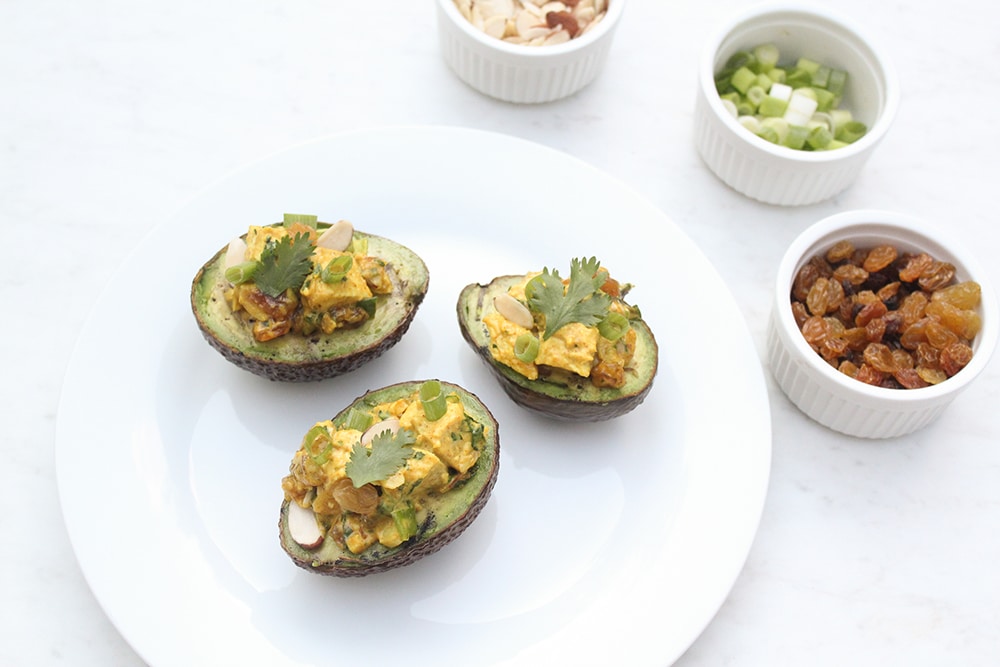 This recipe has two interesting twists!
We are grilling the avocado halves!
It is such a delicious way to enjoy this curry chicken salad! The curry chicken salad recipe is cold, and the avocado boats are warm. I love mixing temperatures and textures in recipes!
The other twist is that we are using my new favorite cooking oil: Thrive® Algae Oil!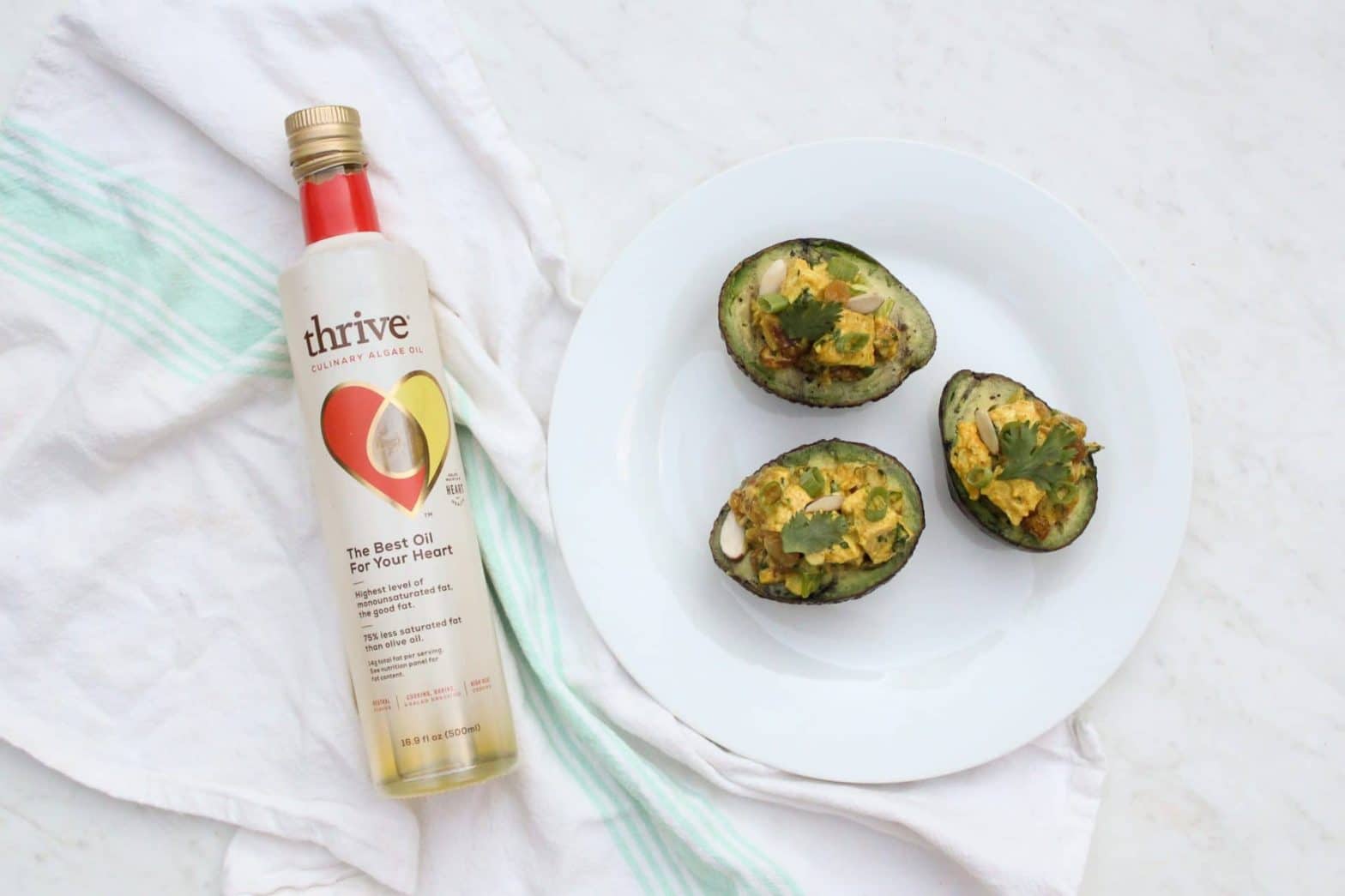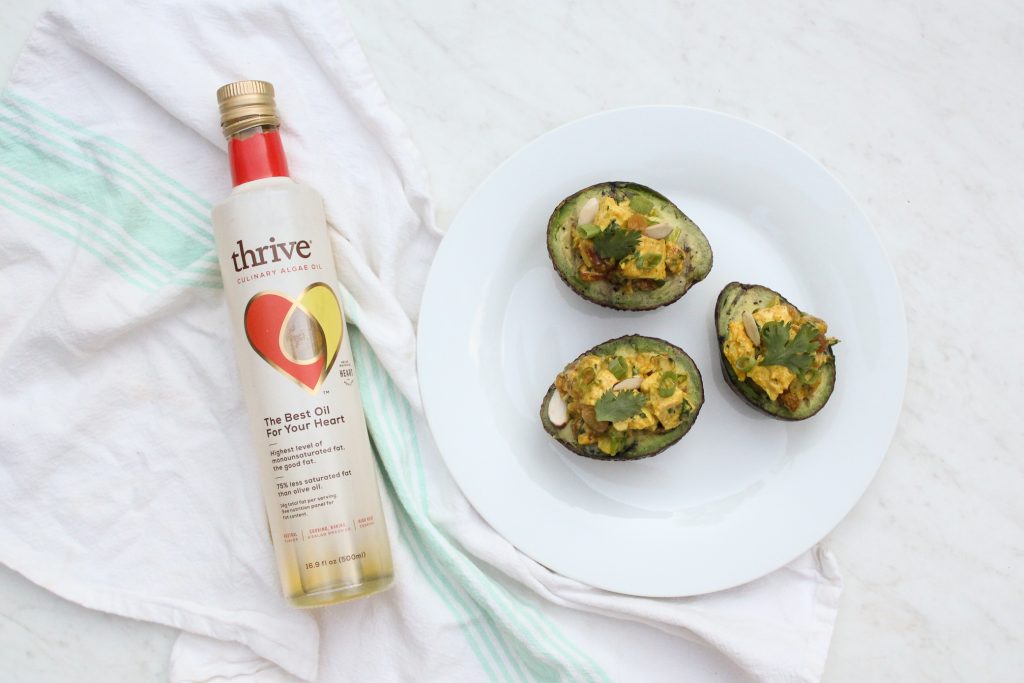 More about Thrive® Algae Oil:
I was really nervous to try this Algae Oil at first, because when I hear algae, I think ocean algae!
But guess what? The algae used to make Thrive® Algae Oil was actually originally sourced from Chestnut trees! So NO fishy taste in the slightest like you might expect. It has a light, neutral taste, which lets the natural flavors of your food shine through! More info about this oil is below – you can find it at your local Earth Fare store or order it on Amazon!
People ask me all of the time: well, how do you get more of the good fats into your diet? Thrive® Algae Oil is a delicious and easy way to get more good fat in your diet!
With 13g per serving, Thrive® contains the highest level of monounsaturated fat (MUFAs), one of the good fats,

of all cooking oils, and less saturated fat than olive oil!

Thrive® has a high smoke point (up to 485 degrees), which means it doesn't burn at high temperatures. This is a huge selling factor to me! This makes a big difference when you're frying, searing, sautéing, and roasting.
Thrive® allows for ultimate culinary versatility when: searing, roasting, marinating, sautéing, mixing salad dressings, and baking desserts.
Be sure to head over to my Instagram Page @oliveyouwhole for a giveaway of Thrive® Algae Oil through 08/10/2017!
Print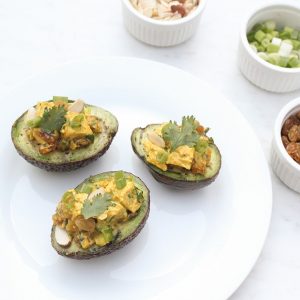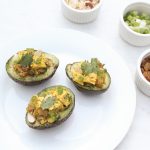 Grilled Avocado Boats with Curry Chicken Salad
---
For the grilled avocados:
6

avocados (or

1

avocado per person you're serving)

4

individual chicken breasts (about

2

–

3

lbs), cooked and cut into 1/2 in cubes
For the Dressing:
---
Instructions
How to grill the avocados:
Fire up the grill or your grill pan to high heat.
While that's heating, cut each avocado in half and remove the seeds. Liberally apply Thrive® Algae Oil to the open faces of each avocado.
Put each half avocado face down on the grill, and cook for 3-5 minutes, or until you begin to see char marks on the avocados. Remove from the grill and place on a serving platter.
For the Dressing:
Add mayonnaise, lime juice, curry powder, and dates to a food processor or blender (I used my Vitamix!) and blend until smooth.
Pour this dressing in a medium sized mixing bowl, and add cilantro, sliced almonds, golden raisins, scallions, and celery, and mix to combine.
Putting it all together:
Add the chicken to the dressing mixture and mix to coat the chicken.
Fill the avocados with the chicken salad, and top with any mixture of cilantro, scallions, sliced almonds, and golden raisins.
Enjoy!
This post is sponsored by Thrive® Algae Oil.
Want to save this Grilled Avocado Boats with Curry Chicken Salad Recipe for later? Pin it here!