I'm sure you won't be surprised to hear this, but these Paleo + Whole30 Chicken Tacos Al Pastor are inspired by my favorite restaurant Bartaco. There was a hot minute that they had these tacos on their menu, and THEY WERE SO GOOD. Unfortunately, they're no longer on the menu… but that's even MORE reason for me to make this recipe myself!

A little history about Tacos Al Pastor: 
The term "al pastor" means "shepherd style" in Spanish. This delicious dish was developed in central Mexico. Interestingly enough, it's actually thought to be based on shawarma brought to Mexico by Lebanese immigrants. A distinguishing factor of Mexican Tacos Al Pastor is it's made with pork.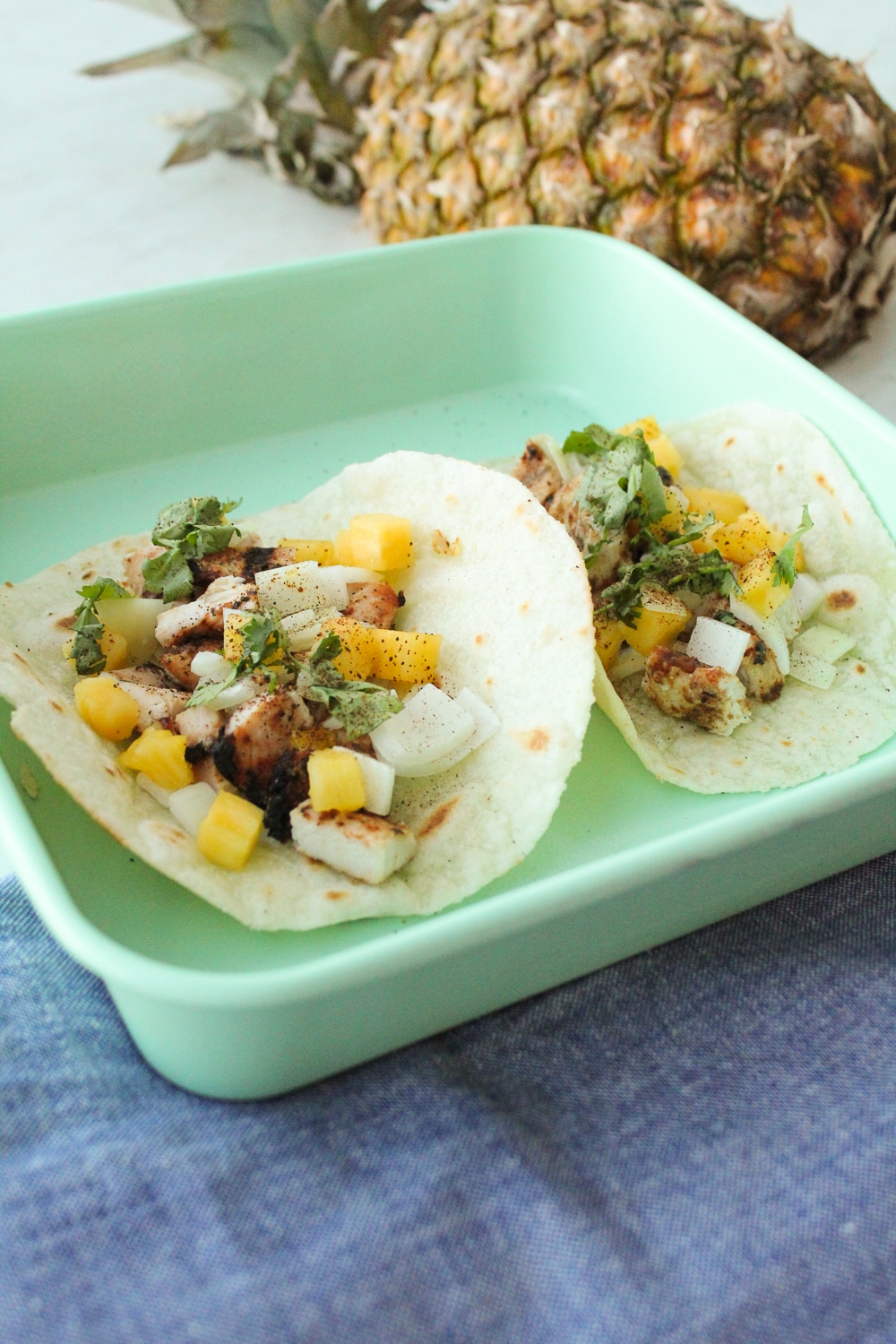 Traditionally, slices of pork are marinated in chili spices, then stacked onto a spit (similar to what you see in a Greek restaurant with gyros!). Then, the pork is shaved and the meat is put into tacos, and topped with chopped onion and cilantro.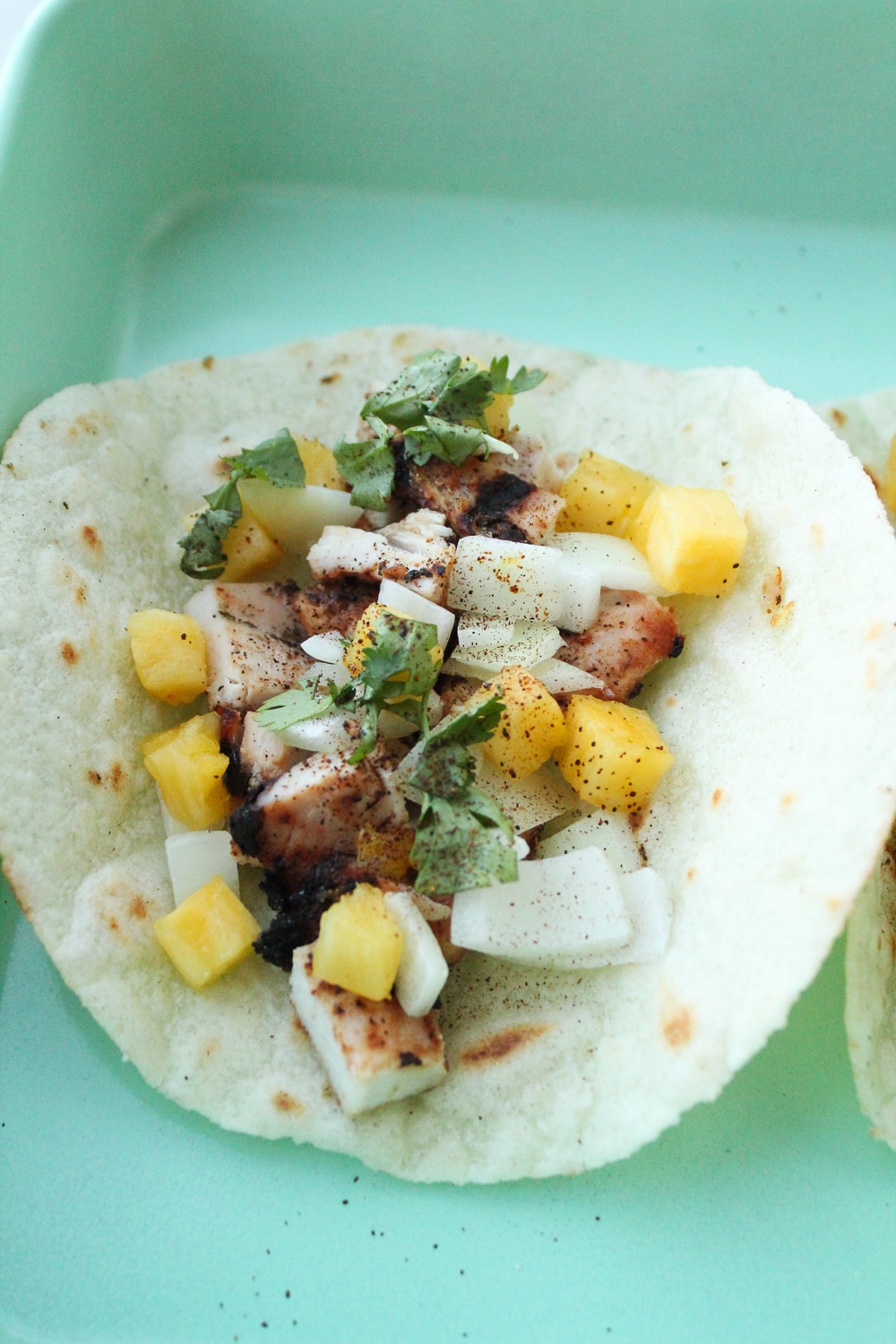 Making Chicken Tacos Al Pastor at Home
I don't know about you, but I don't have a meat spit in my kitchen… Maybe I should get one? I digress… Until we all get meat spits for tacos al pastor and gyros, we're going to have to find another way!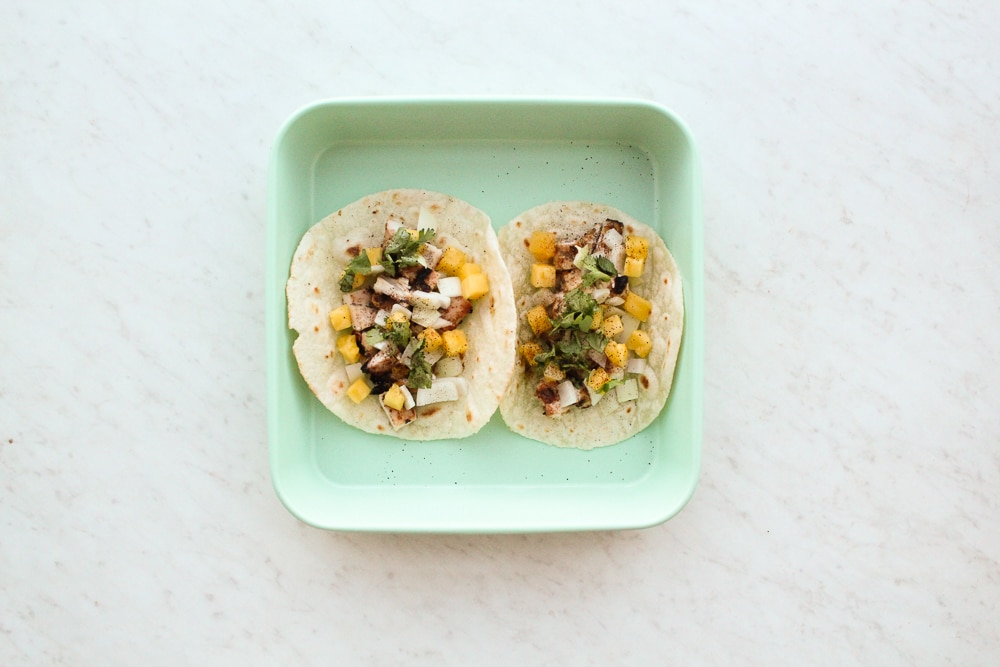 I tried a few different methods to make these chicken tacos al pastor turn out tender on the inside and crispy on the outside, and grilling them was the clear winner!
I absolutely LOVE the flavor combination of adobo chile and pineapple! It's SO freaking delicious! We like to leave some of the marinade out as a sauce to pour on top of the tacos! Trust me- you can't have too much of this flavor!
For this recipe, we put the chicken tacos al pastor and the toppings in Siete tortillas! They're SO good and make having grain-free tortillas SO easy. If you want this recipe to be Whole30- simply put the filling in Bibb lettuce leaves! You won't be disappointed!
Want more recipes like this? Find more Mexican recipes and taco recipes here!
Print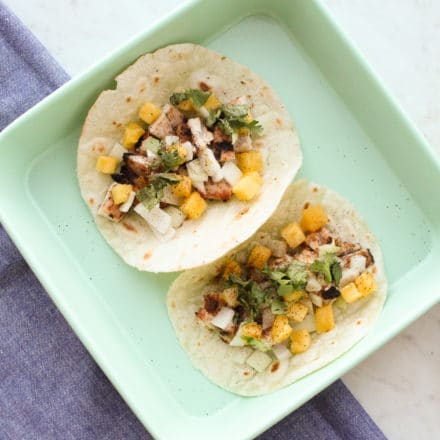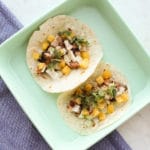 Chicken Tacos Al Pastor Recipe (Whole30 + Paleo)
---
1.66 lb chicken breasts or tenderloins
1/2 c onion, chopped
1/4 t chipotle powder
3 T tomato paste
5 dates
1 t dried oregano
1/4 t ancho chili powder
1/2 pineapple chunks
1/2 c orange juice
1/4 c lime juice
Taco Toppings
Chopped onion
Chopped cilantro
Finely chopped pineapple
---
Instructions
Add all ingredients except the chicken into a blender, and blend until smooth.
Add chicken and sauce to a reusable Stasher bag or Ziploc to marinade. While you can immediately grill this chicken, you will thank me if you marinate this chicken for 3-4 hours, or even better, overnight!
Grill the chicken until it is crispy on the outside and fully cooked on the inside. Chop into bite-sized pieces.
Assemble the tacos: put the chicken tacos al pastor and sauce into either Siete Grain-Free Tortillas or Bibb Lettuce, and top with onions, cilantro, and pineapple!
Want to save this Chicken Tacos Al Pastor Recipe (Whole30 + Paleo) for later? Pin it here!