I think everyone has a favorite Thanksgiving dessert. Even though pumpkin pie is quite tasty, I think pecan pie takes the cake in my book! 🙂 My grandmother always made homemade pecan pie, and it was always the perfect ending to Thanksgivings filled with family and ripe with fresh memories. I've wanted to make a Paleo Pecan Pie Recipe for years and years now…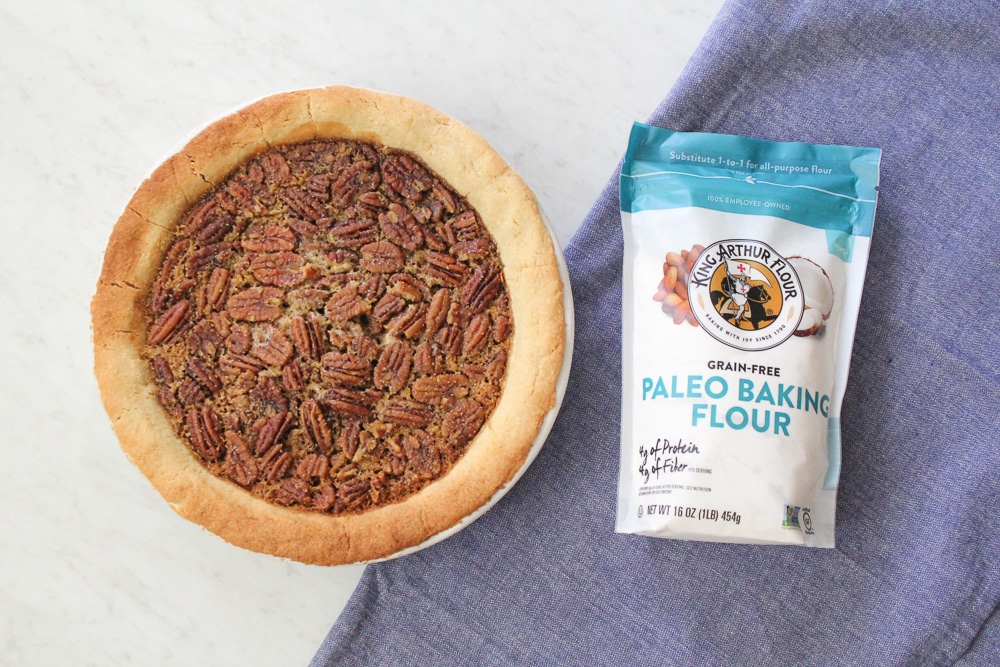 I'm glad this post and recipe are sponsored by King Arthur Flour, because it gave me the determination I needed to make this recipe just perfect!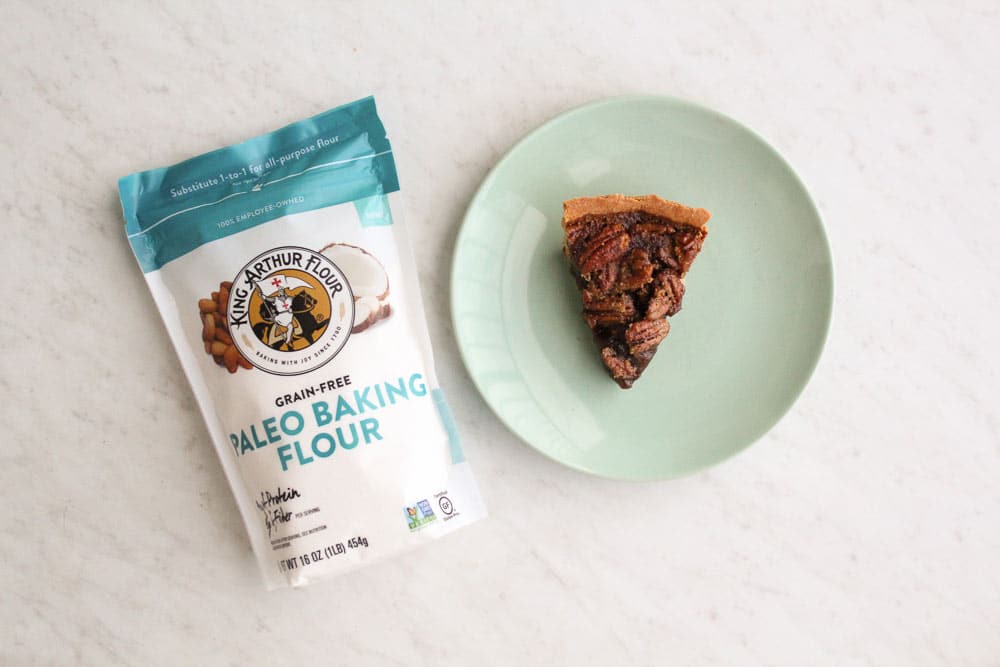 Thank you for allowing me to work with companies I believe in, like King Arthur Flour, so I can continue to bring you free recipes and content!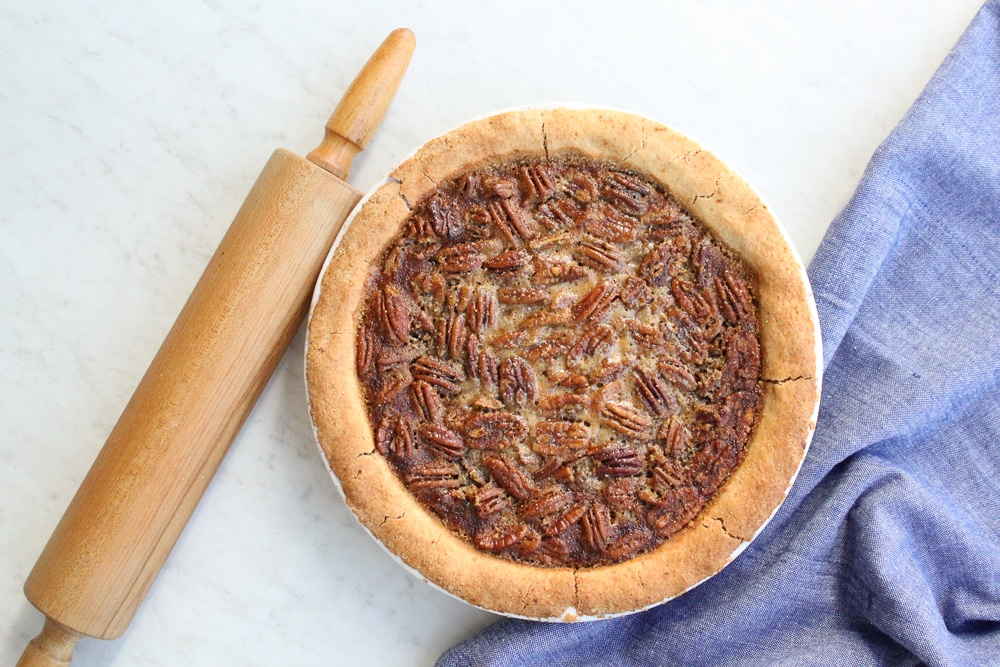 I'm not going to lie to you. Normally, recipes that I create only take one or two tries to make them right! This pecan pie recipe took me FOUR tries to make it perfect. It goes to show you that Paleo baking is much harder than Paleo cooking! Just like with traditional baking, you have to get the measurements and proportions of the ingredients just right!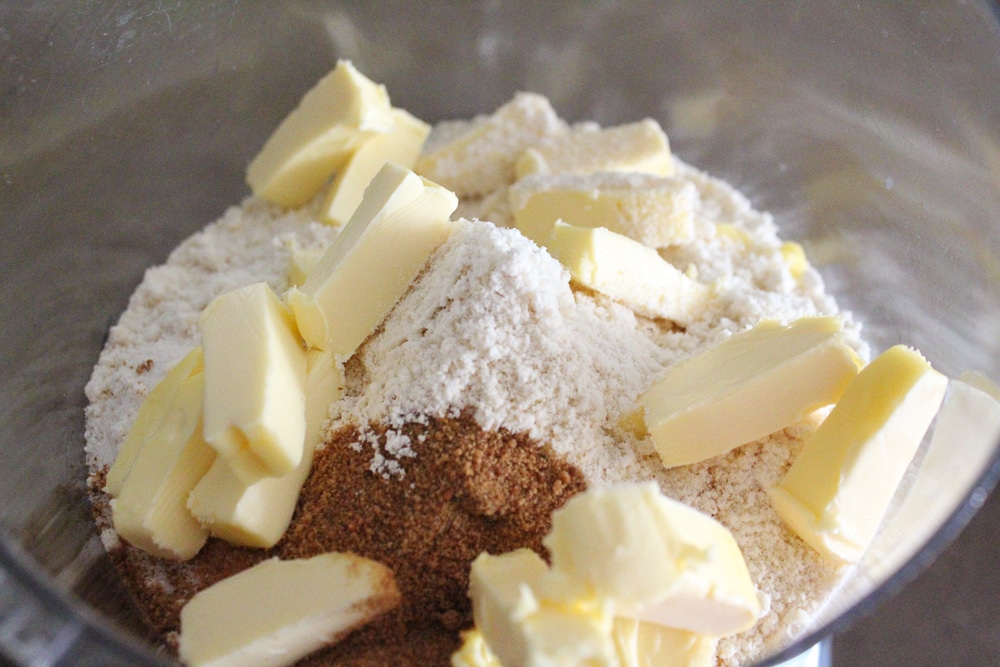 Traditional pecan pie is almost entirely NOT Paleo. 🙂 The crust is mainly flour, butter, salt, and water… The pie itself is corn syrup, sugar, eggs, butter, vanilla, and salt. I always love taking on the challenge of recreating a recipe like this Paleo Pecan Pie recipe whose normal ingredients are not Paleo. And let me tell you, this recipe was a challenge!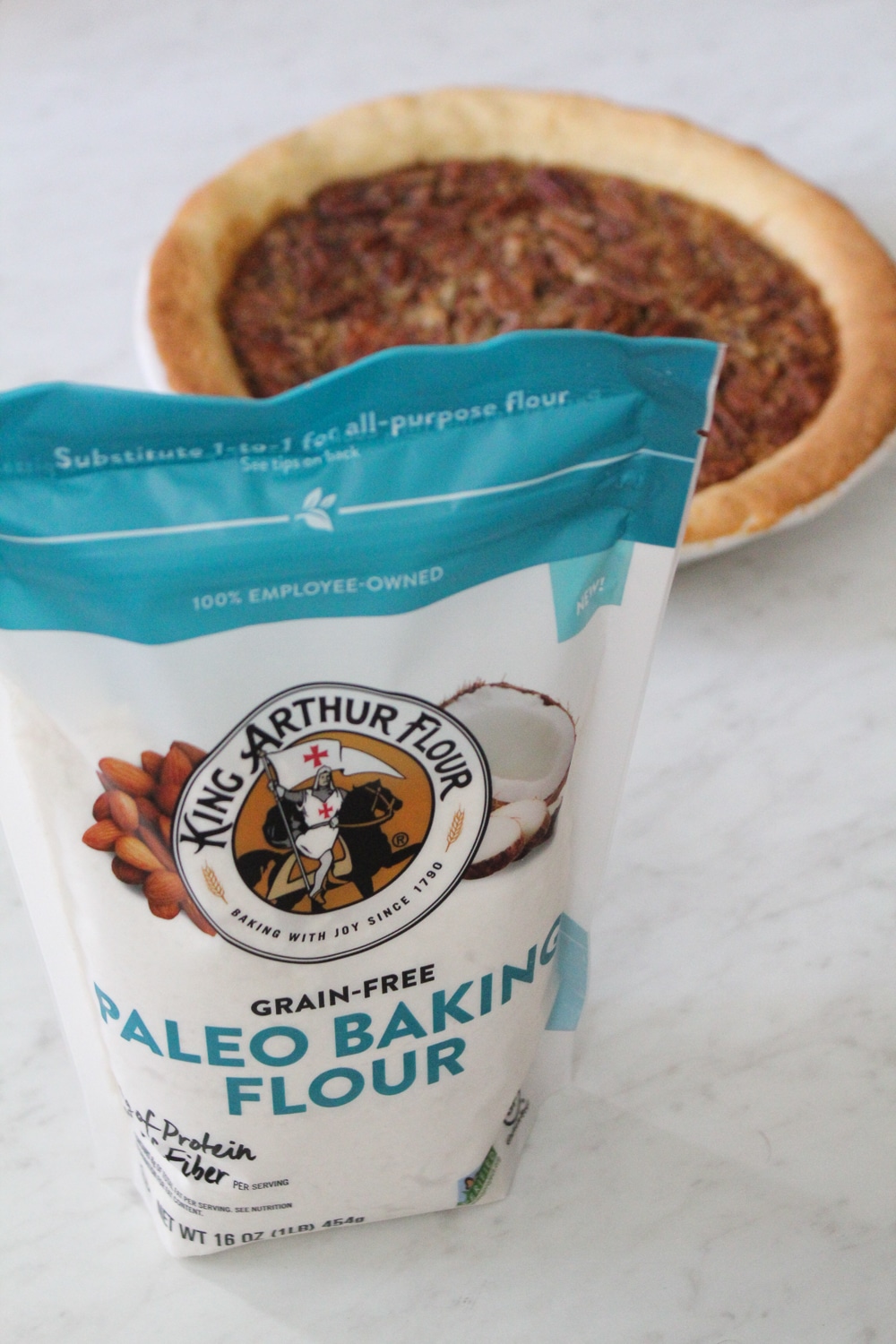 The star of this recipe is King Arthur Flour's new Paleo Baking Flour. I absolutely adore this flour, because it's essentially what I create in my own recipes: a blend of cassava, almond, and coconut flours for that perfect Paleo flour that mimics standard wheat flour.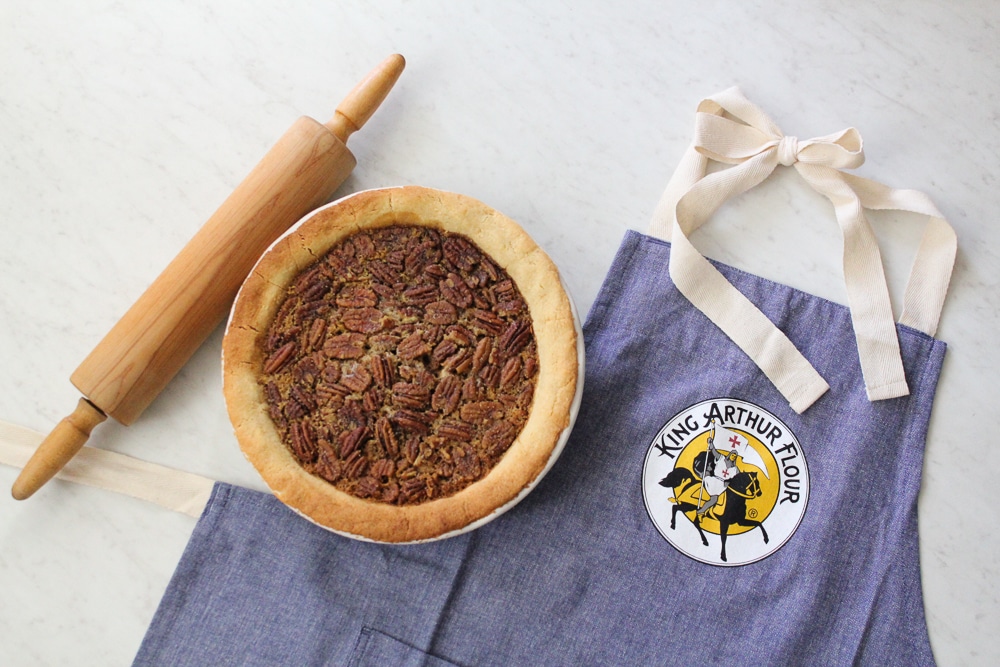 Their Paleo flour is certified Gluten-Free and Kosher! I love this Paleo Baking Flour because it is so nutrient-dense, too! It has 4g of protein and 4g of fiber per serving!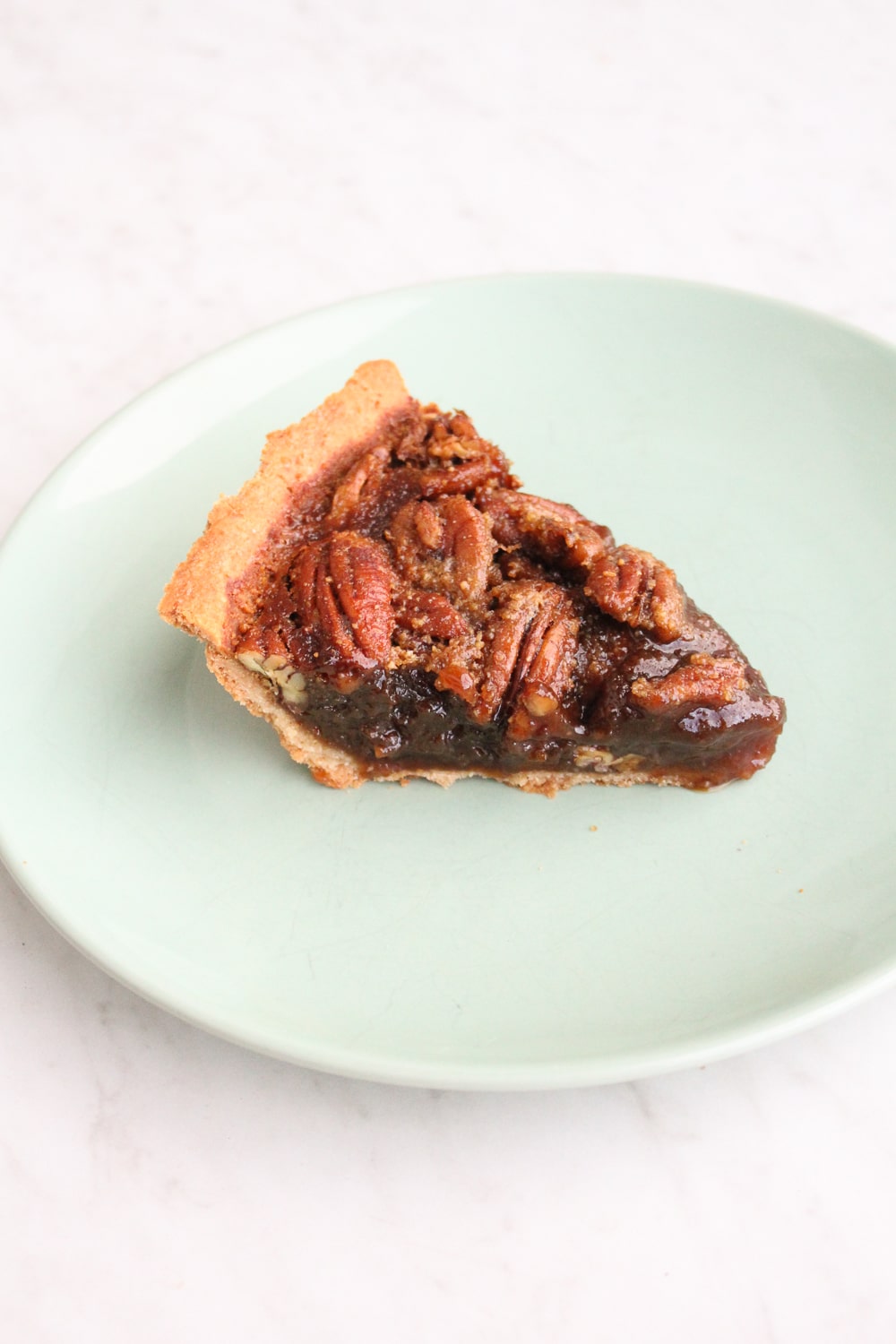 In addition to replacing the standard wheat flour with King Arthur's new Paleo Baking Flour, we also used coconut sugar and honey in place of the standard sugar and corn syrup… I found that it does need to bake longer, but overall it tastes almost exactly the same!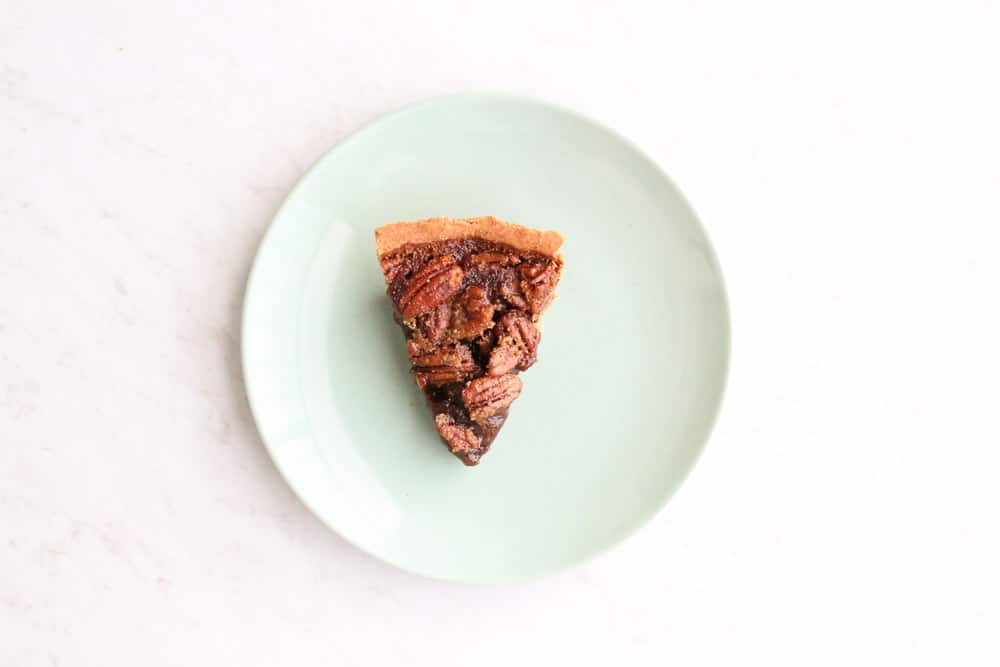 I hope you find this recipe is worth the effort, especially with the added nutritional benefits. You'll be able to enjoy this decadent dessert, and none of your Thanksgiving guests will even know it's Paleo!
Print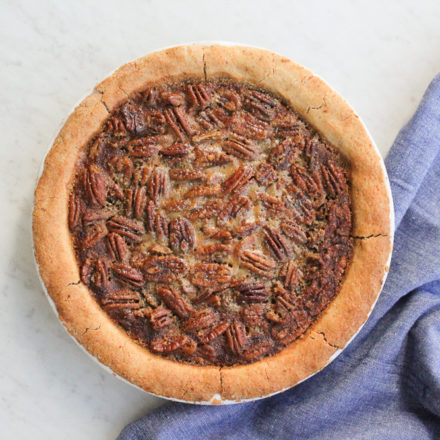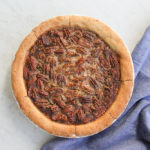 Paleo Pecan Pie Recipe
---
For the Pie Crust
2 c (206g) King Arthur Paleo Baking Flour
1 t salt
2 t coconut sugar
7 T unsalted butter
3 egg yolks
4–6 T ice water (will vary based on the size of your egg yolks)
For the Pecan Pie
3 eggs
1 ½ c coconut sugar
½ t salt
2 T unsalted butter, melted (or ghee)
¾ c honey
1 t vanilla
1 ½ c pecan halves
---
Instructions
For the Crust
Preheat your oven to 325 degrees. 

Combine the first 5 ingredients in a food processor, and pulse until the dough is about the size of small peas.

Add ice water, one teaspoon at a time, until the dough forms one big ball in your food processor. This will feel much wetter than traditional pie crust dough. (It took me 5 tablespoons). 

Use 2 square sheets of wax paper. Place one sheet, wax-side up, and place your round ball of dough in the center. Place the next sheet of wax paper wax-side down onto the dough. 

Roll the dough into a

13″ circle, approx 1/8″ thick

.

Remove the top sheet of wax paper, then turn over the bottom piece of wax paper and place the dough directly in the center of the pie pan. Peel back the bottom piece of wax paper. Slowly press the dough onto the pie pan, pressing the sides down and then the top down. Use a pizza cutter to remove any extra remaining around the top. 
For the Pecan Pie
Add the first 7 ingredients into a mixer and mix until combined. This can also be done by hand with a rubber spatula. Add pecan halves and mix with a spatula. 

Pour the pecan pie mixture into the pie crust. Cover the entire pie with foil, and bake for 65-75 minutes. I keep my pie covered the entire cooking time, as it ensures your crust won't over bake. You know your pie is done when it feels set in the center. Be sure the pie has completely cooled and set before serving. For this reason, I like to make this pie the night before!
Interested in other Paleo baking recipes? Click here for more!
Want to save this Paleo Pecan Pie Recipe for later? Pin it here!