Y'all are going to DIE over this Whole30 + Paleo Gumbo recipe!!! My husband Chaz has family in New Orleans, and we LOVE to visit! We usually get the opportunity to go every other Thanksgiving for a whole week! It's seriously heaven!
Our family there always makes a HUGE pot of gumbo for everyone, and over the past 10 years I've been a part of the Thanksgiving traditions, it has become one of my favorites! Gumbo is actually a pretty clean dish on its own, but I figured out how to make a roux without wheat! Yay! That makes this a gluten free gumbo!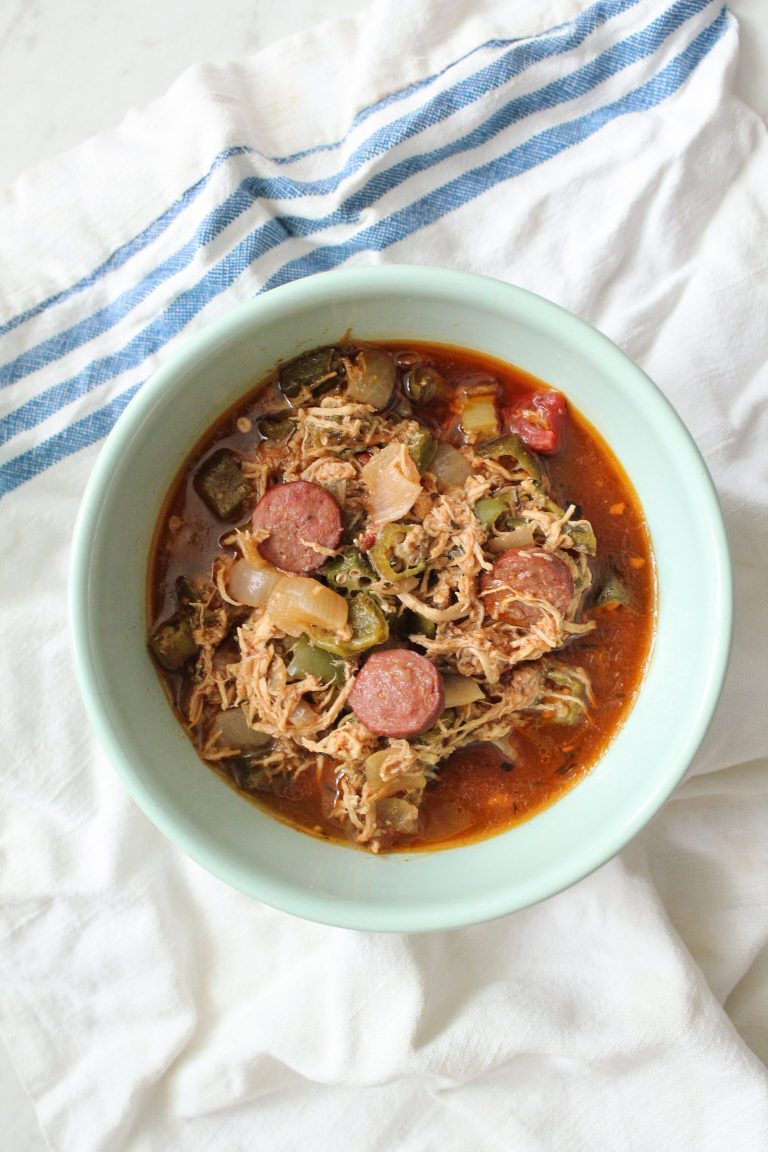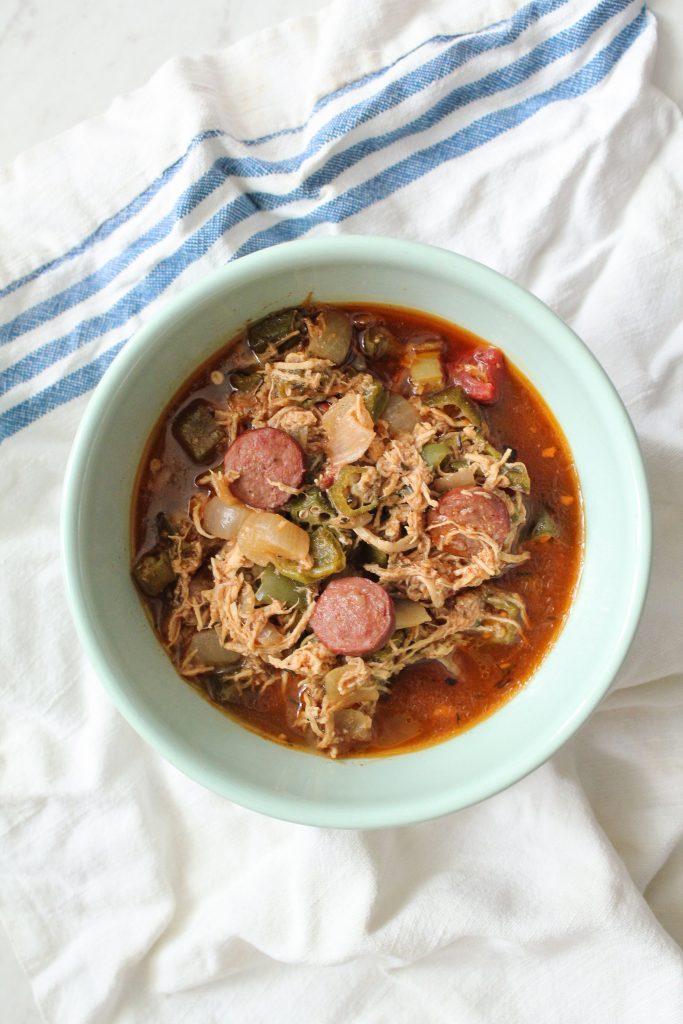 The History of Gumbo
Gumbo combines ingredients and culinary practices from several different cultures, including African, French, Spanish, German, and Native American (Choctaw). It is highly speculated on where Gumbo really originated from, but it is suggested that gumbo first derived its name from an African word for okra. Gumbo can be made with or without okra or filé powder, which was likely an addition of Native Americans. The Roux you'll find in gumbo was brought to us by the French, but it's a darker roux than typically found in French cuisine.
There are MANY different flavors of gumbo depending on where you go and it's very versatile – you can truly take this dish your own depending on what you enjoy! You can make gumbo about any way you can think of, seafood, chicken, beef, sausage, vegetable, or throw it all together and have a good ol' time. The possibilities are endless which is why I love gumbo!
The way you know Gumbo is Gumbo: the thick consistency. If it's watered down it ain't Gumbo my friend, don't let anyone fool you into thinking otherwise.
How do you get your Gumbo to have that thick consistency in a traditional way? The Roux!
Making the Roux/ What is a Roux?
A Roux is a thickening agent made from equal parts flour and fat (in this case, bacon grease). It is cooked for a long time, giving it a brown color. The deeper the color, the deeper the flavor. It is a staple in any gumbo recipe!
If you love gumbo, you'll LOVE our Southern Recipes archives or our Soups Archives!
Print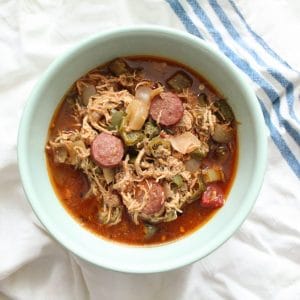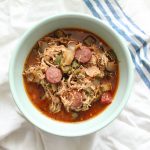 Whole30 + Paleo Gumbo Recipe
---
1/2 cup bacon grease or olive oil
1/2 cup tapioca starch
1 onion, chopped
1 green bell pepper, chopped
3 celery stalks, chopped
2 garlic cloves
1 lb andouille sausage, sliced into 1/4 in circles
3 cups chicken broth
2 chicken breasts, shredded
1 can diced tomatoes with juice
2 bay leaves
1 T coconut aminos
1 t paprika
1 t thyme
1 t oregano
pepper
salt
2.5 cups fresh okra, chopped in 1/4 in circles
1 lb shrimp, peeled and deveined, optional
---
Instructions
First: Make the Roux: Heat the bacon grease (or other cooking oil) on medium high. Add the tapioca starch and stir continuously for a LONG time. The longer you cook the roux, the deeper the color and flavor. I cooked my roux for 35 minutes. Mine was the color of an almond. You DON'T want to burn it.
Add the onion, green bell pepper, celery, and garlic and cook for 5 minutes.
Add the sausage, chicken broth, chicken breast, diced tomatoes, bay leaves, coconut aminos, paprika, thyme, oregano, salt, and pepper. Bring to a boil, then reduce heat to low and simmer for 45 minutes (you can simmer for up to 2 hours to enhance flavor!) *In a hurry? The soup is ready when the meat is fully cooked, about 10 minutes, but you want that delicious simmered flavor!
Once the chicken is fully cooked, remove it from the gumbo and shred it. You can use the age-old fork shredding method OR throw it in a mixer with the whisk attachment – it will blow your mind! Add the shredded chicken back to the gumbo.
Separately, cook the fresh okra in 1 T olive oil for 15 minutes. Remove the okra from the pan with a slotted spoon and add it to the soup mixture. (see notes).
If you'd like to add the shrimp, add it in the final 10 minutes of the soup's cooking time, and cook until it is light pink in color. 
Notes
As you probably know, okra can get a slimy texture to it. This is especially true if we were to just throw the okra into the soup. You can either follow the directions for cooking the okra on the stovetop OR you can cook it in your oven! Preheat the oven to 425. Toss the okra slices in 1 T olive oil and season with salt and pepper. Cook for 15-20 minutes. Remove from the oven, and use a slotted spoon to add the okra to your gumbo. You CAN skip these steps and add the okra straight to the gumbo, but don't say I didn't warn you! This could lead to a gooey gumbo!
Want to save this Whole30 + Paleo Gumbo Recipe for later? Pin it here!