When I think holiday get togethers and family dinners I think casserole. (I blame this on my Southern upbringing! 😉 )I may be a bit bias because I'm from the South but what can I say, I'm a sucker for a casserole! This Paleo + Whole30 Sweet Potato Casserole might just change your life…. for real!
This is my grandmother's recipe from WAY back in the day, and it originates in Kentucky! I know tons of people who have similar Sweet Potato Casserole recipes floating around!
I know when I'm visiting family over the next couple of weeks this is going to be a dish I'll make to pass around at the gatherings. I'll also make my new Green Bean Casserole because, like I said, I love casseroles! The salty and sweet combo between the two will be a hit with anyone who makes these healthy renditions at Thanksgiving!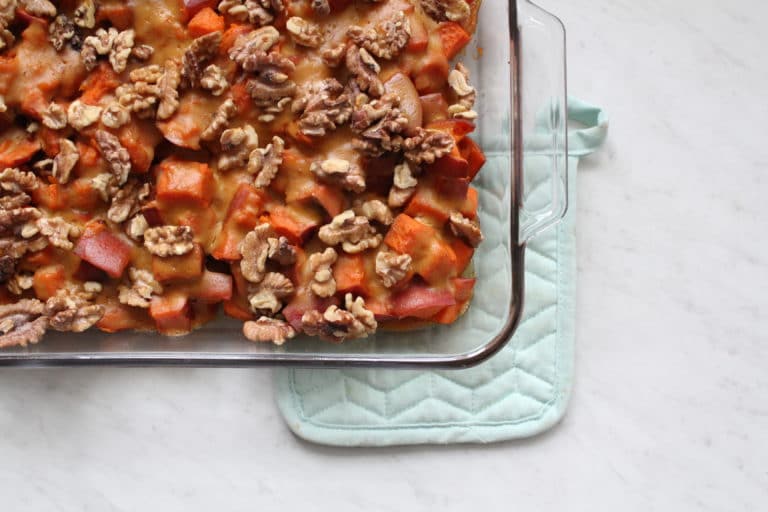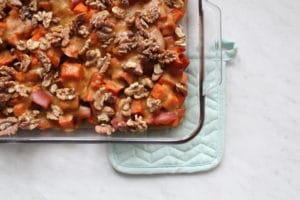 This is actually one of the more pain-free Thanksgiving recipes I make! I even give you two options on how to go about preparing the sweet potatoes.
Best part is I once again feel as if I've outdone myself with this recipe because it's Whole30, Paleo and the taste is to die for! Seriously, after you make it be sure to come back and let me know what you loved about this recipe.
I even add in a marshmallow topping for those of us who might not be on Whole30 right now. I totally get cutting yourself some slack on the holidays to enjoy what you normally wouldn't. Treat yourself and enjoy!
Print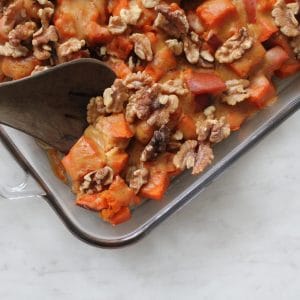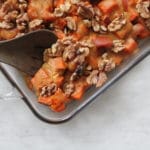 Paleo + Whole30 Sweet Potato Casserole Recipe
---
4 medium sweet potatoes, diced in 1 in cubes
1/4 t salt
1 cup orange juice
1/2 cup pitted dates, about 12
1/4 c salted ghee, melted
1 T arrowroot starch
1 T red wine vinegar
1/2 cup pecans or walnuts, chopped
---
Instructions
Preheat the oven to 350.

Option 1: Cook sweet potatoes in boiling water for 20 min.
Option 2: Add 1 cup water and the steamer basket that came with your Instant Pot in the Instant Pot. Top with diced sweet potatoes, and manually set for 10 minutes.

Drain the sweet potatoes and place in a 9×13 glass casserole dish. Sprinkle the salt on top.
Make the sauce! Add orange juice and dates to the blender. Start on the lowest setting and work your way all the way to the highest setting. You want to blend them enough that the mixture is thick and you don't see many more of the date skins left!
Add the melted ghee, arrowroot starch, and red wine vinegar, and blend until combined.
Pour this mixture evenly over the sweet potatoes. Top with pecan or walnut pieces (and mini marshmallows if you're not doing a Whole30!).
Bake for 20 minutes. Enjoy!
Want to save this Paleo + Whole30 Sweet Potato Casserole Recipe to make later? Pin it here!