This Ginger Chicken Recipe with Broccoli is like making your favorite take out dish at home! (We've been told it's similar to the PF Chang's ginger chicken with broccoli recipe!) It can be difficult to eat out (or get take away) from some restaurants if you are eating clean, Paleo, Whole30, or Gluten Free. Many restaurants are unable to accommodate certain restrictions or elimination diets. When I am craving certain dishes, but know that I am unable to eat out because they will contain ingredients that are not compatible with my lifestyle, I love the challenge to make my own healthy version at home.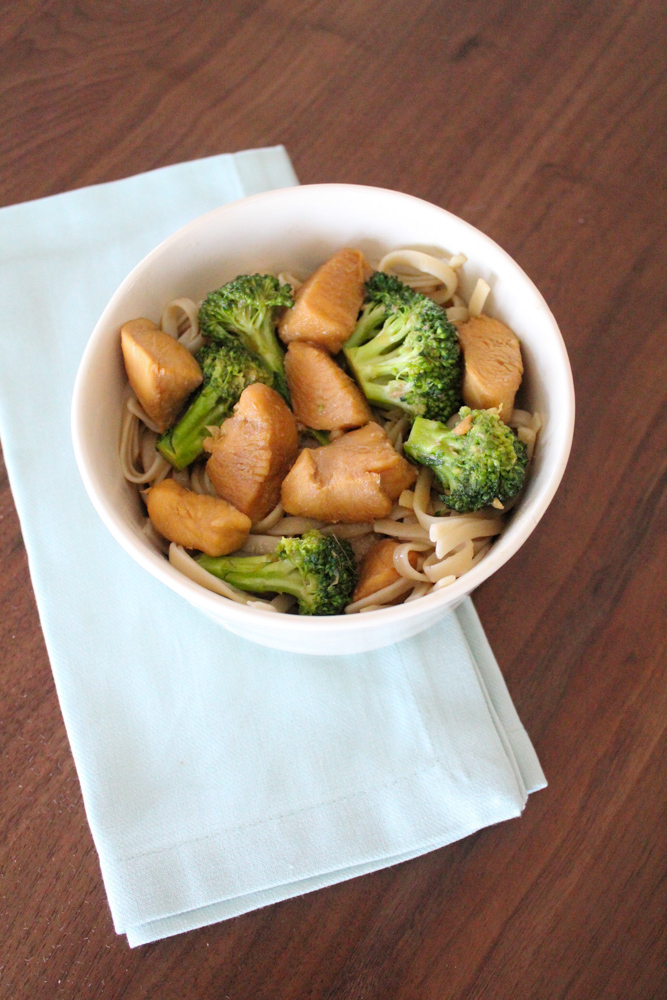 Healthier Ginger Chicken Sauce
Soy and gluten are no-goes for most clean eating programs so I make many sauces using coconut aminos instead of soy sauce. If you are unfamiliar with Coconut Aminos, it is a sauce make from the fermented sap of coconut palm and sea salt. You can use coconut aminos 1:1 as a replacement for soy sauce in almost any dish you are making. My favorite brand is Big Tree Coco Aminos. Snag a bottle on Amazon HERE. I also know when I make my sauces at home, they will be sugar free and do not contain unhealthy additives.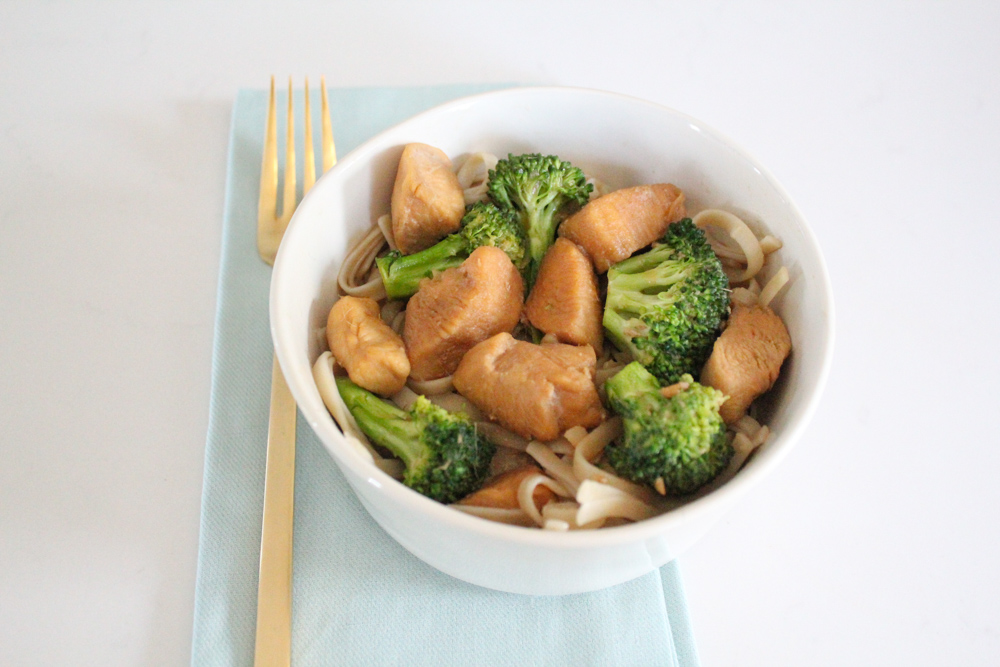 This dish is just a tasty as the take out version from your favorite local restaurant and guilt free! Let the chicken marinate in the sauce for a deeper flavor or if you are short on time, skip the marinating time and start right in the skillet.
Feel free to mix things up depending on what you have on hand or using veggies that you love. I think this would be great with red bell peppers and mushrooms as well. While we prefer this ginger chicken and broccoli recipe over rice noodles, if you are paleo or Whole30 serve over cauliflower rice or your favorite zoodles.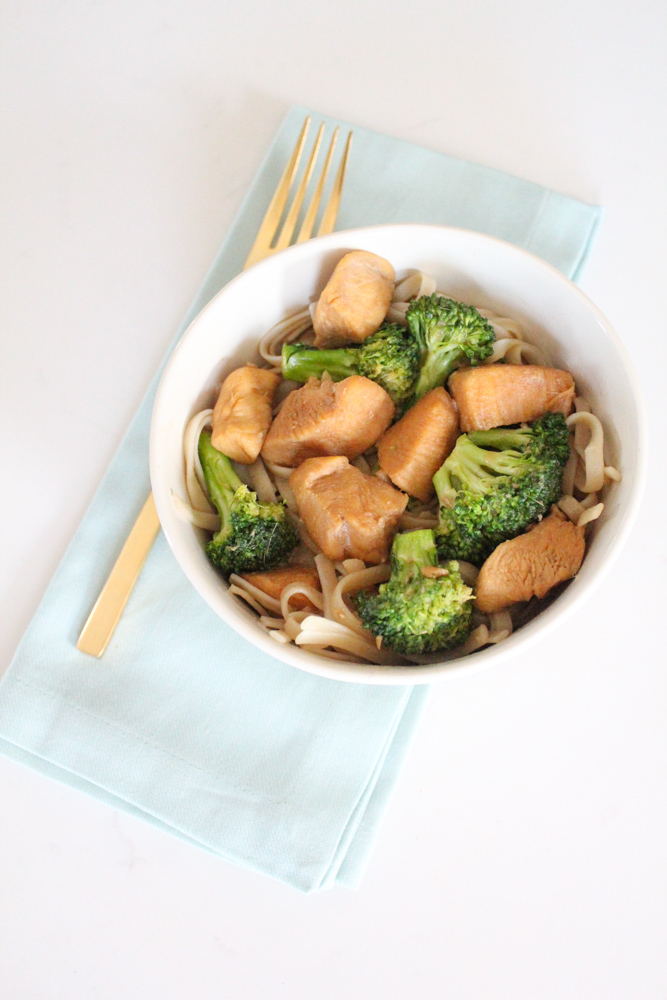 How to make Ginger Chicken
I absolutely LOVE this recipe because when if you're wondering how to make ginger chicken, it really is SO easy. First you make the marinade simply by adding the coconut aminos, sesame oil, ginger, garlic and chili paste in a blender or food processor and blending until smooth. You marinade the chicken, then you make the chicken ginger stir fry by adding the chicken and its sauce in a wok to stir fry. You add the broccoli, cook your noodles separately, and you're done! See full instructions in the ginger chicken recipe below. 
Recipes with Ginger and Chicken
When you have fresh ginger, I know you're looking for chicken and ginger recipes, because chicken breast is its perfect companion. This Ginger Chicken recipe is a great, easy option. We also love these two other recipes with ginger and chicken:
Print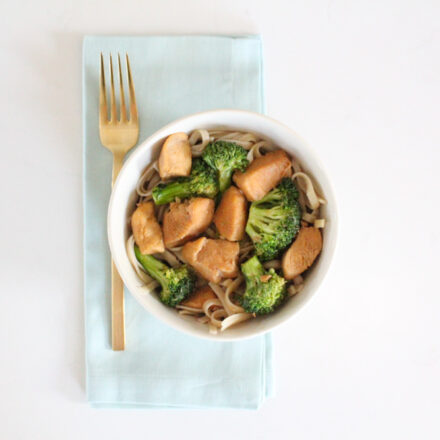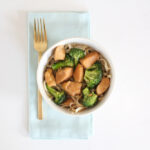 Ginger Chicken Recipe with Broccoli Recipe
---
Description
2 chicken breasts, boneless & skinless (roughly 1 lb)

1 head of broccoli
¾ cup coconut aminos
2 Tbs toasted sesame oil
1-inch piece ginger, peeled and chopped
1 garlic clove
¼ tsp chili paste or red chili flakes
Rice noodles (1 8-oz package)
---
Make the sauce by adding the coconut aminos, sesame oil, ginger, garlic and chili paste in a blender or food processor and blending until smooth. 

Cut the chicken into bite size cubes and place in a bowl or ziploc bag.
Pour the marinade over the chicken and marinate for a minimum of 1 hour up to overnight in the refrigerator overnight.
Cut the broccoli into florets.
Add the chicken with the marinade to a large wok, sauté pan, or dutch oven on the stovetop. Heat over med/high heat and cook until chicken is completely cooked through. Once the chicken is cooked, add the broccoli to the same pot to heat through and tenderize.
While the chicken is cooking bring a large pot of water to a boil on the stove top. Cook the rice noodles according to the package instructions.
Drain the rice noodles and top with the broccoli chicken sauce mixture.
---
Want to save this Ginger Broccoli Chicken over Rice Noodles for later? Pin it here!