If you know me, you know I LOVE all things pumpkin spice! With fall right around the corner, I thought this would be the perfect time to create a fun smoothie recipe that's #allthethings. It's Keto, Paleo, and Vegetarian friends! And it uses some yummy Caramel MCT Oil Powder from my friends at NowKeto!
[This post is sponsored by NowKeto, but all thoughts, feelings, opinions, and recipes are my own! Thank you for allowing me to partner with amazing companies to continue to bring you free content!]
A lot of times MCT Powders will be full of additives which isn't good for those who have allergies or are sticking to a whole food based diet. When NOWKeto reached out wanting me to try their new Caramel flavored MCT Powder I said YES! Their products are Paleo approved, GMO-Free, and Vegan which means I can be sure I won't be putting anything in my body that goes against our Paleo Lifestyle in the Fausel house.
I personally have LOVED this MCT powder! I love that it's in powder form, so its shelf life is so much longer than a can of full fat coconut milk! It's super easy to add into drinks or smoothies!
Here is a bit more about what MCT Oil Powder does for you and specifically why NOWKeto stands out compared to the crowd:
Increase Your Ketosis & Decrease Your Carbohydrates.
Fast-acting and gut-friendly, our premium PureMCT™ with C8 delivers an essential boost to any serious keto diet. MCT is shown to raise blood ketone levels in the body, our powdered MCT Oil will enhance cognitive function, help increase your energy levels, help to stimulate nutritional ketosis, and may assist to fuel your weight loss.*
NOWKETO™ PureMCT™ contains a unique blend of C8, C10, C12 for optimal performance*
MCT (Medium-Chain Triglycerides) is a rich source of healthy fats that are loaded with health benefits. An easily-accessible source of energy for both brain and body, it efficiently crosses the blood-brain barrier to improve mental performance and alertness.
Whether you need to recover from a carb-heavy meal or want to maximize the impact of your keto diet plan, supplementing with MCT is an easy way to kick ketosis in gear. It quickly activates ketogenic fat burning, boosting your metabolism and balancing blood sugar.
Unlike the oil form, our premium powder is designed to be easy on your digestive system. It's soluble, dissolving into water, coffee, smoothies, protein shakes, coconut milk, and yogurt.
The great-tasting formula is low-carb and sugar-free, created from high-quality natural ingredients on the market. Carefully filtered and refined to deliver maximum benefits for your mind and body*
Take charge of your journey and make PureMCT™ Oil Powder with C8 part of your daily regimen to start getting the most out of your ketogenic lifestyle.
Now for the fun part- the yumm Keto Pumpkin Spice Smoothie Recipe!
Print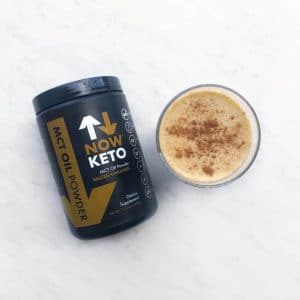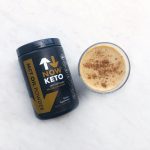 Keto Pumpkin Spice Smoothie Recipe
---
1/2 C almond milk of your choosing (click here to find Whole30 compliant almond milks with less additives!)
1/4 C full fat coconut milk
1/4 C pumpkin purée
2 scoops collagen (NowKeto's Vanilla Collagen is delicious in this recipe!)
1 scoop NowKeto Caramel MCT powder
1 T vanilla ghee (or plain)
1/4 t cinnamon
pinch ground ginger
pinch ground nutmet
pinch ground cloves
additional vanilla stevia drops, to taste
1 C ice
---
Instructions
Add everything to a high speed blender and blend until smooth!
Notes
The nutrition calculations are based off of the brands I chose to use, and are here for guidance purposes. For a strict keto diet, you will want to recalculate using the brands you choose.
Nutrition
Serving Size:

1

Calories:

357.5

Fat:

27.75 g

Carbohydrates:

14.75 g

Protein:

16 g