This Paleo and Whole30 Lemongrass Salmon Recipe is literally THE recipe that made me like seafood! Guys, this is HUGE.
I grew up with a sister who is deathly allergic to all seafood, so we obviously never had it! This recipe is one of the first times I actually made Salmon myself- and I LOVE it now! Now I try to make recipes with seafood in ways that I like it ??
This recipe is a little more involved than my typical recipes because you have to make the lemongrass paste… You're probably thinking, aren't there Whole30 compliant lemongrass pastes out there?
Yes! If you'd rather use a lemongrass paste, I get you!
Here is a list of Whole30 Compliant Lemongrass Pastes:
Thai Kitchen Green Curry Paste (not quite what we're looking for here, but it would be delicious and you can usually find this locally in grocery stores!)
This recipe is made in my Lodge Cast Iron skillet! I have this one and I LOVE it!
Print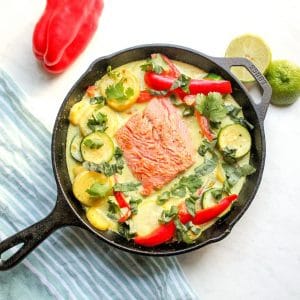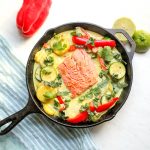 Lemongrass Salmon Recipe
---
1 T olive oil
1/2 pound summer squash
1 red bell pepper
¼ c cilantro
½ c basil
1 lime, juiced and zested
Two 6-ounce wild salmon fillets
Lemongrass paste (ingredients below)
3/4 c coconut milk
3/4 c water
LEMONGRASS PASTE
2 t extra-virgin olive oil
3 shallots, finely chopped
1 T freshly grated ginger
3 cloves garlic, minced
1 stalk lemongrass, cut in 1/2-inch pieces
1 t turmeric
1/4 c water
1 t salt
---
Instructions
Heat oil in a medium saucepan over medium-low heat
Add shallots, ginger, garlic, lemongrass, turmeric, salt, and water. Cover and cook until very tender, 8 to 10 minutes. Uncover and cook until the liquid evaporates, 1 minute.
Put the mixture into a food processor and puree to form a paste.
Season the salmon filets with salt and pepper.
Add 1 T oil to the pan and heat until hot but not smoking. Add the salmon and cook until lightly browned, 2 to 3 minutes. Remove the salmon and let it sit on a plate.
Add the squash and peppers and cook 2 to 3 minutes. Stir in the lemongrass paste and cook until fragrant, about 1 minute. Add the coconut milk, ¾ cup water. Boil, then simmer.
Nestle in the salmon, seared side up. Simmer, covered, until the fish is cooked through, 2 to 3 minutes.
Remove the pan from the heat. Stir in the cilantro, basil, lime juice, and lime zest.
Serve over cauliflower rice.
Want to save this Paleo + Whole30 Lemongrass Salmon Recipe for later? Pin it here!