This Paleo + Whole30 Shake and Bake Chicken Recipe takes the prize for recipe most reminiscent of my childhood!!
Any other children of the 90's out there that LOVED Shake and Bake?
Well, what you'll love even more is this super clean, Whole30 Shake and Bake Chicken recipe!
Recently I made this recipe paired with my Whole30 mashed potatoes and simple roasted green beans for a friend after she had her third baby!
Later she told me, "Don't tell anyone, but yours was the only meal that people have brought over that my kids DEVOURED!" ?
I call that a win!!
I especially love bringing Dairy Free Recipes or Whole30 Recipes to new mamas, as so many breastfeeding babies have issues processing lactose! (Both of mine did!) If I can at all help make a baby a little happier, I'm glad to do it!
This is seriously the perfect breaded chicken recipe for your Whole30! It's super herby, and gets deliciously crunchy crispy in the oven…
So here you have it: probably one of the easiest chicken recipes I have on my blog PLUS it's kid and toddler approved! I can't wait for you to make it!
Print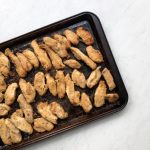 Paleo + Whole30 Shake and Bake Chicken Recipe
---
Description
3 pounds chicken, cut into pieces
¼ c almond flour
¼ c cassava flour
2 T coconut flour
1 teaspoon salt
1/4 teaspoon ground sage
1/4 cup ghee
1 t celery salt
1/2 teaspoon ground garlic
1/4 teaspoon ground onion
1/4 t dried basil leaves
¼ t dried parsley
• ¼ t dried oregano
---
Preheat oven to 400 degrees F.
Mix all dry ingredients together in a bag. Add chicken parts in a bag and shake until well coated.
Melt ghee in a 9×13 inch baking dish with cover in the preheated oven. Place chicken in the baking dish and bake for 20 minutes. Uncover the dish, turn pieces over, and bake another 20 minutes until tender and juices run clear.
---
Want to save this Paleo + Whole30 Shake and Bake Chicken Recipe for later? Pin it here!