This Teena Period Tracker for Teens review is sponsored by Teena. Thank you for supporting my work with brands I believe in so I can continue to bring you free content!
What is the Teena Period Tracker for Teens?
Before we dive into our review, let me first tell you what Teena is! Teena is a period tracker AND app designed just for tweens and teens. The tracker uses basal body temperature (BBT) to track the cycle phases (follicular, luteal) and events (ovulation, menstruation) of the menstrual cycle and predict the timing of the teen's next period. It truly is one-of-a-kind in its pairing of both BBT tracking and additional input to predict teens' cycles with accuracy!
The app offers free resources like an educational magazine, illustrated anatomy diagrams, an interactive cycle journey, and affirmations. The BBT tracking allows the tween or teen to know their current phase and when their period is likely to arrive (including that first ever period!).
Teena's goal is to bring positivity and body literacy to tweens and teens during their puberty years.
Click Here to get your Teena!
Our Teena Period Tracker for Teens Review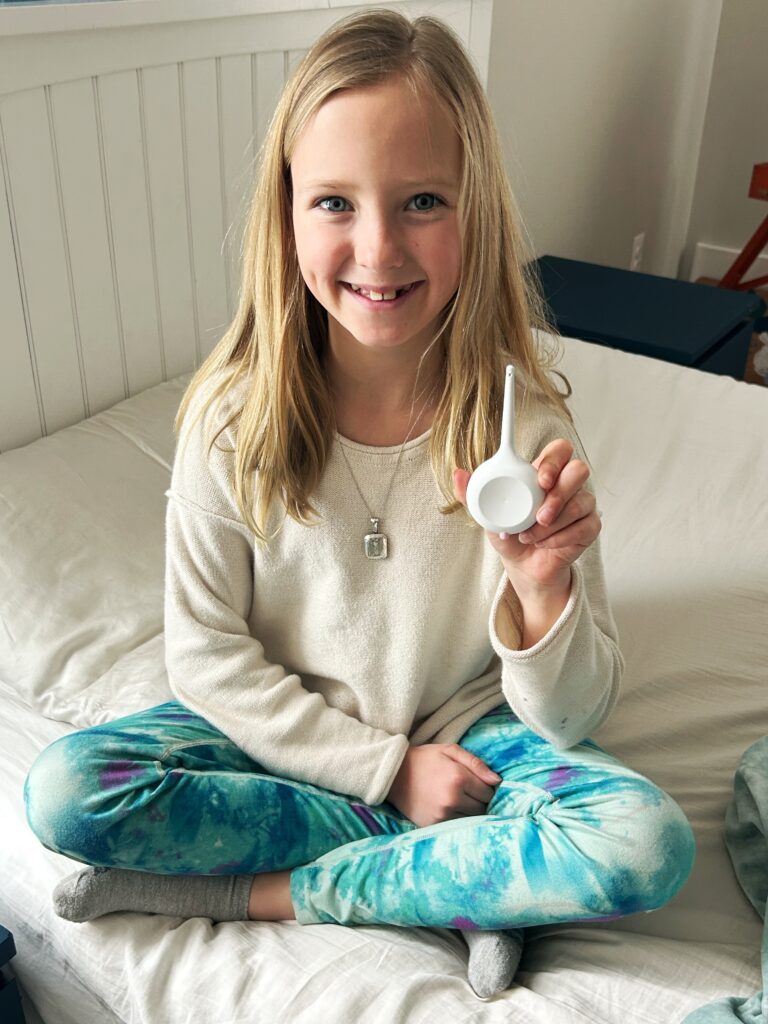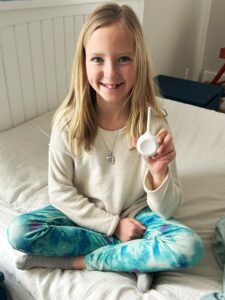 My friends at Teena sent my 10 year old daughter Ella her very own Teena period tracker for her to try and review. She was thrilled! When I was growing up, periods and puberty weren't things we talked about much. So once my friends started getting their cycles, I felt terrified that I would get it when I least expected it. My fear was that I wouldn't be prepared, and that blood would be everywhere and cause an insanely embarrassing moment for me!
Ella has started tracking her basal body temperature (BBT) using her Teena each morning, and she's loving using it! In her words, "Before I got this Teena period tracker, I felt really nervous about when my period was going to come, and if I would be ready or not. But now, all I have to do is track my temperature using my Teena every morning, and I feel like I'm going to be ready when my period comes. It will catch when I ovulate, even before my first cycle. Now I feel confident because I will know when my period is coming."
As a mom, it makes me so happy to see Ella investing in her own health and wellness! She is really getting an understanding of her body and what is going to happen during this upcoming phase of puberty. It has really removed the stigma for her, and we can talk openly and honestly about what's going on. She feels comfortable asking me questions, and I'm glad to be the one she's coming to for answers! The Teena has truly been a wonderful guiding force during this time.
Get the Teena during its Launch!
When you get the Teena before March 31, 2023, you get it for the lowest price of $99! [After 03/31/23, the price is $199.00]
Click Here to get your Teena!
Not just a Period Tracker App!
The app provides the opportunity to track more than just your cycles! This includes moods and emotions, cervical fluid, symptoms, and other cycle signs. Because we all know there is even more to your cycles and hormones than just basal body temperature! There's also the space to do some journaling. The app also provides daily affirmations designed for teens!
Ella's favorite part of the whole app is the  in-app Magazine where she can take in age-appropriate articles on all of the things the tracker and app help her notice, monitor, and learn. From facts about menstrual blood to journal prompts for the luteal phase to tips for skin confidence, it's all there and Teena is always adding more content!
As much as I try to have conversations about puberty with Ella and tell her what to expect, she would much rather read it on her own! 
The in-app animated, interactive Cycle Journey is a science-backed, straight-forward look into the workings of the body from egg release to period and back again.
Click Here to get your Teena!
Why was
Teena Created?
The team at Teena created this period tracker for teens to help young people be period ready! They will know (almost exactly) when their next period will arrive. So no more worry, shame, or embarrassment from unwelcome surprises.
But Teena is more than a tracker. It's a movement. The #periodready movement.
What does "period ready" mean to Teena?
Age-appropriate, fun and friendly, shame-free education on hormones, health, and your changing body.
A holistic, positive, wellness-focused and wellness-supportive perspective on why we have menstrual cycles.
A sense of in-control confidence when it comes to prepping for that first and future periods from practical matters (tampons, pads, or menstrual cup?) to the science of cycles.
A cycle experience that lifts teens, boosts their self-esteem, and makes them feel as special as they truly are!
Click Here to get your Teena!
What makes 
Teena

different than other Period Tracker for Teens options?

Teena uses basal body temperature to track the teen menstrual cycle (without tracking/ mentioning fertile or non-fertile days). Basal body temperature is an accurate, accessible way for teens to track the phases of their cycle (follicular, luteal) and to know better when their next period will arrive.

We all know most free period tracker apps are not very accurate, especially when it comes to the commonly irregular cycles of young people. They are based only on period date data and do not include daily cycle data or observation. BBT offers a way for teens to be more fully informed, confident, and in control when it comes to their cycles.

Teena is wellness-focused and wellness-supportive. That means the design and content of the app is built upon the ACOG (American College of Obstetricians and Gynecologists)-recognized concept of the menstrual cycle as the fifth vital sign for teens.

Click Here to get your Teena!
A Focus on Wellness
During Teena's research, they discovered much of the education available for teens on the menstrual cycle is built around the expectation of pregnancy. The lesson is: you have a menstrual cycle so you can get pregnant one day.
Teena decided to present an inclusive alternative that accepts and acknowledges that many members of Gen Z express a desire to not have children in the future, but have a keen interest in their health and well-being, including mental health and cycle health.
As a tween or teen, tracking your cycle is about engaging with and having a relationship with your changing body that sets the foundation for self-esteem, confidence, and lifelong health and wellness.
Your menstrual cycle is about so much more than whether or not you choose to have children and focusing on fertility can feel reductionist, excluding, and often unrelatable to those just beginning to get periods.
Teena takes period positivity seriously. That's why you won't find any negative-slanted, judgy language in the app. For example, the moods that can be tracked – they deliberately stayed away from words with negative connotations and flipped others on their head. All cycle symptoms and signs are addressed in a matter-of-fact, science-based, straight-forward way. These are just facts of life. Every cycle phase brings its own skills, strengths, and super powers. Teena wants young people to immediately feel validated, comforted, and accepted as they navigate puberty.
Click Here to get your Teena!
Get the Teena during its Launch!
When you get the Teena before March 31, 2023, you get it for the lowest price of $99! [After 03/31/23, the price is $199.00]
Click Here to get your Teena!
Looking for more resources? Check out our blog posts on parenting, health, and clean lifestyle!