As someone who cooks food and creates recipe for a living, people want to know what are my very favorite kitchen gadgets! Really, there are SO many, but I've narrowed it down to my Top 5 Favorite Kitchen Gadgets!
This "My Top 5 Favorite Kitchen Gadgets" blog post is the next in our #betterforyoucrew series! I've teamed up with my girls Kate Kordsmeier from Root + Revel, Lisa Fennessy from This Organic Girl, Suzi from Gurl Gone Green, Sarah from Whoorl, and Kristina from Love & Zest to highlight green, yet effective food, beauty and lifestyle products that are rocking our natural mama worlds. This series will publish the last week of every month so check back for the latest. You can also search #betterforyoucrew on our blogs and Instagram to access the entire series. Wanna join in? Tag #betterforyoucrew on social with your picks. We want to see your faves, too!
These top 5 favorite kitchen gadgets are pretty much on the same, very high, pedestal. But, if I had to order them, this would be the order of my favorites!

Let's dive in, shall we?

My Top 5 Favorite Kitchen Gadgets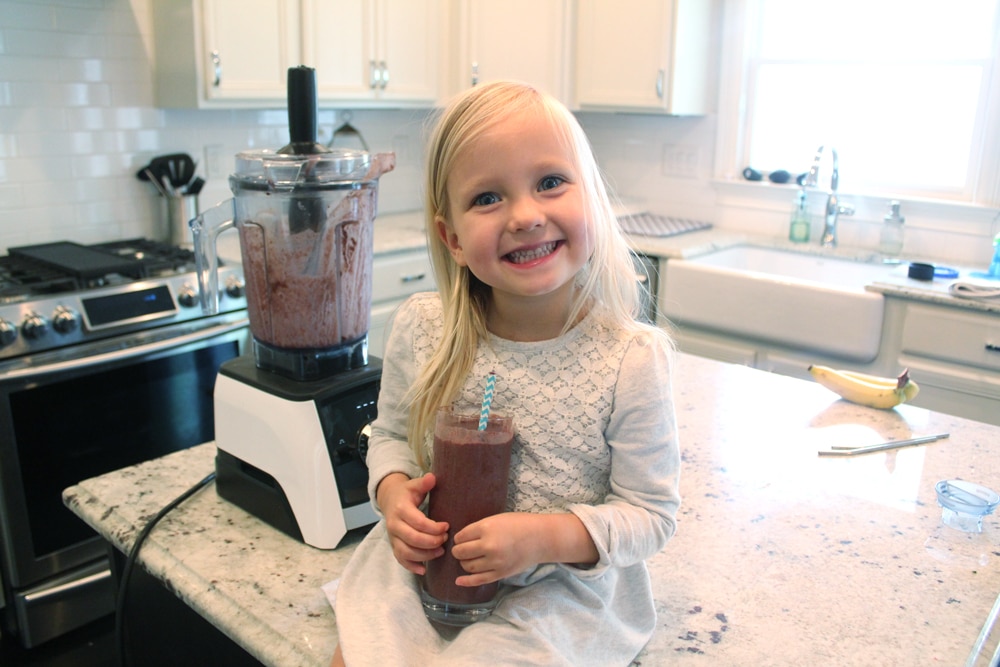 Vitamix

This is the type of Vitamix I have! It's called the Vitamix A2500 Ascent Series. My first awareness of health and wellness as a concept was when I went to a new middle school. My best friend's mom was a nutritionist, and I LOVED learning new things from her! She had a Vitamix, and from the moment I first saw her use one, I knew I wanted one.

During my poor college/ Chaz in medical school days, I knew we could never set aside that kind of cash for a kitchen gadget. I will never, ever forget the email I got from Vitamix wanting to work together for this post. I LITERALLY CRIED.

Not only did they send me my Vitamix, but I got to give one away, too! It was seriously SO exciting opening up that box!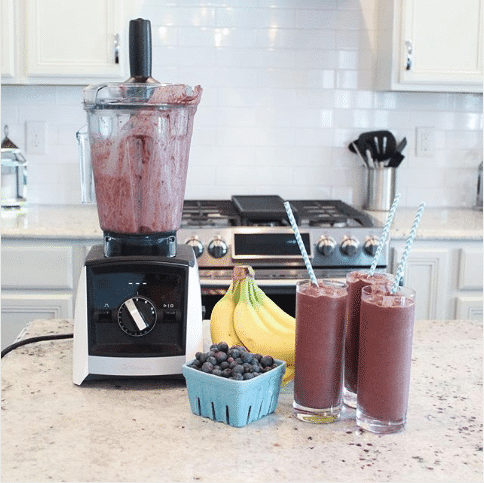 Ok, so about the actual Vitamix.

I can honestly say that I would buy a Vitamix IN A HEARTBEAT knowing what I know now. I make so many different things in my Vitamix. Of course, smoothies (a note on smoothies here). I also make all kinds of dips like my Buffalo Chicken Dip, and soups like my Creamy Potato Soup.

I feel like those things are obvious, though…

What I didn't expect was basically completely replacing my food processor with it! On the lowest setting using the pulse, I can quickly "chop" veggies- I even make my salsa using my Vitamix now!

Seriously, I LOVE my Vitamix! You can get yours on Amazon here.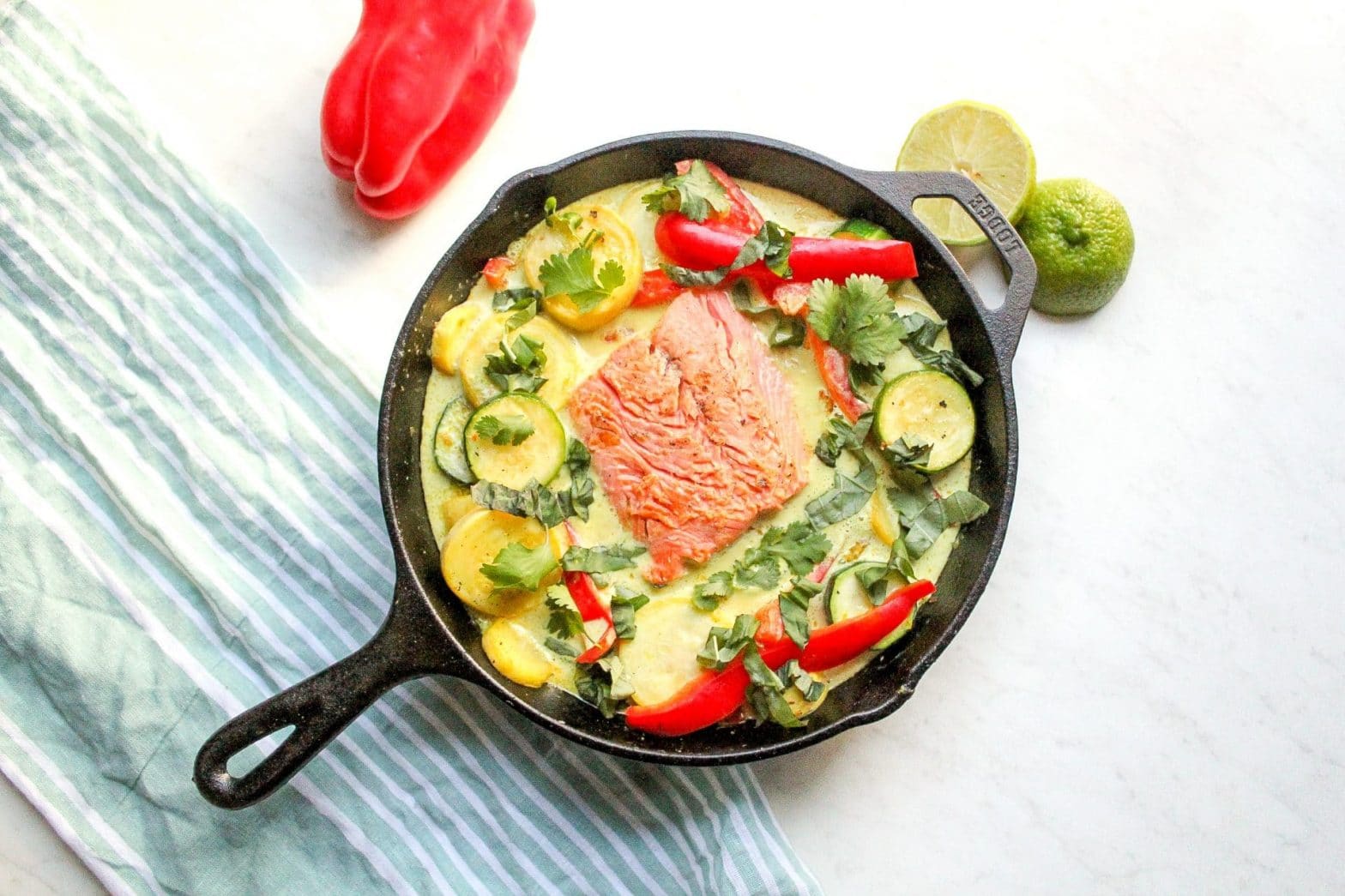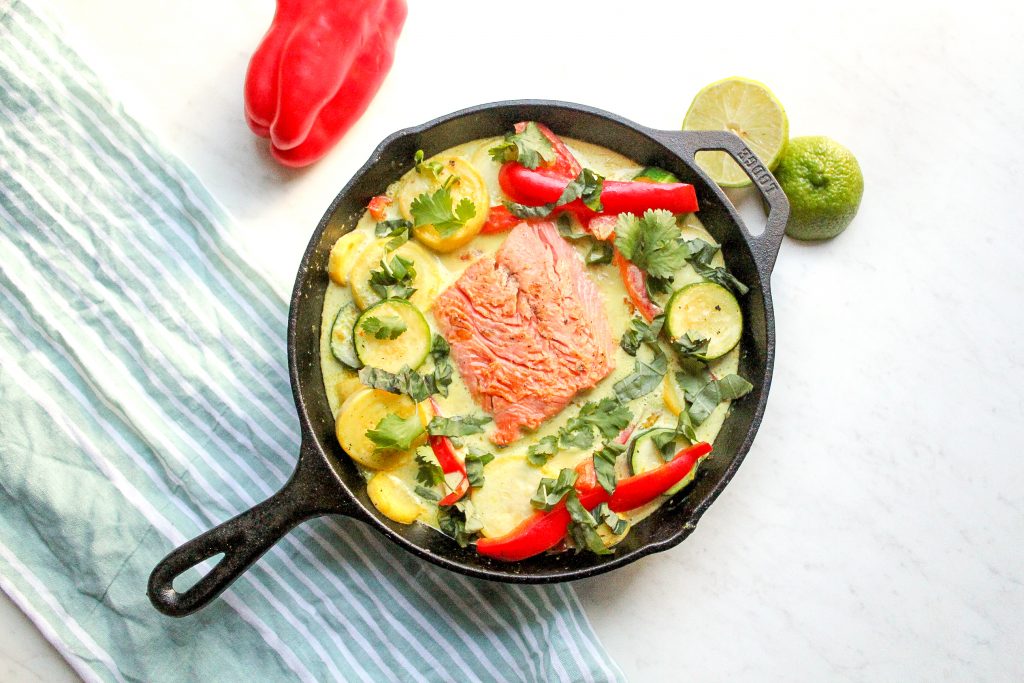 Of all of the items on my list, I use my Lodge Cast Iron Skillet the most. Literally every. Single. Day. If I'm cooking on my stove top, I'm either using this skillet OR my enamel-coated bigger pot for things like soups or bigger batches of meals.

Also, especially for how much I use it, it's SUCH a great price point! And, it lasts FOREVER. Trust me, we found cast iron in my grandmother's basement literally from the 1800's!

I use it for fried eggs and then hash browns in the mornings (or pancakes). I love making the kiddos quesadillas in it! It's so yummy and easy to grill up some quick veggies in. And try making fajitas in it- they are THE best fajitas! Click here for the Lemongrass Salmon Recipe pictured above.

Moral of the story: non-stick cookware is SO bad for us!!! I wish I had made the switch to cast iron sooner.

You can get my skillet on Amazon here and my enamel-coated soup pot here.

Oh, the beloved InstantPot. I feel like everyone talks about how much they love their InstantPot ALL the time, but there's a reason!

It's downright amazing!

I love my InstantPot mainly because of the set-and-forget aspect. With two little kiddos, we're on the go a LOT. Obviously it's a fire hazard to leave something cooking in your oven or on your stovetop when you leave your home. But that's not the case with the InstantPot!

I can't tell you how many times I've put rice in my InstantPot, gone to the grocery, then come back to perfectly-cooked rice! It seriously feels like a miracle.

There are many meals I make that use the InstantPot for rice and the main meal! It's that good.

The flavor aspect is also important to note. It has the mouth-watering aspect of a slow-cooker, with the speed of a pressure cooker! Seriously it's the best marriage of the two.

I personally have the 7-quart that does not have the yogurt maker ability. But I'm such a foodie, I wish I had it! I can just imagine the delicious, full fat coconut milk yogurt I would make!

Get your Instant Pots on Amazon here!

Nespresso

We've been through a lot of coffee methods over our 7 years of marriage… French Press, Keurig, standard coffee pot… you name it, we've tried it!

Last fall, Chaz started mentioning that he potentially wanted to try out a Nespresso machine… Of course, I was excited!

We knew we wanted to get a Nespresso machine for ourselves for Christmas, but we didn't know which one to get. We did ALL the research, and we ended up getting the newer Vertuo machine that makes both their tried-and-true espresso AND a full cup of coffee.

The best part?

We were able to get a "refurbished" one on Amazon for $99! (Yes, just $99!!!). When we read the definition of "refurbished," it could mean a few different things, so we were a tad bit weary… But when the box arrived, low and behold! It was a brand new machine, with the included pods, that had just been opened and returned, so they were required to sell it under the "refurbished" label. Yay!

So since December, we've been drinking Nespresso coffee and espresso and LOVING it. It's definitely my favorite coffee method we've tried so far! This weekend we're going to get a pods refill at the Nespresso store in Denver, and we're excited about that!

Going to Italy made us appreciate the art of espresso even more! When we got back, both of us only wanted the espresso pods and not the coffee pods- ha!

Note to those considering a Nespresso machine: the original, espresso-only machines are BY FAR the cheapest way to go! Why? The pods are actually different for the Nespresso Original and the Nespresso Vertuo. They've allowed other stores to retail the Nespresso Original pods. They not only have a cheaper starting point, BUT you can also use store discounts (HELLO Bed Bath and Beyond always has a 20% off coupon!).

ALSO. You can get other off-brand capsules for WAY cheaper (gasp!). Ok, so like anything that's off-brand, I'm sure it's not nearly as great! I can't say for myself. But just look at the price: you can get 120-Count Capsules for $39.99 at Bed Bath and Beyond. That's just 33 cents per capsule! And get this- you use your 20% off coupon, making it just 27 cents a capsule!
My Vertuo capsules are over $1 a capsule!

I will say, though, that we do like the option of making espresso OR coffee! The choice is up to you!

Shop for your Nespresso machine here!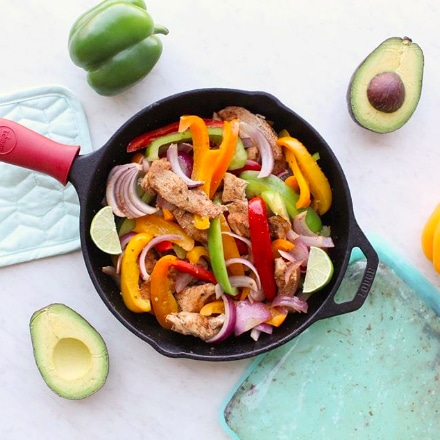 Stasher Bags

Stasher Bags are a newer find for me! I got them probably about a year ago, and I'm HOOKED. We've slowly but surely been trying to take steps to eliminate plastic in our lives… and starting to use Stasher Bags has been a HUGE part of that!

For an entire overview and review of Stasher Bags, read my whole blog post about it here!

Here's the deal, too: I use Stasher Bags for MORE than just food!

Yes, I use them in the kitchen ALL the time! I created this Paleo + Whole30 Fajitas recipe for the Stasher Bags blog (see the recipe here!). My favorite use for Stasher Bags is marinating and even cooking meat! It stays SO tender and juicy!

But in addition to marinating, cooking, and storing food, I use them outside the kitchen! I take my liquids on the airplane in a quart-sized stasher. It's perfect because if you're like me, something ALWAYS spills in your liquids bag while traveling (why is that?!). Since Stasher Bags are silicone, you just wipe it clean! So easy.

I love storing things in Stasher Bags, especially the kiddos' things! We take things for the car in Stasher Bags (think crayons and baby cars!). I even use the half-gallon Stasher Bags to store small toys in the kiddos' toys baskets. Categorized toy baskets are great, but they can get disorganized *quickly* with smaller toys. Putting them in color-coded half-gallon Stasher Bags is SO helpful! And they're durable. Everyone wins!

Grab Stasher Bags on Amazon here!

Also be sure to check out the other bloggers' favorite Kitchen Gadgets:
Kate Kordsmeier from Root + Revel
Lisa Fennessy from This Organic Girl
So there you have it! My Top 5 Favorite Kitchen Gadgets! What are YOUR very favorite Kitchen Gadgets you could never live without?! Share below in the comments!