I can't wait to share with you this comprehensive list of Keto yogurt brands. I'm sure if you've landed here, you're familiar with the Keto diet. If not, the Ketogenic or "Keto" Diet is a low carb, high fat eating plan. It involves restricting carbohydrates and eating more healthy fats and protein. The intention is to help the body get more calories from fat than from carbs. By reducing the amount of carbs and sugars, the body will get its energy from burning fat. When your body is in a state of burning fat for energy, it is known as Ketosis. The goal is to keep your body in a constant state of ketosis to burn fat, which normally causes weight loss. 
A Keto eating plan reduces the amount of daily carbs to be < 50 grams per day and generally falls between 15-30 grams of carbohydrates (sometimes up to 50g depending on the person) or 5-10% of total calories per day. Depending on your own personal body factors and goals, the daily amount of carbohydrates will differ from person to person. Also, it is up to you to determine when and how you will adjust your daily carb allotment. 
Keto Yogurt Brands:
Finding Keto yogurt brands can be difficult to navigate. Luckily, we've done most of the leg work for you and compiled a list of keto yogurt brands you can eat while following the Keto diet. 
Although dairy can be a significant source of fat and protein, some are high in natural lactose sugar such as cream, and full-fat milk so they will have a higher sugar content and will affect the amount of total carbs. Always read the labels to determine if the brand you are looking at will comply with the fat, protein and carb ratio you are following on your Keto diet. 
We based our guidelines for this post according to the The Keto Certified Standards 2021:
"Snack products must not contain more than 6g net/effective carbohydrates per serving. For products which contain minimally processed, whole-food ingredients or ingredients with reduced digestibility, 8g net carbohydrate per serving is permissible." 
We created lists of certified, compliant, dairy, and non-dairy brands of yogurt and ranked them based on the total net amount of carbs per serving within each category (starting with the lowest). All serving amounts are similar size.
Are there Keto Certified Yogurt Brands? 
Yes! The only officially Keto Certified yogurt brand is :ratio. They make both a high protein and a specifically keto yogurt, and all flavors are within the allotted carb limit. (We did want to note here that this brand uses sucralose, which is basically Splenda. We don't personally use artificial sweeteners, but wanted to list it here as an option in case it's right for you.)

Certified Keto Yogurt Brands 
:ratio Keto Friendly Dairy Snack (1 container 150 g- 2g net carbs) 
:ratio Protein Dairy Snack (1 container 150 g- 7g net carbs)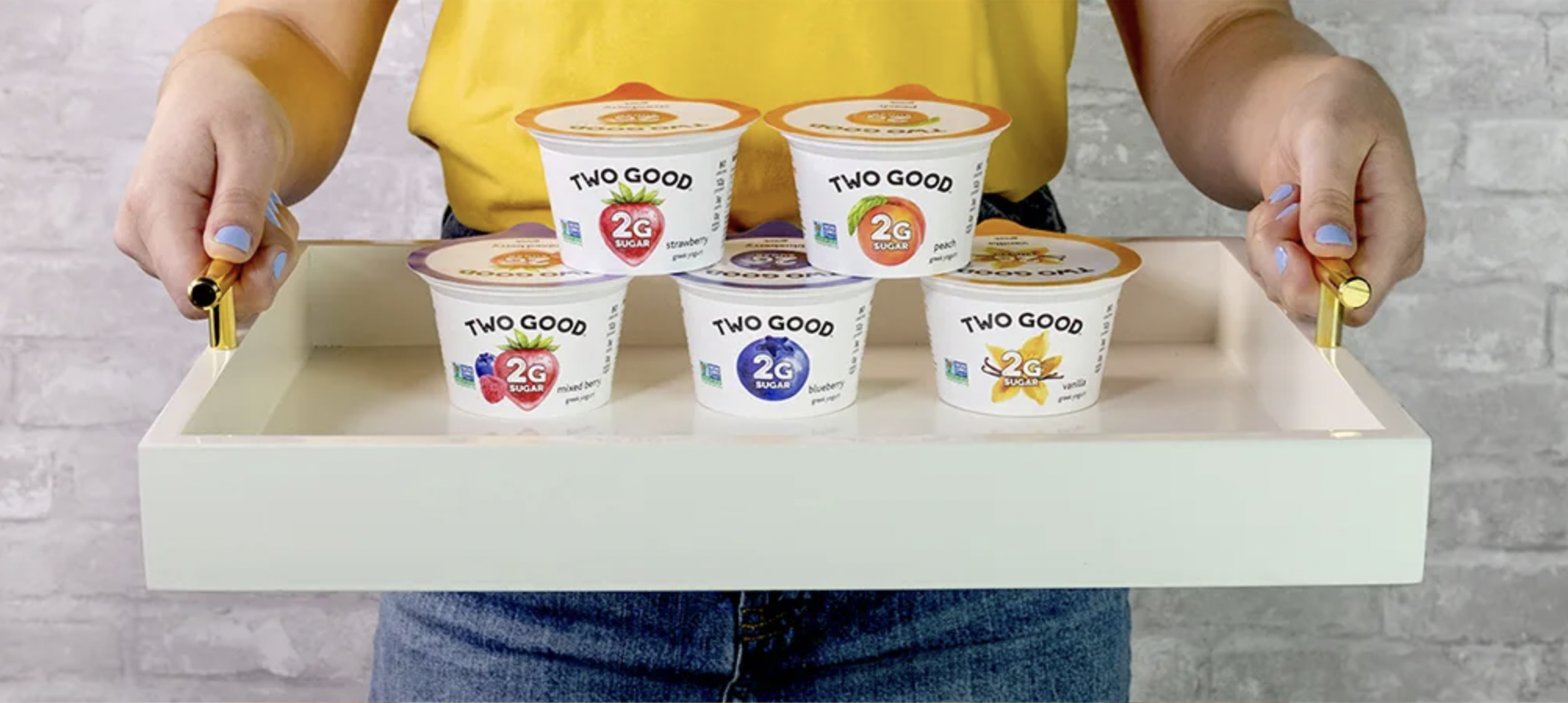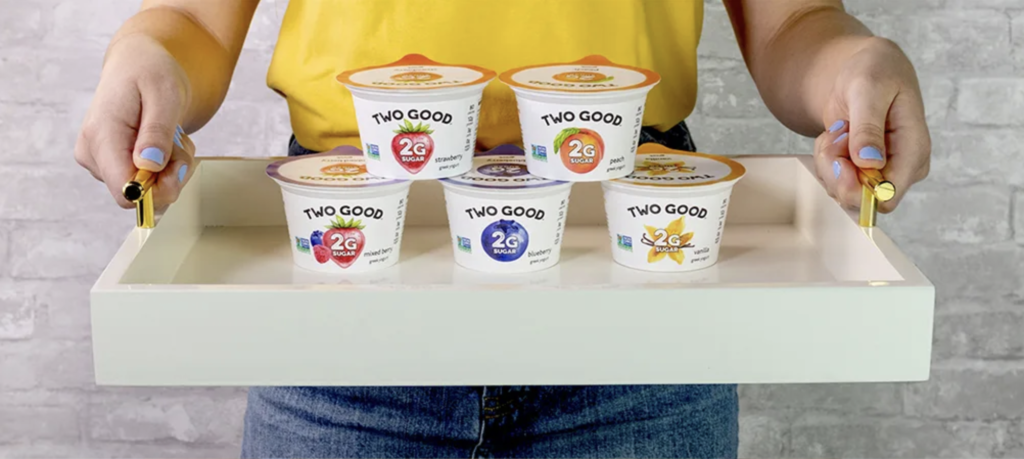 KETO friendly Yogurt Brands 
YQ by Yoplait Plain (1 container 150 g- 2 g carbs)
TWO GOOD Greek Yogurt (1 container 150 g- 3 g carbs) [sweetened with stevia]
Fage Total 5% Plain Greek Yogurt (¾ cup (170 g)- 5 g carbs) 
Kroger CARBMaster Vanilla Cultured Dairy Blend (⅔ cup (170 g)- 5 g carbs) [this brand contains sucralose]
Elli Quark (150 g – 5 g carbs) [Sweetened with erythritol + stevia]
Stoneyfield Organic 100% Grassfed Greek Plain Yogurt (1 container (150 g)- 6 g carbs)
Oikos Pro Greek Yogurt Plain (¾ cup (170 g)- 6 g carbs) 
Chobani Whole Milk Plain Greek Yogurt (¾ cup- 7 g carbs) 
Wallaby Organic Aussie Whole Milk Greek Yogurt Plain (¾ cup (170 g)- 8 g carbs)
Siggi's Plain Whole Milk Yogurt (⅔ cup (170 g)- 8 g net carbs)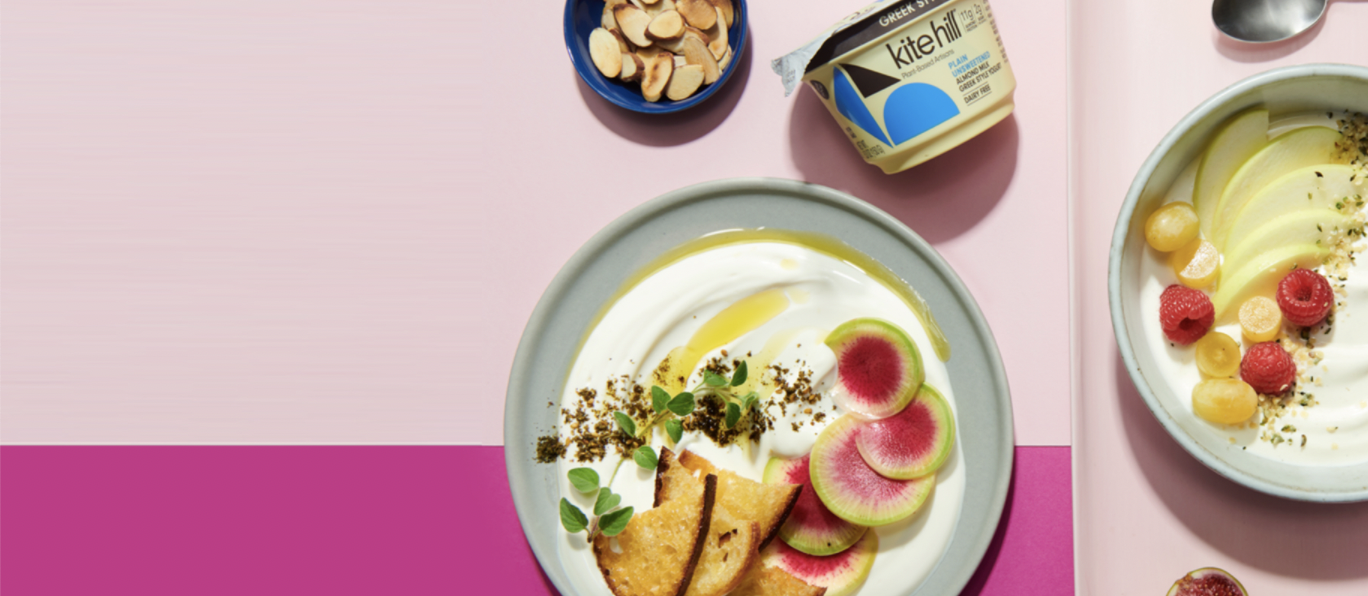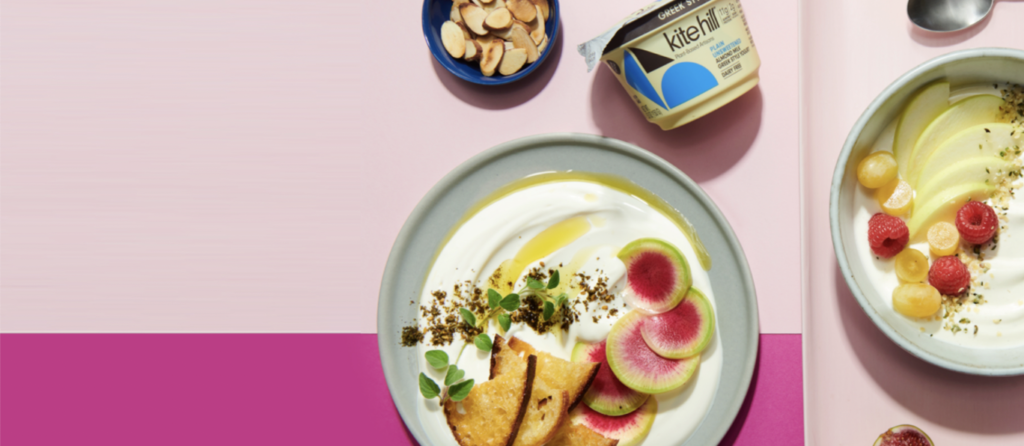 Keto Friendly Dairy Free Yogurt Brands
Culina Plain & Simple (5 oz (142 g)- 2 g carbs)
Kite Hill Plain Unsweetened Greek Yogurt (1 container 150g- net 4 g carbs) 
So Delicious Dairy Free Coconut Milk Unsweetened Plain (¾ cup (170 g)- net 7 g carbs)
Forager Non-Dairy Greek Style Unsweetened Plain (1 container (150 g)- net 8 g carbs)
FAQ about Keto Yogurt
What are the health benefits of yogurt while eating Keto? 
Yogurt can be a healthy addition to almost any eating plan. Yogurt is a protein rich food, full of calcium (which promotes bone health) and probiotics (which aid our digestive health).
What to look for when choosing keto yogurt brands? 
When searching for the right yogurt, it is important to choose organic dairy when possible. Organic milk contains a healthier ratio of omega-6 to omega-3 fatty acids. Organic dairy cows are also raised without hormones, steroids, or antibiotics. Also, look for yogurts that are unsweetened, made with full-fat dairy, and active cultures. Watch out for added sugars or unnecessary additives. Keto friendly sweeteners are typically monk fruit, stevia, erythritol, and allulose. According to the guidelines listed above, you want the net carbohydrates to be below 8 g per service.
Can you have yogurt on Keto?
Yes you can, but not all yogurt. Yogurt can be a great addition to a healthy eating plan, including Keto. Enjoy yogurt for breakfast or an anytime snack. The brands we listed above are keto yogurt brands and are less than 8 g of net carbs per serving. Of course, as long as you keep your total carbohydrates below your goal, you can have other yogurts that are higher in carbs, but you'll have to significantly limit the carbs in your other meals and snacks to make up for it.
Is Greek Yogurt Keto?
Greek yogurt is not inherently keto. Not all Greek yogurt is Keto because some Greek yogurts are higher in carbs because of the natural sugars in the milk used.
Here are the Keto Greek Yogurt brands we found (ranked lowest to highest carbs): 
Want to save this post on Keto Yogurt Brands for later? Pin it Here!