I'll keep this one short and sweet for you but just as a reminder, I FREAKING LOVE french fried onions!!! And this Paleo + Whole30 French Fried Onions Recipe is EVEN BETTER than the ones we grew up with! I could just sit down and eat these plain because they are THAT amazing.
I created these because when you get the ones in the can, they're not Whole30 compliant for a few reasons. Anything commercially fried is way not Whole30 compliant. Traditional French Fried Onions are coated with traditional wheat flour as well… This recipe will be the sure way you know you're sticking to Whole30 and not skimping on flavor or being healthy!
I specifically created this Paleo + Whole30 French Fried Onions Recipe and this Cream of Mushroom Soup Recipe for my Green Bean Casserole Recipe! Mix it all together and you've got yourself the BEST Green Bean Casserole in town.
Once you give these a go come on back and let me know how they turned out in the comments. Enjoy!
Print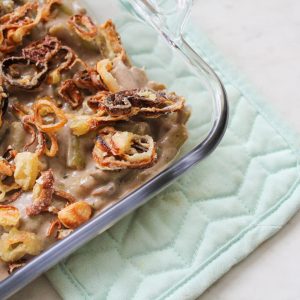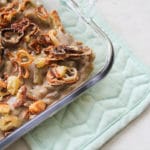 Paleo + Whole30 French Friend Onions Recipe
---
8 large shallots
1 cup tapioca starch or cassava flour
olive oil for pan frying
salt
---
Instructions
Heat about 1/4 in of oil in a large pot on medium heat (the wider and flatter the pot, the easier!).
Pour the tapioca starch in a large bowl.
Cut all of the shallots in 1/8 in thick slices. Then remove each ring from that slice so you have individual rings. Place these rings in the tapioca starch.
Continue this process until you're done with all of the shallots. Then mix the shallots around so all are fully coated in tapioca starch.
Carefully place a single layer of shallots in the hot oil. If oil splatters, turn down the heat. This will be a slow process!
Don't overcrowd the pan and don't stir! Let the shallots cook until they turn golden brown and deep brown, then flip.
When they're browned on both sides, remove and place on a paper towel to drain extra oil. Salt immediately.
Continue this process until all of the shallots are cooked. It may be a long process, but trust me: these are the most delicious things you've ever tasted!