Do you love chicken pot pie as much as I do?! Then you will LOVE this Chicken Pot Pie Soup Recipe! I am often told that one of the reasons people do not consider a Whole30 or Paleo lifestyle change is because they do not want to have to give up their favorite comfort foods… I find this is often because of the comfort certain foods bring to people. I feel confident in saying that Chicken Pot Pie is high on the list of comforting foods to many people, myself included! Chicken Pot Pie is definitely a Southern recipe that I grew up with! It's SO easy to make, and so delicious!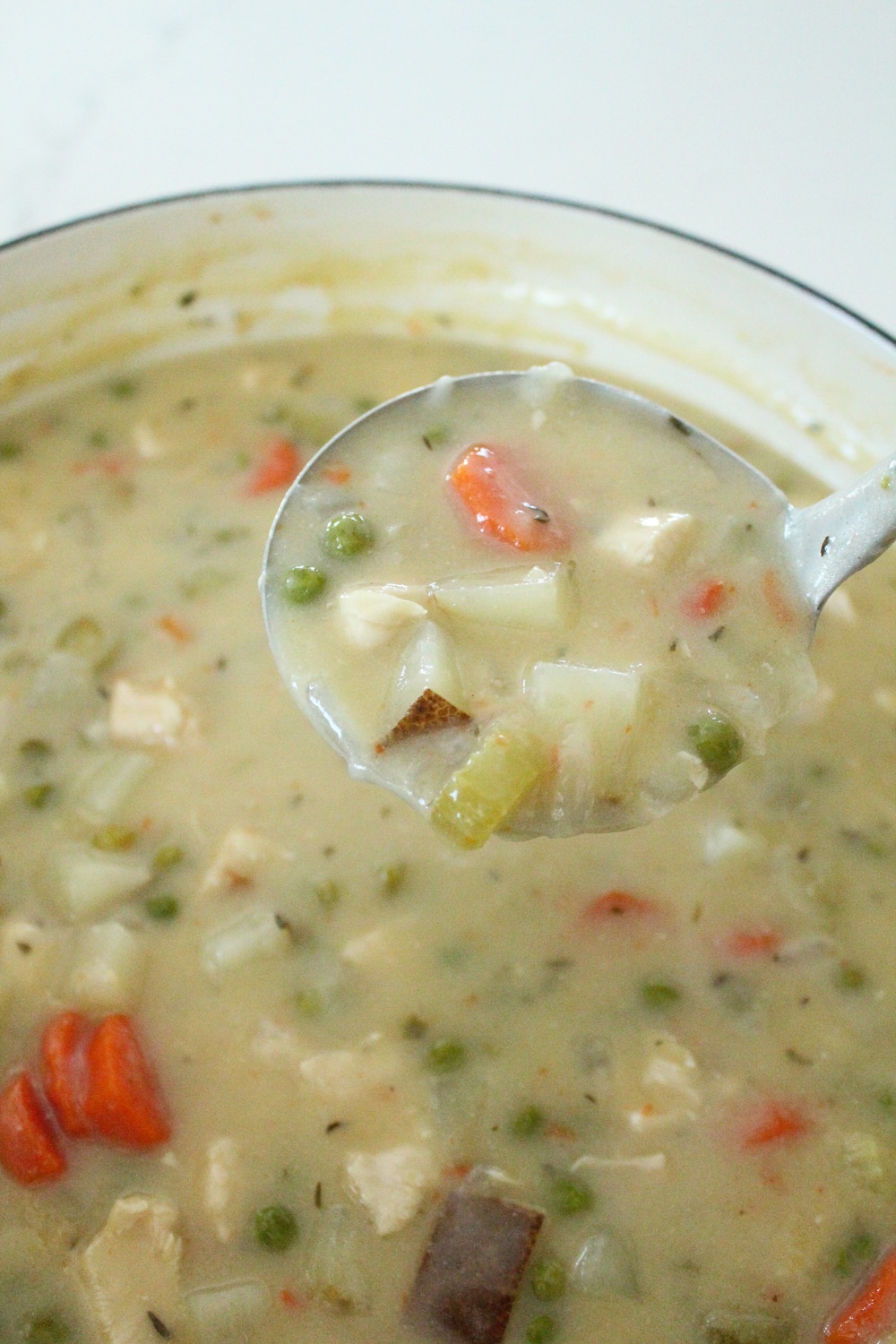 One of the main goals of my blog is to bridge the gap between what is compliant and what is comforting and to enlighten people to the fact that food can be clean, healthy and comforting at the same time. With an open mind and a few substitutions, there are so many meals you can enjoy and feel good about.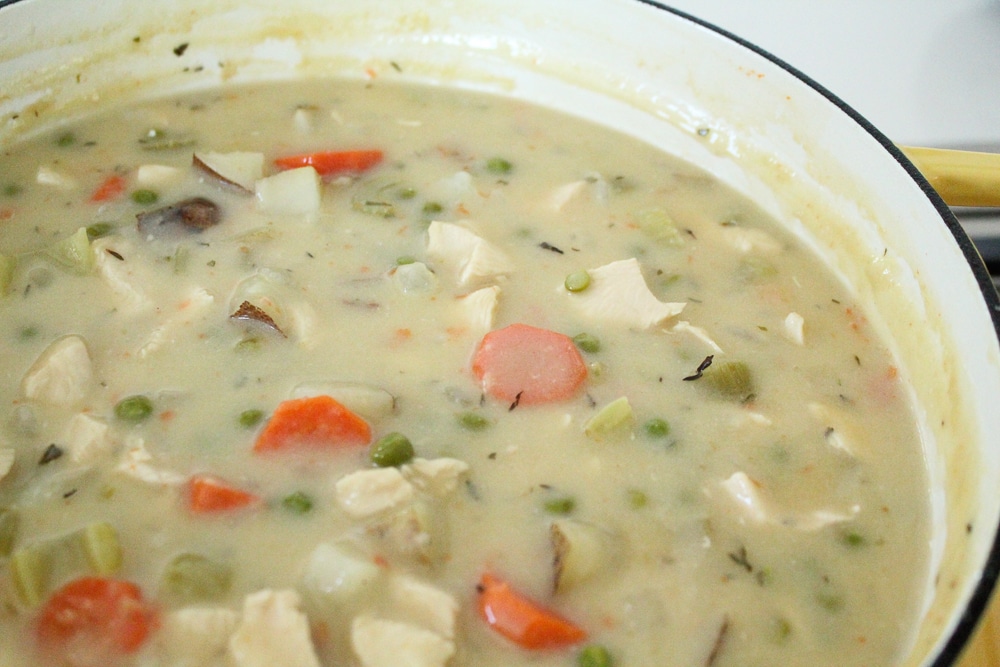 This Chicken Pot Pie Soup is one of those recipes that tastes so amazing and is so easy to make, that it can convince the skeptics after just one bite. It is everyone's favorite savory pie filling as a soup! Loaded with tender chicken, fresh vegetables and creamy goodness (from healthier substitutions such as coconut milk and cassava flour),  this Chicken Pot Pie Soup is cozy, comforting and clean. So enjoy a second bowl and don't give it another thought. You deserve a delicious bowl of goodness!
Looking for more recipes? Find all of our Southern recipes here and our soup recipes here!
Print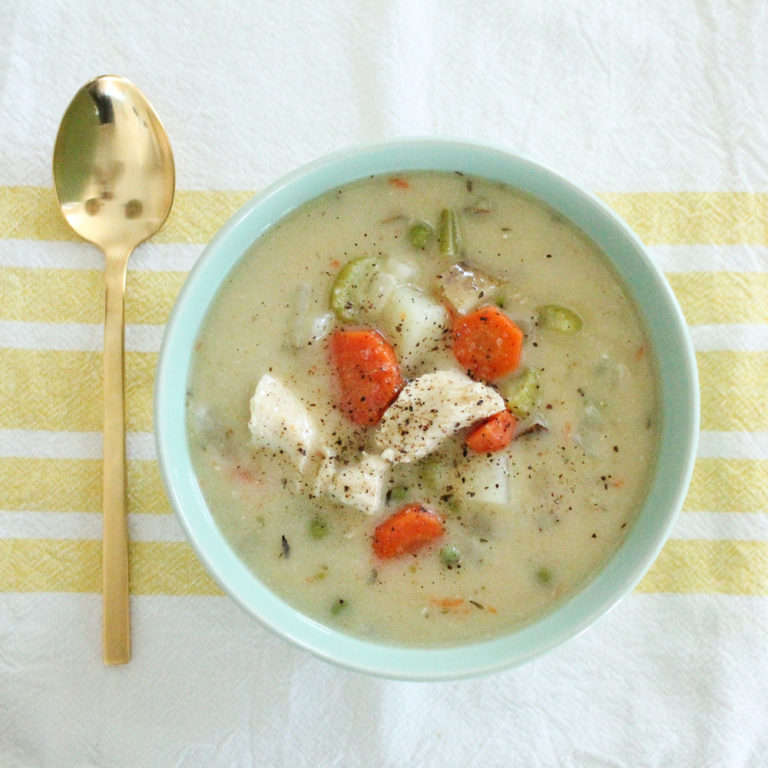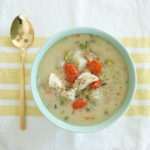 Chicken Pot Pie Soup Recipe
---
⅓ cup

butter or ghee (I love

@fourthandheart

)

1

onion, chopped

3

carrots, cut in 1/4 in circles

3

celery nibs, chopped into small pieces

2

russet potatoes, cut into

1

in cubes

6

T cassava flour (I love

@ottos_cassava_flour

)

4

c chicken bone broth (I prefer

@barebonesbroth

)

1

can full fat coconut milk

2

T coarse kosher salt

1/2

t thyme, dried

1/2

t parsley, dried

1

lb chicken breasts, cut into

1/2

in cubes (about

2

chicken breasts)

1

c green peas (canned or frozen) (or

1

14 oz can green beans for Whole30)
---
Instructions
Add butter or ghee to a soup pot on medium high. Add onion, carrots, celery, and potatoes, and cook for 10 min, or until carrots and potatoes begin to get tender.

Add cassava flour and mix well until the veggies are coated.

Add chicken bone broth, coconut milk, salt, thyme, and parsley. Bring to a boil.

Add chicken and peas, stir, reduce heat to medium and cook until chicken is cooked through, about 15 minutes. Serve in individual bowls and top with salt and pepper to taste. Enjoy!
Want to save this Chicken Pot Pie Soup Recipe for later? Pin it here!