This Gluten Free Yogurt Biscuits Recipe is sponsored by Danone North America/ SO
Delicious®, but all thoughts, opinions, and the recipe are my own! Thank you for
allowing me to work with brands I believe in to continue to bring you free recipes and
content!
Growing up in the south, biscuits were such a common staple at meal time. I remember
so clearly as a little girl learning to make biscuits with my grandmother and carrying that
knowledge with me to this day. Although most biscuits recipes are made with flour,
rising agent, fat and liquid, every family has their own method! There are so many
different ways of combining ingredients, rolling and/or patting the dough, cutting, resting
or chilling the dough.
Ever since adopting healthier eating habits, I've been wanting to develop a gluten free
biscuit recipe that reminds me of the many hours spent with my grandmother in her
kitchen, making and then of course eating warm biscuits dripping with butter and honey
to my heart's content.
I've streamlined the prep by adding all the ingredients to the food processor and then
folding the loose dough onto a floured surface and cutting the biscuits. After they are
cut and placed on a baking sheet, a brief 15 minutes in the refrigerator ensures that the
butter is cold before it is placed in a hot oven. The goal is for the fat in the cold butter to
create air pockets that fill with steam and cause the biscuits to rise.
The star ingredient of these biscuits recipe is the SO Delicious® Yogurt Alternative.
Traditional biscuits are mostly flour, butter, and the leavening agent, like baking powder.
I LOVE these Gluten Free Yogurt Biscuits because the SO Delicious® Yogurt
Alternative makes these biscuits SO deliciously moist.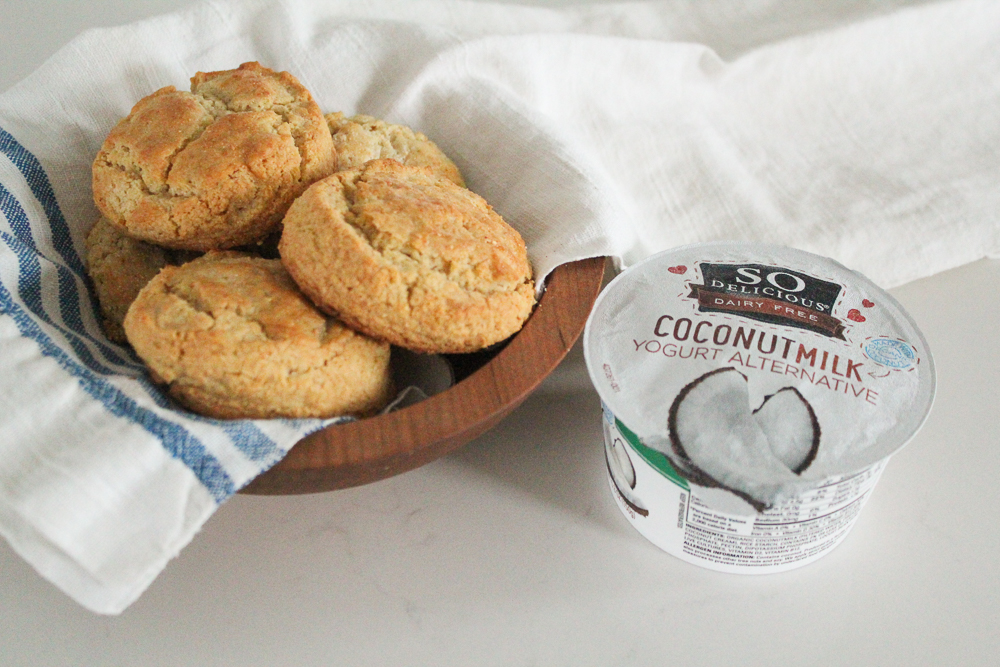 Most of the time, recipes only take a few tries to get perfect! Man oh man, this final
Gluten Free Yogurt Biscuits Recipe took us NINE iterations to get perfect. We worked
hard for these biscuits. I hope you make them and love them as much as we do! Since
we tried so many different things to make this recipe work, I want to share with you
some biscuit making tips!
My Tips for Making Gluten Free Biscuits:
● Your butter needs to be COLD. (This is also why we stick the cut biscuits in the
fridge in this recipe).
● Use a food processor, NOT your hands. Since your hands are warm, using
them warms up the dough too much! A food processor keeps the dough as cold
as possible.
● Do not twist the biscuit cutter. This crimps the edges of the biscuit and
impedes its rise. Just cut straight down.
● Use a HOT oven. The cold ingredients melting quickly is what gives it the light,
fluffy texture! Our 425 oven temp is perfect for this recipe.
Print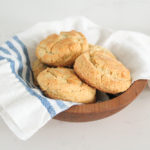 Gluten Free Yogurt Biscuits Recipe
---
1

c cassava flour

½

c almond flour

¼

c arrowroot flour

1 ¼ tsp

baking soda

½ tsp

salt

10

T unsalted butter, chilled

2

T apple cider vinegar

1

egg, separated into yolk and white

1

container (5.3 oz/150g) So Delicious Yogurt Alternative (about

⅔

c)
---
Instructions
Preheat oven to 425 and line baking sheet with parchment paper.
Combine cassava, almond flour, arrowroot, baking soda and salt in a food processor and
pulse to combine.
In a separate bowl, combine apple cider vinegar, egg yolk, and yogurt and whisk until
blended.
Cut butter into small dice. Add butter to dry mixture and pulse until mixture resembles
rough crumbs.
Add wet mixture to dry mixture and pulse until mixture is just combined – be careful not
to overmix.
Turn out dough onto well-floured surface – dough should be sticky.
Gently roll dough around surface until coated with flour and a loose ball is formed. Using
a rolling pin, roll to 1" thickness and cut with a 2" biscuit cutter*. Place biscuits onto
baking sheet, spacing them at least 2" apart.
Brush the tops of the biscuits with remaining egg white.
Chill the biscuits in the fridge for 15 minutes.
After chilling, place the biscuits in the hot oven and bake for 10 – 12 minutes until golden
brown.
Want to save this Gluten Free Yogurt Biscuits Recipe for later? Pin it here!