This Homemade Gluten Free Granola Recipe is sponsored by Danone North America/ Wallaby Yogurt, but all thoughts, opinions, and the recipe are my own! Thank you for allowing me to work with brands I believe in to continue to bring you free recipes and content!
My kids are crazy for homemade granola (they actually call it "toasted oats"). I make a big batch almost once a week. Once you've made your own granola, I promise you won't go back to store bought. Throw all the ingredients in a large bowl, toss to coat, then bake low and slow until the oats are crispy – easy, peasy!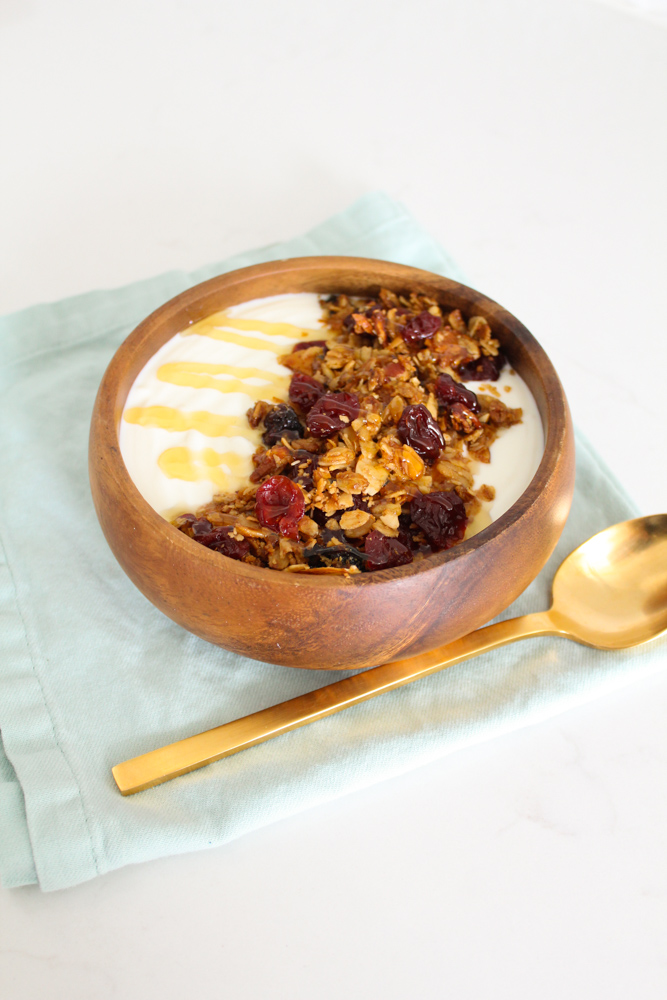 Store bought granola can be so expensive, especially when you get the healthier kinds similar to this Homemade Gluten Free Granola Recipe. Our recipe is SO much more affordable, which is why we make our own!
Homemade granola is also super flexible and you can customize it to your liking. Add your favorite nuts, seeds, dried fruits, sweeteners, and spices.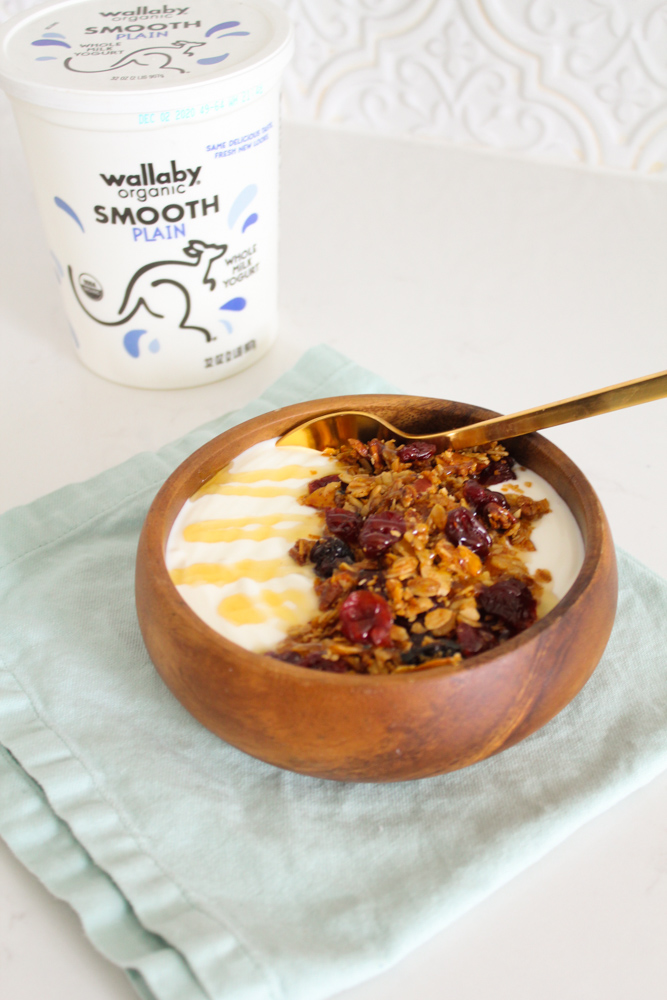 My family's absolute favorite way to eat granola is with a large dollop of yogurt and drizzled with honey. We are big fans of Wallaby Yogurt. It's Organic, which is most important to me when it comes to yogurt! Wallaby uses a "slow-crafted" approach to create their smooth and creamy Australian-inspired yogurt. The taste is truly unique! I find Wallaby Yogurt at my local Sprouts and Whole Foods. 
Great for breakfast, snack time or even dessert, these yogurt granola honey bowls are a healthy, delicious, and satisfying treat! 
Print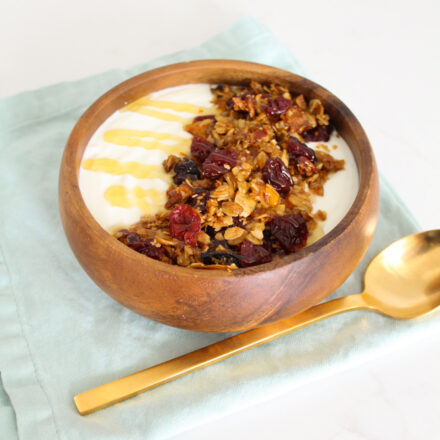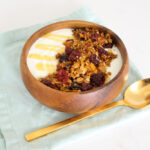 Homemade Gluten Free Granola Recipe
---
---
3 cups

Gluten Free Rolled Oats

1 cup

unsweetened Coconut Chips

2 cups

mixed nuts: Pecans, Almonds, Walnuts, shelled Pistachios, roughly chopped

⅔ cup

Honey* or Maple Syrup

½ cup

Olive Oil

1

t Kosher Salt

1⁄2

t cinnamon

1⁄2

t vanilla

1/2 cup

dried cranberries (optional)

1/2 cup

dried cherries (optional)

1

(32 oz) Wallaby Yogurt – Plain
Honey (for topping)
*Be sure to use raw unfiltered honey, as commercial honey is pasteurized and most of the naturally occurring antioxidants are removed in the process. 
---
Instructions
Preheat the oven to 300°.

Add all ingredients to a large bowl and mix until well combined and all ingredients are coated in oil.

Line a baking sheet with parchment paper and spread the granola across a baking sheet.

Bake in the oven for 45 minutes, tossing once or twice. Remove from the oven, cool and store in an airtight container.

For serving, add yogurt to a bowl and top with granola and a drizzle of honey.
To find more delicious breakfast recipes, click here!
Want to save this Homemade Gluten Free Granola Recipe? Pin it Here!