Italy is my very favorite country in the entire world! I could soak up the sun in Italy the rest of my life and I'd be one happy human 🙂 I could also eat ALL the Italian food alllll the time. Since I especially love salads, and I know you do too, I wanted to create a clean Italian Salad Dressing Recipe for you (Whole30 + Paleo)!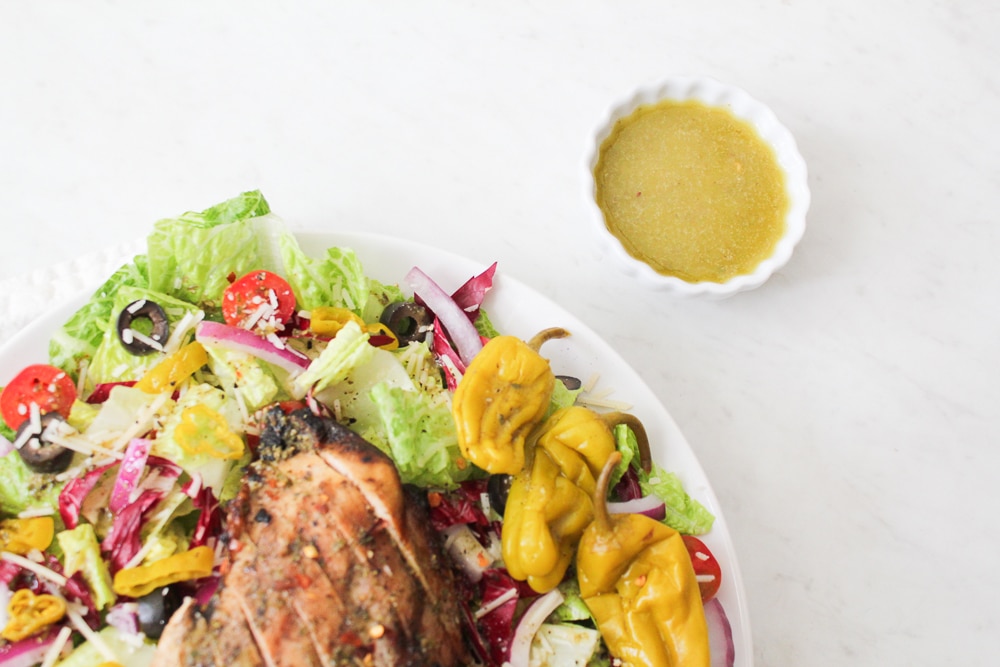 It's pretty discouraging going to the grocery store and looking at shelf-stable salad dressings that are available. There are TONS of ingredients in salad dressings that we don't keep in our home: soybean oil, canola oil, sugars, gums and starches, artificial flavors and more.
Yuck!
I'd rather just make my own!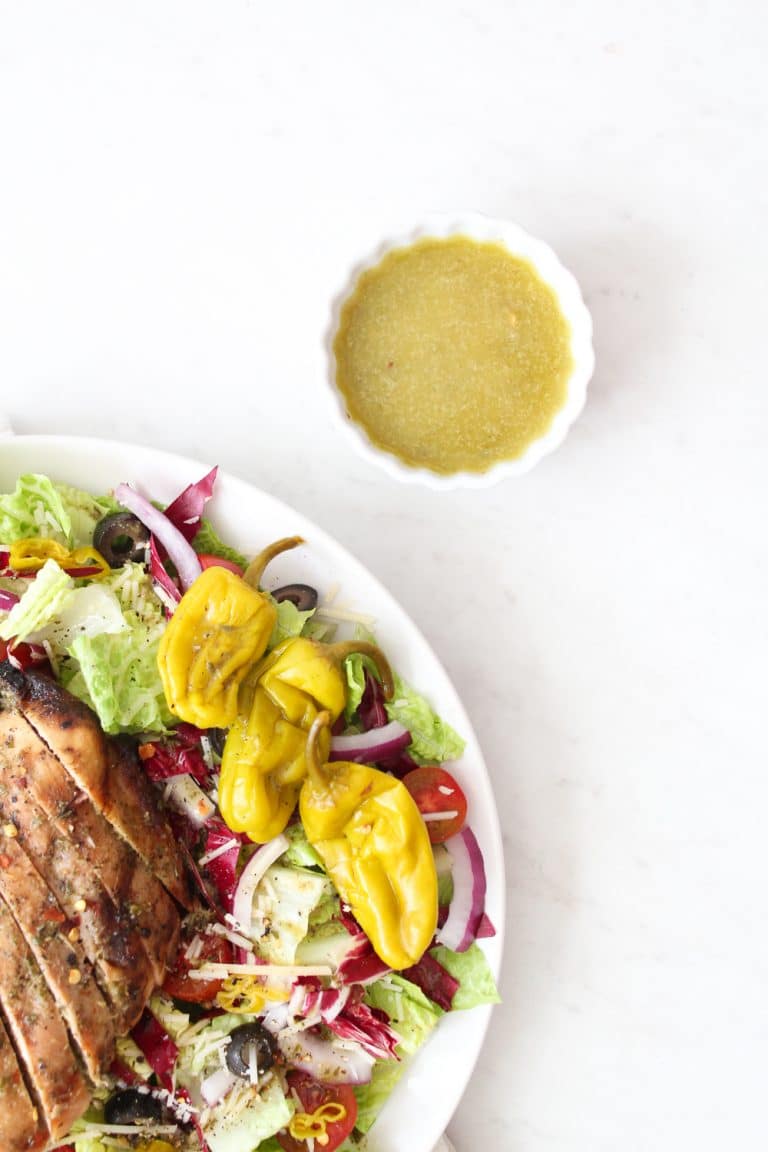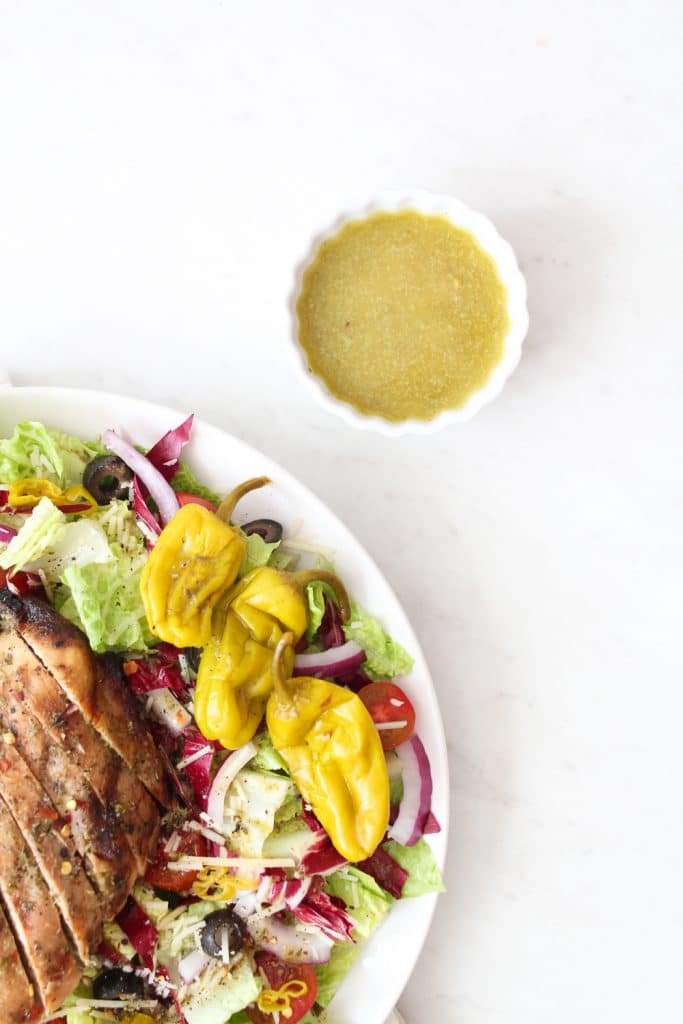 Do I have to use fresh herbs?
In this Paleo and Whole30 friendly Italian Salad Dressing Recipe, you can use fresh herbs or dried! I personally prefer the taste of fresh herbs in my salad dressings, BUT in a pinch, you might just have every single ingredient in your pantry!
I can't even communicate how much of a difference fresh spices makes! I know it can get annoying to buy entire packages of herbs just to use a tablespoon at a time! What I do is store any leftovers in little silicone Stasher bags (snack size is perfect!) in the freezer! Herbs freeze surprisingly well! I just take out my Stasher bag right when I'm starting to cook, and they thaw so quickly!
This recipe is SO EASY. Seriously just blend these ingredients together and voilà! You have a perfectly delicious Italian Salad Dressing!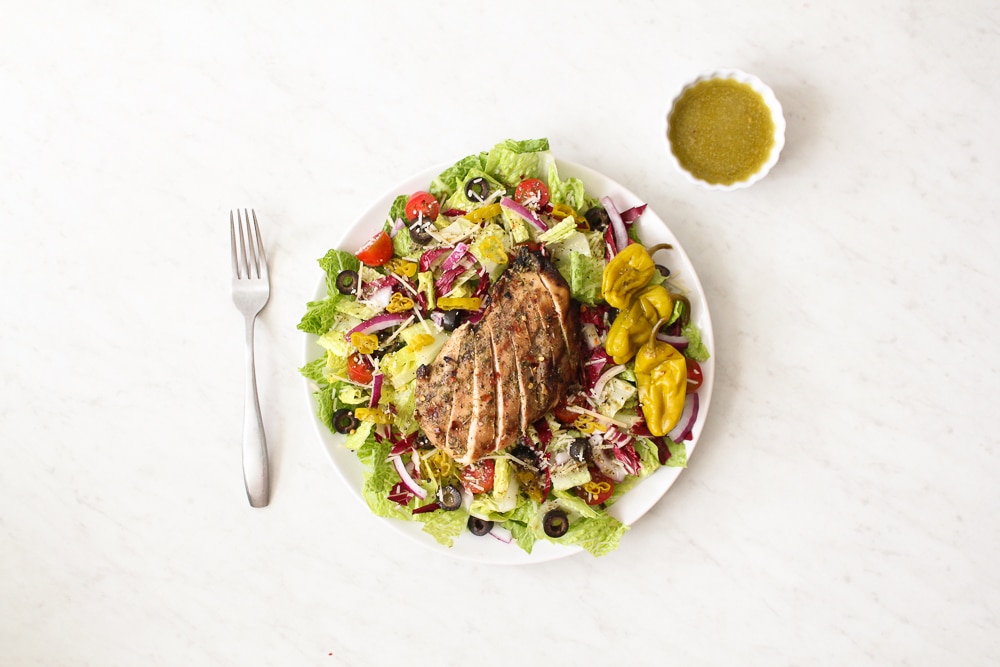 What should you include in your Whole30 + Paleo Italian Salad? Radicchio is a start ingredient anytime I make an Italian salad. Radicchio is also known as Italian chicory because it is used so frequently in Italian cuisine! It's totally not required for a delicious Italian salad, BUT it's a tasty addition if you can find it in your grocery!
I love using a mixture of romaine lettuce and radicchio, mixed with cherry tomatoes, black olives, red onion, peperoncini, and topped with parmesan cheese (don't include for Whole30!).
Want more easy, clean salad dressing, condiment, and sauce recipes? Click here! Other Italian recipes are featured here.
Print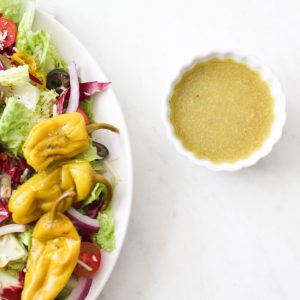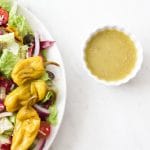 Italian Salad Dressing Recipe (Whole30 + Paleo)
---
1.5

 c olive oil

3/4

 c red wine vinegar

1/4

 c lemon juice

1

t onion powder

 

1/2

t crushed red pepper

1

T fresh rosemary (or

1

t dried rosemary)

1

T fresh parsley (or

1

t dried parsley)

1

T fresh basil (or

1

t dried basil)

1

T fresh thyme (or

1

t dried thyme)

1

T fresh oregano (or

1

t dried oregano)

1

 T minced garlic- about 4 cloves

1

 T salt

1

t black pepper
---
Instructions
If you're using fresh herbs, put all ingredients into your blender and pulse until combined as finely as you desire! If you're using dried herbs, you can throw the dressing ingredients into something with a screw-tight lid, shake, and it's ready! 
Want to save this Italian Salad Dressing Recipe for later? Pin it here!