Y'all know that seafood isn't my strong suit… Which is also why you know this Orange Harissa Sheet Pan Salmon Recipe is going to be amazing! My sister is deathly allergic to seafood, so we didn't have it growing up! My mom and dad would try to satisfy all of their seafood cravings when we went to the beach.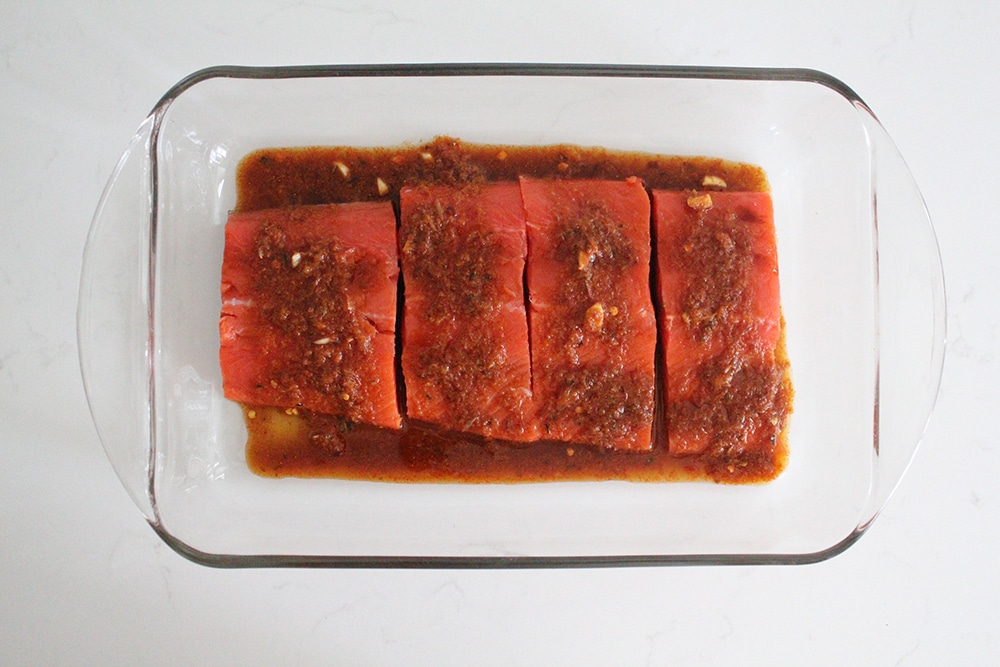 Now that I'm an adult, I understand the importance of eating seafood to boost our Omega-3 intake! As Americans, generally our levels of Omega-6's are WAY too high from the seed oils that we use when we cook and eat out… When our Omega-6 to Omega-3 balance is way out of whack, it causes inflammation in the body. We can counteract that a few ways- using "healthy fat" cooking oils like olive oil, coconut oil, and avocado oil. We can also increase our seafood intake, which is what I'm trying to do! Lastly, you can supplement with a fish oil supplement.
It's a goal of mine to both increase the fish that we're eating as a family AND create more seafood recipes for y'all! So here is the first recipe of many!
I absolutely LOVE sheet pan meals. It feels so easy to just throw stuff on a tray, put it in the oven, and voilá! It's done! I especially love cooking seafood (when I do) in the oven, because I feel like it helps minimize that "I'm cooking seafood for dinner" whole-house smell! Everyone wins.
What is harissa seasoning?
Harissa is a blend of spices that can be found either as a dry seasoning or a paste format.
Print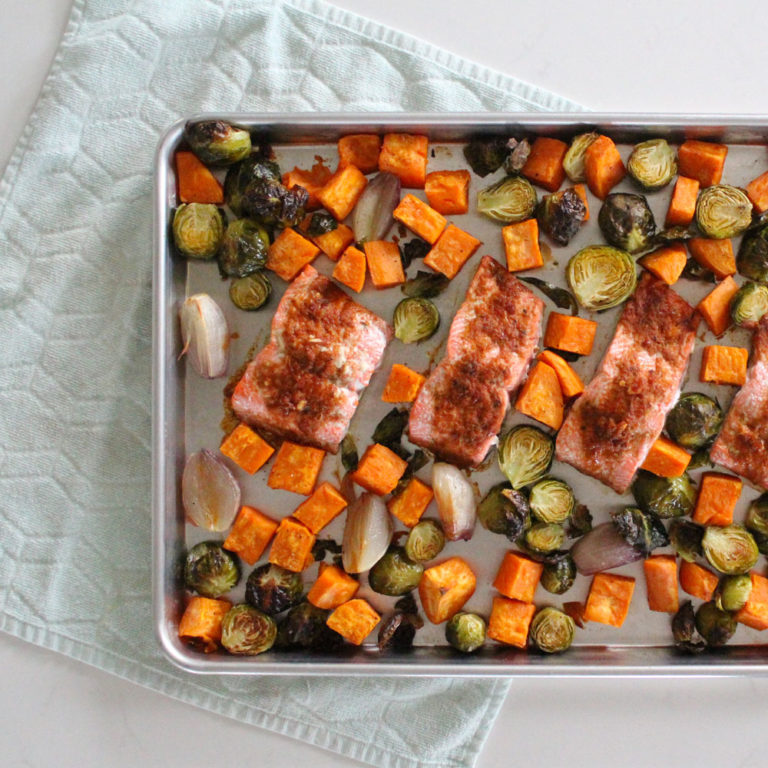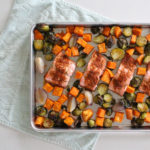 Orange Harissa Sheet Pan Salmon Recipe (Whole30 + Paleo)
---
4 – 6 oz skin on wild-caught salmon fillets 
2 sweet potatoes – peeled and chopped into 1 ½ inch cubes 
2 cups brussel sprouts – halved 
3 shallots – halved 
2 T olive oil
Kosher salt and black pepper
Marinade
2 T coconut aminos 
1 – 2 T Harissa seasoning (depending on your preference for spice)
1 clove garlic – minced 
1 inch piece ginger – peeled and grated 
Zest of 1 orange 
¼ cup orange juice (from 1 orange)
---
Instructions
Preheat oven to 425.

Place salmon fillets skin side down in a dish.

In a small bowl, add coconut aminos, harissa, garlic, ginger, orange zest and juice and gently whisk to combine. Pour marinade over salmon and let marinate while you prepare the vegetables. 
Add the sweet potatoes, shallots, brussel sprouts and olive oil to a large bowl and season with salt and pepper.  Toss to coat vegetables and then arrange vegetables on a parchment paper lined or non-stick sheet tray. Roast vegetables for 20 minutes or until potatoes begin to slightly brown. 

Remove sheet tray from oven and make space between the vegetables to add the salmon fillets.  Add salmon fillets skin side down and roast until salmon is cooked through – approx 8 more minutes. 

Garnish with cilantro or scallions (optional). 
Want to save this Orange Harissa Sheet Pan Salmon Recipe for later? Pin it here!