Before I share my Gaylord Rockies review, I have to share that our trip to and this post are sponsored by Gaylord Rockies, but all thoughts and opinions are my own. Thank you for allowing me to work with partners I believe in so I can continue to bring you free content!
First off, the Gaylord Rockies Resort and Convention Center opened in December of 2018, soon after we moved to Denver. We remember driving to the airport and seeing this MASSIVE, beautiful resort being built and wondering what it was… We finally found out it was a Gaylord hotel, and we were thrilled.
As you know, I'm from Nashville, Tennessee. Every Christmas growing up, my entire extended family would go to Gaylord Opryland to look at all of the lights and the displays. That truly is a magical place, especially during the holidays! We were already aware of the magic of Gaylord before even staying here.
Watch my Gaylord Rockies Review Video!
Gaylord Rockies Review
I'm so excited to share my Gaylord Rockies review with you! First, you should know that my Gaylord Rockies review is from the perspective of a Denver local, which would change only a few things. We are only 8 minutes away from Gaylord Rockies, so obviously it's a SUPER quick drive!
Gaylord Rockies Deluxe Suite
We got to stay in a Deluxe Suite which had its own King Bed for the parents and our kiddos slept in the living room area on the sofa bed. This suite was fantastic. There was a kitchenette, a dining table, a living area, a large bedroom with a king bed, and a bathroom. My new favorite thing is suites with a separate area for the kiddos. I just don't sleep well when they're in my room! 🙂
Gaylord Rockies Local Rate
Speaking of being a local, I had SO many Denver locals reach out to me during our stay asking if there's a Gaylord Rockies Local Rate… Well, good news- there is! To get the Gaylord Rockies Local Rate, click here!

Gaylord Rockies Water Park
The main attraction at the Gaylord Rockies for our family is the POOL. This summer especially, the pools in our neighborhood have been rough. We can only go every few days for 1.5 hours at a time, you have to book online, and there are thousands of people all gunning for 50 spots each time slot. And here's the deal- I recognize that that's how it has to be. The fact that they were able to open at all and that we've been maybe 4 times is a blessing. But, when your norm is to live at the pool every single day, the lack of pool time is such a bummer.
That is the main reason we were excited about our stay was the pool! It's essentially a water park. There are 3 slides (2 of which are multiple stories high and 1 of which is in the outdoor pool and a small slide great for little kiddos). There is also a lazy river! It's the. best.
Gaylord Rockies Pool COVID Rules
The Gaylord Rockies pool is OPEN, but because of COVID, you have to make a reservation. Masks must be worn while walking around the pool.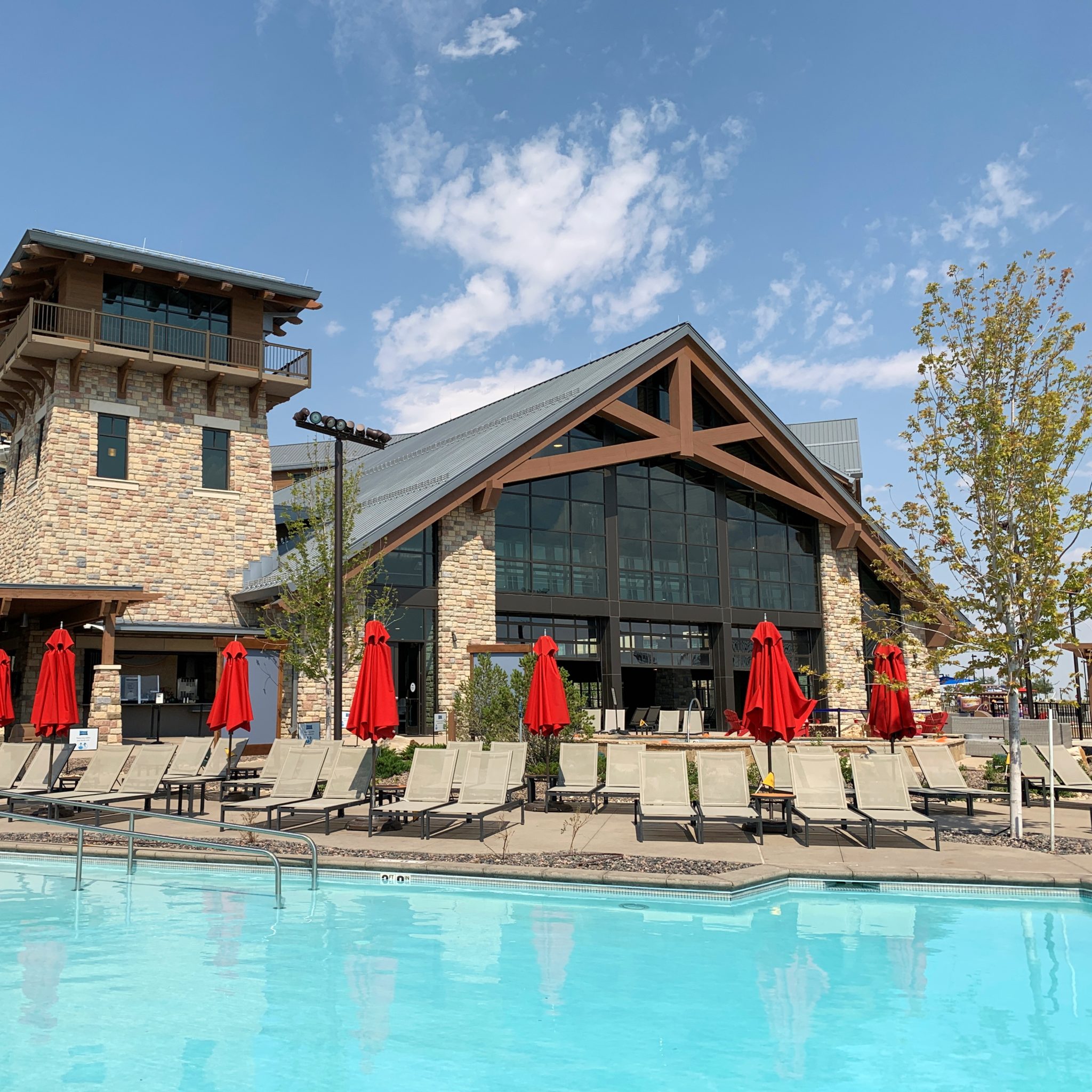 Gaylord Rockies Pool Reservation
During these COVID times, Gaylord Rockies is required to have a limited capacity in the pools and pool area, so you will have to make reservations. They are using Open Table to make your Gaylord Rockies Pool Reservation.
Once you book your Gaylord Rockies Reservation, you can book your pool reservation no more than 10 days prior to your scheduled arrival.
Pool reservations are 8 AM – 2 PM or 3 PM – 9 PM. You can sign up for one reservation period per room night booked.

Gaylord Rockies Cabanas by the Pool
One of the days we were at the pool, we got a cabana! It was so much fun. It's right next to the pool, so we were able to have a permanent spot that Chaz and I could lounge right in front of Ella and Owen playing in the pool. It has a large sofa, chairs, a television, and a mini fridge.
The biggest benefit of renting a cabana is that you get a whole day pool reservation- both indoor and outdoor. Our reservation in the cabana was 8am-9pm!
For more info on the Gaylord Rockies Cabanas, click here. To upgrade your pool reservation to a cabana by contacting gh.dengr.cabanareservations@marriott.com.
Gaylord Rockies Day Pass
While it would be SO fun if we could get a Gaylord Rockies Day Pass (trust me, I'd be the first one signing up!), Arapahoe Springs Pool & Lazy River are exclusive amenities for registered hotel guests. My suggestion would be to get a room for one night (at the Local Rate if you're local) and then you can use the pool and all of the amenities.
Gaylord Rockies Dining + Restaurants and Current COVID Hours

Mountain Pass 
Mountain Pass is open 7am-midnight daily. They have a huuuuge screen that often is showcasing multiple games at the same time- there's something for every sports fan! They have burgers, salads, and beer on tap. My favorite thing on the menu is the Mountainous Chicken Nachos- they are SO good and so big- definitely enough for a family to share as an appetizer or a couple to share as a meal (Chaz and I did!).
Arapahoe Springs Bar & Grill
Arapahoe Springs Bar & Grill is open for food service from 9am-9pm, and bar service until 9pm.
Pinyons
Pinyons is the bar in the lobby (down the main stair) and it's open every evening until 10pm.
Vista Montagne
Vista Montagne is open Thursday-Saturday 5pm-10pm.
Ski Village Tacos
Ski Village Tacos is open Friday and Saturday from 5-9pm.
For all of the current dining options and hours, click here. That link will show you what's currently available the moment you're looking plus allows you to order if you're at the Gaylord Rockies.
(The information above may change as COVID restrictions lessen).
Gaylord Rockies Spa – Relâche Spa
I had the opportunity to go to the Relâche Spa when I stayed at the Gaylord Rockies in March, and it was fabulous. I got a deep tissue massage, and it changed my whole stay. We spent most of the day enjoying the spa's amenities. Currently, due to COVID, the spa is open Friday and Saturday 9am-5pm and Sunday 9am-1pm. The waiting room, locker rooms, lounge, and steam rooms are closed. I still think it's worth a visit for their face and body treatments!
Have you been to Gaylord Rockies?! I would love to hear your experience in the comments below!