I can't wait to share with you all of my favorite Things to do in Casper Wyoming! This post and my travel to Casper was sponsored by Visit Casper, but all thoughts and opinions are my own. Thank you for allowing me to work with partners I believe in to continue to bring you free content!
As you saw in my post about Cheyenne, Wyoming, we love all of the things this state has to offer: Out West history, outdoor activities, train history, and dinosaur history. Just like Cheyenne, there was a continued theme with those things in Casper.
Casper is such a great place to visit, especially if you live in Denver like we do- it's just a 4 hour drive away! It's a lovely road trip spot to visit on its own or within a larger Wyoming road trip. You can see Cheyenne, Casper, Jackson Hole, Yellowstone National Park, and Grand Teton National Park. Wyoming really does have so much to offer.
So check out our list of suggested things to do in Casper Wyoming, and let me know if there's anything you would add to it! Be sure to check out the Visit Casper website to help make planning your trip as easy and as personal to you as possible.
Things to do in Casper Wyoming

Tate Geological Museum
We got a private tour of the Tate Geological Museum from Patti Finkel, Director of Museums at Casper College. Both of my kiddos LOVE dinosaurs, so they loved seeing all of the many fossils. The Tate Geological Museum is home to over 6,000 fossils. The biggest and most impressive being the Columbia Mammoth right smack dab in the middle of the museum. The mammoth's name is Dee and lived 11,600 years ago during the ice age. They think Dee was 65-70 when he died of old age. He's really beautiful to witness.
There is also a T-Rex dinosaur that's the first found in Wyoming that gets to stay in Wyoming! You can ask at the front desk to see Lee Rex the T-Rex in the new Rex Annex.
This is a FREE museum.

Hike at Rotary Park- Garden Creek Waterfall Loop Trail
We went on a beautiful 1.2 mile loop hike at the Rotary Park. It's called the Garden Creek Waterfall Loop Trail. I've recently decided that waterfall trails are by far my favorite hiking trails, and this one proved to be stunning.
The elevation gain is just over 400 feet, giving you a gorgeous view of both Casper and the waterfall.
Fort Caspar
The Fort Caspar Museum is a reconstructed 1865 military post that was built as the final river crossing of the Oregon, Mormon Pioneer, California, and Pony Express trails. It is much more than that, though. It has history of prehistoric peoples, Plains Indians, ranching, the energy industry, and the City of Casper as well as the western emigrant trails and frontier army. We really enjoyed a current political exhibit with political buttons, pins, and souvenirs of the 20th century.
Behind the museum itself is the recreation of the fort. It is really well done and shows all of the different buildings that made up the fort.
There is also a recreated Mormon Ferry on display. In 1847, Brigham Young led the Mormons from Nebraska to the Great Salt Lake in Utah. When they got to this section of the North Platte river and it was flooded, he instructed a ferry boat to be built. This ferry boat could take the wagons safely across the river.
This museum's admission is only $3-4 for adults and free for kids 0-12.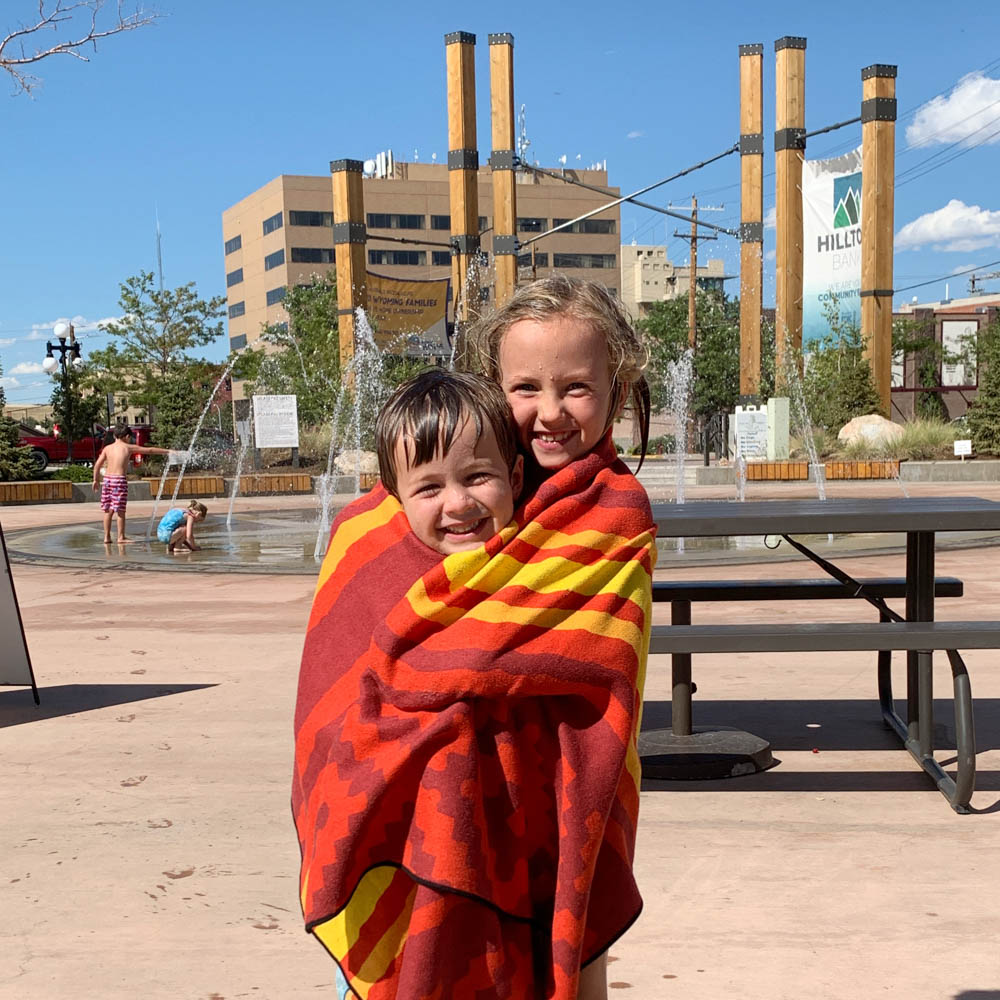 David Street Station Splash Pad
Typically, when COVID is not an issue, the new David Street Station's calendar is packed with events and things to do. But honestly, we were still thrilled with the splash pad! My kiddos loved playing in the water, and I went right across the street and grabbed a delicious iced coffee from Metro.

National Historic Trails Interpretive Center
We really, really enjoyed the National Historic Trails Interpretive Center. It's the largest museum we went to and was packed full of the most information. It also is situated on a hill that gives you great views of all of Casper. This museum highlights the history of the 400,000 pioneers experienced as they followed the Oregon, California, Mormon, Pony Express trails between 1841 and 1868.
Our favorite part was an 18 minute long theater show highlighting different types of people who made the trek west and the struggles they went through.
The kiddos got little booklets that they got to work through to answer questions and play games. When they complete a certain number of activities for their age, they're given a cute badge!
This is a free museum.
Historic Trails West Wagon Tour
The Historic Trails West Wagon Tour was the highlight of our entire trip. We met at the National Historic Trails Interpretive Center and followed Mr. Morris to the trailhead. We rode in an actual wooden carriage exactly like what those heading West used. We were also riding on an actual section of the Oregon, California, Mormon and Pony Express Trails… It was so authentic, and Mr. Morris was full of historical information from the time. He's been giving these tours since he was 15, and he has grown children now. He even told us he took his daughters across the entire trail in 1993 when they were teenagers. This man is the real deal and will greatly add to your Wyoming experience.
They have lots of different offerings: 2 hour tour (which is what we did), whole day, 3-hour lunch trek, dutch oven evening trek, overnight, 3 day, or 5 day aventures. Prices vary.
These treks are available May through October.
Where we ate in Casper Wyoming:

Wyoming Ale Works
Wyoming Ale Works was so close to our hotel! The draw here is they have SO many beers on tap! After eating out for five days straight, we actually opted for the salads! They have classic American appetizers, soups, salads, burgers, sandwiches, entrees, pasta, and pizzas.

Racca's Pizzeria
Racca's Pizzeria is the only certified Neapolitan pizzeria in the state of Wyoming. Naples, Italy is the birthplace of pizza. It's also some of my favorite pizza in the entire world.
And here's the best part, y'all. They have a GLUTEN FREE NEAPOLITAN PIZZA. It literally changed my world. So if you're looking for gluten free restaurants in Casper Wyoming, THIS is the spot for you.
We also had their house salad with spring mix, tomatoes, fresh mozzarella, and balsamic vinaigrette, and it was so delicious I wish I had gotten one all for myself!
Racca's Pizzeria offers Wood-fired Pizzas, Pastas & Entrées, Wings, Salads and decadent Desserts all made from-scratch in house.

Rib and Chop House
The Rib and Chop House is a steakhouse offering steaks, fresh seafood, and award-winning ribs. It was founded in Montana in 2001. There are now Rib and Chop House locations in Montana, Wyoming (including Casper and Cheyenne), Colorado Springs, and Utah. (Please come to Denver!)
I got a delicious filet with a loaded baked potato and broccolini. (And a margarita, because YUM!) The kids meals came in paper cars that they are still playing with!
The people at the Rib and Chop House made us feel extremely welcome! I felt like we were a part of the family by the time we left.

HQ BBQ
Barbecue is such a staple in the Southern cultures we grew up in. So much so that since moving to Denver, we've been weary of trying any barbecue for fear of being disappointed. But let me tell you- HQ BBQ is AMAZING and worth a visit. It's probably because the owner is from Tennessee. And like me, people from Tennessee know good barbecue 🙂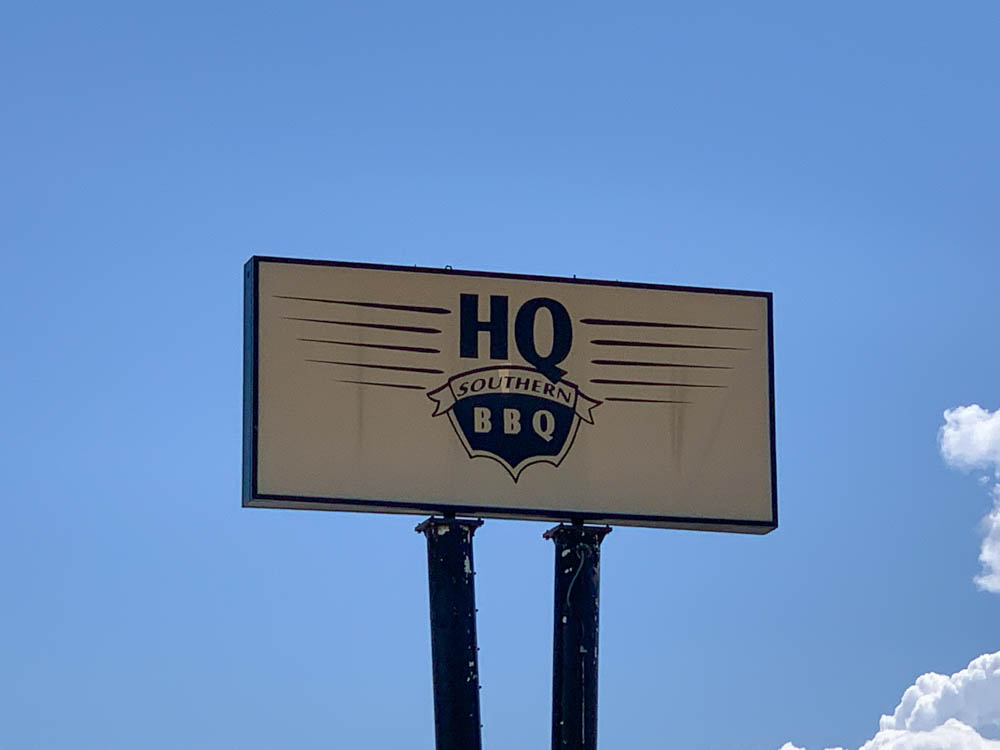 Chaz and I shared the brisket plus pulled pork plate. It. Was. So. Good. I didn't realize I was missing good barbecue in my life until we had some! They're located right off the interstate and they're the perfect stop on your way in or out of town.
Where to Stay in Casper Wyoming
Residence Inn Cheyenne Wyoming
I am now such a huge fan of Marriott hotels. We stated at the Fairfield Inn & Suites in Cheyenne, and now the Residence Inn in Casper Wyoming. We had a two bedroom, two bathroom suite that was complete with a living room, dining table, and kitchen. It was SO amazing, that we will for sure prioritize the Residence Inn line of Marriott hotels every single time we travel. It was like having our own apartment in the city, with the amenities of a hotel, and all the benefits of Marriott. I can't recommend this hotel enough!
Want to save all of these Things to do in Casper Wyoming for your road trip? Pin this post here!