This post is sponsored by Visit Cheyenne, but all thoughts and opinions are my own. Thank you for allowing me to work with partners so I can continue to bring you free content.
As you probably know by now, Chaz and I both grew up in the Southeast. I grew up south of Nashville and Chaz south of Atlanta. So when we moved to Denver two years ago, we knew we wanted to explore all of the amazing states within driving distance of Denver.
Especially when COVID hit mid March and our entire 2020 calendar was wiped, we knew whenever we could safely travel again, road trips would be our game plan. Wyoming is due north of Colorado, and Cheyenne is just 1.5 hours away from Denver.
If you're planning on doing a lot of the things below, be sure to check out the visitor's center's savings passes! The Legendary Pass gives you access to 7 places in Cheyenne, and the Buck Off pass you just download and it saves you money! Check out both passes here.
So check out our list of suggested things to do in Cheyenne Wyoming, and let me know if there's anything you would add to it! Be sure to check out the Visit Cheyenne website to help make planning your trip as easy and as personal to you as possible.
Things to do in Cheyenne, Wyoming
Wyoming Capitol Building 
Cheyenne is the capitol of Wyoming. Its capitol building is gorgeous, newly renovated, and worth the visit!
Wyoming State Museum
The Wyoming State Museum was the very first place that we went upon arriving in Cheyenne, and I'm SO glad! This was a fantastic museum. It really helped us orient to the history of Wyoming. There were elements of the out West migration, dinosaurs, and trains. If you can only go to ONE museum, this is it! And the best part- it's free!
Terry Bison Ranch
Bison are such a HUGE part of the culture (and the flag!) in Wyoming. Terry Bison Ranch has a lot to offer, and a lot of it is free! The only paid thing we did was the train ride. It's by far the best way to see the Bison up close.
Towards the end, you get to stop right by the bison and FEED them! The kiddos loved seeing their huge, long tongues up close. They also offer horse and pony rides. Afterwards, be sure to stop by Senator's Steakhouse to try the bison!
Vedauwoo Recreation Area 
We always love to hike as part of our way to explore a new area. There are 3 recreational areas within 30 minutes of Cheyenne:
Medicine Bow: Pole Mountain
Medicine Bow: Vedauwoo
Curt Gowdy State Park
We decided to do the Turtle Rock Loop Trail in Vedauwoo Recreation Area. It was a 2.8 mile trail, and it was perfect to do with our two kiddos who are 5 and 7 years old. Our favorite part was that the beginning of the trail started with one micro environment filled with ponds (we even saw a snake!), and the second half was a completely different micro environment that felt like the desert.
Explore all the outdoor things to do in Cheyenne Wyoming here!
Cheyenne Botanic Garden and Paul Smith's Children's Village
I am a self-proclaimed plant lady, so I really enjoyed our time at the Cheyenne Botanic Garden. I was thrilled that there was an outdoor children's area- the Paul Smith Children's Village.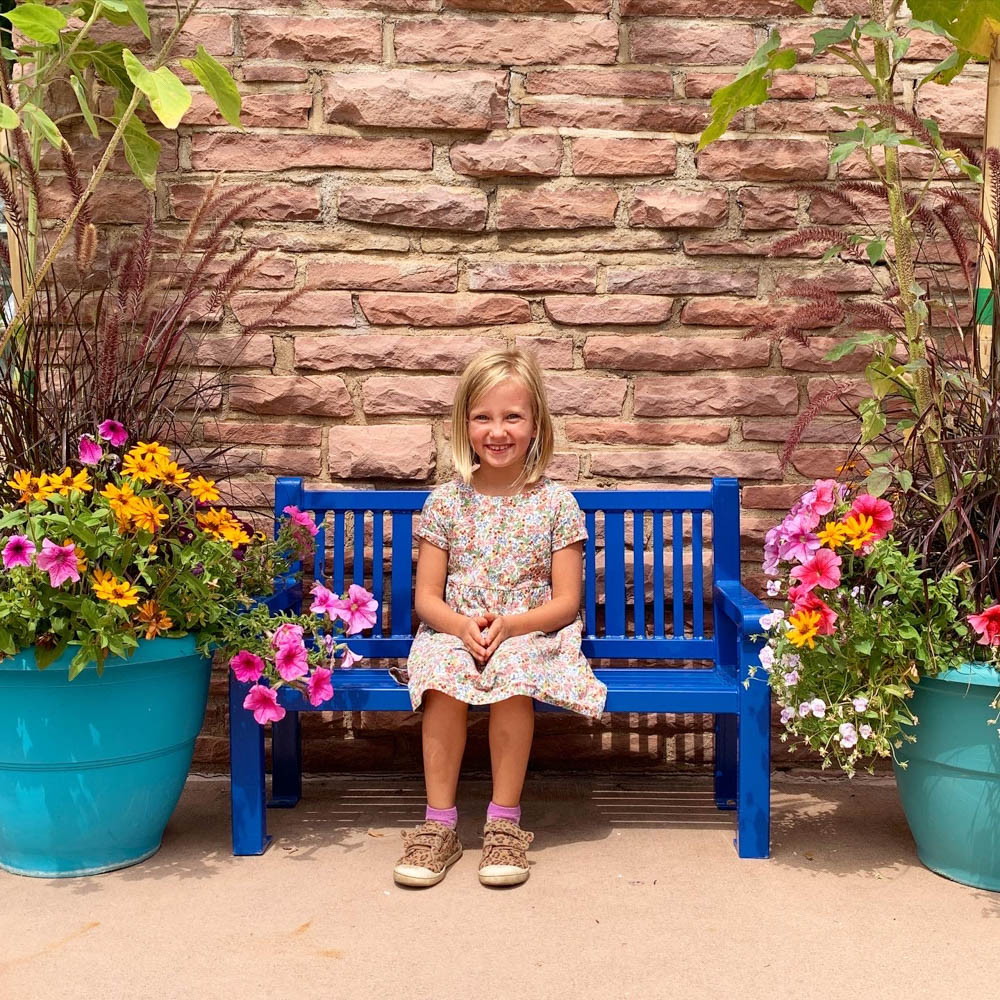 There were so many interactive things for the kiddos to play with. We had to pry them away to move on to our next thing! *Be sure to check their current hours during this COVID time. The botanic gardens are free!

Big Boy 4014 Steam Engine
One of the things we didn't expect (and were happily surprised by!) in Cheyenne was all the trains! We went to Holliday Park and saw the Big Boy Steam Engine… It's HUGE. It's 132 feet long and 16 feet high. This Big Boy is only one of eight in the entire world.

Cheyenne Depot Museum
The Cheyenne Depot is a National Historic Landmark and has recently been fully restored. The Cheyenne Depot Museum tells the story of the creation of the city of Cheyenne during the construction of the Transcontinental Railroad. We actually didn't get to see this museum because we switched our day around and didn't realize they closed at 3pm during this COVID time- so be sure to check the hours!
Cheyenne Depot Plaza Splash Pad
This is a brand new addition to Cheyenne, and the kiddos had SO much fun playing! We left it as our last stop of the afternoon, and it was the perfect thing to tire the kiddos out! 🙂

Cruise the Legend 
"Cruise the Legend" is the most precious tradition. On Saturday evenings from7-11pm, antique cars cruise the streets in downtown Cheyenne. We got to see some pretty spectacular cars! Owen said "WOW! Look at all those cars from the 1980's!" 🙂 Sweet thing. He thinks anything in the past happened in the 1980's.
Places we ate in Cheyenne, Wyoming
Sanford's Grub and Pub
We rarely find or eat Southern-style food out West… But Sanford's Grub and Pub was the exception! They are an American restaurant with a cajun-style bent. We had a really great salad with cajun chicken on top and a big burger! It was delicious. The most notable thing about Sanford's is that the entire restaurant is covered from floor to ceiling in memorabilia. It's so impressive that we walked around the whole restaurant to take it all in!
Senator's Steakhouse at Terry Bison Ranch
After visiting Terry Bison Ranch, the next obvious choice is to go to their restaurant: Senator's Steakhouse. We got a bison sirloin steak and OH MY GOSH it was so good!! The night we were there we also got to experience live local music on their back patio, which was an added treat.

Luxury Diner
For breakfast, we went to Luxury Diner. It is the perfect addition to a train-themed travel adventure. It feels like you're in an actual train car. It's everything you would expect from a local diner. Chaz and I loved our breakfast- I got the Migas which was a Mexican scrambler, and Chaz got the aptly named Big Boy Burrito!
Central Cafe
We went to Central Cafe for lunch and to grab a delicious afternoon coffee, and let me tell you. It is like a slice of Paris in Cheyenne, Wyoming. Their gluten free everything bagel is LIFE. I'm seriously still thinking about it. They have so many great grab and go options: sandwiches and chips and big salads. Our coffee was delicious, and they have oat milk, which is always a plus in my book. They even have a drive through, so it would be the perfect place to stop for a healthy grab and go lunch on your way out of town!
The Metropolitan Downtown
The Metropolitan Downtown was by far our favorite place we ate in Cheyenne. (It actually has the same owner as Central Cafe!) Any place that has crispy fried Brussels sprouts is winning if you ask me! The filet with fingerling potatoes was out of this world. The entire vibe of this place is so elevated and fun. We ordered fantastic craft cocktails. It was the perfect way to end our time in Cheyenne!
The Good Egg
Our last breakfast in Cheyenne was at The Good Egg. I'm honestly not a huge fan of breakfast because I don't like eggs and can't have gluten… BUT The Good Egg Delivered.
Where to Stay in Cheyenne Wyoming
Fairfield Inn & Suites Southwest Cheyenne
I am such a huge fan of Marriott hotels. We stated at the Fairfield Inn & Suites – there are two. We stayed in the Southwest hotel. It was a really nice hotel. I loved it was Wyoming themed. Everything was bison and out West themed.
Want to save all of these Things to do in Cheyenne, Wyoming for your road trip? Pin this post here!