[This blog post is sponsored by Silk, and all thoughts and opinions are my own. Thank you for allowing me to partner with such wonderful companies to continue to bring you content and recipes for free!]
I'm going to be telling you all about Silk, its status as a Certified B Corporation ®, and will give you my new Dairy Free Pumpkin Spiced Oatmeal recipe! Let's dive in!
This month, I got to visit the Silk Innovations Lab right down the street from my house! A few different teams from Silk shared with us SO much about the company. I love getting to see the behind-the-scenes!
We heard SO much about the growing plant-based movement. So many people are putting more plants on their plates, just like we do, and avoiding dairy altogether.
Sprouts Farmers Market does so much to support this movement! And Sprouts is having a "Plant-Based Tastes Great" 35% off sale, now through November 7th, 2018! So now is a great time to head to Sprouts and pick up your favorite plant-based items at a hefty discount- including your favorite Silk products! There are more than 200 items included! Check your local Sprouts Farmers Market for details!

At our day at Silk, what really stuck out to me is that Danone North America (Silk's parent company) is a  Certified B Corporation®. Have you ever heard of a  B Corp ™? It's so comforting to me knowing that Silk cares for not just profit, but people and the planet as well.
Actually, Danone North America is the largest B Corp ™ in the WORLD. One thing I learned while they were telling us about B Corp ™, is that the B stands for "B the Change," inspired by Gandhi's famous invocation that we must be the change we seek in the world. I was so inspired by this, as these words have been some of my favorite for such a long time.
Certified B Corporation ® also stands for:
Better business

Best for the world

Benefits for all stakeholders.
Certified B Corporations ® are for-profit companies certified by the nonprofit B Lab for meeting rigorous standards related to environmental performance, social commitment, public transparency, and accountability.
I wish I could dedicate this entire blog post to Danone North America's B Corp ™ status, because it blows me away how much they're doing for their employees, the community, and the world.
BUT I'm also super excited to tell you the things I learned about the plant-based and dairy-free movements, and how much Silk played a part in that!
I had NO idea that Silk pioneered its first plant-based beverage in 1996! Doesn't that feel SO recent to you?! It does to me! Silk introduced Silk Soymilk to the world in 1996.
And even crazier- Silk only launched Silk Almondmilk in 2010!! I feel like I've been drinking their almondmilk for SO long- I was shocked to see it just started eight years ago!
I LOVED hearing from their marketing team, since way back in the day I got an advertising degree 😉
Their latest campaign is all about Progress- not Perfection. Can I get an Amen?! This was my favorite commercial we watched:
We got to go over to the Silk Innovations lab and meet real live Food Scientists! It was SO fun!! They shared with us the process of product creation from little idea all the way to what we see in Sprouts! 🙂 Part of me wanted to become a food scientist, buuuuut I guess I'll just stick with recipe creation!
So let's get cooking! I am SO about this plant-based, dairy-free Pumpkin Spice Oatmeal recipe I got to whip up in the Silk Innovations Lab! Here's the recipe!
Print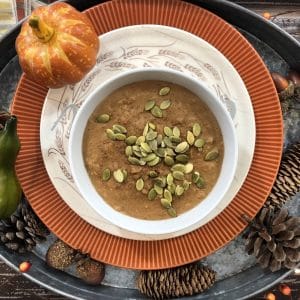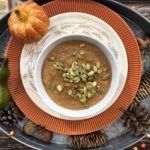 Dairy Free Pumpkin Spice Oatmeal Recipe
---
2 cups Silk vanilla unsweetened Almondmilk
1 cup rolled oats
4 T pumpkin purée
1 T pumpkin pie spice
½ t vanilla extract
2 T maple syrup
Pinch of pink himalayan salt
---
Instructions
Bring Silk Almondmilk to a boil, then add oats and cook for 5 minutes, stirring occasionally or until the oats are fully cooked.
Towards the end of cooking, add the remaining ingredients and stir until combined.
Optional- top with extra maple syrup, pumpkin seeds, walnuts, and a dash of pumpkin spice! Enjoy!
Want to save this recipe for later? Pin it here!