I'm really enjoying our October Healthy Eating Challenge with Heather of mylifewellloved.com and Jessica of happilyhughes.com! This is week TWO! Have you joined us for this challenge? We're trying to stay hydrated and continue to eat healthy this month where we usually start to decline in our healthy eating habits leading up to the holidays… Be sure to head to their blogs weekly to get new healthy recipe ideas ?
You are going to love this Paleo + Whole30 Chicken Zoodle Soup Recipe! I can't even communicate to you how often I make this soup!! I love it in the winter, and I always, always whip it up any time we start coming down with something and need a good immunity boost!
The history of traditional Chicken Noodle soup is super interesting to me! (Am I the only one that wonders how recipes came about? It's so fascinating to me!) Both chicken and broth-based soups have been around for what seems like forever, and noodles obviously have a really rich history. The Greeks were the first to combine chicken and broth! They were also the first to believe that this chicken soup was magical and could heal a slew of ailments! This is likely why we still give Chicken Noodle Soup so many props for its healing benefits and eat it when we're sick! Noodle soup has been around for centuries- dating back to the 1200's in Asia! Italians are also notorious for giving noodle soup to the sick…
But it was actually Campbell's that first made Chicken Noodle Soup! According to a press release, in 1934 (which feels pretty stinkin' recent to me!), Campbells came out with "Noodle with Chicken Soup." I don't know who was in charge of the name creation at Campbell's, but man… that just has ZERO ring to it 🙂
Then a radio broadcaster accidentally misread the soup's name as Chicken Noodle Soup, and people flocked to grocery stores to try Campbell's new soup! Everyone loved the new name so much, they changed it.
Traditional Chicken Noodle Soup obviously has noodles in it, which contain gluten. My Chicken Zoodle Soup recipe is made with veggie noodles (made from spaghetti squash!) instead! I've also tried this recipe with sweet potatoes instead of noodles, and that is equally delicious!
I hope my Paleo + Whole30 Chicken Zoodle Soup Recipe satisfies your Chicken Noodle Soup craving and keeps you warm and healthy this winter! Enjoy!
P.S. Check out the giveaway at the bottom of this post!
Print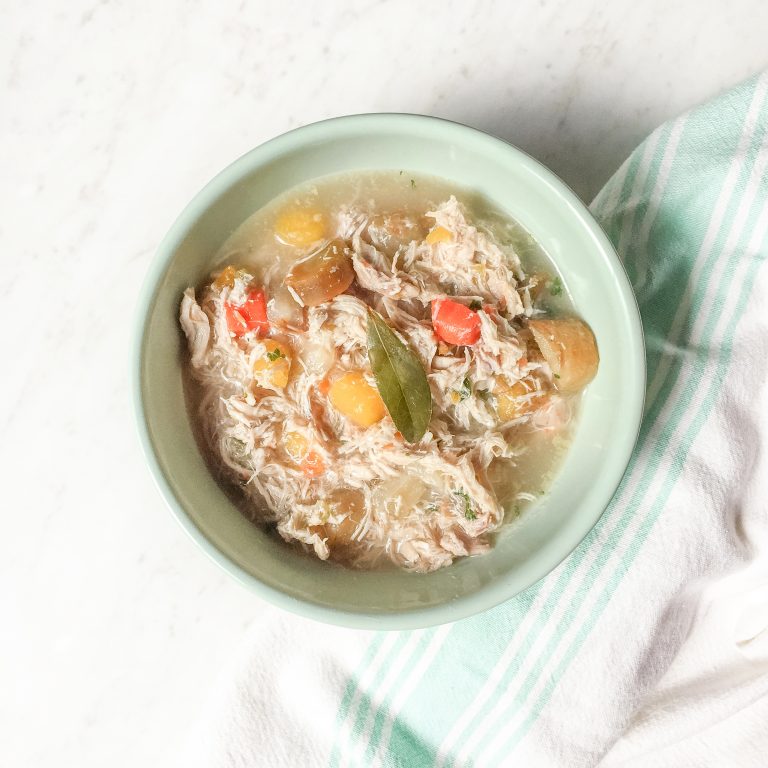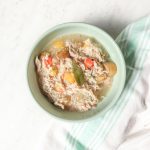 Paleo + Whole30 Chicken Zoodle Soup Recipe
---
3 T olive oil

1 medium spaghetti squash

1 medium onion, chopped

4 garlic cloves, minced

4 carrots, cut into ¼ in circles

3 celery ribs, chopped into small pieces

5 fresh thyme sprigs (or 2 t dried thyme)

2 bay leaves

⅓ c fresh parsley, chopped (or about 2 T dried)

8 cups chicken bone broth

1.5 c shredded chicken breasts

salt and pepper
---
Instructions
Preheat oven to 425 degrees.

Cut spaghetti squash in half lengthwise. Brush the cut side of the squash with 2 tablespoons olive oil and season with salt and pepper. Place cut side down on a parchment or foil lined rimmed baking sheet. Roast until squash is tender, about 1 hour.

Meanwhile, add remaining olive oil to a large soup pot on medium high heat with the onion, garlic, carrots, and celery. Cook for 7-10 minutes, when the onions are translucent and the carrots are just beginning to get tender.

Add the thyme sprigs, bay leaves, parsley, bone broth, and shredded chicken. Bring to a boil and then reduce to a simmer until the carrots are cooked to your liking and the flavors have dispersed.

When the spaghetti squash is cooked, allow it to cool. Then use a spoon to remove the seeds. Use a fork to shred out the spaghetti squash into a large bowl.

You can either add the spaghetti squash noodles to the soup pot as it cooks OR I personally like to keep the spaghetti squash separate and add it to each bowl, then add the soup on top- it's SO yummy!

Remove the thyme sprigs and the bay leaves before serving. Add salt and pepper to taste. Enjoy!
To enter the Healthy Eating Giveaway click this link –> a Rafflecopter giveaway
We are giving away a PRE Beef box and Vital Proteins! You won't want to miss this.

Want to save this Paleo + Whole30 Chicken Zoodle Soup Recipe to make later? Pin it here!