If you're looking for Paleo Comfort Food, this is IT. Chicken Pot Pie is one of my favorite recipes of ALL time… Probably because my Mom loved making it for us when we were little. She made it all the time, and we always devoured it! I freaking LOVE the flavors inside, and that delicious, buttery, flakey crust!
Since on Whole30 you can't recreate breads or doughs, I wanted to come up with a creative way to enjoy Chicken Pot Pie, but without the crust!
I thought about putting a mashed potato layer on top in place of the crust, similar to Shepherd's Pie. I knew it would be SO delicious because my Whole30 Mashed Potatoes recipe is one of the most popular recipes on this site!
I tried it, and it is SO GOOD! If you're a fan of the original Chicken Pot Pie recipe, you'll love this Chicken Pot Shepherd's Pie Recipe! Try it and let me know how you like it! 
I'm really enjoying our October Healthy Eating Challenge with Heather of mylifewellloved.com and Jessica of happilyhughes.com! Be sure to head to their blogs weekly to get new healthy recipe ideas ?
Print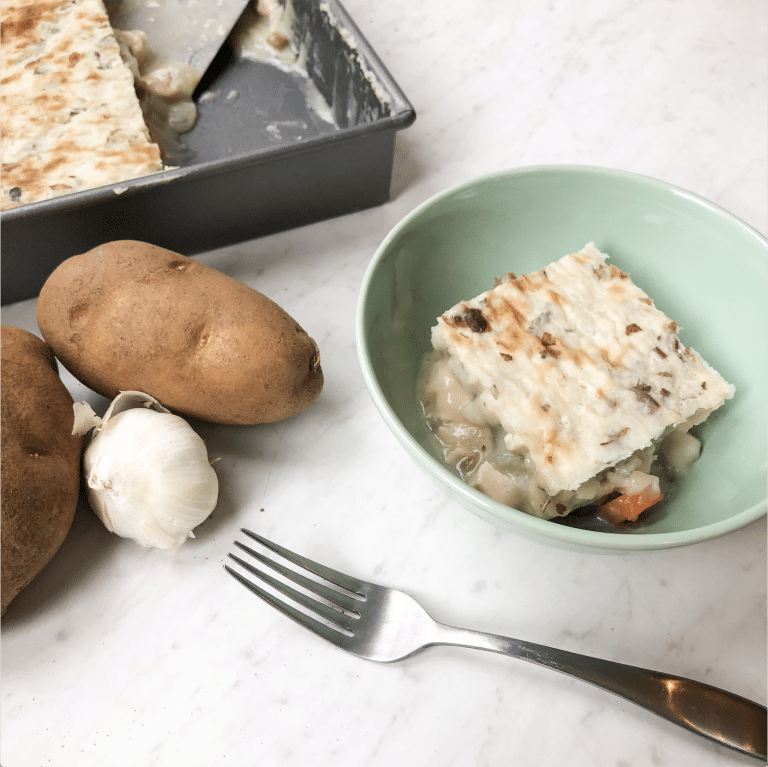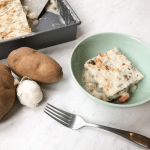 Chicken Pot Sheperd's Pie Recipe
---
⅓ C + 2 T ghee (I love @fourthandheart)
1 onion, chopped
3 carrots, cut in 1/4 in circles
3 celery nibs, chopped into small pieces
5 lb russet potatoes (roughly 8 potatoes)
6 T cassava flour (I love @ottos_cassava_flour)
3 C chicken bone broth (I prefer @barebonesbroth)
1/2 C + 2 T full fat coconut milk
2 T coarse kosher salt
1/2 t thyme dried
1/2 t parsley, dried
2 lb chicken breasts, cut into 1/2 in cubes
1 14 oz can green beans
---
Instructions
For the Mashed Potato topping:
Boil water in a large pot and cook the other 6 potatoes until fork tender, about 45 min. For faster cooking time, cut potatoes into 1 inch cubes.

Add cooked potatoes plus 2 T ghee, 2 T coconut milk, and 1 t kosher salt to a mixer and mix until smooth. Set aside
For filling:
Chop 2 of your potatoes into 1 inch cubes. Set aside.

Add ghee to a soup pot on medium high. Add onion, carrots, celery, and the potatoes you set aside, and cook for 10 min, or until carrots and potatoes begin to get tender.

Add cassava flour and mix well until the veggies are coated.

Add chicken bone broth, ½ C coconut milk, salt, thyme, and parsley. Bring to a boil.

Add chicken, stir, reduce heat to medium and cook until chicken is cooked through, about 10 minutes.

Add green beans and stir. Add this mixture to a 9 x 13 inch casserole dish. Top with the mashed potato topping, adding in small sections to ensure full coverage, and use a spatula to smooth out the top.

Turn the oven on low broil. Put in the oven for 10 minutes, or until the top is browned and crispy. Take out of the oven and allow it to cool. Enjoy!