This Whole30 + Paleo Shallot Filet Mignon Recipe is literally my VERY favorite steak of ALL TIME.
Of course, filet mignon is one the nicest, tastiest cuts of steak ever. Filet mignon is French for "tender fillet", "delicate fillet", or "fine fillet." Filet mignon is a cut of beef taken from the tenderloin.
Filet mignon is the most tender cut of beef, so I personally argue it's the very best! That also makes it the most expensive! We rarely eat filet mignon because of that, but when we do, this is the Filet Mignon recipe we use! It's worth all of the effort!
First you need to make my Crispy Fried Shallots Recipe here. That will leave you with BOTH the Crispy Fried Shallots to top the steak AND the most delicious thing of all time: Shallot Oil. You'll need them both for this recipe!
We really prioritize the quality of our meat! I absolutely LOVE Pre Beef! It's grass fed and finished, no added hormones, no added antibiotics, humanely raised, and non-GMO project verified!
We personally get it through Amazon Fresh! It's unlimited fresh grocery ingredients for just $14.99/ month.
Print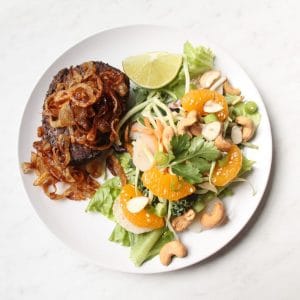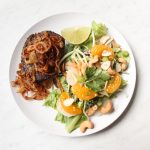 Whole30 + Paleo Shallot Filet Mignon Recipe
---
---
Instructions
Place the the fillets in a gallon size ziplock bag with the shallot oil, salt, and pepper. Remove the air, seal the bag, and refrigerate for 2 hrs up to overnight.
When you're ready to cook them, preheat your oven to 425 degrees.
Heat an ovenproof skillet or sauté pan over medium-high heat (I prefer our cast iron skillet). Add the entire oil marinade to the skillet and allow it to get hot.
Add the filets to the skillet and cook for 4 minutes. Flip the filets and transfer the sauté pan to your pre-heated oven. Cook for 5-7 minutes: 5 minutes for rare, 6 minutes for medium-rare, or 7 minutes for medium.
Remove from the oven and check the temperature (general guidelines: 120-125 degrees for rare, 130-135 for medium rare, and 140-145 for medium. Remove them from the oven on the lower end of the scale as they will continue to cook even after out of the oven).
Put the filets on a plate and let rest for five minutes before serving. Do not leave them in the skillet or they will overcook.
Spoon any juices from the sauté pan over the filets and serve immediately with crispy fried shallots on top.
Want to save this Whole30 + Paleo Shallot Filet Mignon Recipe for later? Pin it here!